I grew up in the '90s, a golden era of teen horror movies (and teen movies in general). Recently I've been revisiting the movies I was obsessed with at the time, including Scream and Urban Legend. The Faculty was next on my list, as something I had a lot of fondness for, but that I hadn't watched in nearly 20 years. Here's how the experience of revisiting it went down...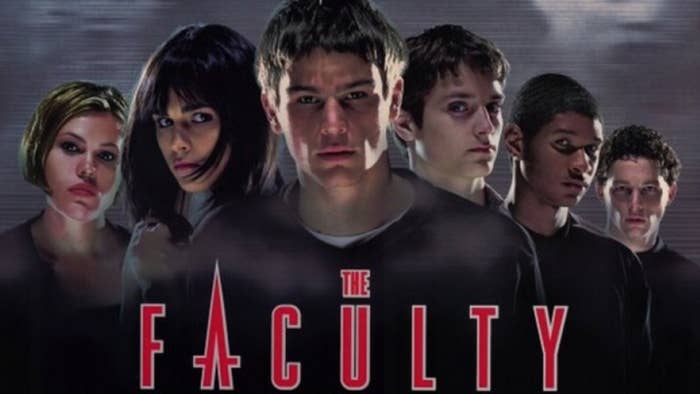 1. Oh wow. I totally forgot about the existence of this Offspring song until this very moment. But I used to listen to it all the time!
2. Omg it's the evil guy from Terminator 2!
3. I'm trying to figure out where else I know this jock guy from. It's probably just that I watched this movie a whole bunch of times.
4. Hey, Usher!
5. OH I had no idea that Mrs Olson was Piper Laurie, aka Carrie's mum. I didn't see Carrie until I was older.
6. And Bebe Neuwirth is the principal?!
7. This whole football town thing is giving me major Friday Night Lights vibes.
8. I'm so uncomfortable watching the coach menace this woman in the dark.
9. OMG THE PENCIL IN HER HAND! OMG!!!
10. I don't remember a lot of this movie, except for the big twist at the end. I can't believe I blocked out that pencil shot.
11. Mrs Olson is pretty brave for not just running away to save herself.
12. Unless she's evil too.
13. Oh yep, she is. Haha.
14. JOSH HARTNETT. HELLO BABE.
15. I had SUCH a crush on him.
16. Omg, I completely forgot that Elijah Wood is the nerd in this.
17. And Jordana Brewster from The Fast and the Furious is Delilah, the popular girl!
18. Of course I remembered Clea Duvall was in this, though. Her most iconic role tbh.
19. I'm sorry, Delilah, but 72 minutes to apply one (1) lipstick is a bit much.
20. Marybeth (Laura Harris) is the alien queen, right? That's basically all that's stuck with me about this movie.
21. Oh yeaaaaah Zeke (Josh Hartnett) sells drugs hidden in pens. That plays a part in killing the aliens, I think?
22. Zeke is such a, like, peak '90s American name. I feel like every second character in Goosebumps was named Zeke.
23. SALMA HAYEK?!?!
24. What a cast this movie has.
25. JON STEWART OMG I'M SCREAMING.
26. And Famke Janssen!!!
27. Sorry I'm basically just reciting the cast right now, but I'm truly shook by how many stars are actually in this???
28. "I'm saving my sick days for when I feel better." A mood.
29. "Why don't I just put a pen in my eye." That feels like foreshadowing.
30. This coach is a thirsty bastard.
31. Same.
32. Whoa Mrs Olson got a glo up and a half.
33. I love a ~layered~ jock character.
34. Delilah is such a cow.
35. "I'm feeling pretty alien myself today." FORESHADOWING.
36. What did Casey (Elijah Wood) just find? Some kind of slug thing?
37. Are American high schoolers only allowed to eat in the cafeteria??? Like, no one eats outside???
38. "I don't think a person should run unless he's being chased." Same tbh.
39. It's like they wanted to make Clea Duvall's character a lesbian but didn't have the guts to go all the way.
40. Josh Hartnett's hair is so bad here, but I thought it was so hot at the time?
41. Oh, the slug thing is a baby alien! AND IT'S ALIVE.
42. "It's okay." Narrator: it was not okay.
43. THIS IS STRESSFUL.
44. WHAT ARE THOSE RED THINGS ARGH.
45. OMG IT MULTIPLIED.
46. Stan (Shawn Hatosy) is a pretty great character actually, I totally slept on him when I was younger.
47. Like, he's being so caring and gentle with this crazy old naked lady who just crashed his shower.
48. OH MY GOD I WANT TO VOMIT!! HER HAIR! AND HALF HER SCALP! CAME OFF! IN HIS HAND! EWEWWWWWWEW!
49. "Neve Campbell and Jennifer Love Hewitt VHS porn" is the most '90s sentence ever spoken.
50. What is this weird interaction between Zeke and the teacher? Does she have the hots for him? Does he have the hots for her? Blergh I hate student/teacher relationship storylines.
51. So the old lady died when an alien tried to take over her body because the heat got to her? Or something?
52. The aliens don't have very good senses. Casey and Delilah aren't doing a very good job of hiding but they haven't even been noticed.
53. OMG THE COACH JUST TONGUE-ATTACKED SALMA HAYEK'S EAR AND IT WAS SO GROSS!
54. OMG THE DEAD BODY FELL ON THEM!
55. This is legit scary tbh.
56. YES THEY'RE ESCAPING.
57. OR ARE THEY.
58. Oh shit the principal's back! And she's ~one of them~.
59. Lol Delilah ain't waiting for anybody.
60. Casey went straight to the cops? A horror movie first.
61. OF COURSE THEY'VE HIDDEN THE BODY, COME ON CASEY.
62. His dad definitely seems like a baddie.
63. Uh oh, the aliens got the cops.
64. All the teachers and other authority figures in town turning into aliens is such an on-the-nose metaphor, but I low-key love it.
65. Casey's dad just tore his school textbook apart? How extra.
66. He confiscated his porn too hahaha.
67. "Sorry pal, no more flogging the bishop." Omg.
68. Lmao @ this old Apple computer.
69. Casey's dad is awful.
70. Delilah is wearing glasses, she's definitely been pod personed.
71. Wait, her glasses are a disguise? Lord, she's worse than Clark Kent.
72. "I worked hard for that D. I deserved that D." Lmao.
73. This speech about how this jock hates his white privilege is…interesting.
74. At least his internal conflict isn't the old "I secretly love musical theatre!" trope.
75. Everyone is thirstier than me watching Magic Mike XXL.
76. "[The drugs] would probably kill me." FORESHADOWING.
77. Oh no, Salma Hayek is pod personing all the students.
78. "They're still breathing, but for all intents and purposes they're very much dead." First of all, I feel attacked. Second of all, that's not a very sensitive thing to say to someone who just told you their parents are literally dead.
79. Miss Burke (Famke Janssen) has lost her glasses, clearly she's an alien.
80. What teen actually uses the term "the faculty" in regular conversation.
81. A Kevin Williamson teen, I guess.
82. I love this meta conversation about pod people/alien plots in movies.
83. "Maybe Spielberg is an alien!" I'm cackling.
84. Casey is literally that ALIENS guy meme.
85. No, Josh Hartnett, don't kiss the alien queen.
86. Why doesn't she pod person him right now though?
87. ARGH OMG JON STEWART'S FINGERS GOT CHOPPED OFF EWWWW.
88. THE EYE!!
89. I don't know whether to laugh or scream.
90. WhyNotBoth.jpg.
91. This is Jon Stewart's finest work.
92. Has everyone been taken over except for this one small group?
93. Like…why don't they just get them now?
94. It doesn't seem like it would be that hard. They're vastly outnumbered.
95. Sooo Zeke's super special mystery drug is basically just crushed up caffeine pills?
96. Aw, poor rat.
97. Oh hello, Josh Hartnett with glasses.
98. So the drugs are a diuretic which dries out the thirsty-ass aliens? I'm no scientist but this seems like super simplified and basic.
99. "What if one of us was an alien right now?" You are, genius!
100. Haha they all have to do drugs to prove they're still human.
101. "Oh shit, the adults are all aliens, better get high."
102. Elijah Wood's cackling will haunt my dreams.
103. Does Blondie, like, block the drugs or something with her alien tentacle? I vaguely remember that.
104. Oooh Delilah's an alien already! I forgot that. They must have got her when she ran away.
105. Okay hold up. If the aliens like being in human bodies because they're made up of mostly water, why don't they just, like, invade the oceans? Instead of dry land.
106. They're in the gym now. It's all coming back to me now. Isn't the big showdown on those bleachers?
107. "Sniff this!" Lol.
108. Zeke shot the principal like it was nothing! Brutal.
109. Blondie using aaaaaaaall the drug supply is suss AF.
110. Okay I wish they'd made Clea Duvall's character gay but also this kiss with Stan is pretty cute.
111. The coach's alien face is so creepy.
112. Oh noooo they got Stan.
113. I still don't get why the alien queen hasn't just turned ALL of them by now? What is she waiting for?!?
114. Those mouth tentacles! *shudder*
115. Nice explosion! Am I watching a Michael Bay movie?
116. OMG THE TEACHER'S HEAD CRAWLING BACK TO HER BODY I CAN'T BREATHE.
117. How does the biology of these alien creatures even work?
118. And BAM there's the big reveal.
119. This pool scene is pretty scary.
120. Oh she's turning back into her human form. Her clothes didn't make the transition this time I guess.
121. "Answer me something Marybeth. Why are you naked?" Lmaaaaaao.
122. That's right, she blocked off her nostrils and only pretended to snort the drugs. Okay.
123. Shit, Clea Duvall's an alien now too!
124. Ummmmmm how is the alien queen casting these tentacle shadows in human form? That's…not how light works.
125. I still don't get why she didn't just turn them all at the start?!??!
126. RUUUUN CASEY.
127. I feel like the fact the bleachers close like this should have been established earlier in the movie.
128. That was such a corny line, Casey.
129. It really only took one pen's worth of drugs to kill that huge-ass alien queen? Okay.
130. And all the humans just magically heal? Including the one whose HEAD WAS DECAPITATED?! Okaaaaay.
131. Those special effects tho.
132. That jump scare totally got me.
133. Wait now Zeke is a jock?! And…the teacher romance is still happening? Ugh.
134. Now Clea Duvall is wearing pastels because she's dating a guy? Or something? What kind of Breakfast Club nonsense is this?
135. Look I'm still smiling, I can't help it, it's pretty cute.
136. I see that battling aliens also inspired Elijah Wood to start using gel in his hair lol.
137. He's famous now? Riiiight.
138. And Delilah wants him? Because he's suddenly popular or something? Hmmmm.
139. That's a pretty great juxtaposition of him saying "things sure have changed haven't they" with the shot of the bullies attacking a different nerd, proving nothing has actually really changed.
140. Look, I have serious questions about the world-building, but this movie was still a helluva lot of fun.
141. And Josh Hartnett, ugh, what a babe.