Episode 1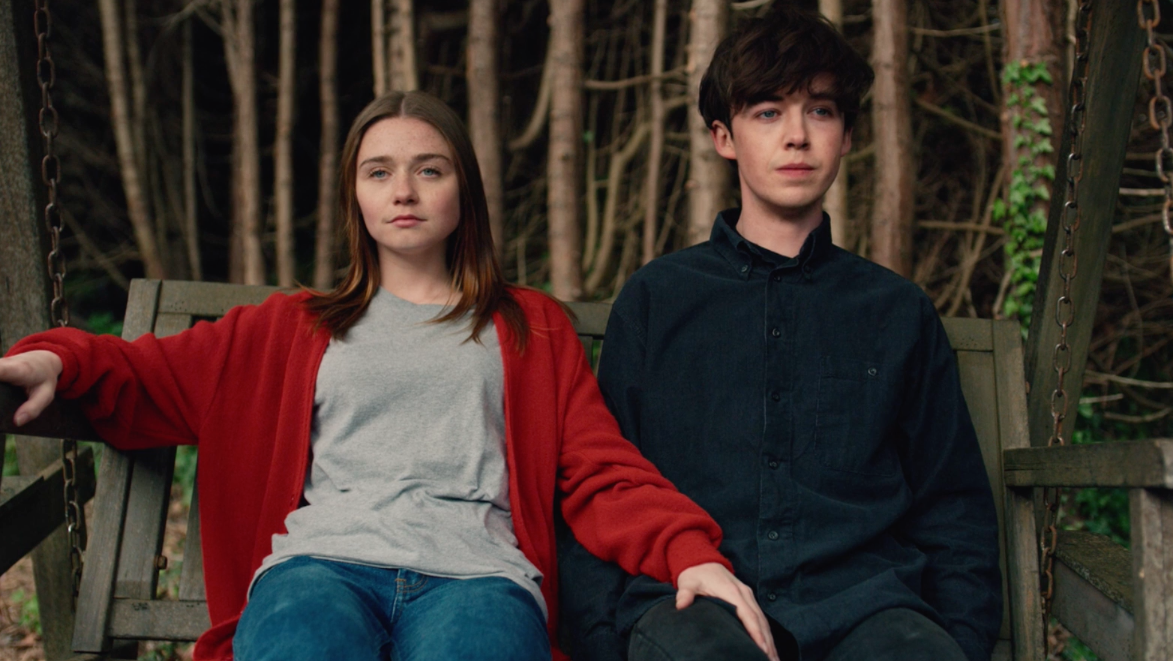 1. OK, I have some serious reservations about the concept of this show but people I trust have said it's excellent, so I'll give it a go.

2. Also, it's only eight episodes of 20ish minutes each, so I can smash through it.

3. BUT I'm worried that it romanticises a psychopathic guy who wants to murder his girlfriend. Like, that kind of shit happens way too often in real life to make a rom-com (???) about it.

4. Let's see how this goes. 

5. So James says "I'm pretty sure I'm a psychopath". He's not totally sure, so maybe he's not REALLY a psychopath?
6. Oh god am I making excuses for him already?

7. OK James' dad's dad joke made me laugh. 

8. HOLY SHIT THE DEEP FRYER. 

9. Oh no. Oh no. He just murdered a cat. HE IS A STRAIGHT UP PSYCHOPATH.

10. ALL THOSE ANIMALS.

11. I feel so uncomfortable right now. 

12. "Why are you talking like Downton Abbey?" Lol I love Alyssa already. 

13. Oh shit she has a creepy step-dad figure. 

14. That baby has a huge head. 

15. Alyssa smashing her mobile phone is a real mood. 

16. Why aren't they wearing school uniforms, isn't that a thing in the UK? I guess they don't in Skins. Are they at college? I don't understand how that whole system works. 

17. This is probably the best use of voiceover I've seen in awhile, maybe ever. The way their internal thoughts are juxtaposed with their contrasting dialogue/actions is excellent. 

18. This show is also really beautifully shot and the soundtrack is great.

19. I gotta admit I am enjoying the vibe.
20. Oh cool James is fantasising about murdering Alyssa again, the fucking creep.

21. DON'T GO IN THERE ALYSSA. I know you're not gonna die right now because you're a main character BUT STILL. 

22. His mum lives in Japan? I wonder what the story is there. 

23. And he's having flashbacks to his mum, but in a negative context. Something is definitely up.

24. "Alyssa was kind of a nymphomaniac." Lmao. 

25. "Maybe I'm gay. Maybe he's asexual. We're dealing with a really broad spectrum these days." This girl is great. 

26. Alyssa worrying that she's ruined things with James and talking about how safe she feels with him while he plots to actually murder her is... way too fucking real tbh. 

27. I'm so relieved her mum is forcing her to stay at this party so James doesn't, you know, stab her to death. 

28. But her step-dad is a creeeeep. She can't escape terrible men. 

29. "She can't escape terrible men" – life story of women everywhere, since the dawn of time. 

30. It's interesting that neither of them make a lot of eye contact when they talk to each other. And Alyssa is worse than James, actually. 

31. OK that was a solid first episode. I'm still concerned this show reinforces the idea that dangerous, violent men are worthy of love and trust at the expense of personal safety. But I'm willing to keep going.
Episode 2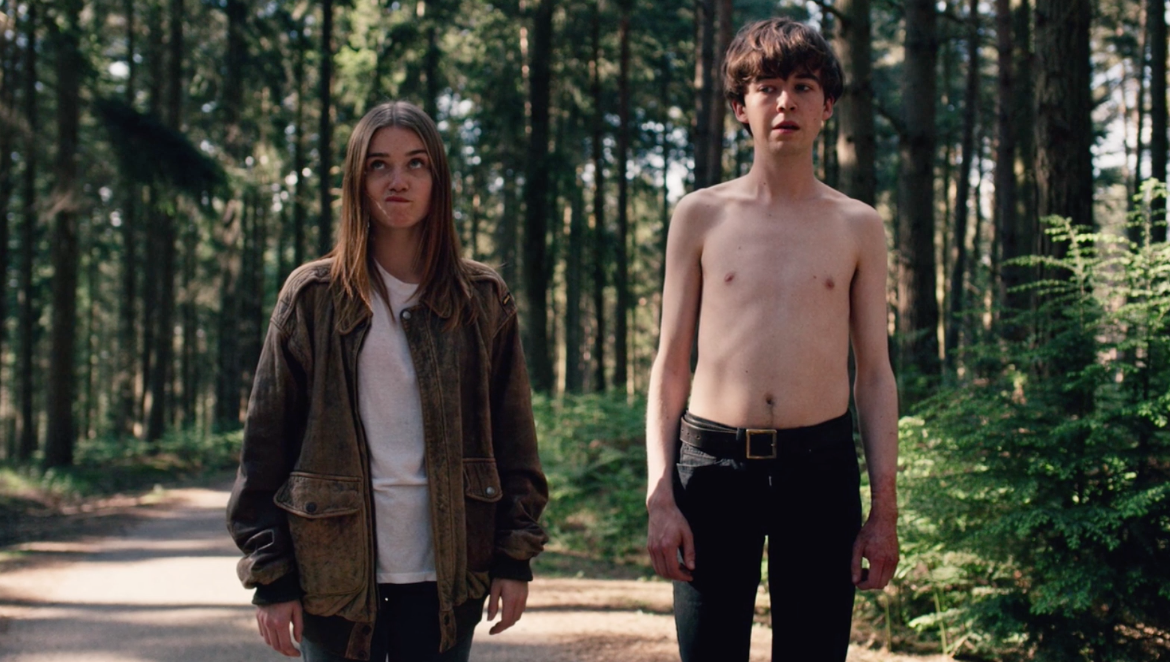 32. "If this were a film, we'd probably be American." Hahahahaha great line. 

33. "I kept wondering what sort of sound she'd make when I killed her." James is making me ill. 

34. "Ironically I was not in my element." Aaaaand James is making me laugh. Goddammit. 

35. "Sometimes I look at him and I think, are you a bit dead?" I'm sorry I'm quoting every second line, but this script – and the delivery of it – is really, really good. 

36. Actually can't stop laughing at them crashing the car like this.

37. Ngl this show is a pleasure to watch – like, visually, it's fantastic.

38. This guy that's stopped to pick them up is DEFINITELY a weirdo. 

39. "I'm going to be so fucked off if we get murdered." Oh Alyssa. If only you knew.

40. Oh god is something bad going to happen to that dog?

41. Oh this creepy guy is going to use it in dog fights. Great.

42. James' mum is really dead? I knew there was more to it!
43. James is embarrassed by Alyssa's rudeness, meanwhile he's planning to kill her, which is like the rudest thing you can do to someone. 

44. Oh fuuuuuuuuck this creepy old man is going to do something to James isn't he.

45. I am so uncomfortable.

46. Oh no. Oh no no no. 

47. ALYSSA SAVING THE DAY. And stealing creepy guy's money. What a boss. 

48. "You know that if people want to do stuff to you, you don't have to let them." Alyssa is great. 

49. It seems like James is having second thoughts about killing her because… she's crying? Is it just hitting him that she's a real human being with real human feelings? 

50. Alyssa's phone call home is low-key heartbreaking. 

51. He's cuddling her and still thinking about murder, cool cool cool. 

52. Still feeling a great big "hmmm" about this whole thing, but powering through.
Episode 3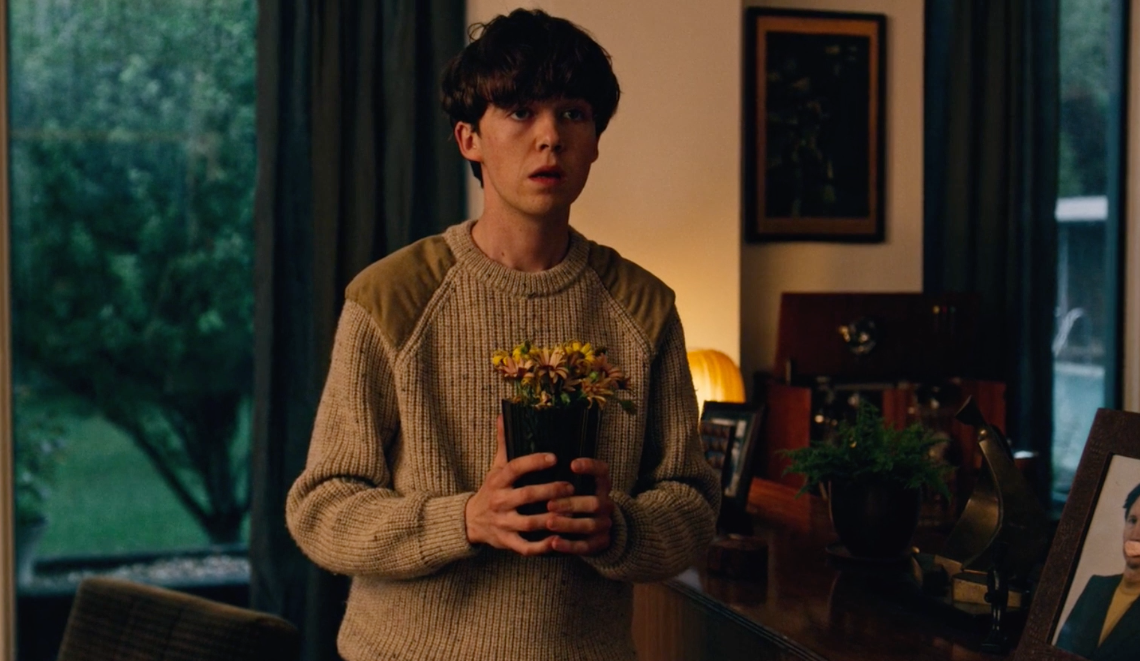 53. Fuuuuuuck what is that huge puddle of blood. 

54. Another flashback to James' mum. Interrrresting. 

55. "I'm trying to think what adults do in situations like this… Shall we go downstairs and have a glass of wine?" I really laughed out loud at that. 

56. "Are you hungry?" "Always." Same. 

57. "We should do the washing up." *Dumps plates in pool*. Goals. 

58. Goddamn this dance scene is freaking adorable. 

59. Like, the two of them dancing with their eyes closed is so exhilarating and sweet. 

60. And James is smiling?! He's actually enjoying himself? And having FEELINGS?

61. AND he just kissed her back! 

62. SHIT I legit thought the owner of the house was going to be behind Alyssa right then. 

63. Wait James actually does want her now? He's not just pretending? Interrrresting.

64. I really want to know James' backstory! I feel like maybe something terrible happened to his mum in front of him.

65. Omg he's getting her flowers!

66. That cupboard has some… interesting contents. 

67. "The world is fucking bleak. I guess I try and do things to forget that it is. Keep busy, keep blind." Oooft that is so real. 

68. Does he… does he think she's older or younger than 17?

69. I really appreciate that Alyssa is an ~unlikeable~ character but we get to see her internal thoughts and her vulnerability. Female characters are rarely allowed to be so complex and grey and layered and flawed and it's kind of excellent. 

70. OH SHIT JAMES STANDING THERE HOLDING THE FLOWERS WHILE ALYSSA BRINGS IN ANOTHER GUY JUST BROKE A PART OF MY HEART.

71. "She made me feel things, and I didn't like it at all." See James that is kind of exactly how I'm feeling about you right now. 

72. Aaand he's back to fantasising about murdering her.
73. Fuuuuuuuuuuuuck the guy's house they're at is literally a fucking serial killer. 

74. Every man in this show is an actual creep and/or murderer. Except maybe James' dad?

75. James seems disturbed rather than excited about those images. Hmmmmm. 

76. "Respect me changing my mind and fuck off please." Whoa. This whole scene of Alyssa changing her mind about having sex and being so explicit about her boundaries is amazing and so damn important and OK THIS SHOW HAS OFFICIALLY WON ME OVER. 

77. James. James. What are you doing. James. Don't do it. James. 

78. Oh he's lying on the floor and hesitantly touching her hand and oh god I want to cry.

79. What is this show doing to me?! 

80. OH SHIIIT THE ACTUAL SERIAL KILLER GUY IS HOME. 

81. Fuck. 

82. Fuck fuck fuuuuuck.

83. James now would be a really good time to get out that knife you love so much.

84. Oh fuck I feel sick. 

85. Fuuuuuuuck.

86. YES JAMES. YES. 

87. "Are you a virgin?" "Yes." "Me too." "Yeah NO SHIT." WHY IS THIS SHOW SO FUNNY AND GREAT. 

88. Wow that was such a good episode.
Episode 4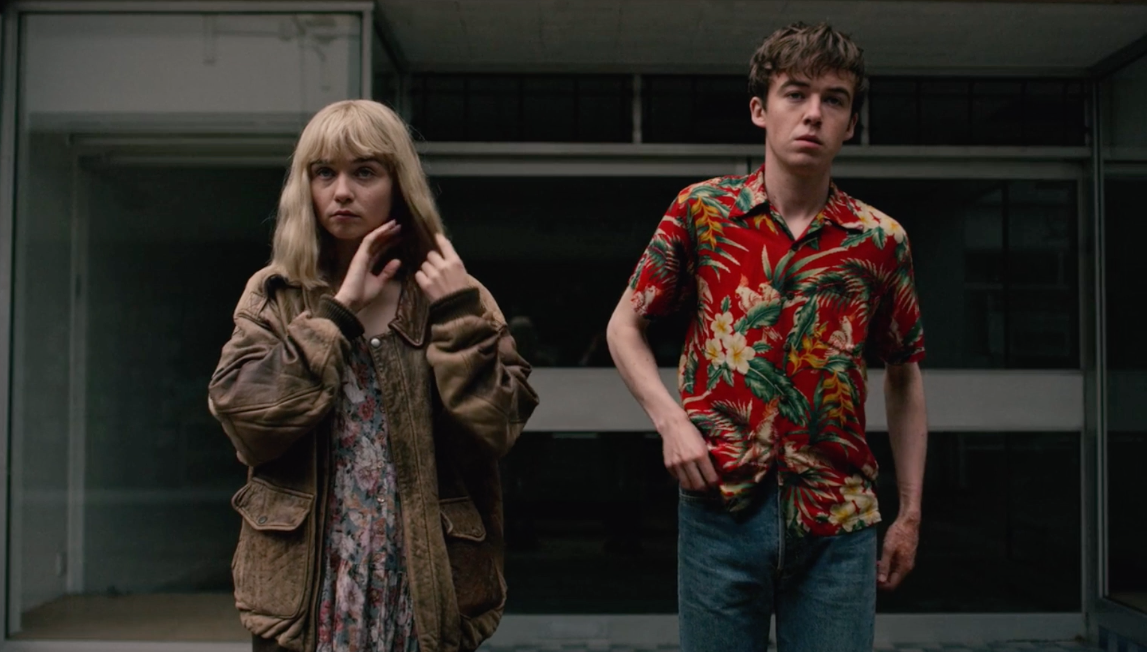 89. James freaking out while Alyssa is the calm one taking charge (but secretly freaking out on the inside) is kind of perfect. 

90. That seems like a bad place to hide the knife, James. 

91. Oh man is she gonna find a girl tied up in the house somewhere or something?

92. Oop no it's just James being freaked out and weird. 

93. Interesting that his visions have changed from fantasies of murdering Alyssa to trauma flashbacks of murdering this creepy guy.

94. Goddamn the song choices really are perfect in this show.

95. What was that below the bed?!

96. "I think there's something wrong with him." You're just realising that now Alyssa?!

97. Their new looks are iconic. 

98. Alyssa looking right into James' eyes as she asks where he got the knife is a great moment.

99. Uh oh the body has been discovered.

100. Oh hey it's Yara from Game of Thrones. And she clearly has a crush on her female colleague. Yes yes I am here for this. 

101. Fucking hell the creep's mother took the evidence that he was a killer. 

102. Ohhh no it was that Topher guy's wallet that was under the bed.
103. Alyssa is finally, rightfully scared of James and I kind of feel bad for him? Goddamn this show. 

104. I like the way they're exploring the emotional fallout of what happened. It's very well done. 

105. What happened the other night Yara/Eunice???

106. Oh noooo Alyssa is running away from James.

107. Wait, I wanted her to do that.

108. Except now I don't? 
I JUST WANT TO HUG AND PROTECT JAMES, THE LITTLE BASTARD.

109. "That was the day I learned that silence is really loud. Deafening… when you have silence it's hard to keep stuff out." That is achingly real.

110. The way James has made the connection to his dad is great. 

111. And the way the image of Alyssa covered in blood is upsetting him so much – in contrast to his previous fantasies of her covered in blood – is so effective in showing his character development. 

112. He's breaking my goddamn heart.

113. "I was never Alyssa's protector. She was mine." WELL FUCK ME UP, JAMES. FUCK ME UP. 

114. "Having finally murdered a human, I realised something quite important. I was pretty sure I wasn't a psychopath." *Deep exhalation*. 

115. OMG he is turning himself in! This… did not go how I expected it would. 

116. I am riveted.
Episode 5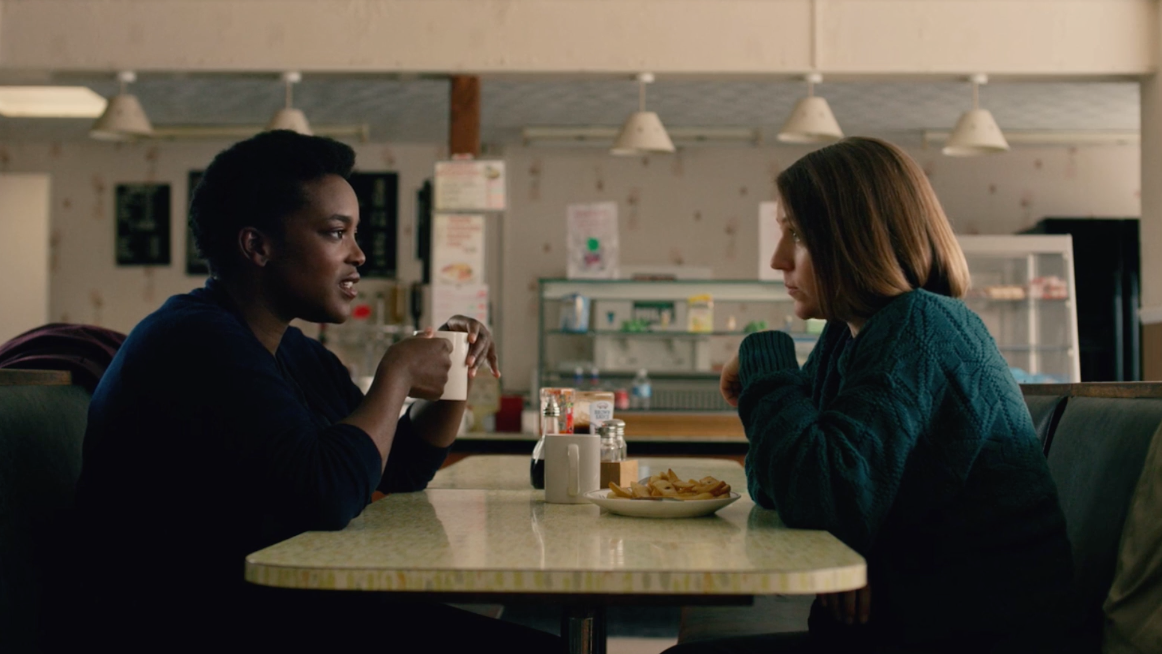 117. Shit we're launching straight into James' childhood trauma.

118. Baby James is so excited to feed the ducks! Precious little non-psychopathic baby.

119. His mum is definitely severely depressed. I think I know where this is heading and I don't think I'm ready. 

120. "I need to feed them." Oh baby James! 

121. Fuck. This is awful.

122. Everything is making a lot more sense now. 

123. OK he's not really going to turn himself in. I can't help but feel relieved. 

124. He actually just needs someone to talk to.

125. James' dad protecting him is making me love him a little bit. Or a lot.

126. I love the dynamic between the two female cops. They could have made it a male/female duo – so many other shows would – and they DIDN'T. It's great.

127. Alyssa got her period! Thank you, writers, for remember how human bodies function. Again, so many other shows wouldn't (don't) bother.
128. And the cops have very quickly realised how terrible Alyssa's home situation is. 

129. Oh man Teri is a cooooold cop. 

130. Alyssa is so used to men being terrible she's genuinely shocked when one isn't. 

131. Same. 

132. Ahhh Alyssa helped the little girl find her dad at the cost of her own freedom. Bless her. 

133. James went back to the diner where Alyssa left him, so now I'm gonna cry.

134. Alyssa trying to make up her mind about James while standing in the middle of a black and white wall is *Italian chef kiss*.

135. SHE WENT BACK FOR HIM.

136. THE WAY THEY'RE SMILING AT EACH OTHER. MY HEART.

137. "I'm sorry I killed him." Wow that character growth, James. 

138. James is so happy Alyssa is back and that she is letting him hold her hand (even if it's not his "weird one"). 

139. I knew that was a bad place to hide that bloody knife.
Episode 6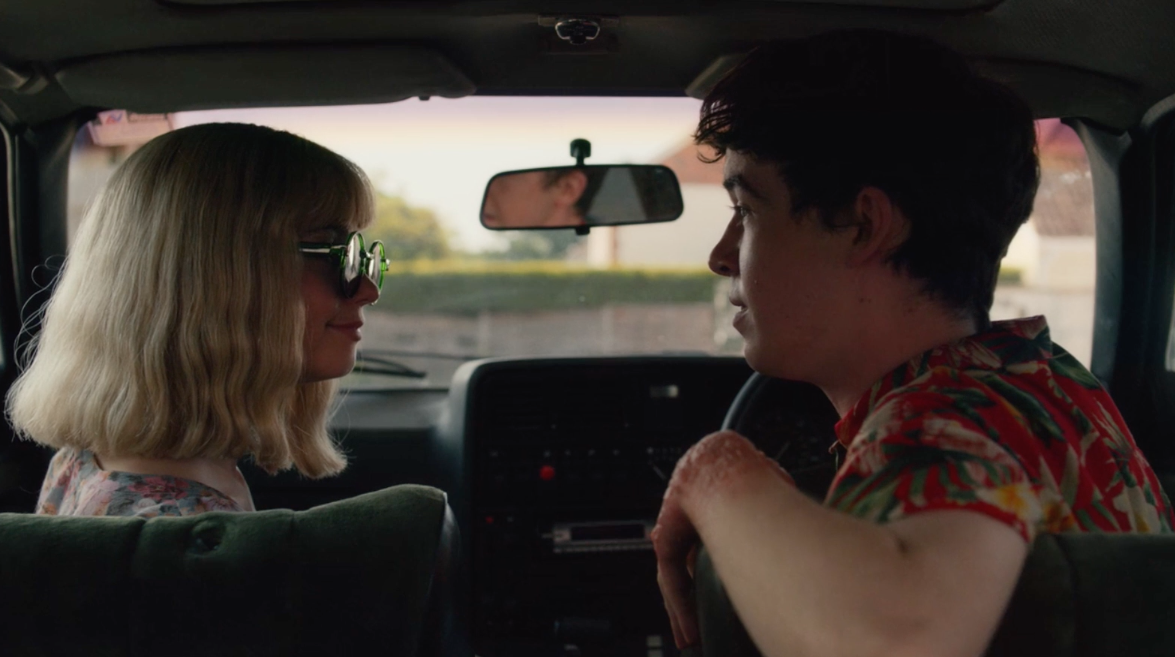 140. This montage of Alyssa and James singing along to "Keep On Running" in the car on repeat is so cute. 

141. And lmao at them being so over it in the end. Relatable. 

142. "They'll probably give us a medal". "They didn't." Well that is very ominous, James. 

143. This… this isn't going to end well, is it?

144. I love these two so much.

145. This kid at the petrol station is giving me flashbacks to my awful retail job and having to up-sell everything. Ugh, worst.

146. Oh shit they're busted. 

147. James running in pretending he has a gun to save Alyssa is giving me life. 

148. And the way he and Alyssa just smiled at each other is making my heart melt just a bit.

149. "I don't like my life." *Shoves keyrings on the floor* *flips bird at closed door* *chugs milk* Frodo is so relatable.

150. Eunice has a lot of sympathy for James and Alyssa and I low-key love her.
151. Awww Frodo wants to go with them. Poor Frodo. 

152. The video camera with the evidence that that creep murdered all those girls is right there argh. 

153. Eunice is a damn good detective. 

154. "Tell Tony I said fuck off!" Alyssa's phone slam was as satisfying as a mic drop. 

155. YES the creep's mum has done the right thing and brought in the camera.

156. Ooft the way Eunice is barging in on Teri's date is awkward. But warranted in the circumstances. 

157. Poor Alyssa. Of course her dad doesn't live there anymore. 

158. Oh no now they're going to get done for the petrol station too. 

159. "Sometimes you realise you've had a thing keeping you going that might be a lie. When you actually really understand that — that the whole thing might have been a lie the whole time — it's like you've swallowed a stone. But not recently. You swallowed it years ago." This is so accurate it hurts. 

160. Alyssa's internal thoughts and external dialogue finally matching up just gave me goosebumps. 

161. I bet her dad turns out to be a real bastard too.
Episode 7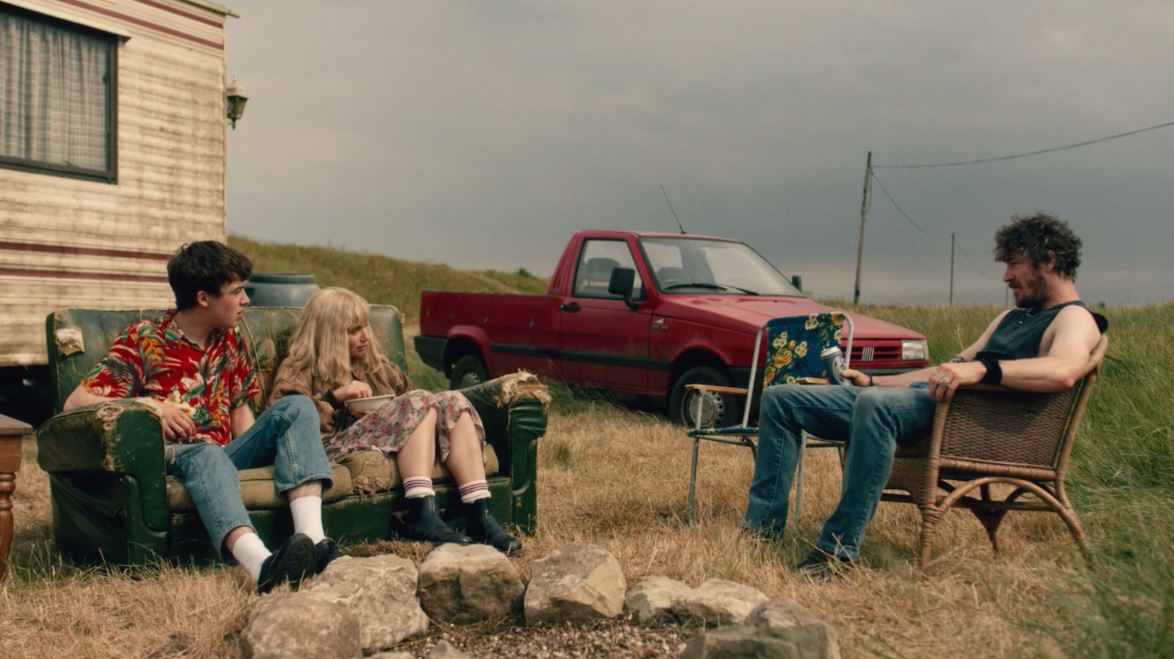 162. Yeaaaah he's a bastard. 

163. Oh wow he's actually letting them stay.

164. I feel like this won't end well. 

165. Her dad is low-key kinda hot though??

166. What is this knife-throwing pissing contest?

167. Haha of course James nailed it. 

168. "It's like he was missing parts." The writing on this show is so good. 

169. NO. SHOW THEM THE END OF THE CCTV. You know WHERE IT PROVES JAMES DOESN'T HAVE A GUN. 

170. Poor Alyssa, literally everyone in her family is awful. 

171. I feel so sad for James' dad. 

172. SO DOES EUNICE. I love her. 

173. Wow Leslie wasn't kidding about that burger being well done. 

174. Not surprised he's disappointing Alyssa already. But Alyssa still believing in him is heartbreaking. 

175. How do I love James so much right now? 

176. The performances on this show are all brilliant and perfect. 

177. Oh my god you were NOT joking about sending James to adult prison, Teri. 

178. PROTECT HIM EUNICE. 

179. "To be mad in a deranged world is not madness. It's sanity." "Who said that?" "Me." Leslie pulling a Tyrion Lannister out here. 

180. "I think they're miserable, fucked up, stupid kids." I love one (1) cop and her name is Eunice. 

181. Alyssa is glowing with pride at her dad and I'm not ready for this to blow up in her face, as it inevitably will. 

182. Yes Alyssa, listen to James! Keep moving. 

183. "Alyssa felt far away from me." Oh bb James. 

184. Yes Leslie, you are useless.
185. Oh shiiiiiiiit Leslie didn't even send her those cards, did he?

186. OMG HE'S GOT ANOTHER KID. 

187. Oh poor Alyssa. 

188. NO THE DOG.

189. NO NO NO NO NO.

190. WHAT THE FUCK.

191. WHAT THE FUCKING FUCK.

192. WHAT THE FUCKING FUCK FUCK FUCK.

193. I'm vaguely registering that I'm glad Eunice is getting her own room because Teri does NOT treat her right but also WHAT THE FUCK THE DOOOOG. 

194. I'm not OK. 

195. Maybe they can save it?

196. Oh shit they're going to mercy kill it.

197. Oh god I can't watch this. 

198. Wow James is wrecked. He can't do it. He's gone from actively murdering a cat to not being able to bring himself to mercy kill a dying dog. 

199. OK I get why this is in there – it illustrates how much he has grown and changed – BUT WAS THAT SHOT OF THE DOG REALLY NECESSARY?

200. Surely there are other ways to demonstrate character growth. 

201. ALYSSA NO.

202. I'm not OK. 

203. I, like James, really need a hug right now. 

204. Oh good Eunice is going out to Leslie's place by herself, maybe she can protect/save Alyssa and James.

205. Oh shit Leslie has seen the news about them.

206. This cannot end well.
Episode 8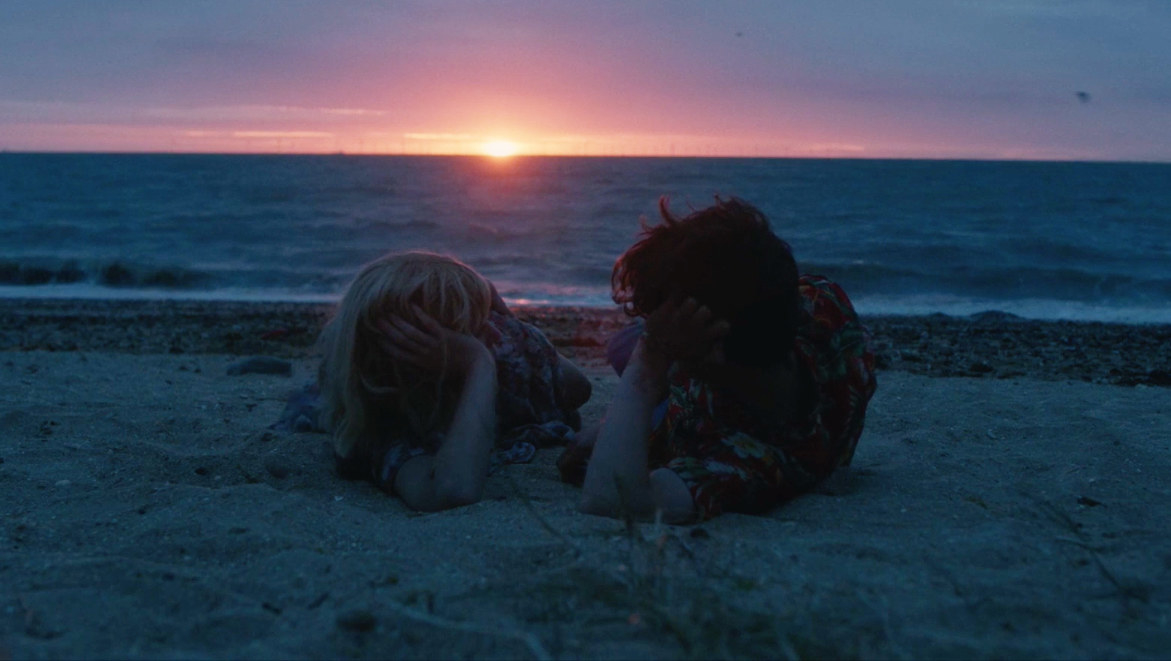 207. James is running. With a gun. Oh dear oh dear oh dear.

208. Oh we're back to the dog. At least they're burying the poor baby. :(

209. I'm still not OK. 

210. Alyssa just grabbed James' "weird" hand and I feel very emotional. 

211. And now James is kissing Alyssa first! These two have really gotten under my skin. 

212. Are they… are they gonna have sex for the first time on the grave of the dog?

213. "Can we wait?" "Yeah of course." The show is really great on trauma and consent and oh, so many things. 

214. "I think it is OK. We've got, like, our whole lives." Oh fuck every time a character says something like that they definitely don't have their whole lives. One or both of them are going to die aren't they? I'm not going to be able to handle it. 

215. EUNICE BE CAREFUL. 

216. I'm so stressed right now. 

217. I love that James and Alyssa are talking to each other about their emotions and trauma and moving towards a healthy place. 

218. And that sunrise shot is just lovely. 

219. "James. It wasn't your fault." Alyssa, once again, is great.

220. They're planning their escape and I feel hope which is really foolish, I know. 

221. Eunice has spotted them! SAVE THEM EUNICE.

222. "People can't be answers. They're just more questions." Damn, Alyssa. Damn. 

223. I hate Leslie so much.

224. THE BASTARD IS CALLING THE POLICE. 

225. Alyssa is breaking my heart. 

226. The acting in this show!! Superb. 

227. "I killed him." JAMES. MY HEART. 

228. HOLY FUCK ALYSSA! SHE REALLY JUST STABBED HIM ASGFKA@G*(FA.

229. Eunice! SAVE THEM. SAAAAAAVE THEMMMMM. 

230. Don't listen to Leslie, guys! Listen to Eunice!

231. Alyssa is delivering truth bombs once again. She's amazing.

232. "Why are you such a prick?" "I love him so much." Same, Alyssa. Same. I LOVE YOU BOTH SO MUCH.
233. I knew it! I knew it was her mum sending the cards!

234. Ohhh they don't want to be separated. Stupid, stupid, precious, stupid babies.

235. James checked on Eunice to make sure she was breathing. Now that he's fully tapped back into his feelings he is such a caring human being???

236. Of course it's low tide! Could these two have any worse luck?!

237. Congratulations Leslie, you played yourself by pulling out that knife. Hahhahahahaha.

238. "Say that I kidnapped you… tell them I did it all. Then you'll be OK." JAMES. MY HEART.

239. Oh shit here comes the running. 

240. Oh fuck they're shooting at him. 

241. FUUUUUCK. 

242. RUN JAMES RUN.

243. "I've just turned 18. And I think I understand what people mean to each other." JAAAMES. That contrast with his opening line is amazing. He's come so far. 

244. OH GOD.

245. FUCK.

246. WAIT. NO. YOU DID NOT JUST END IT LIKE THAT.

247. OMG.

248. …

249. …

250. ...

251. OMG.

252. I'm a mess.

253. And THIS SONG. Ugh it's so perfect and frankly RUDE.

254. I'M A MESS.

255. BRB watching the whole show all over again.
Looks like there are no comments yet.
Be the first to comment!