We Need To Talk About Jughead's Living Situation On "Riverdale"
WE WANT ANSWERS. Warning: contains spoilers for Episode 5 of Riverdale.
Episode 4 of Riverdale ended with the big reveal that Jughead is homeless.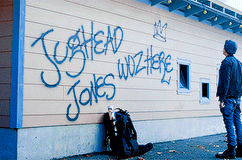 He'd been staying in the drive-in where he worked, but with that being demolished, he seemingly had nowhere to go.
Forget about who murdered Jason - the number one question we wanted answered in Episode 5 this week was WHERE IS JUGHEAD LIVING?!
Unfortunately, we got NO ANSWERS.
Oh sure, Jason's memorial happened.
The Blossoms were shown being creepy AF.
And there was a big reveal that Polly and Jason were engaged and Betty's parents knew about it and also have an old grudge against the Blossoms over maple syrup.
BUT WHAT ABOUT JUGHEAD??!?
Cole Sprouse, who plays Jughead, said in an interview with Access Hollywood that Jughead's personal life is explored more deeply from Episode 7. And that things are going to get worse for poor ol' Juggy.
In the meantime, at least we have this headcanon.
Oops. Something went wrong. Please try again later
Looks like we are having a problem on the server.
Where do you think Jughead is living right now?
The school newspaper office

I have another theory (and will share in the comments)

I DON'T KNOW I DON'T KNOW I JUST NEED TO KNOW HE'S OK

OK BUT WHERE IS JELLYBEAN??