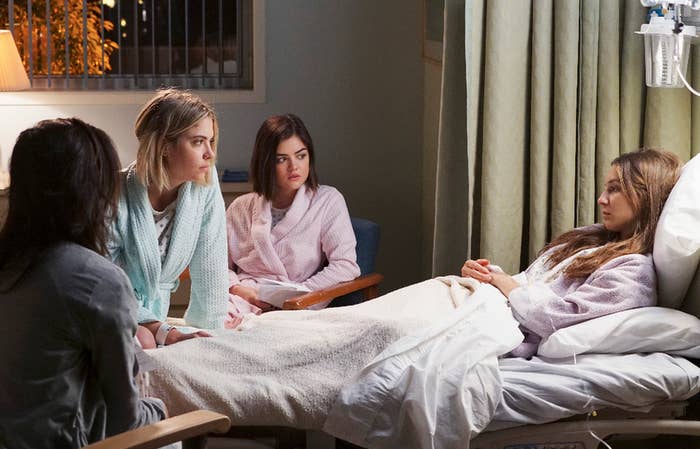 1. Why do they all just accept that it's Andrew?
2. IT'S DEFINITELY NOT ANDREW GUYS.
3. This is only episode two you haven't figured out who A is already.
4. Did Aria get ANOTHER haircut?
5. It's nice that the girls were leaving the Saw house and then Charles was like "wait, Aria, lemme fix your hair real quick first, let's get rid of your streaks, I'm over 2007 xoxo."
6. Alison's dad is so obviously lying HARD.
7. Alison's dad is shady AF.
8. She accepted that Emily "made a mistake" about Charles DiLaurentis WAY too readily.
9. Toby is a VIOLENT terrible cop now.
10. Wait where did Andrew come from?
11. How did they find him?
12. Literally, because they are the worst cops in the world?
13. OK Andrew's not A but he's shady.
14. Andrew was ranting about the "feminisation" of society, omg Andrew is a Men's Rights Activist.
15. Putting the A in MRA.
16. Except he's not A.
17. He is literally the only character I can say for sure is not A right now.
18. Wait, now I'm doubting myself.
19. Maybe it's a double red herring?
20. WHAT IS THIS SHOW DOING TO ME?!?!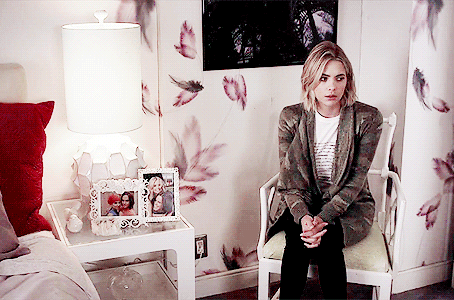 21. Oh poor Hanna, experiencing trauma just being in her own room.
22. This is actually really sad.
23. Hanna's mum: "You can order anything you want for dinner". Then thinks: "Yes I solved it I'm the best parent ever."
24. But also Hanna lives in like a mansion why doesn't she just sleep in a room that doesn't give her PTSD flashbacks?
25. And Hanna may be traumatised but her brows look better than ever. Say what you will about Charles but he is one talented beautician tbh.
26. Oh wow, all the mums are in this episode. Even Emily's mum!
27. They totally blew the parent budget for this one.
28. It literally took a month-long abduction for the parents to realise their daughters actually need care.
29. Why are none of them like WHY DIDN'T YOU TELL US WHAT WAS HAPPENING YEARS AGO???
30. Olivia Benson thinks that the "Andrew is A" thing is too neat. OLIVIA BENSON KNOWS WHAT'S UP.
31. The Saw house made Spencer SASSY.
32. What's in the safe, Emily?
33. Is it Charles?
34. OMG it's GUNS.
35. Emily is finally gonna murder Charles.
36. Wait, wasn't her house destroyed?
37. How is the attic still there?
38. Aw Spencer can't sleep.
39. These girls are breaking my heart.
40. Why didn't Toby stay with her, though? He is a terrible boyfriend as well as being a terrible cop.
41. Spencer knows Ali's dad was lying and is shady AF. She takes after her mum, Olivia Benson.
42. "You'd have done the same for me." LOL Ali remember when they got you arrested tho?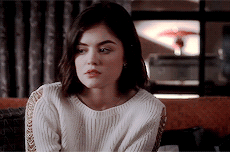 43. Aria is having a flashback to last episode but literally she's had three haircuts since then???
44. Ezra shaved his mo because he's no longer frantically searching for the girls. His mo represented how "stressed" he was.
45. He's trying to make Aria write some fucked-up crime novel, probably so he can get some royalties or something, classic.
46. "You can write about it." Yeah that's definitely an "advantage" Ezra.
47. Although maybe Aria's advantage is that she's actually A.
48. OK I know it's super traumatic to be locked in a Saw house, but these girls have been tortured for years, why is it only NOW they're exhibiting this much trauma?
49. I mean, I guess it is pretty next level.
50. Goddamn Charles.
51. Really can't see myself feeling sympathy for him, there is literally no excuse for all this shit.
52. Emily wielding a gun is kinda sexy.
53. She needs it, too.
54. The gun, not to look sexy.
55. Oooh there's a new cop in Rosewood. Is he a shady one or a dumb one?
56. Maybe both?
57. He's part of the police's "fresh perspective". LOL THEY NEED IT.
58. BUT REALLY WHY ARE THEY INTRODUCING A NEW CHARACTER THERE ARE ALREADY TOO MANY TO KEEP UP WITH WHAT THE HELL?
59. Oh, hang on, maybe he's A.
60. He's A.
61. Definitely.
62. Toby is acting like such a good guy BITCH NO you were A for a while there.
63. That was a very loaded conversation between Toby and Ali.
64. Does Ali know something?
65. Or suspect something?
66. OMG IS TOBY CHARLES?!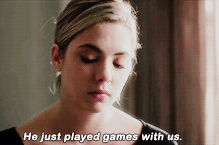 67. Ooooh no, it sounds like a rift is forming between the Liars.
68. No girls, no.
69. Your friendship is literally the best part of the show.
70. Jeez I guess Charles did a lot worse to them than just making them wear season one's clothes and giving them haircuts.
71. Did Charles turn them against each other with his goddamn games?
72. :(
73. Clearly all the girls picked Hanna to torture, IDK why, but Hanna seems to be battling the worst.
74. Emily might have told Paige to stay away but that tone doesn't sound like closure to me mmhmm.
75. But Paige, Jesus Christ, how could you not go back to Rosewood to see your ex who went missing for a month?
76. "How can a high school boy afford all that?" GOOD QUESTION.
77. "It was Andrew!" Ugh Aria have you learned nothing from the past?
78. Remember when you were sure it was Ali?
79. Remember when you were sure it was Noel Kahn?
80. Remember when you were sure it was Toby?
81. Remember when you were sure it was Jenna?
82. Remember when you were sure it was Mrs DiLaurentis?
83. REMEMBER WHEN YOU'VE BEEN WRONG EVERY DAMN TIME?!
84. ARIA WHAT ARE YOU DOING?
85. C'MON DON'T LIE TO THIS NEW COP WHO MIGHT NOT BE TERRIBLE.
86. YOU'RE GOING TO RUIN THE INVESTIGATION WHICH IS ALREADY NOT GOING GREAT.
87. YOU'RE A DUM DUM.
88. UNLESS YOU'RE A.
89. Like, it's definitely Aria right? We all know it's Aria and she's just crazy and she never actually went to Iceland, she went to Radley and never got out, because Ali is dead and this is all in Aria's head GOODBYE I AM DONE OMG.
90. I'm not done.
91. I'll never be done.
92. Help.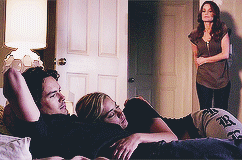 93. Oh hey Toby is not being dumb for a change and actually asking the right questions. Why would Andrew make it so obvious it's him?
94. Because IT'S NOT HIM THAT'S WHY.
95. Literally when's Spencer gonna be like "lol Toby I cheated on you a bunch last season lolololol soz" tho.
96. Emily is 100% going to join the army in the time-jump.
97. Except Emily won't make it to the army because $100 says she shoots the wrong person thinking it's A by the midseason finale.
98. What's up with this Lorenzo guy? Is this another red herring?
99. Ali is literally considered a bully, a liar, and probably a murderer by the whole town but she's embarrassed about going to CHURCH?
100. Priorities, gurl.
101. Spencer don't steal those pills.
102. Damn it Spencer.
103. Can we not?
104. OK this is terrible and I feel sad that they've gone through all this trauma and I guess it's good the show is exploring that but also like, really I just want more info about Charles please.
105. Caleb's all like "So Han, I know you're traumatised but lemme solve ya problems with my dick."
106. "You're the greatest person I've ever met." Except hey Caleb remember when you met that other girl who was kinda your soul mate in Ravenswood tho? Oh yeah we're just gonna pretend that never happened.
107. Why is Ali still dressing like a 40 year old?
108. Wow Aria is sassing her mum. The girls are all so sassy post-Saw house.
109. "Aria you're very smart." Literally where is the proof of that.
110. Sara runs to Emily and Emily immediately gets her mum involved WELL DONE INCLUDING THE PARENTS IT'S ABOUT TIME.
111. There are literally more parents in this episode than in the past five seasons combined.
112. But there are no dads in this episode at all?
113. The budget mustn't have extended to dads.
114. Oh God is Sara Emily's new love interest?
115. Please no.
116. Sara doesn't think it's Andrew either. This girl was locked up in the Saw house for TWO YEARS and she has more sense than the Liars rn.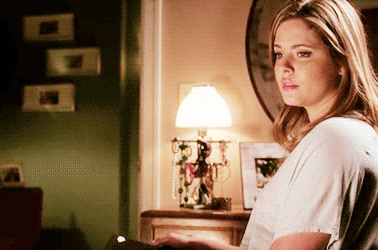 117. That's it?
118. This is supposed to be the "Summer of Answers", WHERE ARE MY ANSWERS I WAS PROMISED ANSWERS I ORDERED THE ANSWERS I MARLENE WHAT ARE YOU DOING TO ME???
119. Like, we literally got more questions?
120. Who's that cop?
121. Is he shady?
122. Is he Ali's love interest?
123. Who's that other cop?
124. Is she shady?
125. WHERE IS MONA?!?!
126. IS SHE OK??
127. IS SHE A?!????
128. WHY AM I STILL WATCHING THIS LIKE I LOVE IT BUT IT KILLS ME WHAT IS HAPPENING WITH MY LIIIIIIFE?
129. Can't wait for next week.