Recently I've been rewatching the movies I was obsessed with as a pre-teen and teen. This includes the many teen horror movies that came out during the '90s – think Scream, I Know What You Did Last Summer, Urban Legend and even The Faculty. Disturbing Behaviour was one of the few still left on my to-watch list, so it was about time I got around to this Katie Holmes/James Marsden vehicle. Here's how the experience of revisiting it went down...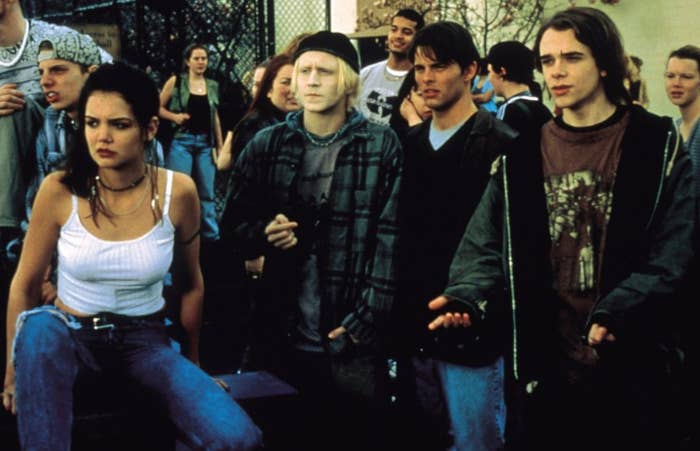 1. These opening credits have been going for 84 years.
2. FINALLY the movie is starting.
3. "I got a big game…I need my fluids." Is this the start of that urban myth, or did it just perpetuate it?
4. Tattoos are self-mutilation? Boy, bye.
5. Oh no there's a dog. I better not be about to witness another horrific pet murder.
6. Nick Stahl, you perve.
7. OH SHIT THE JOCK JUST SNAPPED THAT CHICK'S NECK MID-GOBBY!
8. (Gobby means blow job in Australia. Hi America.)
9. Oh wow he literally SHOT A COP and the other cop is letting him get away with it???!?!??!?
10. Is this movie a critique of the special treatment footballers get in America? Or just how bad the cops are?
11. Hello, James Marsden! Ugh, what a dreamboat.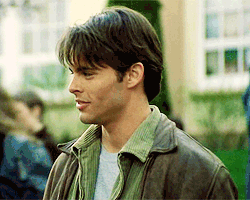 12. Oooh, who's that girl playing his little sister? I feel like she was in everything in the '90s.

13. Well, at least two Goosebumps episodes.
14. Is that alien cake foreshadowing? I can't remember what causes the weird behaviour in this movie. Do they get pod-personed, like The Faculty?
15. Ethan Embry is in this?!
16. Oh, no, just in flashbacks it seems. I think his character is dead.
17. What the hell is that hat this guy is wearing? It's at least seven sizes too big for his head.
18. Are they saying "peckerhead" because "dickhead" is too rude? Lol.
19. This character with albinism is clearly not played by an actor with albinism which is…not great.
20. The way they're talking about weed sounds like they've never actually smoked weed. Like they sound like a bunch of seventh graders trying to be cool: "yeah man, I do all the pot, all the weed, I get high, yeah man."
21. Ah! The classic cafeteria clique monologue.
22. Omg it's Michael from Roswell!
23. Ahhh Ethan Embry is James Marsden's dead brother. Sure.
24. This counsellor guy is definitely the head alien. That turtleneck is suspicious.
25. Oh man, remember when everyone wore corduroy jackets?!
26. Finally, Katie Holmes appears. Just casually dancing by herself in the back of her truck. As you do.
27. She looks hot AF.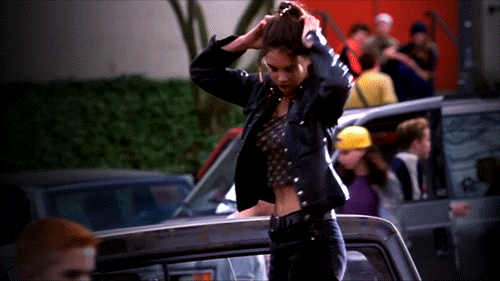 28. This was the role in which she was trying to break out from the Joey Potter character, right?
29. Except she's EXACTLY like Joey Potter, only with more makeup and less prudishness.
30. Oh and she smokes!
31. Lmao, so if they get a boner, they start murdering people?
32. "Toxic jock syndrome". That's actually pretty good.
33. Is this cop one of them or is he just THAT dodgy?
34. The sound machine that scares the rats away is what gets them in the end, isn't it?
35. I feel like this script is pretty good, but they're speaking so fast/mumbling so much I'm only getting half of it.
36. Or maybe I'm just getting old.
37. Nick Stahl is wearing some truly terrible hair extensions.
38. Oh are ALL the teachers involved?
39. "Spends far too much time listening to rock music and masturbating." Same.
40. Uh oh they got Nick Stahl.
41. Or is he just pretending to find out the truth? I can't remember.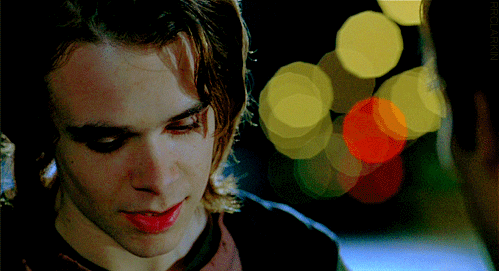 42. What kind of students run AWAY from a fight and not towards it? This is the least believable part of the whole story.
43. What does the janitor know?
44. It wouldn't be a '90s movie without the casual use of the R word.
45. This Kurt Vonnegut scene is weird.
46. Ah, now THIS scene I remember! The jocks chasing James Marsden in the rain.
47. Is that PARANOIA PARANOIA song gonna start in a sec?
48. Oop no that must come later.
49. I was not expecting to see boob in a movie that can't even say the word "dickhead".
50. "It's bad, wrong, wrong, bad." Oh yeah I remember quoting this scene with my friends.
51. Damn that was brutal.
52. Ohhh they're chipped! Not aliens after all.
53. Nick Stahl left a secret message for Katie Holmes, I bet it's about him faking it.
54. This guy reacting so aggressively to being rejected is a little too real.
55. Ah I knew the rat thing was gonna be the secret to defeating them!
56. What's with the robot noises he's making though? Lol I thought it was just a chip?
57. Oh maybe they really did get Nick Stahl after all.
58. It's like an allegory for the brainwashing of the education system, I guess.
59. Damn, James Marsden is pretty.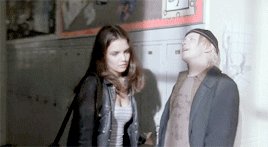 60. Katie Holmes' character definitely made me want to get a nose ring when I was younger.
61. "Think of it as our first date." That's…not remotely romantic? You're sneaking into a psychiatric hospital!
62. Is this place abandoned? How are they just walking around?!
63. Oh no, there are patients.
64. Where are the staff?
65. Ugh, another movie portraying mental ill people as grotesque monsters. Fantastic.
66. This is fucked.
67. WHAT?! SHE JUST PUNCHED A MENTAL PATIENT WHAT THE FUUUUCCCK?!
68. It's Caldicott's daughter? That might mean something if they'd built up this narrative at all.
69. PARANOIA PARANOIA!
70. I used to listen to this song ON REPEAT.
71. "I am making this shit up as I go." Same.
72. The janitor to the rescue!
73. Omg that NOFX sticker.
74. These parents are overacting the hell out of this scene.
75. Oh shit they got Katie Holmes and James Marsden.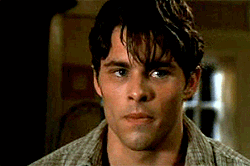 76. How are his parents okay with this?
77. Also isn't it like midnight?
78. None of this makes any sense.
79. Go, James Marsden!
80. Oh good, Katie Holmes isn't chipped either.
81. They're just gonna run away?
82. The janitor to the rescue again!
83. Hahaha this is unintentionally very hilarious.
84. What a moment to kiss.
85. Oh shit the janitor has been shot.
86. "Hey teacher, leave those kids alone!" Hahahahahaha that was terrible.
87. RIP all of them I guess.
88. What about Nick Stahl though?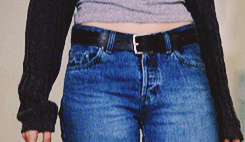 89. This whole thing is like The Stepford Wives, but high school. And bad.
90. That fall was some awful special effects.
91. Lmao @ that unnecessary bike stunt.
92. What about all the parents????
93. "Home is wherever we are." That is a) so cheesy and b) so out of place.
94. Bad, bad, bad.
95. Oh there's Nick Stahl! He's a teacher now? Okay.
96. Ooft, this movie was A MESS. And not in a good way.