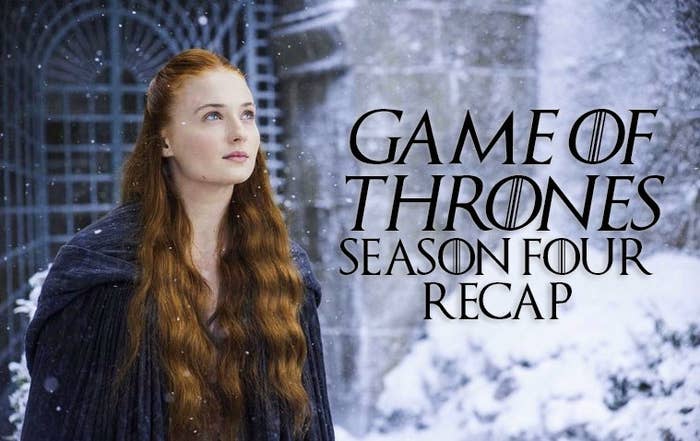 Episode 1: "Two Swords"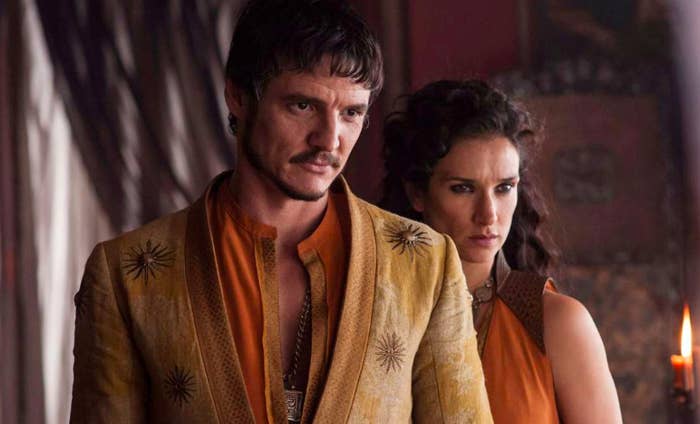 The Big Plot Stuff:
• This is the third season out of four to begin with a cold open. This time, we see Ice, Ned Stark's sword, melted down into two new swords. Tywin Lannister also burns the wolf pelt Ice was kept in, and honestly, it almost feels like watching Ned Stark die all over again. How did this show make me care about a SWORD so much???
• Tywin gives Jaime one of the new swords and they talk about how the war is over (sure ok). Jaime is back on the kingsguard, but Tywin wants to send him to Casterly Rock and make him his true heir again. Jaime doesn't want to do this because a) he doesn't want to break ANOTHER oath and b) he doesn't want to leave Cersei – although he doesn't tell Tywin this bit. Later, Qyburn fits Jaime with his brand new gold-plated hand. Jaime tries to reconnect with Cersei but she's not interested in him, telling him he "took too long" to get back.
• Sansa is haunted by her grief over Cat and Robb's deaths. She's not sleeping or eating. Tyrion is worried about her and so is Shae, but Shae is also jealous. She tries to seduce Tyrion but he pushes her away, which just makes her angrier. Cersei's spy sees them together.
• Brienne tells Margaery about the shadow with Stannis' face that murdered Renly. Brienne then talks to Jaime about doing something to ensure Sansa's safety. Sansa, meanwhile, is approached by Ser Dontos (the drunk she saved in Season 2), and he gives her a necklace.
• Prince Oberyn Martell arrives in the capital with his mistress, Ellaria Sand, and they head straight for the brothel. Oberyn hears some Lannister men singing the Rains of Castamere and he attacks them, because he hates the Lannisters and blames them for his sister's death. Tyrion is understandably nervous about Oberyn's presence in King's Landing.
• Daenerys and her entourage are on the way to Meereen. The masters there have killed slave children and hung them up on crosses at every mile marker. Meanwhile, the dragons have grown again – they're as big as people now, and getting wild. Daario 2.0 (OH GOD HE'S SO HOT) is putting the moves on Daenerys, and she acts unimpressed but she's totally horny for him.
• Thenns (cannibal wildlings) meet up with Tormund and Ygritte's squad.
• Jon is mourning Robb but has to answer for his time with the wildlings. He admits he broke his vows but tells Thorne, Maester Aemon and Janos Slynt (the new addition to the Watch) that a wildling attack is coming. Aemon says he won't be punished.
• Arya and the Hound run into some Lannister men at an inn – including Polliver, the soldier who captured Arya in Season 2 and who stole Needle and killed Lommy. After a tense verbal exchange, the Hound and Arya kill them all, and Arya gets Needle back. The Hound and Arya then head to the Eyrie, as the Hound wants to sell Arya to her aunt Lysa.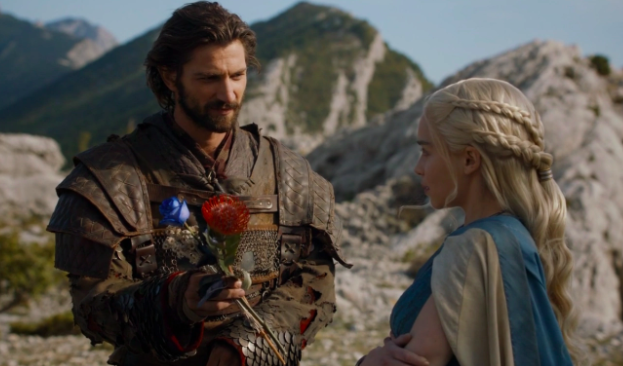 Symbolism, foreshadowing and callbacks:
• Winterfell is still smouldering in the credits.
• Oberyn talks to Tyrion about the last time he was in the capital – for his sister Elia's wedding to Rhaegar Targaryen. He talks about Elia's death – she was raped and killed by the Mountain, and her two kids with Rhaegar (Aegon and Rhaenys) were also murdered by him. Oberyn believes Tywin Lannister ordered the murders. What's really interesting is the way he talks about Rhaegar, though – "beautiful, noble Rhaegar Targaryen left [Elia] for another woman". This is a clue that Rhaegar wasn't who Robert made him out to be. Out of anyone, Oberyn would have hated Rhaegar for what he did – but he still frames it as an affair, rather than a kidnapping and rape.
• Sansa says she doesn't pray anymore – she goes to the godswood just to be left alone. This is in contrast to her hopefulness last season, when we did still see her actually praying. Later, when she's back home in Winterfell, we see her in the godswood there, and she tells Littlefinger she's "done" with praying. Cat and Robb's deaths were the final nail in the coffin of who she formerly was.
• Aemon's says "if we beheaded every ranger who lay with a girl, the Wall would be manned by headless men", which echoes what Jeor Mormont said to Jon in Season 1.
• When he's taunting Jaime about his lack of achievements, Joffrey mentions Ser Arthur Dayne, the Sword of the Morning, who is the kingsguard we later see in the flashback to the Tower of Joy. He died fighting Ned and Howland Reed when Jon was born. Joffrey also references Ser Duncan the Tall, who is the main character in a prequel series by George R. R. Martin, and supposedly Brienne's ancestor.
• It's interesting that Daario gives Dany a blue rose, considering that in the books blue roses are associated with Lyanna Stark and by extension Jon Snow. Dany even sees one in a vision that most people believe represents Jon Snow.
• Arya kills Polliver in the exact way he killed Lommy – down to what she says.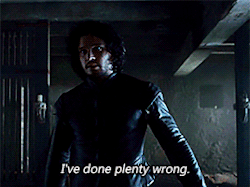 Stray observations:
• Tywin says he's tried to teach Jaime for 40 years and he'll never learn. One of Tywin's downfalls is that he never recognised that it was Tyrion and Cersei who were really learning, even when he put all his energy into Jaime.
• Jon reminiscing over growing up with Robb is so sad. But also the way he says "I've done plenty wrong" is one of his hottest moments ever.
• Yes, I firmly believe that Jaime saying to Brienne "are you sure we're not related" is his way of flirting with her. Lol.
Episode 2: "The Lion and the Rose"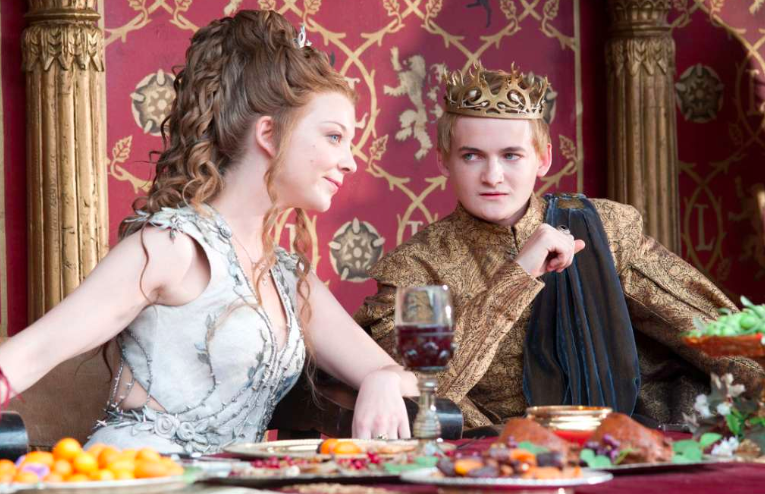 The Big Plot Stuff:
• Ramsay and Myranda hunt a girl down in the woods with Ramsay's hounds and Reek in tow. Roose arrives home with his wife Walda and Locke. He's angry with Ramsay for what he's done to Theon because they've lost his value as a hostage. Ramsay promises to get Moat Cailin back from the Ironborn anyway, and gets Reek to reveal the truth about Bran and Rickon being alive. Reek adds they'd probably go to Castle Black and Jon Snow. Roose sends Locke to Castle Black to find them.
• Melisandre burns Selyse's brother and other men as sacrifices to the Lord of Light.
• Bran has a vision via a weirwood tree that tells him where to find the Three Eyed Raven.
• Tyrion sets Jaime up with Bronn so he can discreetly learn how to fight with his left hand. At a royal breakfast, Tyrion presents Joffrey with a book and Tywin presents him with a sword – one of the ones that came from Ice. Joffrey names it Widow's Wail and hacks up Tyrion's book with it. Meanwhile, Tyrion hears Cersei tell Tywin about Shae, and he says "have her brought to the tower of the Hand before the wedding". Tyrion pushes Shae away and says awful things to her to convince her he doesn't want her, and he has Bronn escort her to a ship to Pentos.
• Margaery and Joffrey marry. A lot goes down at the wedding. Cersei confronts Brienne about her relationship with Jaime, while Jaime looks on worriedly. Joffrey humiliates Tyrion repeatedly in front of everyone and is generally his usual turd self. Joffrey then dies a brutal and horrible death as a result of being poisoned, and it's one of the most beautiful things the show has ever done. Cersei blames Tyrion and he is arrested. Ser Dontos helps Sansa escape.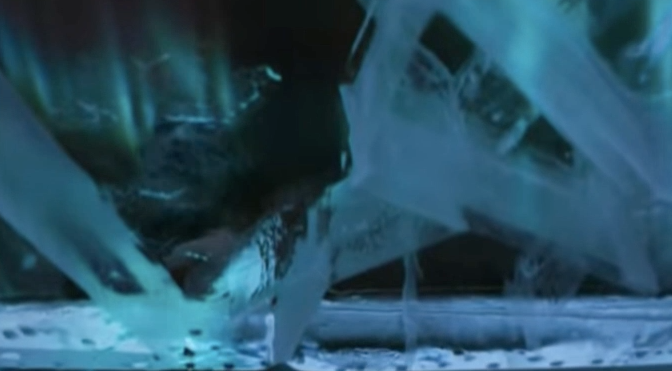 Symbolism, foreshadowing and callbacks:
• The cut between Reek and the plate of sausages is a bit on the nose.
• Jojen and Meera tell Bran not to stay too long warging into Summer because he'll forget who he is and everything that is important to him. It's sad because that's kind of what happened when he turned into the Three Eyed Raven.
• Bran's vision includes shots of the Three Eyed Raven's weirwood; a raven flying through the crypts at Winterfell from Bran's earlier visions; shots of Ned sharpening Ice, plus Ned in prison; the sky in the North from the cold open of Season 3; the wight from the cold open in Season 1; the dead horse from Sam's first encounters with the White Walkers; the destroyed throne room from Dany's vision in the House of the Undying; the Night King through a frozen altar; Bran falling in Season 1; and a DRAGON FLYING OVER KING'S LANDING that we still haven't seen on the show (although dragons did go to King's Landing in Season 7).
• Joffrey's new crown has rosebuds entwined in it to represent House Tyrell. Margaery's crown similarly features antlers with roses wrapping around them – no doubt symbolising how she seeks to control Joffrey.
• Olenna "affectionately" adjusts Sansa's hair and necklace, but really she is grabbing the stone containing the poison to kill Joffrey. As she does so, she says "killing a man at a wedding. What sort of monster would do such a thing?" Because she is the definition of big dick energy.
• The fact Tyrion refuses to kneel before Joffrey makes it all the more meaningful when he finally kneels for Daenerys in Season 6 – he's finally found a ruler he believes in.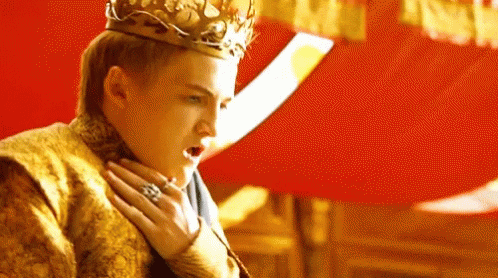 Stray observations:
• Tommen 2.0, the former Martyn Lannister, has arrived!
• Selyse mentions the larders are almost empty at Dragonstone, which makes me wonder where Dany got food enough to feed her armies in Season 7.
• Damn it felt good to watch Joffrey die. Even better than all those times he was slapped.
Episode 3: "Breaker of Chains"
The Big Plot Stuff:
• Ser Dontos takes Sansa to Littlefinger's waiting ship. Littlefinger kills Ser Dontos and assures Sansa "the worst is past", which is a huge fucking lie.
• Cersei and Tommen mourn Joffrey in the Sept of Baelor. Tywin arrives and starts giving Tommen lessons on what makes a good king (spoiler: it's listening to him) and he also gives him a sex talk. Fun! Cersei tells Jaime she wants him to kill Tyrion. Jaime is horrified. Then Jaime rapes Cersei next to the dead body of their son (a note here: the cast and showrunners have always maintained that this scene was meant to read as consensual – but if that's the case, they failed big time in the execution).
• Tywin interrupts Oberyn and Ellaria's orgy at the brothel and insinuates that Oberyn conspired to kill Joffrey. Oberyn denies it, and Tywin asks him to be a judge at Tyrion's trial along with himself and Mace Tyrell, and also offers him a place on the Small Council. He says they'll need Dorne if Daenerys ever comes to Westeros with her dragons.
• Pod visits Tyrion in prison and Tyrion urges him to flee the city or he will be killed for his association with him. Tyrion is shocked to learn Sansa has fled, and realises it makes him look guiltier.
• Arya and the Hound discuss their future – the Hound contemplates joining the Second Sons, while Arya wants to go to Braavos. They cross paths with a farmer and his daughter, who give them food and somewhere to stay the night. The Hound then robs the farmer, much to Arya's horror.
• Sam takes Gilly and baby Sam to Mole's Town as he's worried they're not safe at Castle Black – especially Gilly. Gilly is not happy about it.
• Tormund, Ygritte and the other wildlings attack a village – Olly's village. Ygritte shoots Olly's dad with an arrow, and also kills his mother. Olly flees to Castle Black and tells them what happened, and while they're debating what to do, Grenn and Edd arrive, having fled Craster's Keep. Jon declares they have to go North and kill the mutineers so they don't reveal the truth to Mance Rayder – that there are only 100 men left at Castle Black, not 1000 as Jon led him to believe.
• Dany arrives at the gates of Meereen. Daario fights the city's champion and wins. Dany makes an epic speech encouraging all the slaves to free themselves from their masters.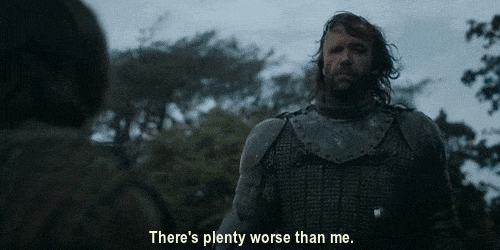 Symbolism, foreshadowing and callbacks:
• It's interesting that Tommen's first thought on what makes a good king is "holiness" considering what happens later with him and the High Sparrow.
• The Hound says the farmer and his daughter will "both be dead come winter". This turns out to be true, and he sees it for himself – he revisits this farm in Season 7 with the Brotherhood Without Banners, and they find the dead bodies of father and daughter.
• Davos says "I've never heard of visions and prophecies winning wars. Soldiers win wars." Let's see how that turns out in Season 8!
• Stannis says "I will not become a page in someone else's history book" which is, uh, exactly what happens to him.
• Oberyn tells Tywin he doesn't believe children should be blamed or punished for the sins of their parents – but this is what Ellaria later does with Myrcella when she murders her as revenge for Oberyn's death. Oberyn would not approve.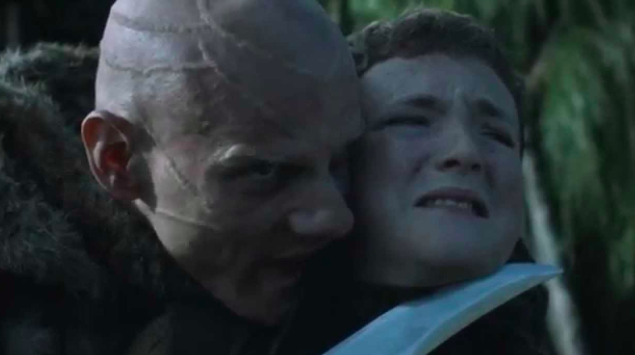 Stray observations:
• I'm still furious about the Jaime/Cersei scene in the sept. The show really screwed up with it.
• I know we all hate Olly, but rewatching how his parents actually die in front of him...it's a little harder to hate him. I mean, we cheer Arya for getting revenge on the people who murdered her family, after all.
Episode 4: "Oathkeeper"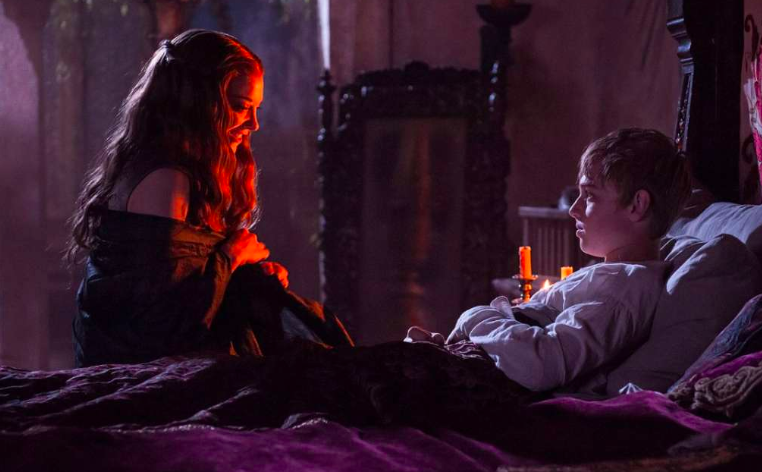 The Big Plot Stuff:
• Missandei is teaching Grey Worm to speak the Common Tongue, and the two fo them bond over their past. Grey Worm then sneaks into Meereen and gives weapons to a bunch of slaves, who use them to kill and imprison the masters. Despite Barristan Selmy's protests, Dany punishes the surviving masters by crucifying 163 of them, just as they did to the slave children on the road to Meereen. Dany takes up residence in the great pyramid and hangs her Targaryen flag at the top.
• Jaime is still training with Bronn, who convinces him to see Tyrion. Jaime does so, but tells Tyrion he can't set him free (of course, he later will). Jaime and Cersei have an argument over his promise to protect the Stark girls and his visit to Tyrion. Cersei wants both Sansa and Tyrion dead. Jaime gives Brienne the sword his father had forged from Ice, and asks her to find Sansa and protect her with it. He also had armour made specially for her, and he assigns Pod to be her squire in order to keep him safe. Brienne names the sword Oathkeeper, which is hugely significant for Jaime, who hates being known as Oathbreaker. Brienne and Jaime bid each other farewell in an emotional scene.
• On the way to the Eyrie, Sansa accuses Littlefinger of orchestrating Joffrey's death and he reveals her part in it – the necklace Ser Dontos gave her contained the poison. Sansa asks him what he wants, and he says "everything". Littlefinger also hints at his alliance with the Tyrells.
• Olenna leaves the capital after telling Margaery to make a move on Tommen to secure her future as Queen, and confessing her part in Joffrey's death. Margaery visits Tommen in the middle of the night and tells him they'll be married soon. She knows exactly how to manipulate him. Also Ser Pounce is there!
• Jon trains new Night's Watch recruits – including Locke – in how to fight wildlings. He butts heads with Thorne, and Janos Slynt suggests Thorne let Jon carry out his plan to kill the mutineers at Craster's – but only to get Jon out of his way. Jon gets together a group of volunteers – including Grenn, Edd and Locke – to take beyond the Wall.
• At Craster's, Karl Tanner is using Jeor Mormont's skull as a wine glass, while he and his fellow mutineers rape and abuse Craster's wives. Craster's last son is born, and the women tell Karl he must be sacrificed as a "gift for the gods". Rast places the baby outside, teasing a caged Ghost on the way. Bran and co are camped nearby and hear the baby's cries. Bran wargs into Summer to investigate, and Summer gets caught in a trap. Bran and the others go to find her and are captured by the mutineers.
• A White Walker carries Craster's last son into the Land of Always Winter and places him on a frozen altar. The Night King approaches and turns the baby into a White Walker.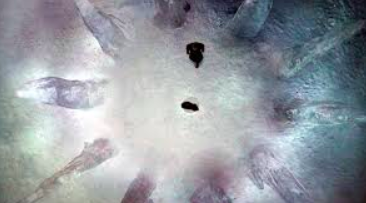 Symbolism, foreshadowing and callbacks:
• Tyrion says "Sansa's not a killer. Not yet, anyway." It'll be interesting to see him react to her in Season 8. She is a killer now, after all.
• As Olenna talks about her role in the assassination of Joffrey, she plays with Margaery's necklace – indicating exactly how she did it with Sansa's necklace.
• On sacrificing Craster's last son, Karl Tanner says "let's give the Walkers what they want". There's a fan theory that the White Walkers are moving south in order to get baby Sam, Craster's only son that escaped. I think there'll be more to it than that, but it's interesting to note.
• The frozen altar in the Land of Always Winter is surrounded by a circle of frozen stones that resemble those seen later in the flashback to the creation of the first White Walker. They also connect with the circular patterns we see repeated throughout the series in association with the White Walkers.
• As the Night King approaches the altar, we get a glimpse at other White Walkers around him – there are SO MANY of them.
• The shot of the Night King through the altar is what Bran saw in his vision earlier in the season.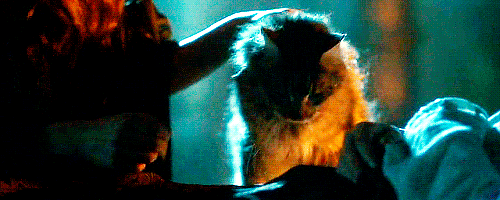 Stray observations:
• Dany's hair looks so pretty. Her wig game is strongest this season.
• How did Littlefinger and Olenna know Sansa would wear that necklace to the wedding?
• LONG LIVE SER POUNCE.
• I BAWLED during the scene in which Jaime and Brienne say goodbye. I hope we get decent closure around their relationship in Season 8.
• I totally forgot – or missed, somehow – that one of the reasons Jon is so keen to get to Craster's, beyond punishing the mutineers, is because he thinks Bran might be seeking shelter there. It makes it even sadder to later watch how close he comes to finding him.
• JEOR. MORMONT. DESERVED. BETTER.
• I wonder if Gilly ever gave her abused sisters another thought after escaping from Craster.
• There are still so many unanswered questions about the White Walkers that the reveal in this episode raises. It'd be good to get some answers in Season 8.
Episode 5: "First of His Name"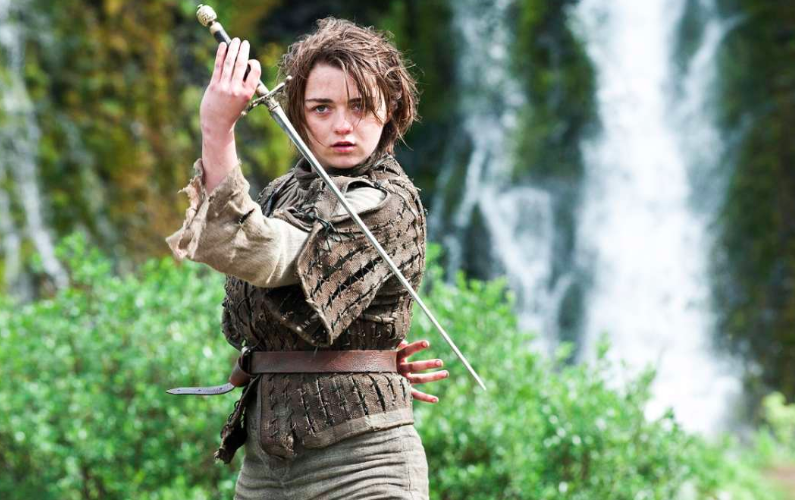 The Big Plot Stuff:
• Tommen is crowned king, and Cersei talks to Margaery and seemingly agrees to support her marriage to Tommen. She still doesn't want to marry Loras herself, but Tywin reveals why the alliance with the Tyrells is so important: the Lannister gold mines ran dry three years ago, and the crown is heavily in debt to the Iron Bank. Cersei later meets with Oberyn and asks him to give a gift to Myrcella in Dorne – a ship.
• Daario captures the fleet of Meereen for Dany, but despite having an army and ships, she decides to stay in Slaver's Bay and rule there after she learns the masters have retaken Yunkai and a criminal has taken over Astapor. She wants to end slavery for good.
• Littlefinger introduces Sansa to the Eyrie as his "niece" Alayne, but Lysa reveals she knows who Sansa is. Lysa puts Littlefinger on the spot and forces him into an immediate marriage after reminding him she poisoned Jon Arryn for him and wrote a letter to Catelyn saying it was the Lannisters. Lysa is jealous of Sansa, but agrees to betroth her to Robin.
• Brienne tries to dismiss Pod but he refuses to leave her side. She later starts to trust and respect him more after learning of his actions at the Battle of the Blackwater. The two of them head towards the Wall and Jon Snow, thinking that's where Sansa would go.
• Jon and his Night's Watch volunteers arrive at Craster's Keep. Locke sneaks around and finds where Bran and his entourage are chained up. He's planning to take Bran back to Roose Bolton, but Bran wargs into Hodor and kills Locke, and also frees the direwolves. Bran then sees Jon fighting the mutineers and wants to go to him, but Jojen stops him, knowing that Jon will take Bran back to the Wall rather than letting him go further North. Bran reluctantly agrees to leave. Meanwhile, Jon and co kill all the mutineers, with Ghost killing Rast and reuniting with Jon. Jon offers to take Craster's wives south, but they say they'd rather make it on their own. They burn Craster's Keep to the ground.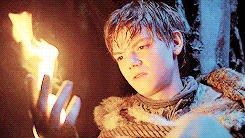 Symbolism, foreshadowing and callbacks:
• The fact Dany's first foray into ruling is so disastrous could be a good thing for her future – she's learned from it – or it could be rather ominous, indicating she's not fit for ruling at all and will never end up on the Iron Throne.
• In this episode, Arya's list is: "Joffrey. Cersei. Walder Frey. Meryn Trant. Tywin Lannister. The Red Woman. Ser Beric Dondarrion. Thoros of Myr. Illyn Payne. The Mountain. The Hound."
• On looking for Sansa at the Wall, Brienne says "If I were her that's where I'd go". That's exactly where Brienne later takes her after Sansa escapes Winterfell and Ramsay in Season 6.
• Oberyn talks about how he last saw Myrcella happily enjoying the water gardens at Dorne with his daughters. I wonder if it's the same daughters who later play a part in her murder??? The same ones who ignore Oberyn's attitude that they "don't hurt little girls in Dorne"???!!?
• Jojen sees a vision of his own hand burning. It's likely simply foreshadowing his own death, but could it be hinting at a fiery future for all of Westeros? Or for Bran, at least? Especially because it's part of a direct response to Meera's question, "how will we know the end?"
• Jon hasn't seen Ghost since he ventured North with Qhorin Halfhand in Season 2, and Ghost wandered off into the wild.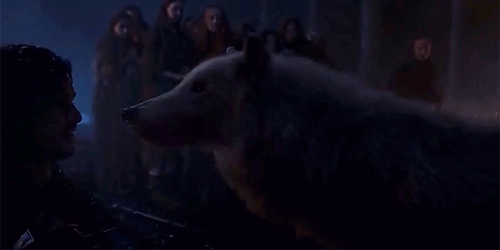 Stray observations:
• Jon's "I missed you, boy" to Ghost is everything and made me even angrier about Ghost's disappearance from the show. JUSTICE FOR GHOST in Season 8.
• What happened to Craster's wives????
Episode 6: "The Laws of Gods and Men"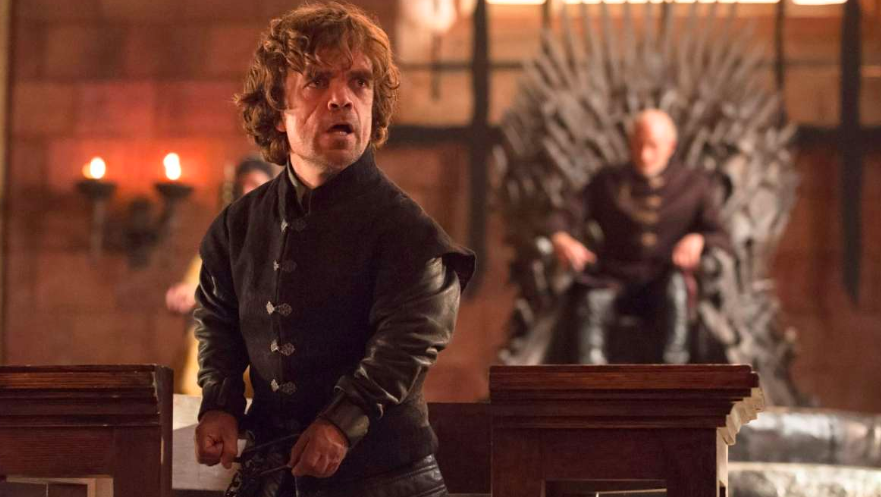 The Big Plot Stuff:
• Davos sails to Braavos with Stannis to ask the Iron Bank for a loan in order to hire more men for his army. Davos tells them Stannis is their best chance of reclaiming the money they've sunk into Westeros. After securing the loan, Davos visits Salladhor Saan and hires him once again.
• Yara and her men break into the Dreadfort to rescue Theon but he is so scared of Ramsay he refuses to leave. He believes it's a trick. Yara barely escapes and, in a heartbreaking moment, declares her brother is dead.
• Drogon destroys a goat herder's flock for breakfast and Dany promises to repay the man three times its value. She's then approached by Hizdahr zo Loraq, the son of one of the masters she crucified. He wants her permission to bury his father's remains, and Dany eventually relents. She seems to be growing tired of ruling already.
• Mace Tyrell joins the Small Council as Master of Ships, and Oberyn Martell also attends his first council meeting. Tywin places a bounty on the Hound's head for killing Lannister soldiers. Tywin also asks Varys to get one of his little birds into Meereen to send a message in order to "deal with" Daenerys.
• Tyrion's trial begins. Tommen recuses himself and Tywin, Oberyn and Mace take their places as judges. Meryn Trant, Pycelle, Cersei and Varys all give evidence against Tyrion, and all those times he threatened Joffrey come back to haunt him. Jaime approaches Tywin and promises him he'll leave the kingsguard and return to Casterly Rock as Tywin's true heir if he spares Tyrion's life, and Tywin agrees – rather quickly, making Jaime realises he's played right into his hand. Tywin promises to send Tyrion to the Night's Watch. Jaime urges Tyrion to behave during the rest of the trial, and it's going okay until Shae is called as a witness and twists every moment she spent with Tyrion into something nasty to be used against him. It's too much for Tyrion, and he starts ranting about how he wishes he'd killed Joffrey and everyone else in the city. He then demands a trial by combat.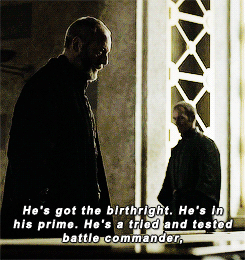 Symbolism, foreshadowing and callbacks:
• Davos hype speech about Stannis is similar to the one he later gives about Jon, although the content is the opposite: while he claims Stannis is a suitable king because "he's got the birthright", for Jon "he HAS no birthright".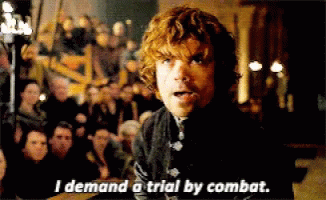 Stray observations:
• Have I mentioned how much I fucking hate Ramsay?
• I also hate Shae. But not as much as Ramsay.
• Watching Tyrion gaze affectionately at Tommen as he recuses himself from his trial reminded me how good Tyrion was with Cersei's younger kids and how much he loved them. Sad!
• I understand why Tyrion broke during his trial but I was also screaming at my TV TYRION NO TYRION DON'T DO IT STOP STOP STOP.
Episode 7: "Mockingbird"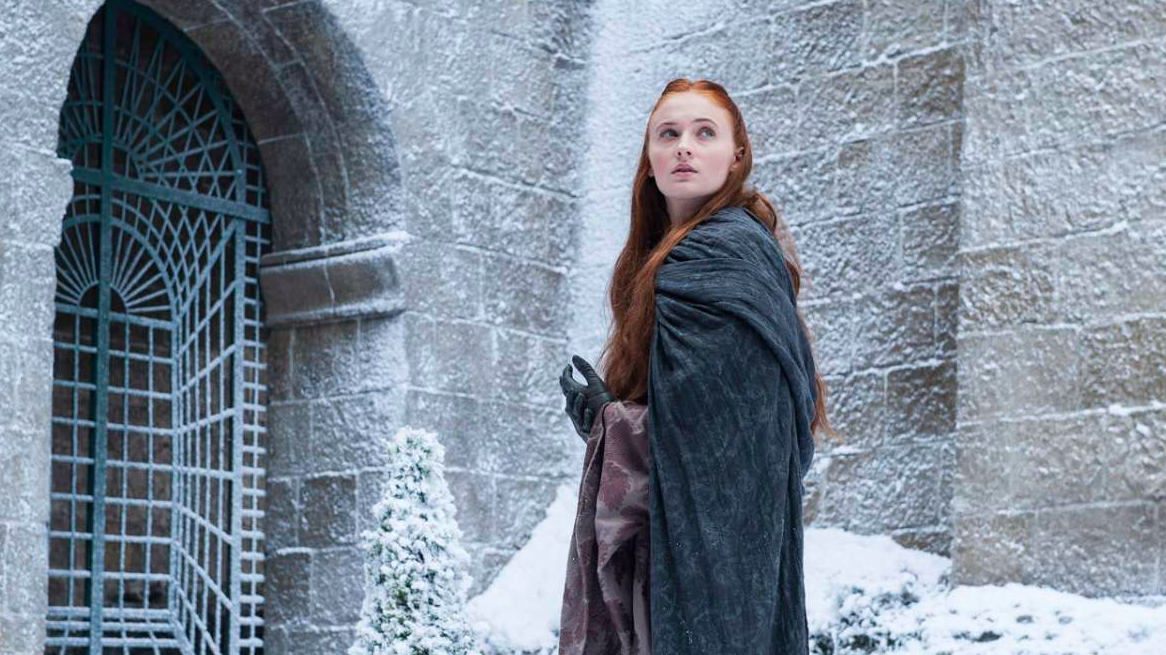 The Big Plot Stuff:
• The Hound and Arya stumble across a dying man and the Hound mercy kills him, teaching Arya where to find the human heart in the process. The pair also run into two men who were Yoren's other prisoners (besides Jaqen) in Season 2. Arya kills one of them by stabbing him straight in the heart, while the Hound fights and kills the other one. The Hound gets a nasty wound as a result of the fight, and Arya helps him tend to it, although he refuses to let her burn it. He tells her the story of how his brother hurt him.
• Jon and his crew return to Castle Black. Thorne orders him to lock Ghost away. Jon tells Thorne that Mance's army is closing in and urges him to seal the tunnel in the wall, but Thorne refuses.
• Daario sneaks into Dany's room and she isn't impressed, but she orders him to take off his clothes and then she really ~drinks~ it all in. Dany then sends Daario to Yunkai to retake the city from the masters, and Jorah convinces her to get him to offer the masters a chance to live rather than simply executing them all.
• Selyse visits Melisandre, who is taking a bath, and says she wants to leave Shireen behind when they all leave Dragonstone. Melisandre shows her a vision in the flames that convinces her otherwise.
• Brienne and Pod treat themselves to a meal at the Inn at the Crossroads, where they run into Hot Pie. He tells them that while he's never met Sansa, he has seen Arya, and that she was with the Brotherhood Without Banners. Brienne is shocked to learn Arya is actually alive. Pod tells her the Brotherhood would probably take her to the Eyrie, and after realising Sansa may be there too, that's where they head.
• Jaime is furious with Tyrion and tells him he can't fight for him in his trial by combat (literally, because he's still learning to fight with his left hand). Bronn visits Tyrion in fancy new clothes and reveals Cersei has betrothed him to a highborn lady, Lollys Stokeworth. Bronn refuses to fight for Tyrion because he values his own life more than their friendship, which is harsh but fair.
• Cersei names the Mountain (played by ANOTHER new actor) as her champion for the trial.
• Oberyn agrees to be Tyrion's champion, mainly so he can finally kill the Mountain and get his revenge for his sister and her children's deaths.
• At the Eyrie, Sansa makes a Winterfell out of snow and Robin tramples on it, so she slaps him. Littlefinger kisses her like the creep he is, and Lysa sees. Lysa almost pushes Sansa out of the moon door, but Littlefinger stops her and then pushes Lysa out of it himself.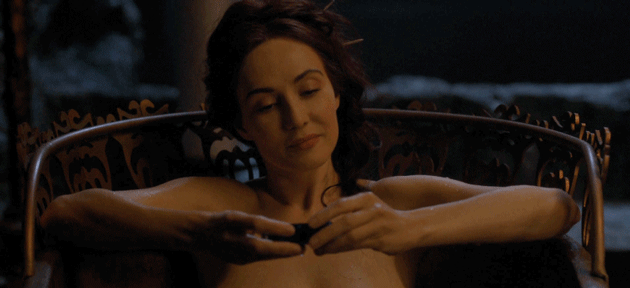 Symbolism, foreshadowing and callbacks:
• Melisandre isn't wearing her choker here but she still appears young, which either means her appearance is NOT tied to the choker, or that, as some fans theorise, Selyse was seeing Melisandre as she actually is. Or, you know, it was just a mistake from the production department.
• As she gets Selyse to look into the flames, Melisandre says "You don't need my help, but I will need yours soon. When we set sail, your daughter must be with us. The lord needs her." Which suggests both Melisandre and Selyse knew the whole time that they were going to burn Shireen.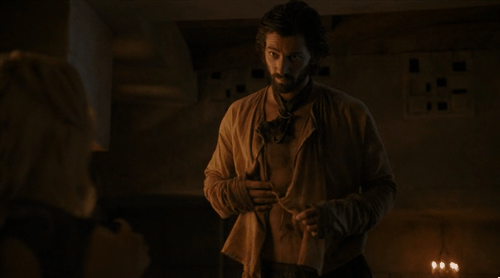 Stray observations:
• Daario 2.0 is SO DAMN HOT uuuuunffff. GET IT DANY.
• On the time the Mountain attacked him as a child, the Hound says "the worst thing was that it was my brother who did it." I am so ready for CLEGANEBOWL. GET HYPE.
• Oberyn's story of Cersei abusing the baby Tyrion is truly awful. Poor baby Tyrion.
Episode 8: "The Mountain and the Viper"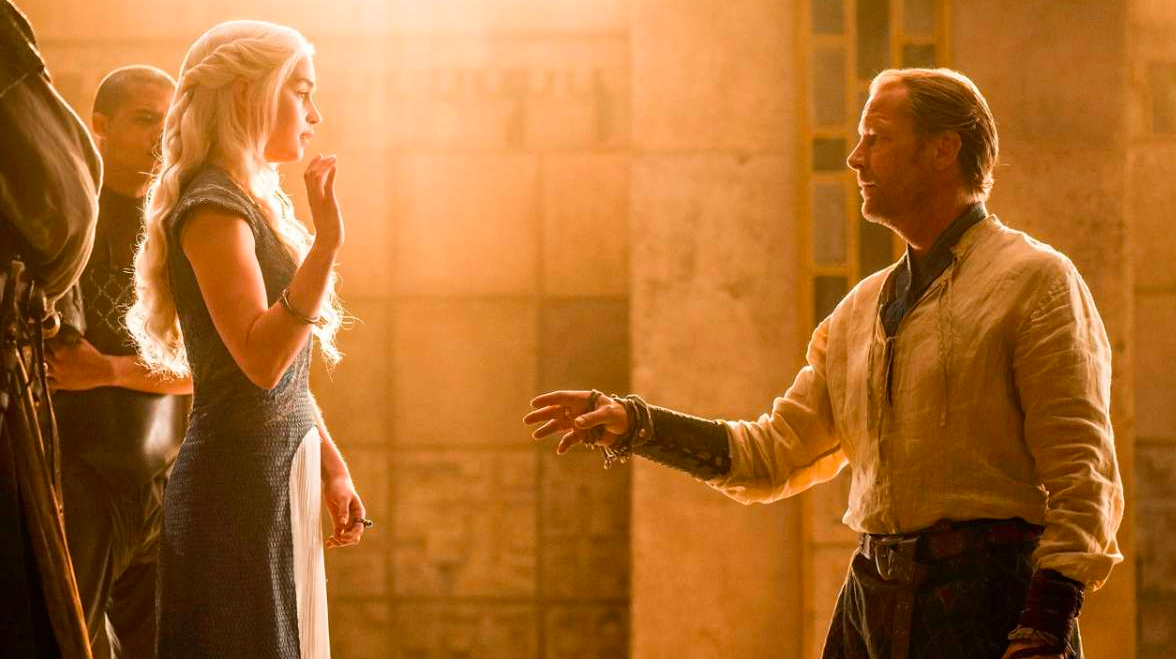 The Big Plot Stuff:
• Ygritte, Tormund and the wildlings attack Mole's Town. Ygritte finds Gilly hiding with her baby and urges her to keep quiet.
• Grey Worm watches Missandei bathing. Missandei tells Dany he was "interested", and when Grey Worm comes to apologise to her she tells him she's glad he saw her. He says he is too – and he's glad for all the awful things that have happened to him, because they led him to Dany – and to Missandei. MY HEART!!!
• One of Varys' little birds approaches Barristan with a message – it turns out to be Jorah's royal pardon for spying on Dany for Robert. Barristan tells Dany, who is heartbroken and furious at Jorah's betrayal – especially because it risked her baby's life as well as her own. Despite Jorah urging her to recognise that this is the Lannisters' attempt to divide them and weaken them, Dany banishes him forever.
• Ramsay forces Reek to pretend to be Theon to go into Moat Cailin and tell the Ironborn holding it they'll be able to go home if they surrender. They do, but of course Ramsay kills and flays them. As a reward, Roose Bolton names Ramsay his true heir, giving him the Bolton name. They ride together to Winterfell so Roose can take up residence there as Warden of the North.
• The lords of the Vale, including Yohn Royce, question Littlefinger over Lysa's death. They're suspicious, but Sansa convinces them he's innocent. Littlefinger is impressed with her lie. Littlefinger then convinces Yohn Royce that Robin needs to leave the Vale to grow stronger. As they're all leaving, Sansa emerges with her hair dyed black, wearing a new costume she stitched herself. Littlefinger is blown away and Sansa seems to know exactly how to play him.
• Arya is disappointed to learn Joffrey is dead – because she didn't get to do it herself. She and the Hound arrive at the Bloody Gate in the Vale, where they're informed Lady Arryn has died.
• Tyrion's trial by combat begins, and despite Tyrion asking Oberyn to wear a helmet, he doesn't. Oberyn nearly kills the Mountain, but because he's waiting for him to confess to killing Elia and her children – and also because he gets cocky – the Mountain is able to grab him and smash his skull in. Tywin sentences Tyrion to death as a result.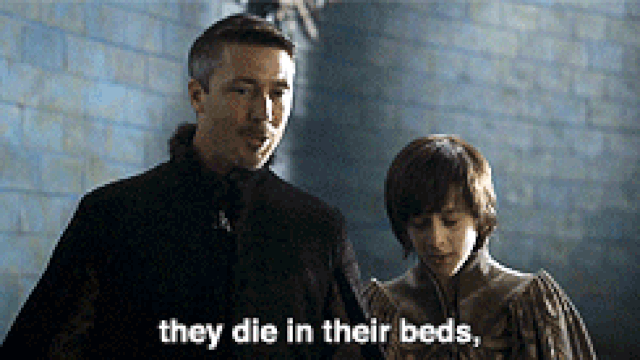 Symbolism, foreshadowing and callbacks:
• Edd says "once I'm done with this world, I don't want to come back". A lot of people have theorised that we'll see characters we know and love in the army of the dead in Season 8. I hope Edd doesn't became one of them.
• Sansa says she previously met Yohn Royce at Winterfell, when he stopped there on the way to taking his son Waymar to the Wall. Waymar is one of the Night's Watch men who was killed by the White Walkers in the first episode of Season 1.
• Arya says she "wanted to see the look in [Joffrey's] eyes when he knew it was over". While she never got to see this in real life, she at least got a little taste of it when she sees the play in Essos later.
• Littlefinger says "people die at their dinner tables, they die in their beds, they die squatting over their chamber pots" – which connects to three of the major deaths of the season – Joffrey, Shae and Tywin.
• When Tyrion says there's a word for every kind of murder, Jaime mentions there's not one for killing cousins. It suggests that murdering his own cousin in order to escape Robb Stark still haunts him.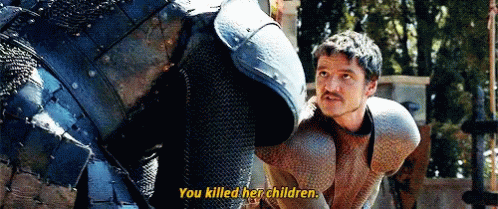 Stray observations:
• Arya comes SO CLOSE to seeing Sansa again without even knowing.
• It's a shame Sansa's powerful moment in this episode is completely undercut with everything that happens to her in Season 5.
• Oberyn Martell repeating "you raped her, you murdered her, you killed her children" as he attacks the Mountain has always reminded me of Inigo Montoya's "hello, my name is Inigo Montoya, you killed my father, prepare to die". Only, you know, a lot darker.
• Every single time I watch Oberyn and the Mountain fight, I scream for it to end a different way. And I literally cannot watch how it ends. It's too much.
Episode 9: "The Watchers on the Wall"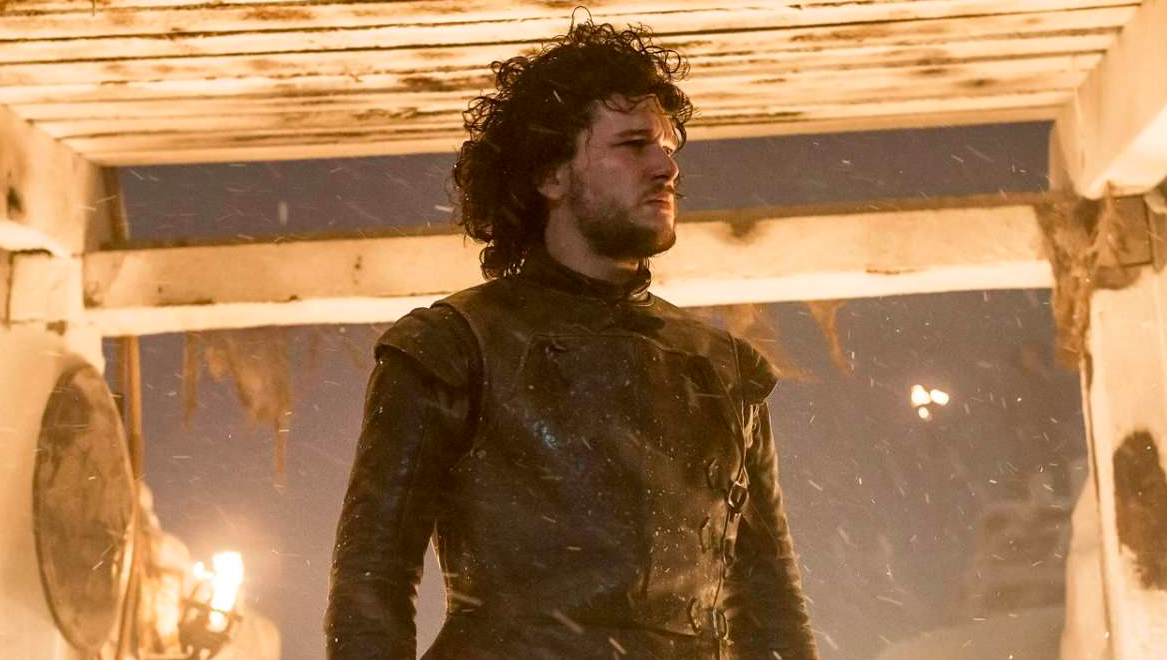 The Big Plot Stuff:
• This episode takes place entirely at the Wall, as the Battle of Castle Black unfolds.
• The wildlings attack the castle from both sides.
• Thorne admits that Jon was right and they should have sealed the tunnel. Thorne leads the men in the fight against the wildlings inside the castle until he is injured.
• Thorne appoints Janos Slynt to lead the fight from the top of the Wall, but Slynt hides in the kitchen with Gilly and baby Sam, who arrived at the Wall from Mole's Town just before the wildlings attacked.
• Jon takes over command on top of the Wall. One of the giants breaches the outer gate in the tunnel below, and Jon sends Grenn and five others to hold the gate. They all die, but they kill the giant too and hold that fucking gate. Meanwhile, inside the castle, Ygritte is taking out a lot of men with her bow and arrow – including Pyp.
• Sam tells Olly, who is cowering and scared, to grab a weapon and fight. GODDAMMIT SAM.
• Sam then goes to the top of the Wall to tell Jon he's needed in the fight inside the castle, and Jon puts Edd in command at the top. Jon gets Sam to set Ghost free from his confinement because GHOST IS AN IMPORTANT PART OF THE PLOT.
• Jon kills a thenn and finds himself in Ygritte's line of fire. She hesitates and the two share an almost-smile before Jon watches, horrified, as an arrow pierces Ygritte's middle. He looks up to see the shot was fired by a proud Olly. Ygritte dies in Jon's arms.
• The battle dies down for the night. Tormund survives, but is injured, and is taken prisoner.
• Jon decides to go beyond the Wall to kill Mance himself, which he believes will cause the remainders of the wildling army to scatter.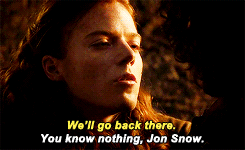 Symbolism, foreshadowing and callbacks:
• Tormund tells the story of the time he fucked a bear – some people theorise this is symbolic and he actually had sex with the former Lady Mormont, and Lyanna Mormont is possibly his child. I don't really buy it, but it's a cool theory.
• Maester Aemon tells Sam "love is the death of duty", which is something he said to Jon in Season 1.
• Mance Rayder well and truly delivers on his promise to light the biggest fire the North has ever seen.
• Jon leaving command to Edd at the top of the Wall foreshadows him handing command over to him when he leaves the Watch in Season 6.
• Ygritte says "we should have stayed in that cave", which calls back to them actually being in the cave, when she says "I don't ever want to leave this cave, Jon Snow". She also gives him one last "you know nothing, Jon Snow" before dying.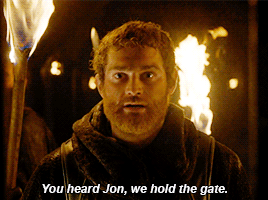 Stray observations:
• The tracking shot that shows a 360 degree view of the fighting in Castle Black is *Italian chef kiss*.
• FUCKING OLLY. Like, I get it. He got the wildling who killed his parents. But also FUCKING OLLY.
• The scene where Ygritte dies in Jon's arms is beautiful and tragic and all, but uh how does Jon not get attacked in the meantime, since everyone is still fighting around him?
• As sad as I am about Ygritte, I have to say Grenn's death is probably the most devastating in this episode. HE HELD THAT GATE.
Episode 10: "The Children"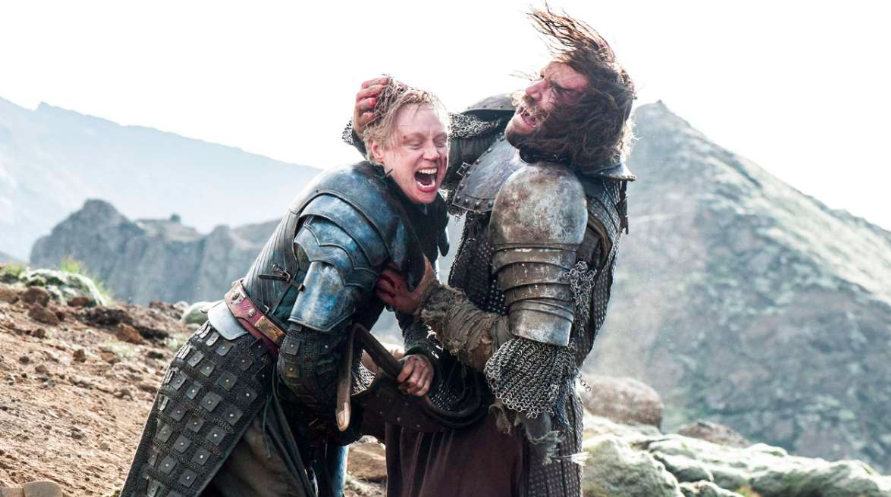 The Big Plot Stuff:
• Jon arrives at Mance's camp, and the two of them drink to Ygritte and Grenn and Mag (the giant who died). Mance says he'll make peace with Jon if he lets the wildlings through the Wall. Jon and Mance's tense talk is interrupted by an attack from Stannis' army. Mance surrenders to prevent more of his people dying.
• Back at Castle Black, Stannis and his entourage look on as the men of the Night's Watch have a funeral and burn the bodies of their fallen brothers. Jon visits Tormund, who tells him he spent too much time with the wildlings to kneel to Stannis. Jon then goes beyond the Wall, alone, to burn Ygritte's body and grieve for her.
• The Mountain is dying as a result of poison that Oberyn's blade was laced with. Cersei tells Qybrun to use his unique skills to save him. She then tells Tywin once again that she refuses to marry Loras. She reveals the truth about her and Jaime, and he remains in denial. Cersei goes to Jaime and says, "I choose you" – not because she loves him, but because she wants to manipulate him into helping her get her way.
• Dany is struggling in Meereen, realising that she didn't solve all the city's problems by ending slavery in one go. She's also confronted by a man whose daughter was killed by Drogon. Drogon is nowhere to be found, so Dany locks up the two dragons she does have access to – Viserion and Rhaegal – in order to prevent them from hurting anyone...even though they didn't.
• Jojen collapses just as the gang reach the Three Eyed Raven's weirwood. Wights attack the group and kill Jojen. One of the Children of the Forrest shows up and shoot fireballs at the wights and also at Jojen's body. Bran, Hodor, Summer and Meera follow her into the cave below the weirwood, where they're safe from the wights. They meet the Three Eyed Raven, who tells them he's been watching them all, and that Jojen knew what would happen the whole time.
• Jaime frees Tyrion and instructs him where to go to find Varys and escape. Tyrion ignores these instructions and instead goes to see his father. He discovers Shae in his father's bed and murders her with the gold chain he gave her earlier. He then finds Tywin on the privy and shoots him with Joffrey's crossbow. Varys helps Tyrion escape inside a box on board a ship sailing for Essos, and at the last minute decides to go with him, realising what Tyrion has done.
• Brienne and Pod run into Arya and the Hound, and the Hound and Brienne fight because each of them thinks they're the best person to protect Arya (the Hound has really grown to care for her! SOB!). Brienne bests the Hound but Arya stays hidden. Once Brienne and Pod have moved on, Arya approaches the Hound, who begs her to kill him quickly so his death isn't painful and drawn out. Arya takes his money and walks away, leaving him to die (but, of course, HE DOESN'T). She finds a man with a boat and asks him to take her to the Wall, but he tells her he's sailing for Braavos. She gives him the coin Jaqen H'Ghar gave her and says "Valar Morghulis". Off she sails to Braavos, looking far more hopeful than her future storyline deserves.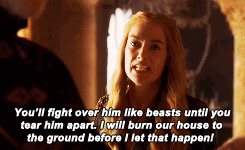 Symbolism, foreshadowing and callbacks:
• Jon says he won't let the wildlings through the Wall – but that's exactly what he later does.
• Davos tells Jon to call Stannis "Your Grace" – just as he will later stand by Jon and tell Dany to call HIM "Your Grace".
• On Tommen and Margaery, Cersei says to Tywin, "You will fight over him like beasts until you rip him apart. I will burn our house to the ground before I let that happen." Two things here – SHE fought over him with Margaery which ultimately ripped him apart. She also burned their house – or, well, the sept – to the ground in an attempt to win Tommen back.
• Jaime has been shown staring at the page of his (absence of) achievements all season. It's a visual representation of how torn up he is about his honour and heroic deeds (or lack thereof). So it's significant that the book gets shoved to the side when Cersei seduces him. He turns his back on his honour for her, every time – until Season 7, at least.
• Melisandre sees Jon Snow through the flames that are burning dead Night's Watch men. FORESHADOWING!!!
• Jon having to build a funeral pyre for his lost love, Ygritte, just as Dany did for Khal Drogo, is one of the many parallels between the two of them.
• Bran wargs into Hodor, who is attacked from behind by wights, which is a lot like how he ACTUALLY dies later on.
• The Three Eyed Raven says to Bran, "you will never walk again. But you will fly", which is a hint that he himself will become the Three Eyed Raven.
• In Season 2, Varys told Tyrion, "I've always hated the bells. They ring for horror." It's the bells ringing that prompts Varys to decide to leave King's Landing with Tyrion.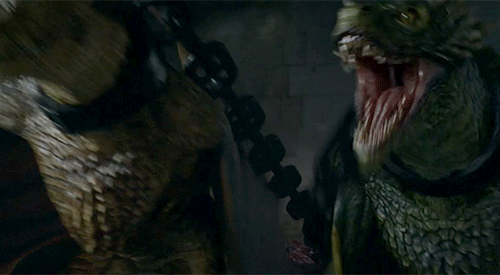 Stray observations:
• It's surreal watching Davos meet Jon for the first time here, and dismissively calling him "boy".
• The cries of Viserion and Rhaegal as Dany leaves them chained in the catacombs breaks my heart every single time.
• I seriously can't wait for the Hound and Arya to reunite in Season 8.
• Tyrion killing Tywin was so satisfying at the time, but in hindsight it was a huge mistake. As Cersei later suggests to Tyrion, Tywin's death leaves a gaping power vacuum that causes so much of the chaos that follows. It's the beginning of one of the darkest chapters in Game of Thrones history –Season 5. I'll be recapping that soon (SOMEONE HOLD ME) so stay tuned!