Chris Hemsworth And Margot Robbie Competing To Be Best Australian Is So Damn Funny
Let's face it, they're both pretty great. And by great, I mean hot.
Chris Hemsworth and Margot Robbie recently appeared on The Ellen Show, so naturally Ellen made them fight it out (mentally, not physically) for the title of Best Australian.
They were wearing kangaroo onesies and giant boxing gloves, ie the uniform of all Australian schoolchildren.
Ellen asked some tough questions, like which Aussie show Margot starred in with Chris' brother Liam.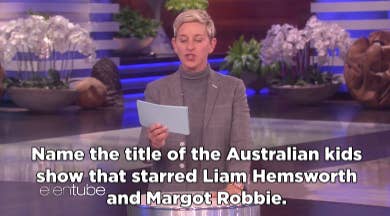 The hardest question of all was one I don't think I could possibly answer myself: Liam or Chris?
Both Chris and Margot chose Liam (the answer is clearly CHRIS, come on guys... oh guess I CAN answer the question).