1.
Place a spa-esque towel warmer in your bathroom so you always have a steaming hot towel at the ready when you get out of the shower to warm you right up. Your body won't even have the CHANCE to get cold.

It can fit up to two oversized bath towels and heats up in just one minute, with a built-in auto-off feature for safety. You can throw your PJs in here, too, to warm them up before bed! This particular towel warmer also comes in some adorable colors, like light blue and pink. 
Get a closer look at it on TikTok!
Promising review: "So, I am one of those people that usually runs colder than most. I get out of the shower, and am usually FREEZING even with a towel wrapped around me. THIS CHANGED THE GAME!! I put my towel in before my shower (I like 15–20 minutes to heat it), and when I pull it out, it is warm throughout the entire towel and if I leave the lid off after pulling out my towel (I've turned off the machine at this point) the residual heat helps to heat the room. Since I have gotten this towel warmer, I have recommended it to almost every person in my family. I LOVE IT!! So worth it!! Update: The husband has also taken to using it for every shower. STILL so in love!" —Sara
Get it from Amazon for $130.99 (available in four colors).
2.
And replace those old shabby bath towels from college with oversized waffle-weave bath towels that are both lightweight and ultra-absorbent, similar to what you'd find at a spa. They dry *much* faster than the heavy plush kind, and you'll feel more luxurious every time you towel off with one. 

Promising reviews: "These towels are large and the thickest towels we ever had, and I'm talking about the most expensive hotels we ever stayed at. I would imagine after dozens and dozens of washing and bleaching these towels may equal those used at the Waldorf-Astoria and the Plaza in New York City. You won't find much lint on your lint trap after drying. These will last a lifetime!!!" —PS

"Just finished washing towels and not one speck of lint! Just what I wanted. These towels are not plushy. They are quick dry, so they're textured and a lighter weight than a traditional thick plush towel. It is exactly what I wanted. In Europe they use towels like this because many homes do not have dryers; everything is line-dried. The thick plushy towels don't dry well and easily get musty and odorous. These are A+++." —Sammi
Get a pack of four from Amazon for $38.99 (also available in a two-pack and as a 12-pack of washcloths). 
3.
Swap out that old bath mat that stays sopping wet (and starts to ~smell~) long after you shower for a luxe stone bath mat. It's designed to absorb water *and* dry quickly — almost like magic — to eliminate moisture buildup and bad smells, a common problem with regular everyday bath mats. No risk of slipping on the wet bathroom floor or feeling that uncomfortable ~moistness~, AND the sleek modern look will add a little extra something to your b-room as well.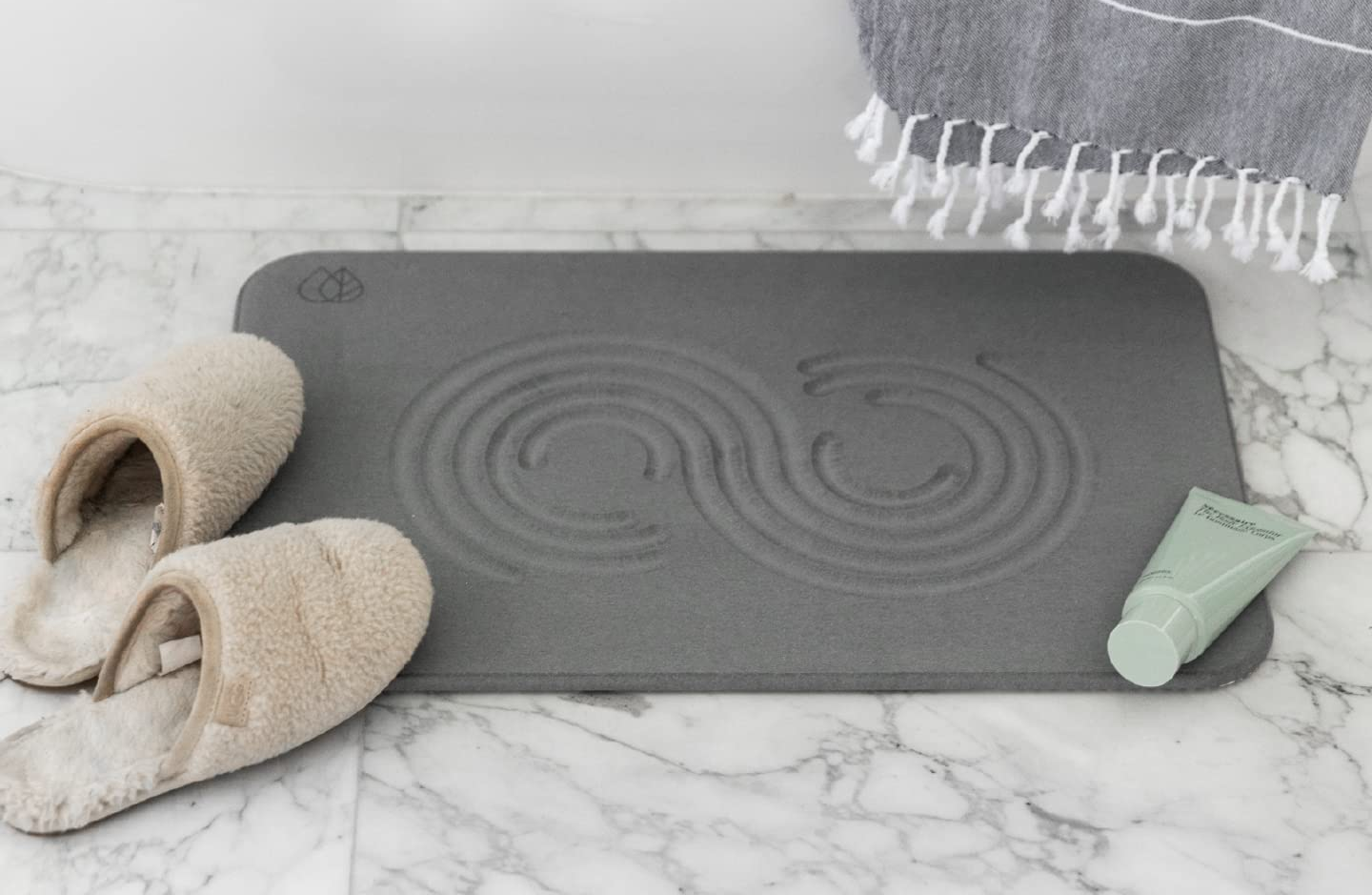 This sustainable product is made out of diatomaceous earth and recycled paper! Reviewers say the feel of it under your feet does take some getting used to (especially if you're used to a traditional bath mat), but they attest to how well this thing absorbs water (almost like it's "sucking the water off your feet") and that the moisture seemingly just disappears afterward. 
Get a closer look at the white version on TikTok!
Promising reviews: "This is our second Dorai bath stone; we are adding them to all of our bathrooms. This design and usefulness of this product is undisputed. We no longer have water on our floors, reducing the chance of slipping on wet floors. These need to be in every home in the US." —B. Henricks

"Where has this been all my life!? It's sleek, it's beautiful, and it gets the job done. After getting out of the shower I've never had a mat that dries my feet as fast as this does. I'm obsessed." —Jocelyn R
"I am in love and addicted to it. My bathroom is small and airflow is a little difficult. But since having this my bathroom doesn't have a moist or damp smell anymore!" —dorothy denny
Get it from Amazon for $90 (available in four colors). 
4.
Invest in pretty cups that'll make drinking your morning cappuccino, evening tea, or ~fancy~ cocktails feel even more meaningful. Who said they have to only be for special occasions??
5.
And pick up a gorgeous Grosche moka pot, aka a stovetop espresso maker, if you've been *dying* to whip up some delicious lattes and other ~fancy~ coffee drinks at home but aren't as excited at the thought of shelling out hundreds for an espresso machine. It's super easy to use, has a durable stone finish, and comes in some gorgeous shades, including speckled pink, gray, and mint. 

Check it out on TikTok! The reviewer demonstrates how they use it on the stove for making espresso for their lattes. 
Promising review: "Greatest purchase in the last five years!!! I have always been a coffee drinker but I recently purchased a moka pot to make iced espressos during the summer. Quickly it became an everyday thing! I love this moka pot more than any other item in my kitchen other than my actual coffee pot brewer! I had bought a cheap one elsewhere and that lasted about three weeks before falling apart. I spent a little more money for a quality product and have never looked back! I recommend this particular moka pot as it was slightly more than the cheap ones but less than some of the bigger name brands. It has lasted me two and a half years now without ever giving me a problem. Definitely a customer for life." —A. Arvy

Get it from Amazon for $19.99+ (available in nine colors and five sizes). 
6.
Instead of scooping into your regular sugar jar, use sugar cubes to sweeten your coffee or tea, especially if you're serving it to others. I mean, look at them — they're just delightful. Bonus points if you store them in a pretty container and serve with tongs.
7.
Keep a gold candle snuffer on hand for extinguishing your candles without having to blow them out (which potentially spreads embers and wax) — it won't just make your nightly candle routine feel a little more special; it'll also look SO lovely sitting on your mantle or coffee table. It's beautiful, functional, and a little ~extra~ all at the same time.

You can see it used near the end of this TikTok!
Promising reviews: "This snuffer does the job. I bought it to snuff out my tea candles so that I'm not blowing wax everywhere. It works perfectly. I like the weight and it looks very pretty sitting on the mantle. The price is perfect also." —Mary Lesane
"This is a candle must-have! I used to blow my candles out but sometimes I get nervous I'll blow ember all over the place, no good. But this helps snuffing out the candles." —Jennifer Frances Castro
Get it from Amazon for $13.99. 
8.
Elegantly display jewelry, perfume, or other items on a gold decorative mirror, which works *so* beautifully as a tray. Alternate idea: Make an entire gallery wall of vintage-y mirrors (as pictured below), which will make your space feel bigger too! This low-key looks like something out of Beauty and the Beast and I'm here for it.

You can see it in this TikTok rounding up Amazon home must-haves! And check out more affordable mirrors like this if you're planning to replicate the gallery wall look above. 

Promising review: "The mirror looks exactly like the pictures and was an absolute STEAL. So glad I found this. It's the perfect size for me to easily see my shoulders from just holding it an arms length away! It's super lightweight, so don't worry about it being too heavy for the nail. It came completely undamaged! Looks super vintage and great for doing hairstyles and makeup in! It can also be a jewelry dish if you're into that kind of thing." —Rhonda Farias
Get it from Amazon for $18.49 (available in gold or white, and in two-packs).
9.
Make your bed feel more luxurious without splurging on real silk with an affordable (but bougie-feeling) set of satin pillowcases, which are good for your hair and skin *and* stay refreshingly cool so you're not constantly flipping to the other side of the pillow. Satin pillowcases help prevent breakage, frizz, and tangles in your hair, and your skin will feel happier too since these won't dry it out. 

These have a hidden zipper so your pillow stays put and doesn't slip out!
Check them out on TikTok.

Promising review: "I really love this pillowcase! Not only is it super cute, but it really does what it's supposed to as far as preserving your hair overnight. As a member of the Natural Hair Community, a satin pillowcase is a MUST and this pillowcase really gets the job done! It really helps to retain the moisture in Black hair and keeps my kinky curly hair from being all over the place when I wake up. That is really beneficial for me because I'm a wild sleeper and having this pillowcase just makes it that much easier to tame my hair because it is not as dry as it would be from a regular pillowcase. I've also had no problems with washing it and it still keeping up. I've thrown it in the regular washer and dryer a couple of times, and it's still durable, satiny, and the color is not washed or faded. I definitely recommend this pillowcase for all hair types, but especially ones in the 3a-4c range." —Morgan123ThatsMe
Get a two-pack from Amazon for $9.89 (available in 26 colors, three sizes, and in one-packs).
10.
Infuse your water with lemons, berries, mint leaves, ginger, or other ingredients — it'll kick up the flavor, yes, but it'll also make you feel ridiculously fancy (it's the little things, OK!!). This genius water bottle has a built-in infuser (!) that makes this process SO easy (no seeds or pulp will slip into your drinking water), and it even has handy time markers on the side to keep you on top of your hydration schedule. 
It comes with an insulation sleeve, cleaning brush, and recipe booklet!
BuzzFeed Shopping writer Britt Ross says, "I am one of those people who has, until recently, gone through life thinking, 'Why would I drink water when there are other beverages that actually taste good to be had?' Well, I received this gizmo as a birthday gift from my water-loving husband as a not-so-subtle hint to change my ways, and lo and behold, it's been a revelation. I often have lemon remnants left over from cooking and baking, and they're the perfect things to throw into the infuser section of the bottle to liven things up. It's amazing what a little fruitiness can do — I can guzzle a whole bottle easily! Plus, it's much easier to clean than you'd think (each section comes apart and there's an included brush!), and there's a grippy section on the side so it doesn't slip out of your hand. Oh, and did I mention it has not ever leaked?! 10/10, no notes, buy it NOW!!!"
Promising review: "This is my new obsession! I can't believe how much joy a little thing like this can bring, but I just love it! I love experimenting with new fruit and herb combos (orange/blackberry/mint, and lemon/ cucumber are my favorites so far). I drink much more water now, and my skin is glowing! And it's so cheap but feels so fancy. Buy it, of course!" —Kindle Customer 1
Get it from Amazon for $14.99+ (available in seven colors).
12.
Treat yourself to a good face mask at least once a week — because self-care is NOT overrated — like this TikTok-popular bubbly clay mask that's designed to deep clean your pores and help remove blackheads, but also it'll foam up to make your face look like a cloud!! Now that's just fun. 
Check out a TikTok of the foaming mask in action.
Promising review: "I love this stuff! I received some for a gift and then purchased it for my daughter from Amazon. It feels like a clay mask going on, and then starts bubbling and turns to a thinner substance when it's done. I feel like it is very gentle on my face. My skin feels amazing after I wash it off. It feels like I used moisturizer, even though I did not. I hear that these masks are very popular in Japan." —L. Shea
Get it from Amazon for $11 (also available in packs of two or three).
13.
Add scent booster every time you do laundry to spread this incredibly fresh scent (formulated with grapefruit and tangerine essential oils) to your clothes, sheets, and towels. It'll make them smell deliciously fresh when they come out and add a little ~luxury~ to your laundry routine.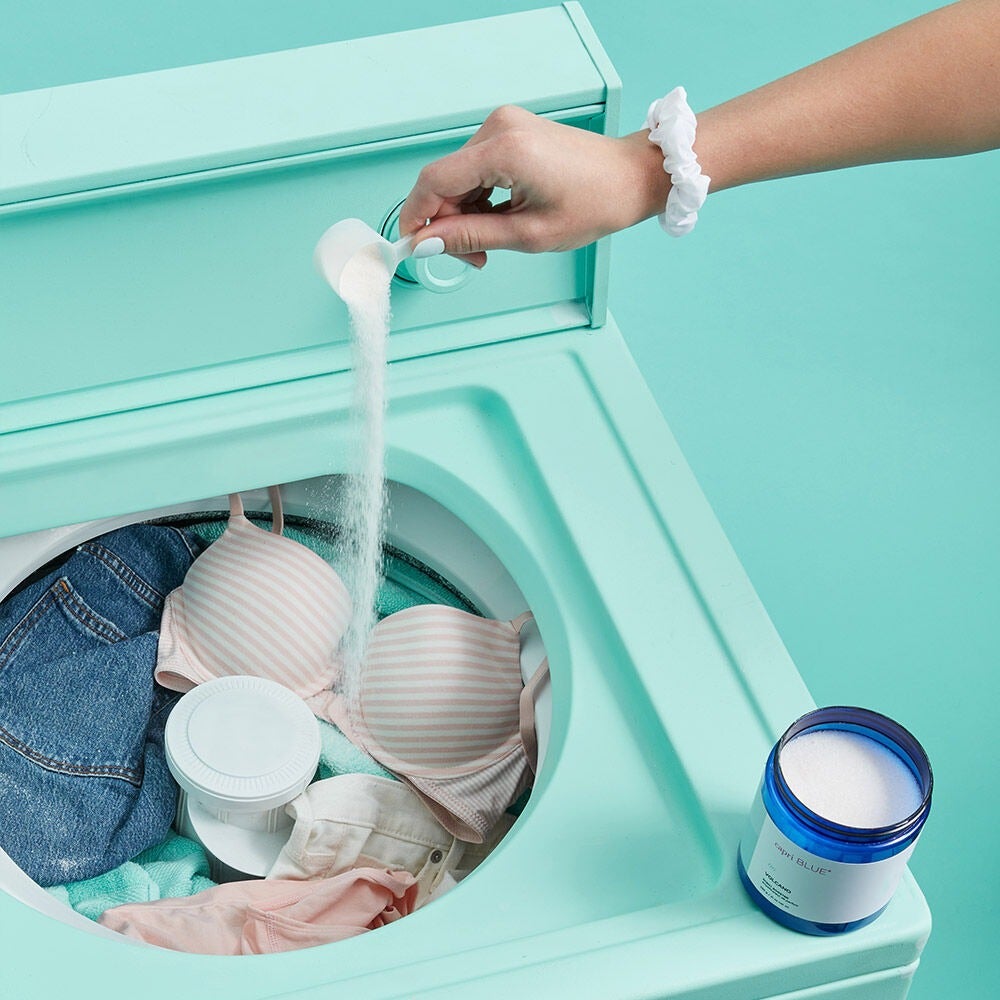 It's featured in this TikTok!

Promising reviews: "I read many reviews of the volcano scent booster and knew I had to try it to freshen up my laundry. I'm so glad I tried it because I love the scent and my laundry smells divine, and so far it really seems to last. It's out of stock often from what I gather, so I bought two to start with and all set for a while now. I love this stuff and will definitely be repurchasing as needed." —Kelli E.
"I am in love with this scent booster! I have sensitive skin and always thought I couldn't use scented laundry items, but no issues! Particularly love on my towels and bed linens, but also when I wash dog beds and kid backpacks :) in addition to my clothes. Love!!" —Melissa D.
Get it from Capri Blue for $22. 
14.
Replace your rough, wrinkled duvet cover with a shaggy faux-fur one lined with soft velvet on the underside. With bedding this luxurious, who could blame you for wanting to hibernate...the whole year.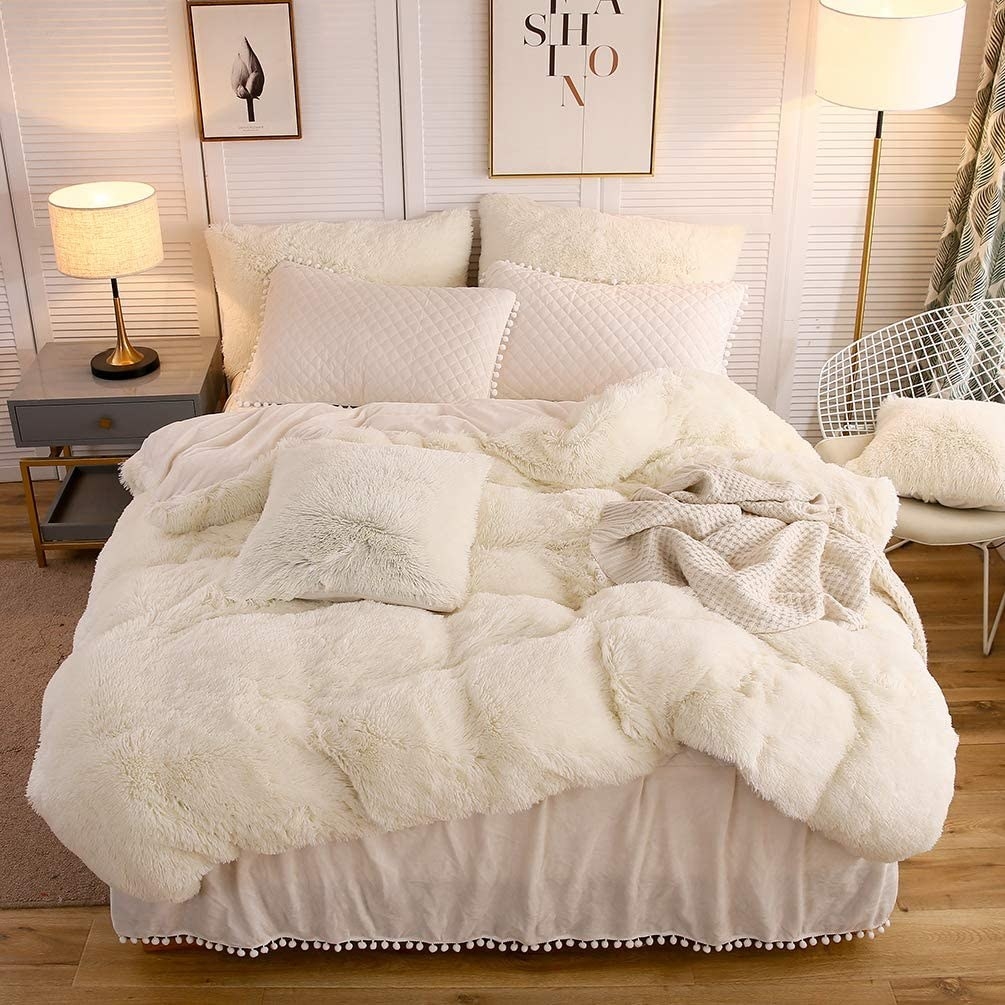 15.
If sleeping on the "cool side" is something you like to do, upgrade with a set of two cooling pillows. No more flipping your pillow over constantly — reviewers say these keep you cool all night long, and they're filled with a plush gel fiber that provides just the right amount of support. If you've ever wish you could bring those fancy hotel pillows home with you...now you can.
16.
And speaking of hotels: Make your bed feel as luxurious as the one you slept in on vacation with set of breathable, cooling bed sheets. Silky soft, breathable, and cooling, these popular sheets feel ~expensive~ but aren't, with over 170,000 (!) 5-star ratings backing up their incredible value.