1.
A simply stunning faux-marble desk that's the definition of chic, with metal hairpin legs and spacious cubbies for storing your phone and other items while working. Faux marble isn't just cheaper; it's also way more practical for a home office as it's easier to clean and won't stain easily like real, porous marble.
When your desk is *this* pretty, it becomes a statement piece of decor all on its own! Plus, another great thing about marble is that it's so versatile, really meshing well with most decor styles and aesthetics. 

Promising review: "GET IT! I was looking for a desk to spice up my room and this is IT! It came pretty much assembled and all I did was attach the legs so it took about 30 minutes total from unpacking it to putting on the legs. Stunning piece and it is very sturdy. I love the way it compliments the room!!" —Emely

Get it from Amazon for $91.99+ (available in three colors and three other styles).
2.
A set of gold cable organizers to straighten out the mess of cords on and behind your desk without being an eyesore themselves. Bonus: These come with adhesive to secure them to your desk, making installation easy as pie.
Brighttia is a New York-based Etsy shop established in 2018 that specializes in industrial and modern interior lighting and decor.
Promising review: "These brass cable organizers are beautiful and high quality. I'm using two of them to keep a plug-in sconce cord attached to the wall and to direct the cord to the electrical outlet. These little gold pieces add a touch of functionality and glamour to the sconces. Exactly what I was looking for." —Amy Margolis
Get a set of two from Brighttia on Etsy for $12.98+ (available in four colors).
3.
A desktop whiteboard that fits in that lil' space between your monitor and keyboard for writing quick notes, ideas, or even motivational messages for yourself because that WFH grind ain't easy. A little pull-out drawer holds your dry erase markers and other small accessories!
This whiteboard also comes with a dry-erase marker, accessory channel (to hold the marker), and a storage drawer.
Promising review: "Nice upgrade for office. Feels great! Helps me go paperless, keeps my tasks before me in a more organized way than sticky notes, and glass is easy to clean. The sides are plastic so not really great. There's some marketing pushing their markers, but I've been using my white board markers and they work just fine." —Natan
Get it from Amazon for $30.59+ (available in five styles).
4.
Or an acrylic dry erase board if you've got the wall space, perfect for taking note of your daily priorities and taking a standing break to cross tasks off as you do them (such a satisfying feeling!). You can hang this vertically or horizontally!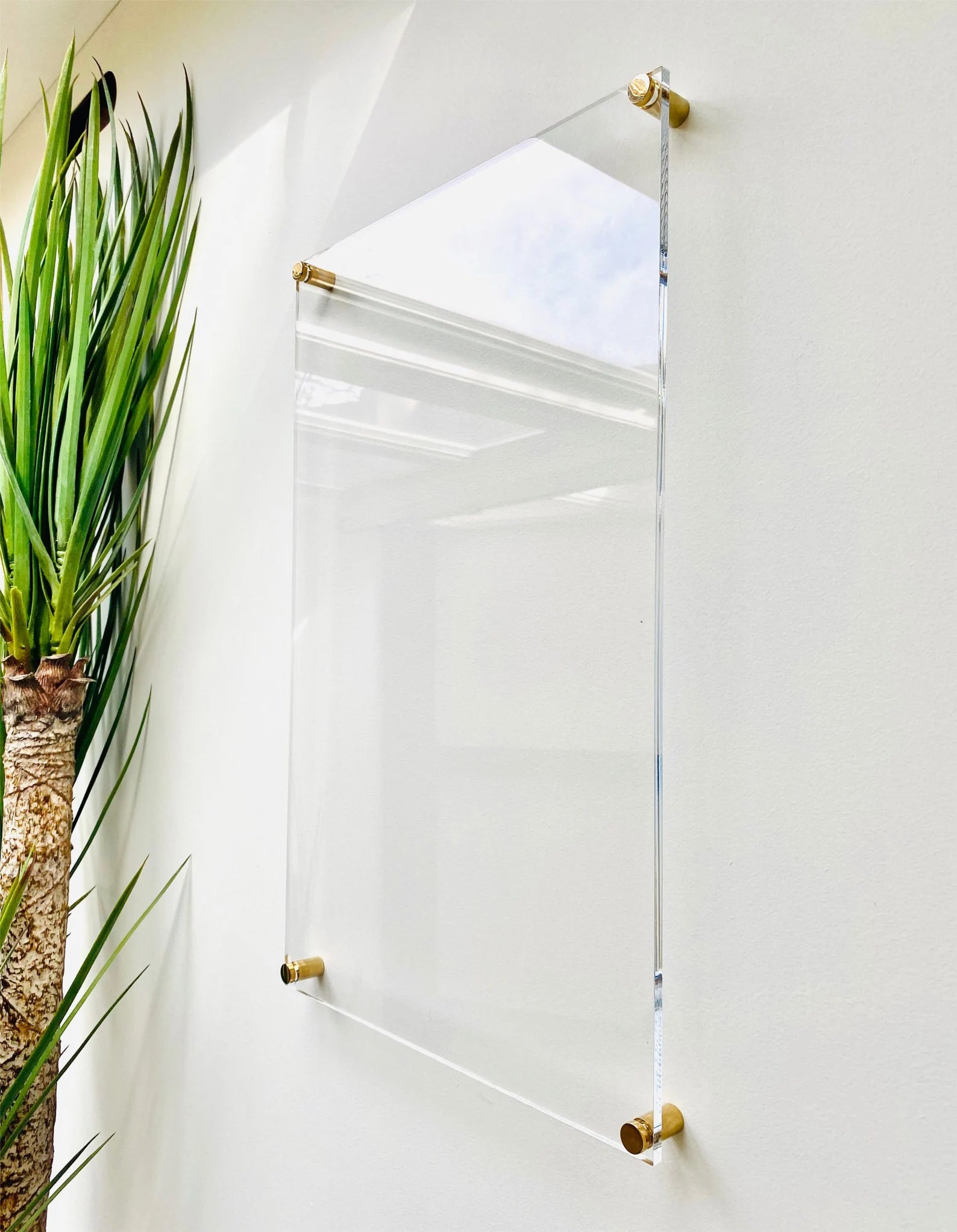 1801 And Co is a small business on Etsy based in Minnesota that makes custom acrylic printing like calendars, signs, blank boards, and more.
Promising review: "I absolutely love my acrylic dry erase board. Not only is it practical for my memory of daily tasks, but it feels more like another art piece in my room. I absolutely love that it's made by a small family business, their love really shines through in their product, their photo and their handwritten thank you. THANK YOU!" –Maggie
Get it from 1801 And Co on Etsy for $16.76+ (available in various sizes, as well as three metal finishes). 
5.
A compact, TikTok-famous rolling desk bike so you can feel *extra* productive as you tackle the day's tasks by incorporating some lower body movement into your routine. If you tend to get restless legs while working and standing breaks aren't helping, cycling can help you feel better and more focused as you work.
This compact, rolling desk bike is also height adjustable so you can get your perfect fit with the tray, and has "whisper quiet" pedaling, eight resistance levels, and a way to track your mileage, rpm, and other stats. Psst — you can watch the viral desk bike TikTok featuring it for more insight on how it works. It's been liked over 2.5 million times!
Promising review: "Have had this product about a week now. Absolutely love it, what a game-changer!! As a consultant who live in a typical consulting life, I pretty much sit in front a computer all day long. Even though I work remotely a lot, I barely leave my desk. After a while, you will start to suffer from all the common things as everyone else, back pain, neck pain, you know all those things. Those all get changed when I saw this product! To be honest, I didn't buy it right away because of the price of course. But I finally decided to make the purchase as a holiday gift to myself. And I am so glad I made this choice! It hasn't been long, but I have been using it every day. It was super easy to put together, easy to move around because of the wheels. You can totally work while using it. the best part is, YOU DON'T EVEN FEEL LIKE YOU'RE WORKING OUT. And somehow it helps you to concentrate better. There is no need to dedicate one hour for the gym, this could an anytime thing. When you are working, watching shows, even play games. I guess because of the working out, my sleep improves as well. Not mention the pains from back. All in all, this thing changed my life!!" —joshua0315
Get it from Amazon for $299.99+ (available in six styles, including without the desk part if you'd rather use this with the desk you already have).
6.
Prismatic window film to cover the windows by your desk and let the sun cast gorgeous rainbows across your workspace and around the room, because surrounding yourself with a bit of natural beauty can be inspiring. Plus, it adds a lil' extra privacy as well.
Promising review: "I just moved into a house with a boring view of the side of the neighbor's garage from my home office, and I spend WAY too much time in my office. This stuff makes a rainbow migrate throughout the day from the floor to the wall and makes my long work day a lot more tolerable! It also blocks my boring view of the neighbor's garage and their view in my window. It looks cool at night too." —Ariel Dutton
Get it from Amazon for $10.98+ (available in eight sizes).
Check out our Rabbitgoo window film review for more on why it's worth buying!
7.
A Grecian-inspired bust pot for housing plants or flowers that'll sprout right out of the top of the head, just like your brilliant ideas in that brainstorm meeting. It'll look super chic on your desk, shelf, or windowsill and add a touch of sophistication.

I highly suggest checking out some of the gorgeous reviewer photos to see how people style this vase!
Promising review: "I adore these bust pots; they're timeless and classy but make a bold statement. I styled mine with some dried eucalyptus sprigs in my bar area and I love the way it all came together. These are so versatile and would work in many different spaces, making them a great gift item for the holidays!" —NinaTakesh

Get it from Anthropologie for $22.40+ (available in two sizes).
8.
A bouquet of handmade felt flowers that won't wilt on you after a work week so busy, watering the plants completely slipped your mind. They'll look so lovely in the corner of your desk and make for a stress-free piece of decor with zero upkeep.
This is a fair-trade product you can feel good about showing off in your home! Each flower is made with felted wool that has been dyed, cut, and stitched by female artisans in Nepal.
Promising review: "These darling flowers are exactly as beautiful as the picture depicts. They are so well made and the bouquet is actually larger than it looks once they are arranged. A great value. I adore them." —Barb H.
Get them from Food52 for $24+ (available in 25 styles).
9.
A super cute swiveling office chair you can get in multiple colors, because having a comfortable office chair doesn't have to sacrifice your aesthetic.
Promising review: "So this has been sitting in my cart for months! I am so happy I finally bought it! On all levels this is probably one of the best Amazon purchases I have made. I bought this chair for one real reason, my lower back or neck is always sore due to the horrible chair I was using — so no matter how gorgeous, if it wasn't comfortable, it wasn't going to work. It's been two full days with six to eight hours of sitting in the chair. IT'S PERFECT! I love sitting cross-legged and this chair allows me to do this, still fitting under my desk, and when I am seated this way the back of the chair supports my entire back all the way to my neck!" —Wanderer81
Get it from Amazon for $198.90+ (available in nine colors).
10.
Or a faux-sheepskin rug that'll elevate that old, coffee-stained office chair and add a soft, elegant touch to your space.
11.
An electric mug warmer if you, like me, get distracted while working and sip your morning coffee so slowly, it ends up going cold before you finish it. With this electric warmer, you can happily enjoy your hot, caffeinated drink for hours.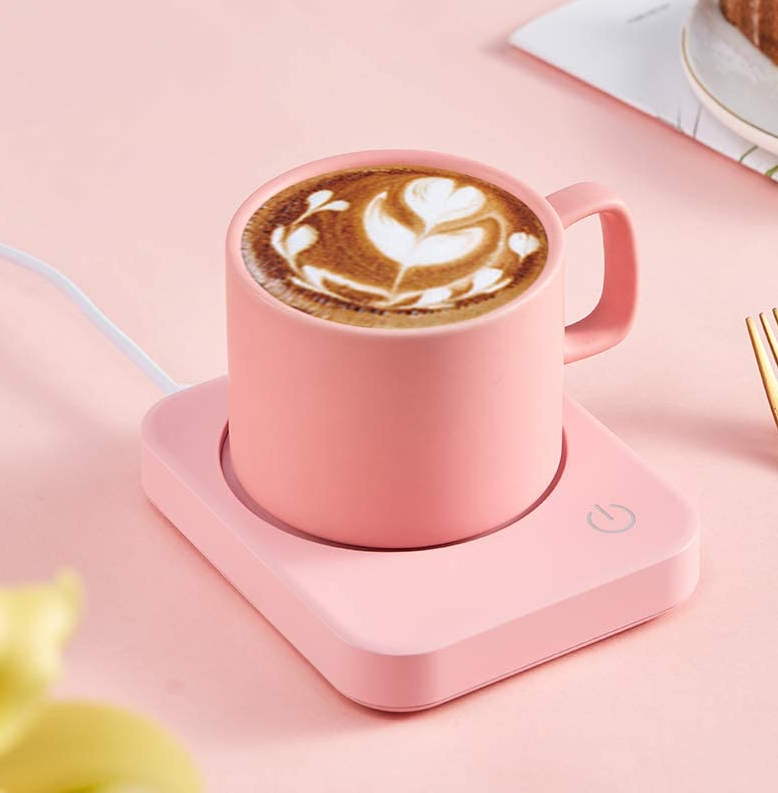 Tip: Reviewers suggest turning the heat down from high to medium once your drink gets down to about the halfway point so it stays a comfortable temperature!
Promising review: "This is a game changer. I, like many people, have ended up working from home... every day. A full-time job and a side business keeps me busy, and my ADHD makes it so that I bounce from one thing to another. This little device makes sure that whenever I reach for my mug, I'm met with warm tea no matter what! I was VERY skeptical because I have a lot of handmade mugs, but they fit perfectly and stay warm. When things open up, I will buy another one for the office." —Ashley Mcelf
Get it from Amazon for $23.29+ (available in seven colors).
12.
An LED desk lamp in case natural light in your home office is limited and you don't always want to flip on the overhead light — this sleek, minimalist lamp is easy on the eyes with no harsh glare, crucial if you're someone who often works late into the evenings. 
 It features 10 brightness levels, five color modes, *and* a tilting head that swivels so you can easily adjust the angle. It also has a touch sensor and memory function to store your preferred brightness/color settings in between uses, that way it'll automatically return to your custom setting when turned on!
Promising reviews: "A must-have for your desk! This is one of the best lamps I've bought. The style is great. I like how there are different light settings and there's a timer that helps too. It's a sleek lamp that folds up for storage. I like how you can plug it directly into your computer, no messy wires or anything. Definitely a must have for any office. Would buy again!" —Julia
"Love the design and versatility of this table light. Minimal space used on my table, which is what I was looking for in my smallish space. Not big and bulky but a sleek, modern design. The amount of lighting is perfect as well." —Jon B
Get it from Amazon for $19.79.