1.
A Simple Modern tumbler similar to the popular (and more expensive) Stanley cup. This minimalist travel cup comes in some seriously ~aesthetic~ shades, but more importantly, it'll keep your iced drinks cold for *hours* thanks to its double-wall insulation, and the leak-resistant straw lid might just save you from an accident or two. 

Multiple reviewers said they find themselves drinking more water when they have a straw, and the fact that it's so dang cute doesn't hurt either! 
Get a closer look at it on TikTok.
Promising review: "Please do not run out to Targé and waste your money on a Stanley IF you're only using a cup for ice/cold drinks. This cup is just as good and far more affordable. I put ice in my cup over 24 hours ago during my shift at the hospital, and there is still ice in the cup! This product is BEYOND worth it at this price point. You won't be disappointed. If the cup isn't in your cart at this point, I don't know what's wrong with you: GET IT! 😂" —Marie

Get it from Amazon for $29.99 (available in 21 colors). Also available in a style without the handle!
2.
And a cute pack of straw cap covers if you've ever felt a bit gross about your tumbler's straw sitting out ~exposed~ to dust and germs (or, maybe now you do since I brought it up — sorry!). It pops off easily when you need to take a sip, then easily pops back on so you can enjoy your drink without fear of contamination. 

Get a closer look at a reviewer using one from the Desserts set on TikTok.
Promising reviews: "These are adorable. I have a drink I make in the morning and take to work, and I hate the idea of walking away from my desk with the straw uncovered. This lets me cover the straw, and it's cute! Win win. I have more than I need, they're easy to clean, and easy to put on the straw." —Steven

"Cute way to keep straw covered. We have cats that are always curious about everything we put on the end table. I use a cup with a lid, but always had to cover the straw with a napkin. These work great!" —Teresa R Tameling
Get them from Amazon for $10.99+ (available in 10 sets). 
3.
A duvet cover set one TikTok reviewer considers "the best linen bedding that won't break the bank" — and Amazon reviewers back that up, reporting that it gives you that comfy-chic linen look without the hefty price tag. Now, you're one step closer to that cozy minimalist bedroom aesthetic. 

It's featured in this TikTok roundup of no-regrets Amazon purchases (it's a photo slideshow, so view on mobile!), and get a closer look at the "tannish linen grey" color in the reviewer's home here. 
Be sure to grab a duvet insert for this if you don't already have one!
Promising review: "It does the job if you need something relatively low in price but don't want to sacrifice too much on quality for a linen cover. Obviously, it wrinkles because that's kind of the look it has, but to lessen the wrinkles you can just pop it in the dryer. It works for what it's intended for and hasn't ripped. The zippers haven't broken either. I did not get a used cover. It came packaged really nicely with a bow made of the same material. It does run hot if you sleep warm. I'm almost always cold, so the warmth is a nice bonus for me. My husband thinks it's too warm, but he just sticks a leg out the side and does fine lol. Color is true to the photo, it has a nice linen look, not super soft but not coarse (I mean...it's linen), and it doesn't seem to hold much of my pets' fur when they hop on the bed. Definitely a good purchase, and I love the cozy feel it gives with the new insert. 😌" —Amazon Customer
Get it from Amazon for $49.99+ (available in sizes twin–oversized king and 33 colors). 
4.
And a popular checkerboard throw blanket — I'm absolutely *living* for the sage green shade, but it comes in other beautiful colors as well. Reviewers consider it a great alternative for the popular Barefoot Dreams throw (which is p-r-i-c-e-y) and say it's extremely soft. 

I've seen this throw pop up alllll over TikTok — you can spot it in this roundup of home decor!

Promising review: "Obsessed is an understatement. This blanket is extremely comfortable. I've never felt a material quite like it. It's on the thinner side, but oddly dense enough to keep you SUPER warm. It's also stretchy? Idk. This blanket is my new favorite, and I want all of my throws to be of this material lol. If you've had your eye on this for a while like I did, jump the gun and buy it! You won't regret it." —Kayla Kaczor
Get it from Amazon for $29.99+ (available in seven colors and three sizes). 
5.
A Shark steam mop so you can go to town on your filthy floors and marvel at how much grime and residue is picked up on its pads. It scrubs and sanitizes at the same time (with three steam modes for different levels of cleaning!) and has a light, durable design, with LED headlights and swivel steering so you reach under furniture and scrub every crevice.

You can use this on any sealed hard floors, including hardwood, marble, tile, and stone. Reviewers like this as a cheaper (but just as effective) alternative to the Bissell CrossWave!
It's featured in this TikTok roundup of 2022 purchases that were "1000% worth it" where the reviewer said it "changed their life" (it's a photo slideshow, so view on mobile!).
Promising review: "I bought this after many recommendations from family and friends. We have vinyl laminate floor, and OH MY GOD! I will NEVER go back to my old mop! It was so simple to use and seemed to just glide over my floors. It worked great! Best part: I just removed the pads off the bottom and threw them in my washing machine. They came out GREAT!" —V. Kasper

Get it from Amazon for $149.99. 
6.
Iconic London's Super Smoother Blurring Skin Tint, an ultra-lightweight and hydrating tint that ~blurs~ as you blend it onto your skin, leaving you with a *gorgeous* satin-matte finish. It comes in a wide range of shades, including its Neutral Rich shade that had one TikTok reviewer wondering, "Is this the darkest foundation to exist?"

Check out that TikTok reviewer putting shade Neutral Rich (pictured on the model above) to the test!
Promising review: "PERFECT for that no-makeup makeup look! This is light-medium coverage, but definitely buildable. It melts into the skin with a satin finish. Although I do not have 'perfect' skin, I love this as a base with concealer for my dark spots and blemishes. It's reminiscent of Estee Lauder's Double Wear Sheer before they changed (ruined) the formula and got rid of many shades. The Sephora shade finder did not match me, so I used the shade match on Iconic London's website. Golden Medium matches me perfectly." —necessarybeauty
Get it from Sephora for $32 (available in 18 shades). 
7.
A nifty stackable wine rack for your fridge so you can chill those bottles of chardonnay and sauvignon blanc in a more space-efficient manner *and* keep them from rolling around. Yay for vertical storage!

It fits standard wine bottles (not jumbo ones). Of course, you don't have to use this in the fridge — others set it up as part of their bar cart!
Get a look at it on TikTok!

Promising review: "I have wine that was taking up too much space in my fridge. Now that it is stacked, it works a lot better! Plus, the wine bottles would roll around on my glass shelf and drive me wild. No more rolling bottles, and now, there is room for more food! The holders are plastic, but seem pretty durable." —MindSetOnBeach
Get a set of two from Amazon for $15.49. 
8.
A set of vinyl record coasters, perfect if you have a retro/vintage-y aesthetic or collect records. Reviewers say they're of good quality and actually look like mini records with the grooves and everything, *and* they're non-slip so your cup of joe will stay put.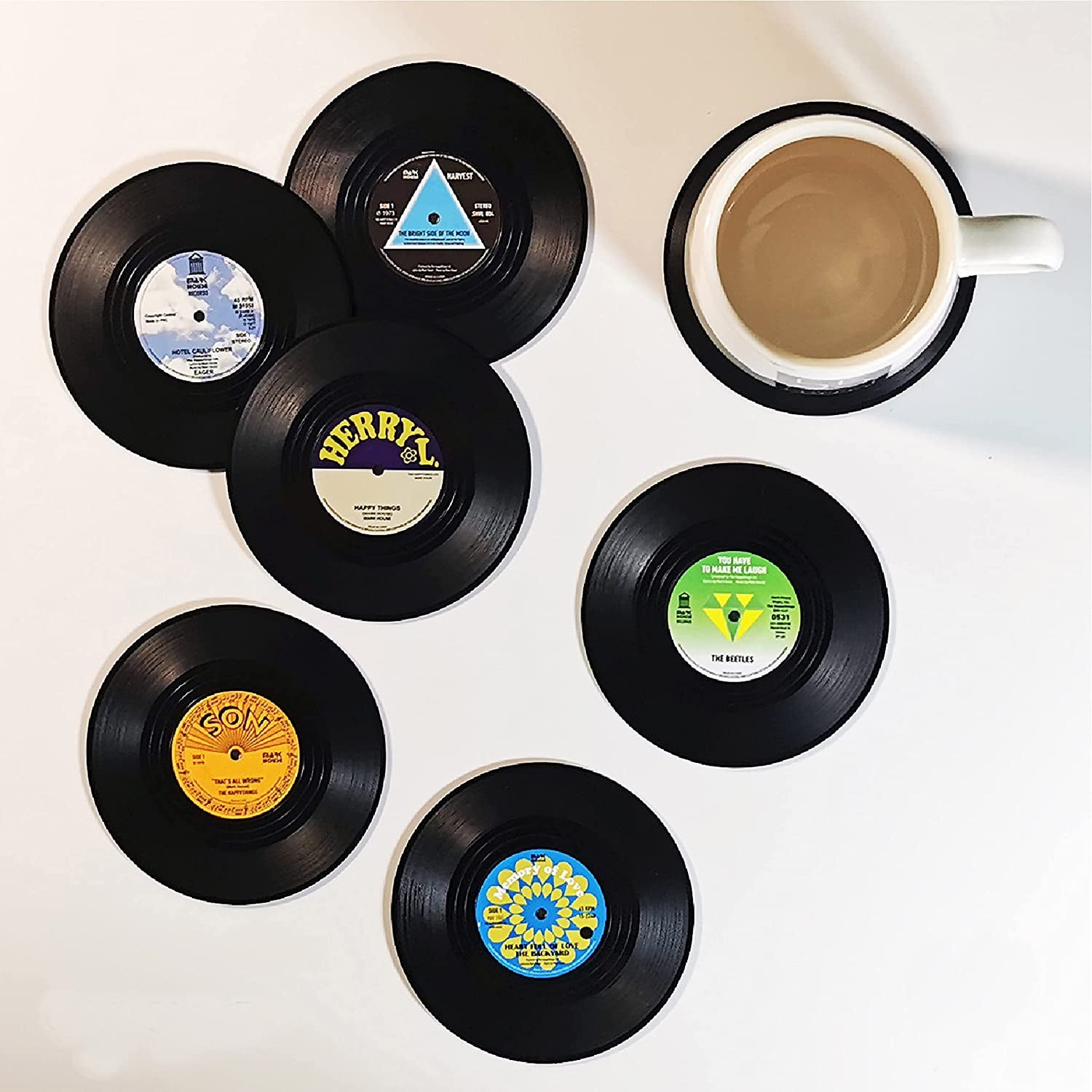 You can spot them in this TikTok roundup! (It's a photo slideshow, so view on mobile!)
Promising review: "These coasters are just fantastic! I had read the reviews and had high hopes for them. When they arrived, I wasn't disappointed! They are like little records, complete and intact with the grooves and everything. They are also non-slip. Worth recommending them to anyone." —Jeifry Garcia

Get it from Amazon for $6.99. 
9.
A sleek and sturdy set of corner shower caddies for holding all your shower ~essentials~ so they're not collecting water on the corners of your tub or hanging over the top of your shower head (which can damage it!).  

You can arrange them together or on opposite sides of the shower, as shown by different reviewers above! The set comes with three corner caddies and a smaller caddy for holding soap + a razor. Note that they only work with 90-degree right angle corners, not rounded corners!
Check them out in this TikTok roundup of Amazon purchases that made one reviewer's home feel ~luxurious~ (it's a photo slideshow, so view on mobile!).
Promising review: "It wasn't as challenging for me to put these on as I thought. You just have to be careful to line the shelf adhesive up properly and then peel slowly while pushing it down so you don't get air bubbles. Then, I used the back of a plastic spoon to smooth everything. These shelves definitely upgrade the look of my shower. I previously had a supposed 'rust proof' over-the-shower shelf, and not only did it rust, it didn't look nearly as nice. I also didn't use the soap holder for soap. I used it to lay my scalp massage brushes on. I typically keep the bar soap on a sink dish, so this was a great re-use. Everything looks much more streamlined than it used to." —ItsJustHair
Get it from Amazon for $29.99. 
10.
A self-cleaning slicker brush capable of detangling and removing all that loose hair on your cat — then, with the press of a button on top, you can retract the bristles to wipe that excess fur away. Reviewers love it for how gentle it is, the easy cleanup, *and* the way their home feels less ~furry~ afterward. 

This slicker brush retracts so the fur comes off the bristles cleanly and in one easy-to-toss chunk. You can see how effective it is (and how unbothered the cat is) in this TikTok!
Promising review: "My cat hates to be brushed, but since he's not going outside anymore, he's not shedding his coat quickly, so hair is just getting everywhere. We HAD to do SOMETHING. I got this brush just HOPING he would let me brush him and the hair factor would be reduced. He LOVES it to the point where he'll jump up to where I keep it on the shelf and cry until I brush him. The brush is super easy to clean. You just push the button on the top and a piece lifts up, pushing the hair off the bristles to the top. Two things: Make sure you clean over a trash can because it gets everywhere, and the brush doesn't hold much because it's so small. If your cat is as hairy as mine, you might have to clean and brush three or four times to get all the hair off. It feels kind of like a massage though and my buddy seems to like it. Super easy to use and clean." —Phoenix
Get it from Amazon for $11.98 (available in three colors). 
11.
And a ChomChom pet hair roller for any pet who loves to sprawl out on your furniture and leave a thick layer of hair behind. The ChomChom roller doesn't mess with sticky tapes or paper; instead, you get a reusable brush that grabs up every bit of hair and lint as you clean — just empty it out after, and you're good to go again!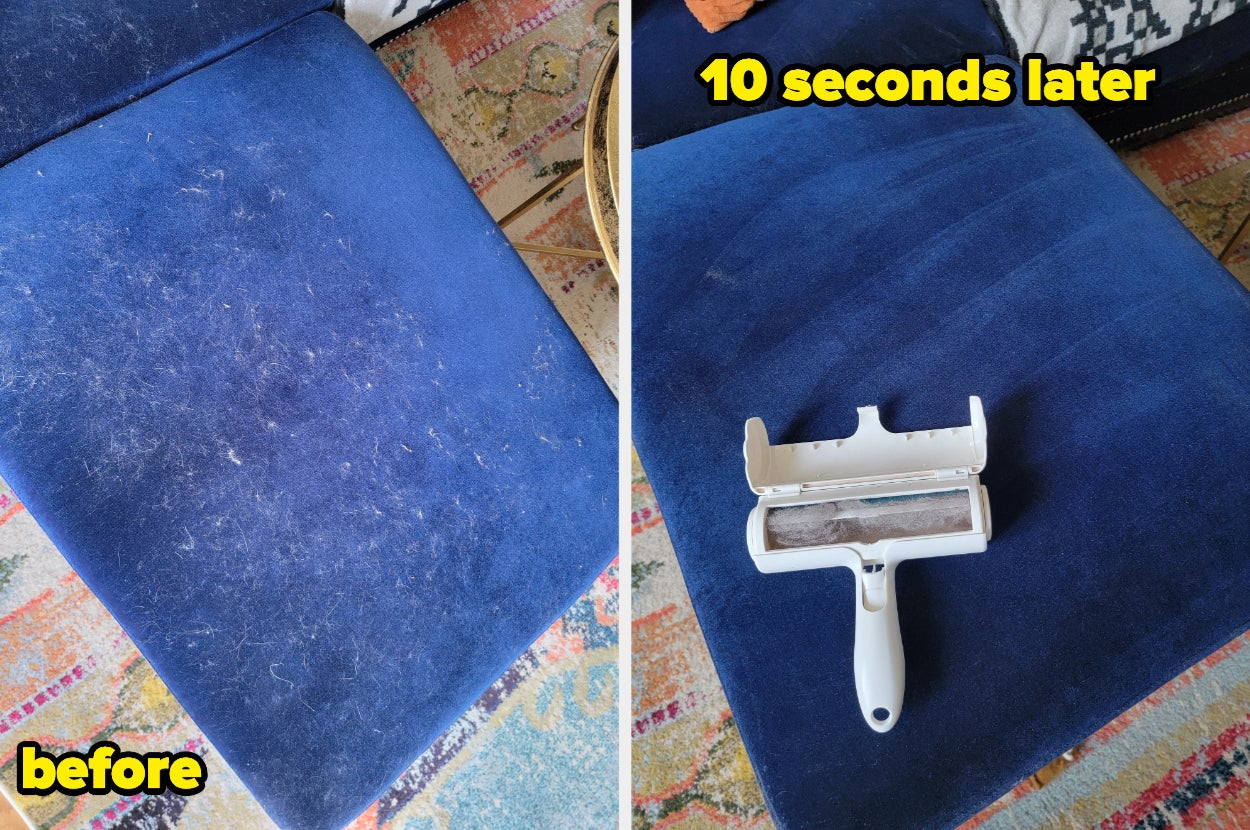 See it in action on TikTok! 
The tens of thousands of 5-star Amazon reviews are reason enough to add the ChomChom to your cart immediately — but let me add my own personal review to the stack. I've been using the ChomChom for quite a while now, but I took the photos above (on the left) literally just now to show just how quick, easy, and effective this roller is. It took 10 seconds to rid my velvet couch ottoman (yes, velvet...a terrible cat owner choice, I know) of the hair my two gray kitties are constantly leaving everywhere. It takes a bit of practice to get the hang of using this roller — at first, I thought you only brushed down in one direction, and was confused why it wasn't picking up hair. It's important to do a push-and-pull brushing in *both* directions so it actually pulls the hair inside, which does require you to apply a bit of pressure. Afterward, you'll just dump out the hair that's been trapped inside. The ChomChom is best for large flat surfaces like couches and beds. 
Get it from Amazon for $29.99.
12.
A modern-looking armless desk chair reviewers and TikTokers alike are loving for how comfortable it is if you like to sit cross-legged — no restricting armrests and a wider seat to accomodate your legs and knees. It allows you to recline up to 120 degrees and adjust the height, and the PU leather is waterproof and easy to clean, so you won't have to fret about about staining the white material with your messy lunch.

Check out an unboxing and review on TikTok. Note this is a wheel-less chair — check out more desk chairs with no wheels if you prefer that style!

Promising review: "This chair is unique because it has a large, wide seat that allows you to sit in different positions including cross-legged. It is also supremely comfortable with the quality of cushions. I'm 5'8" and I find it spacious with an appropriate amount of height adjustability for feet on the ground. So far great for all day office use!" —Amazon Customer
Get it from Amazon for $219.99. 
13.
A dreamy, splurge-worthy Logitech mechanical keyboard with an adorable (and v cushy) cloud wrist rest — perfect for achieving that TikTok-popular ~cozy~ gaming aesthetic. It uses Logitech's Lightspeed wireless tech for low-latency gaming, with a 25-hour rechargeable battery life and vibey RGB lighting that can be customized. 

It comes in a sleek, gorgeous white, but you can get colored top plates (like the pink one I'm currently using, shown above) direct from Logitech's store for $19.99!

Check out an unboxing + see it in action on TikTok! I'm seeing it in a ton of setups lately. 
I've been using the wired version of this mechanical keyboard for months, both for gaming and for everyday work, and absolutely love it. I had a full-sized keyboard before, so I really appreciate the more compact tenkeyless design of this keyboard (which fits on my desk better). The keys sound perfectly clicky and feel great to type on, and the cloud wrist rest keeps my wrists supported really comfortably. And even though I've been using wrist rest for 8+ hours a day for so long, it still looks totally new! My favorite thing is undeniably the aesthetic, though. It's the prettiest keyboard I've ever had, in a really sleek and modern way. I highly recommend it whether you play PC games or just work from home! 
Note that this also comes in a bundle with a mouse, but having used it, I wouldn't say the mouse is worth paying more for unless you're in need of a new mouse and really want to match the aesthetic (it's fine, but I honestly prefer the feel of Logitech's G502 mouse). 
Get it from Amazon for $169.99+ (available wired or wireless, with three types of switches, and with or without a mouse).