1.
A beloved Folex carpet cleaner to finally tackle that stain on your white carpet that simply won't disappear — or rescue it in an emergency. Whether it's a pet accident, red wine, or a mysterious stain of which you don't even know the origins, this odor-free cleaner will lift it right away, no rinsing needed.
Promising reviews: "I purchased this cleaner since the reviews were so great. No regrets since it did exactly what it said. Coffee, dirt, and wine stains removed, just like that! It's easy to use and oh-so-fast too!" —empowered
"I just removed makeup from my favorite white shirt and my white pillow cases!!!!!!!!!!!! It doesn't bleed the stain further down on cotton and removes on carpet just as well! They are both mind-blowing and easy to use! I love spending my money on products that do what they say they are going to do! No regrets. Stop wasting money and effort on everything else!" —JRreview
Get it from Amazon for $6.65+ (available in three bottle sizes and multiple packs).
2.
A zero-effort, once-a-week Wet & Forget cleaner that works on soap scum without *any* scrubbing or wiping needed — yes, you read that correctly! All you have to do is shower and then spray this on afterward; it'll handle all the grime and residue from there.
Promising review: "I wish I took before and after pictures because the results are unbelievable with no scrubbing or elbow grease. We have a stone floor/wall shower with stupid large and annoyingly mold prone grout lines. I used it per the directions and rinsed with hot hot water the next morning, and couldn't believe all the crap that rinsed off. Seriously worth every penny!" —Kate

Get it from Amazon for $19.54+ (available in two scents, multipacks, and a refill size). 
3.
A ChomChom pet hair roller if your pet loves to sprawl out on your furniture and leave a thick layer of hair behind. The ChomChom roller doesn't mess with sticky tapes or paper; instead, you get a reusable brush that grabs up every bit of hair and lint as you roll it across an area — I was personally shocked at how well it works. Just empty it out after, and you're good to go again!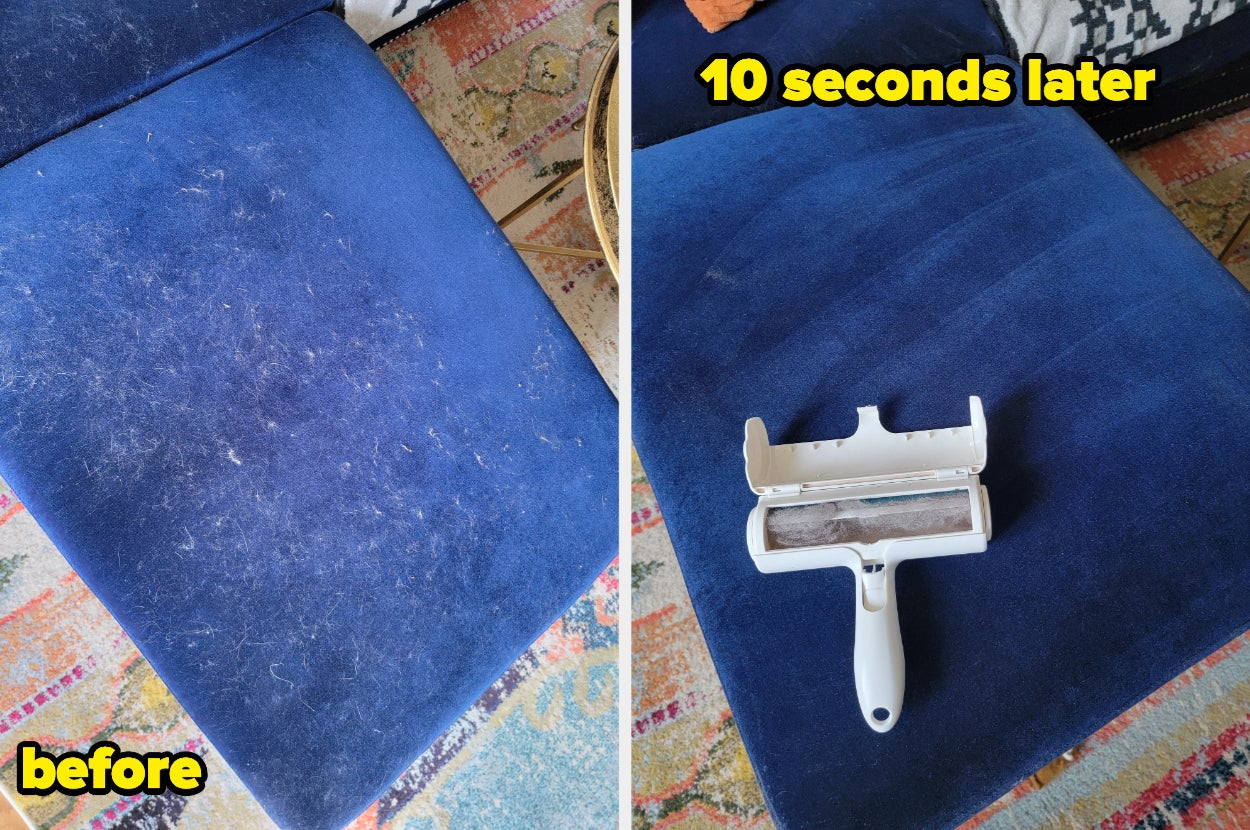 See it in action on TikTok! 
The tens of thousands of 5-star Amazon reviews are reason enough to add the ChomChom to your cart immediately — but let me add my own personal review to the stack. I've been using the ChomChom for quite a while now, but I took the photos above literally just now to show just how quick, easy, and effective this roller is. It took 10 seconds to rid my velvet couch ottoman (yes, velvet...a terrible cat owner choice, I know) of the hair my two gray kitties are constantly leaving everywhere. It takes a bit of practice to get the hang of using this roller — at first, I thought you only brushed down in one direction, and was confused why it wasn't picking up hair. It's important to do a push-and-pull brushing in *both* directions so it actually pulls the hair inside, which does require you to apply a bit of pressure. Afterward, you'll just dump out the hair that's been trapped inside. The ChomChom is best for large flat surfaces like couches and beds. 
Get it from Amazon for $24.99 when you clip the coupon for $5 off.
4.
A pumice cleaning stone to tackle the buildup in your toilet — it's capable of removing the rust, mineral deposits, and stains that you can't bear to look at for one more day without damaging your porcelain.
This pumice stone cleaner is free of chemicals and odors. It also has a heavy-duty plastic handle so you'll have a solid grip while you clean. Use gentle back-and-forth motions to remove stains and deposits from inside the toilet bowl, and voila!
Promising review: "Will definitely buy again. Almost 30 years of hard-water buildup of green, and I tried everything for years to remove the green stain. This product rocks. It takes a little elbow grease but sure is worth it. Just don't use it on surfaces that will scratch. In my case, the fiberglass tub aggravates and is hard to clean. After 30 years, I scrubbed away and didn't regret it one bit, and the tub looks almost new." —Debra L.
Get it from Amazon for $12.99.
5.
A jar of The Pink Stuff that really *shouldn't* work as well as it does on SO many messes — and yet, the ever-growing hype and countless 5-star ratings for this all-purpose cleaning paste prove otherwise. Put it to the test on that burned pan, stained bathtub, or marked-up wall you've long given up on and watch it work its magic.
Check out this TikTok where BuzzFeed Shopping writer Britt Ross uses The Pink Stuff on a dirty sheet pan, pair of white sneakers, and her toaster oven — spoiler, the results are *seriously* impressive. And for another testimonial, peep this TikTok where it's used on the bottom of a burn-stained saucepan!

Promising review: "Got this because TikTok made me do it. I put a smear on a hair dye stain in my shower from six months ago. Thought I'd have to let it sit for a while so I rubbed it in with a Scrub Daddy and was ready to let it sit, but it was already gone. Blew my mind. Removed rust stains in the toilet and hard water marks from the tank instantly. Goodbye other cleaners." —L. Seitz
Get it from Amazon for $5.97.
6.
A bottle of makeup brush-cleaning shampoo because chances are, your sponges and brushes are overdue for a good cleaning. Made with gentle, plant-based ingredients, this cleanser will remove all the built-up makeup, oil, and impurities from your tools — and watching all the gunk be washed down the sink is *so* satisfying.
This shampoo is hypoallergenic, cruelty-free, and paraben-free.
I've used Ecotools brush cleaning shampoo for years, and it makes cleaning my brushes so much easier. I just add a bit of the shampoo to my brush and gently rub it against a silicone mat under running water, and it makes quick work of removing all the makeup that's built up on my brush for, frankly, way too long. You'll see the water start running brown immediately, which is always super gross but also really satisfying, and once you see your brush return to its original color, you know you're done. And the bristles are always left as soft as before too!
Promising review: "I've been skeptical about items that seem like glorified soap but got it as a gift. This cleaned my brushes like nothing else, with just a drop, a few seconds of spreading it around, and literally about 10 seconds of swishing in warm water. It was unbelievable. It took out weeks of caked-on 24-hour concealer and foundation, and left my brush soft and fluffy like it were brand new. I will always use this (and my brushes will always be clean!). It's nothing short of miraculous." —Chloe
Get it from Amazon for $6.99.
7.
A pack of dishwasher cleaning tablets that can remove the nasty buildup inside your dishwasher that's looking so gross, you might be thinking about replacing the machine entirely. Just add a tablet, run a normal wash cycle, and watch lime and mineral buildup disappear, leaving your dishwasher looking brand-new.
Promising review: "I rarely post reviews, but this stuff has completely changed our lives. Our dishwasher, utensils, plates, and glasses were covered with dry scale and nothing we tried came close to helping. After using the tablets three times our dishwasher looks like new; our glasses are sparkling like fine china and everything else looks fabulous. Highly recommend, worth every penny, best product BY FAR!!! One great advantage is you can use it with your dishes. Some other products are used to clean the dishwasher but not to clean dishes and glasses. Buy this, you will be blown away!!! It is astounding!" —Jenny
Get a pack of six tablets from Amazon for $8.99.
8.
A professional-strength grout cleaner if the grout on your tile floors and walls is so dirty, you've forgotten what it used to look like. This heavy duty cleaning can remove years of stains to unearth your grout's original color beneath. Prepare to be like 🤯 when you see it.
Promising review: "I have a white tile floor and I was pretty sure the grout was white also, but it was hard to tell since it was so dirty. I had tried many different methods to clean the grout, with limited or no success, so I gave this product a whirl, and was very pleased with the results. Essentially, you squeeze the bottle, aiming for the grout lines, but in reality, it's a little hard to control, but eventually finds its way to the recessed grout lines, and then let it sit. I let mine sit for 10 minutes. You then need to use a scrub brush to 'agitate' the solution, and it lifted up an amazing amount of grime. You have to wipe up the dirty solution, which sometimes gets into the grout again, so a second application may be needed depending on how dirty your grout is. I have a 6'x6' tiled area on my bathroom floor, so it's a small area, and ended up using about half of the bottle, so this is fairly expensive, but in my opinion, it's well worth the expense because it's the only thing that's worked." —Joseph Canas
Get it from Amazon for $21.95 (also available in bundles with a brush).
9.
An oddly satisfying foot file to gently remove dead skin buildup and calluses on the heels of your feet and leave them so smooth, you won't be able to stop touching them. You can use it on dry or wet skin!
Promising review: "I was BLOWN AWAY by this product! I have dealt with calloused, cracked heels for as long as I can remember. Some things have worked better than others in the past, but I've been in a rut of bad feet for the past several months. The foot rasp/file/scraper that I had was not even coming close to doing the job, and it is a similar style to this one, so I wasn't getting my hopes up for this one. Based on the reviews and before/after pics, I had to give it a shot though! I gave it a go before getting in the shower and was just so impressed with how easy to use it was and how incredibly it worked. It took less than 15 minutes between both feet and VERY LITTLE pressure/effort was required. This $11 product gave me better results than most professional pedicures I've had!" —Halk
Get it from Amazon for $9.99.
10.
An ink remover for that ink- or permanent marker-stained item you thought was a lost cause. Just apply this to the mark, let it sit (for up to 12 hours, depending on the stain), and run it through the laundry! You can use this for all sorts of stubborn stains besides just ink, like blood, wine, grass, coffee, and grease stains.
For permanent markers specifically, reviewers say it does take some time and scrubbing, but they were able to get most if not all of the stain out with persistence!
Promising reviews: "Imagine large blobs of permanent blue Sharpie on a white football uniform. Now imagine that the ink had sat on the garment for over a week before the uniform was washed and dried by a mom completely unaware of the ink blobs. This product took out 95%+ of the ink and was easy to use. Now said kiddo does not look like the only one with a spotted jersey. A+ result." —Baby B's Mom
"Amodex took ink out of my expensive scrubs. A pen leaked in my pocket and made a thick glob of ink stain on the scrub jacket and a little on the pants. After using the Amodex and washing in cold water, there is no evidence of a stain and the fabric looks exactly how it looked before the stain. There was no damage or discoloration of the fabric. Thank you, Amodex. This product just saved me the $75 that it would have cost to replace the scrubs." —Michelle hammer
Get it from Amazon for $11.99.
11.
A set of L.A. Girl Pro blemish and under-eye correctors that'll be your go-to color-correction trio: orange to help cancel out dark under-eye circles, green to neutralize redness, and yellow for addressing purple/blue tones and all-over mild redness.
Promising review: "I have hereditary dark circles. I could hibernate all winter and wake up my first day of spring, and you'd still think I was tired. Nothing ever seems to help. In fact most of the expensive makeup that everyone raves about I find illuminates my dark circles if anything. It's a battle I realized long ago I'd probably never win. I heard good things about this concealer and being the price point is very attractive, I figured I'd give it a go, but I didn't expect much. I was very impressed. This is the best thing I've found yet honestly. It will now be a staple in my makeup bag always!" —DawnMarr
Get the pack of three from Amazon for $12.
12.
A stainless-steel tongue scraper because fighting the battle against stinky breath can be a real struggle without this surgical grade tool, which helps remove odor-causing plaque and bacteria. Now your friends can stop offering you breath mints out of the blue. 😬
Promising review: "This product works!! High quality material, well made, easy to clean, corrosion resistant, at least in my experience. I can tell this will last a long time. And, it works!!!! Got rid of a coating on my tongue that other tongue scrapers and the tongue cleaners on toothbrushes did nothing for!! Noticed it got a lot off the first use!!! My tongue looks healthy, and my throat feels better. Once a thicker layer starts on the tongue due to postnasal drip there's nothing else that got rid of it. It's easy to hold, and doesn't gag me at all. It comes with a travel case, which I love because I don't want anything that goes in my mouth loose in a bag." —Saffire Dragon

Get a pack of two from Amazon for $9.99.
13.
An enzymatic dog toothpaste that'll help you keep your pup's dental hygiene under control (and improve that stinky breath you get a whiff of every time they lick your face). This can help you handle that scary built-up tartar on their teeth at home instead of shelling out for a professional cleaning — and many dogs love the taste too!
This no-rinse, non-foaming toothpaste comes in two yummy flavors that dogs will love (peanut butter or poultry!). For best results, it's recommended to brush their teeth at least 2–3 times per week.

Promising reviews: "The dogs love this stuff. The picture attached is only after two weeks of use (brushing two times a day). The dogs love the flavor and actually think of tooth brushing as a treat now. I also put it in a chew toy for them to chew on to help brush their own teeth. We used children tooth brushes at first to help her gums adjust and now use an actual dog toothbrush." —Paisley
"I thought I would never be able to remove the tartar on my dog's teeth unless I go to the vet. But after brushing her teeth for 2–3 weeks, the thick and hard tartar began to fall off. The result is unbelievable." —Amazon Customer

Get it from Amazon for $6.89+ (available in two sizes and two flavors as well as a kit).