1.
Skin1004's Zombie Pack, a box of eight masks that work in just 15 minutes to noticeably reduce the appearance of fine lines, tighten pores, improve texture, and brighten your complexion. Each mask tightens and cracks as it works on your skin — hence the name! — but when you rinse it off, your skin is left soooo soft and smooth.
Promising review: "I have never written a review before but I am compelled to do so now. Let's start with what my 41-year-old face looked like. I had bumps, tiny bumps all over my skin, especially my forehead. My skin NEVER felt smooth even with the prescriptions I was give to help with these tiny bumps. It was actually causing my cheeks to have what appeared to be thickening skin. Wrinkles, some that were quite deep. My pores were huge and getting bigger day by day it seemed like. I know that it says to use this product every three days. I chose to go with every single day for the first box of eight. The results were so amazing I decided on everyday for the second box. Even more amazing results. EVERY SINGLE ISSUE LISTED ABOVE NO LONGER EXISTS!!!! I moisturize deeply after rinsing and my face looks absolutely amazing. My face did not even look like this at 30. I am hooked and I will be buying no less than three packs every single payday so I can stock up on this stuff in case they ever decide to quit selling it. If I had 10 stars available to rate I would use them and more!" —Amazon Customer

Get a box of eight masks from Amazon for $24.79.
2.
Tatcha Silken Pore-Perfecting sunscreen with SPF 35, because if there's *any* beauty product worth splurging on, it's sunscreen. And when your sunscreen works THIS well and has so many other skincare benefits, it's hard to look at drugstore brands the same. This has *zero* greasy residue, no white cast, doesn't clog pores, and — in the words of one reviewer — leaves your skin like rose petals.
BuzzFeed Shopping editor Maitland Quitmeyer says, "I am very afraid of the sun and very careful when I go out in it. I don't just burn — I rash-burn, and it is deeply unpleasant. But I *also* have super-sensitive, acne-prone skin, and finding a non-pore clogging formula that also protects is super hard. So when I was working on a roundup of the best products for adult acne, I happened upon this Tatcha sunscreen. They're known for great skincare, a seriously cult-fave primer, and with all the glowing reviews I knew I NEEDED to try this sunscreen. All the benefits of SPF plus a whole slew of other skincare benefits? Sign me up.
"It's formulated with silk extract, Japanese wild rose, and other skin-friendly ingredients that magically transform into a super-soft, smooth, matte canvas you can feel confident in. And boy, is it great as a base for makeup. And it REALLY protects your skin from the sun. I went to the beach, bringing a giant sunhat, renting a large umbrella, and never venturing into the sun. BUT, ladies and gentleman, I made one fatal mistake: I TOOK THE FERRY THERE! I couldn't wear my hat (it would blow all the way off my head), so I stood in the sun — with *extra* sun reflecting from the water onto my skin — for 45 minutes. My non-Tatcha body sunscreen FAILED, resulting in the boiled-lobster arm you see above. But my face?? Not one little hint of burnage. My skin stayed smooth and protected all day. And I know, I know, $70 is a lot! I really do — but this is truly, far and away the best facial sunscreen I have ever worn. And the bottle definitely goes a long way. I've been using mine for a few months, and I have a lot of sunscreen left to go." 
Get it from Amazon for $70.
3.
JVN Air Dry Cream to eliminate the arduous step of blow drying your hair — you can just apply this to wet hair, and it'll leave you with minimal frizz and enhance your natural waves or curls if you have them.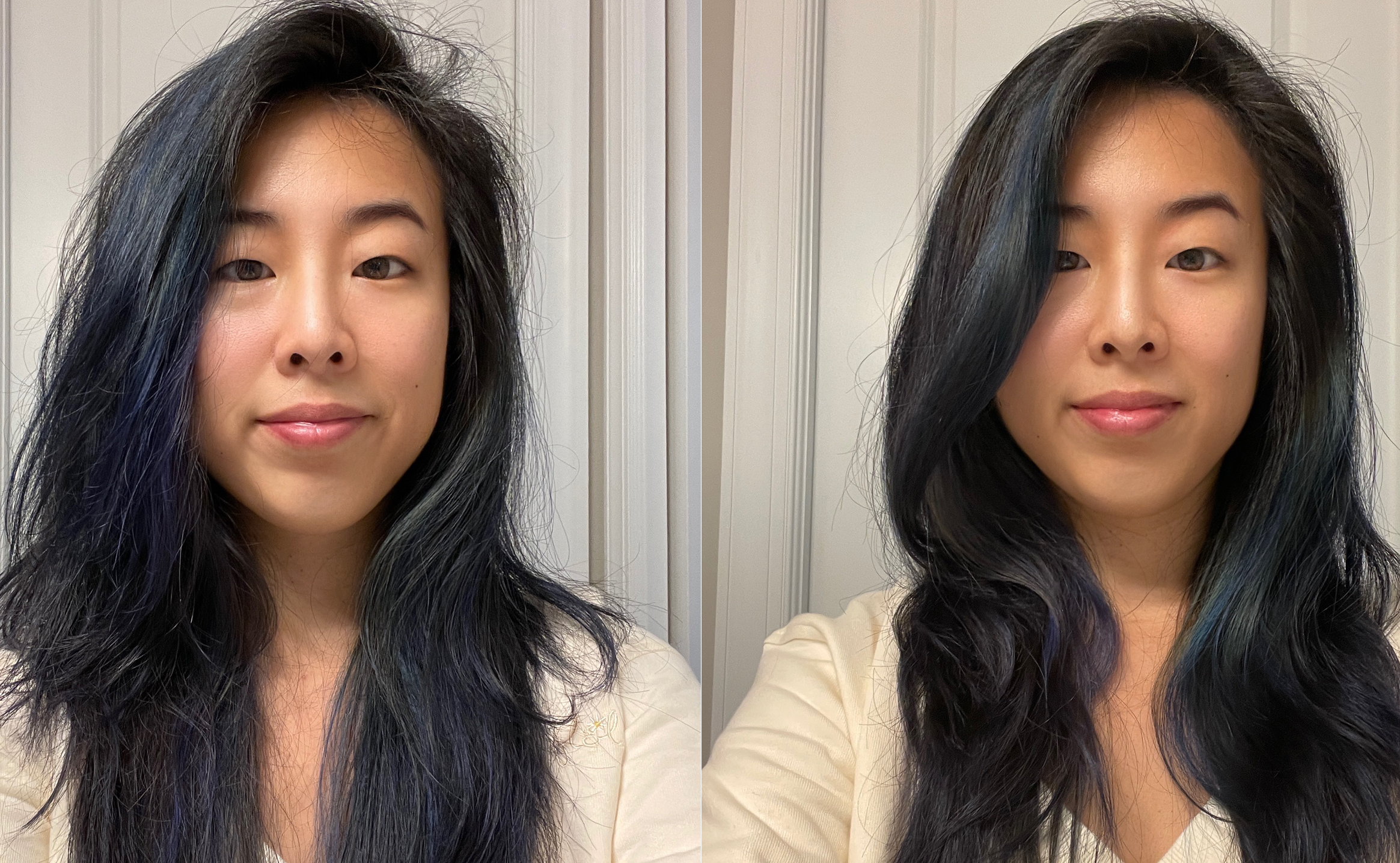 It's designed for all hair types and reviewers across the board mostly report a good experience with it, from users with fine, thin hair to coarse, curly strands. That said, JVN says it's especially good for people with frizzy, wavy, curly, or coily hair.
As someone who's never had the patience to blow dry their hair, I picked this air dry cream up after seeing its heat-free results in this TikTok and reading all the positive reviews (plus, ya know, I feel like I'd trust Jonathan Van Ness with my hair). For context, I have extremely thin, fine hair that is mostly pretty straight. This air-dry cream has a really nice, silky consistency and smells like the salon (IDK how else to describe it, but it's a pleasant smell), and it doesn't make my hair feel greasy or crunchy after I've worked this through it. It definitely helps cut down on frizz and makes my hair feel really silky and healthy, even into the next day. If you don't have any natural wave to your hair, this isn't going to create that (at least not in my experience), so it makes sense that it's recommended for the hair types mentioned above. But even if you have straight, fine hair, if you don't already have a good leave-in conditioner, I'd still recommend this cream for its smoothing, hydrating benefits. A little goes a long way, and the bottle has a lot of product in it!
Promising review: "Smells amazing. This stuff is a nice-one step process for when you are feeling lazy or don't wanna blow dry. Keeps my waves and tames the frizz." —mmkile
Get it from Sephora or direct from JVN for $26 (also available in a mini size for $12).
4.
Oil-free Laura Mercier tinted moisturizer beloved for its soft, sheer coverage that evens out your skin tone without feeling like you have a greasy layer just sitting on top of it — your skin still feels like *your* skin. This is my personal *fave* tinted moisturizer!
It has a blurred matte finish thanks to oil-absorbing powders that keep your face shine-free, while licorice root extract soothes irritation and vitamin E protects against sun damage. It also has SPF 20 for extra sun protection (on top of your everyday sunscreen). Reviewers of all skin types call it a staple!
This has been my personal holy grail tinted moisturizer for months now! (That's me applying and wearing it above, on its own, with no filter.) I've never been the type to buy expensive name brands like Laura Mercier, and finding tinted products that actually match your tone is SUCH a struggle, but I took a gamble (after seeing a rec from one of my colleagues, included below) and have found my match made in heaven with this moisturizer. It blurs my freckles a bit without covering them completely, and it still looks like "my skin," just with a more even skin tone that looks soft and healthy. Now, like many tinted moisturizers, this is very light, sheer coverage and you'll probably have to pair with concealer if you have blemishes or spots you want to cover. I love this for no-foundation days when you just want a light base to wear on its own or with a bit of blush and mascara. Also, I'm using a damp sponge to apply it above, but you could def just use your fingers!
BuzzFeed Shopping editor Jasmin Sandal also recommends this! "I can attest that this foundation-alt doesn't draw attention to areas of dryness — it actually does a great job of nourishing your skin as well as providing coverage to naturally mask blemishes. I especially love it because I can even out my skin tone in a pinch with just *one* product instead of having to throw a bajillion things on my face to achieve a healthy-looking glow."
Get it from Sephora for $53 (available in 20 shades and also in a mini size for $29).
5.
And hydrating Lancôme Teint Idole Care & Glow foundation​, which I fell in love with immediately upon first wear. This glowy serum foundation provides buildable medium coverage and has an 82% hyaluronic acid formula to hydrate and plump the skin — a dream for those of us with face dryness. 

This is the best foundation I have ever owned, folks. I literally get excited every time I get the chance to put it on. I saw it recommended in a TikTok (which I can't find now, sry!) and even though it costs more than I've ever spent on foundation, I was pulled in by the idea of a hyaluronic acid formula that's hydrating and glowy with decent coverage  — and it's proven to be just that. The skin tone match is PERFECTION (Sephora nailed it with the "Find Your Shade" tool) and it blends like a dream, working as the perfect base for blush, highlighter, and more. It's lightweight and buildable, and my dry, sensitive skin has had no issues with it. As a bonus, it has SPF 27 for added protection! The bottle is also lasting me a loooong time, so it's been worth every single penny in my experience. When I want more coverage for a bolder makeup look, whether for events or going out, this is my go-to!

Get it from Sephora or Amazon for $57 (available in 30 shades). 
6.
Dentist-recommended Crest whitening strips that work over time to remove YEARS of stains and visibly whiten your teeth when you use them for just 30 minutes a day!
The pack comes with twenty 30-minute treatments, and two hour-long treatments. The strips are also enamel-safe!
BuzzFeed Shopping writer Haley Zovickian says, "Folks, these are not the gloppy whitening strips of your childhood that slid all around your mouth and had you spitting out globs of product every few minutes so you wouldn't swallow it. I know this because I grew up using those exact strips to treat my hereditarily, naturally-kinda-yellow teeth. I eventually swore off whitening strips because they were so awful and uncomfortable. Ten years later, I decided to give at-home whitening another try since I now drink, like, a million cups of coffee a day, which obviously did nothing to help my yellow teeth lol. Long story short, I was FLOORED when I tried these strips. They may or may not be the best beauty development of the 21st century. These things stay put with literally zero gloppy residue, no spitting or readjusting required. They work so well, I'm almost resentful ~kids these days~ won't experience how absurd at-home whiteners used to be lol. Anyway, they're so comfortable that the 30 minutes or an hour you have them on zips by, so that by the time you're through, your teeth look whiter with virtually zero effort on your part. Can I nominate this for some sort of award??
"BTW: If your teeth feel sensitive while you're using the strips (mine did), just take a break for a few days before starting them again."
Get a 22-count pack from Amazon for $45.99.
7.
A Solawave red light therapy wand in case giving yourself a professional-level facial at home sounds appealing to you (🙋‍♀️). This cute tool looks simple, but it's packing some highly effective technologies inside: red light therapy to help reduce dark spots and fine lines, microcurrents that stimulate and lift the skin, facial massage to reduce puffiness, and therapeutic warmth to promote product absorption. TL;DR: It's a skincare superhero, folks.
BuzzFeed Shopping editor Amanda Davis vouches for it! "This. gadget. is. worth it! 👏🏾 Using the Solawave was my first time introducing red light therapy into my skincare routine and the difference in my hyperpigmentation is honestly mind blowing. The tone of my face is much more even and the dark circles around my eyes have nearly disappeared. Essentially, it's like a mix of a jade roller (which I already love using anyway) and an LED mask in one...with microcurrent/vibration therapy, too. You can apply the specific Solawave activating serum or any conductive gel of your choice (I use a different one, myself!) and it will really absorb the benefits when used with the wand. I only use it once every other day (at night) and it's super relaxing. My skin is always ✨glowing✨ the next day!"
Solawave is a LGBTQ-owned small biz based in Los Angeles. 
Get it from Amazon for $92.94+ (available in five colors) or straight from Solawave for $149 (available in three colors). 
8.
Youthforia's unbelievably lightweight BYO Blush Oil, which reacts to your skin's natural pH level to create the *perfect* shade of flush for your skin tone so you never have to think about what shade to wear. This vegan, color-changing oil is made with 20 different plant-based ingredients that are so skin-friendly, you could even sleep in this!

Youthforia is an Asian woman-owned small business established in 2020 that specializes in environmentally friendly, cruelty-free makeup made with at least 90% renewable ingredients. Check out a TikTok of the BYO Blush in action!
I recently picked up a tube of BYO Blush Oil for myself because the concept sounded so cool — a blush oil? That creates your perfect shade?? It works exactly as advertised: I just make a couple of tiny swipes on each cheek and a lil' on my nose, and almost immediately the pink shade starts to appear. It blends REALLY easily and feels so lightweight. I love wearing it on no-makeup days when I want to add a bit of color to my cheeks just to feel ~alive~ but it looks great on top of makeup too. I love it so much, I even bought it for my sister-in-law for Christmas!
BuzzFeed Shopping writer Emma Lord is also a fan: "I tried this out myself and I have to say, it is WILD watching it adjust to your skin's pH in real time. It was a very bright pink at first but super easy to spread — a bit like Glossier's Cloud Paint, except personalized. It's very long-lasting, too — I applied in the morning and could still see a rosy glow by the end of the day."
Get it from Amazon or directly from Youthforia for $36.
9.
And Glossier Cloud Paint, a long-standing cult-favorite in the beauty community. Tons of self-proclaimed lazy makeup wearers swear by it, mainly because it goes on *so* easily using your fingers and blends to give you the softest, most natural-looking flush. You can even pick it up in a slightly darker shade and use it as contour too!
Check out how easily it's applied in this TikTok. Psst — you can also check out our Glossier Cloud Paint review for more on why it's "a lazy girl's dream."
Promising reviews: "If you are fair like I am, Cloud Paint in Dusk is like Contouring for Dummies. I just swipe some into the hollows of my cheeks and pat until it's blended, and voila! A contoured face for the girl who has never contoured in her life and certainly doesn't have the patience to do so. The final touch is Puff on the tops of the apples of my cheeks and I've managed to finger paint my face into looking well-rested and sculpted." —Faith
"Listen, I am a LAZY makeup wearer, L-A-Z-Y. I have mountains of blushes and I never wear any of them, I really wanted something that was quick (brush free). I bought this in Beam and I love it; it is bright, happy and a bit peach-orange. I think it is great for summer, and it is so easy to apply. I definitely want at least one more (or every) shade. If you are trying to work something simple into your routine, pick this up — it is not heavy or over the top and it literally lasts on my face from 8 a.m. to 10 p.m." —Mc K.
Get it from Glossier for $20 (available in eight shades).
10.
Urban Decay All Nighter setting spray ensuring your flawless makeup ~lewk~ stays looking flawless through rain, sweat, and nights out. It'll keep you fresh, smudge-free, *and* transfer-resistant so you don't end up with half of your foundation rubbed off inside a mask.
I recently put this setting spray to the test for a wedding that involved taking multiple trains in and out of Manhattan on a hot day and being in crowded rooms where airflow was ~limited~. As such, I was sweating up a storm, but my makeup looked *flawless* by the time I got home that night — all thanks to this Urban Decay setting spray that I already know I'll be repurchasing. I'm new to setting sprays, so it felt weird at first to spray something *on top* of my carefully crafted makeup look, but it dried in no time without messing anything up. It also didn't feel heavy or sticky on my face — it didn't feel like anything at all, actually — and my makeup looked better than it ever has after hours of wear. For reference, I have dry, sensitive skin and it caused me no issues. 
BuzzFeed chief of staff (and former Shopping editor!) Marquaysa Battle also swears by this stuff: "I use this spray and will swear by it for the rest of my days. I definitely have oilier skin in the summer months and over the years, I've tried a number of drugstore setting sprays that did absolutely nothing. This spray is worth the extra coins. I even wore it to Puerto Rico. Through the blazing sun and lots of ocean splashes, my makeup did NOT budge."
Get it from Amazon or Sephora for $36 (also available in a travel size for $16). 
11.
Belif's The True Cream Aqua Bomb that may come in a small package, but expect big results if your skin is in desperate need of hydration. This oil-free gel cream leaves your skin feeling ~quenched~ and supple with a refreshing cooling sensation — and none of the heaviness or oiliness you sometimes get from creams.
It utilizes ingredients like ceramide 3 and glycerin to improve the skin's moisture levels + help it *retain* moisture, which most of us desperately need through the winter months.
BuzzFeed Shopping contributor Rachel Dunkel says, "Aqua Bomb moisturizer is easily my desert island skincare product. Although I have dry-leaning combination skin, I hate most moisturizers because creamy formulas feel heavy and just yucky to me, especially under makeup. Aqua Bomb's gel-like consistency absorbs like a dream. It's soothing to stressed out skin in the winter and cooling through the heat of summer. I recommend it to friends of all skin types because it gives your skin that bouncy hydration it craves without feeling oily in the slightest. I've put it on every night and most mornings for years and have no plans of stopping anytime soon!"
Promising review: "I absolutely LOVE this product!! The texture is amazing and light. I have very sensitive and acne-prone skin and this works wonders. It comes in a small bottle, but there is a whole lot of product. A little bit goes a long way as well. Will definitely continue to buy this product." —gabbw13
Get it from Amazon or Sephora for $38+ (available in three sizes, including a mini size for $22).
12.
Olaplex's No. 3 Hair Repair Perfector, which has been described as "a miracle in a bottle" for anyone whose hair is dry, brittle, and damaged (whether it's from bleach, box dyes, or hot tools). This concentrated treatment restores *and* strengthens your hair, reducing breakage while protecting the strands against future damage. Silky, shiny hair, here we come.
Reviewers with thick and wavy hair (2c) and coily hair (4c) love this Olaplex treatment. And reviewers with straight hair (1a–1c) say it's great for getting softer, shinier hair! 
BTW, if you've heard chatter online about Olaplex causing hair loss, here's why experts we talked to said that's probably not the case and what you should know before buying.
Promising reviews: "OBSESSED!! I recently got a haircut and the lady used a flat iron. I personally don't like using heat on my hair to prevent damage. Me being paranoid, I had to use this to protect my hair afterwards. When I tell you my hair was SILKY SOFT and SUPER SHINY I mean it. It looked and felt so healthy after the first time." —Skinjunkie2
"This product is amazing!! I've been using it a couple of times and I'm already obsessed, I use it with No. 0 and it makes my hair super silky and soft which is a surprise because my hair is bleached and always been frizzy! Will definitely order again!" —Maryam91R
Get it from Amazon (where it has over 90,000 5-star ratings!) or Sephora for $30 (also available in a value size at Sephora for $60).