This Is What It's Like To Be A Student And A Sex Worker In Sydney's Legal Brothels
The exorbitant cost of living is driving young students into sex work to make ends meet.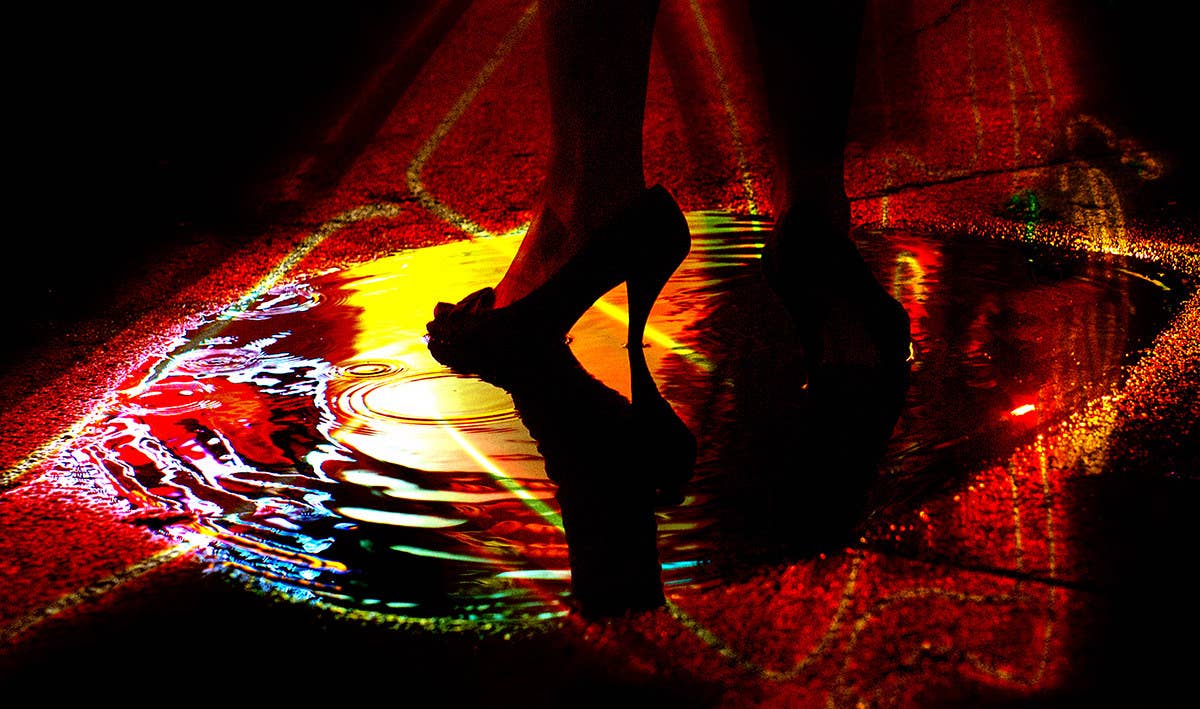 ON a blue sky morning in Sydney, M sits on the terrace of a Glebe cafe fiddling with her coffee spoon while the 433 bus grinds to a stop across the road. A few passengers step off and head towards the sprawling University of Sydney campus down the street.
M, from Sydney, is in her early 20s, with dark hair and a gap between her two upper front teeth. She's around 5'7, wears a size 12 and loves young adult fantasy novels. On a busy night at the legal brothel where she works, M can take home $300-400.
Like many who work in the sex industry M hasn't told her friends or family how she makes money. The sex industry was decriminalised in New South Wales in 1995, so there's no risk of arrest, but social stigma is ever present. She agreed to speak to me and introduce me to the girls she works with, on the condition she remain anonymous.

"I have to weave these elaborate lies with my parents so they don't figure out where I'm working," she told me.
Aside from New Zealand, the Australian state of New South Wales is the only place in the world where both the purchase and sale of sex without registration is not considered a criminal act. There are restrictions, such as not working near schools and in residential areas, but the consequences from the decision to decriminalise sex work have been remarkable.
The rates of sexually transmitted infections are low, as are incidents of physical and sexual violence. In NSW sex work is a relatively safe and lucrative job option. Certainly, some women are forced into the sex trade even in places where it's been decriminalised. But many enter the industry willingly, and they have a variety of reasons for pursuing this line of work. M used her earnings to fund a costly degree, and she's far from the only student turning to sex work to make ends meet.
IN Australia an undergraduate degree can cost up to $10,000 a year in course fees. And that's for Commonwealth-supported degrees. On top of fees, a student living out of home can expect to have to find up to $615 to cover bills each week. (Sydney and Melbourne are in the top ten most expensive cities in the world).
Accommodation: $300
Groceries, food and household products: $150
Utility bills: $45
Socialising and entertainment: $100
Public transport costs: $10
Study expenses such as printing, photocopying, stationery: $10
Plus one off costs such as new textbooks each semester ($300+), rental bond ($1000+), house appliances and furniture.
"It just so happens that sex work is a very lucrative job. As a uni student, when you have such heavy course work, what else do they expect you to do?"
While studying M was also expected to fund expensive travel as part of her course, with trips costing up to $4000.
"There are very few jobs that are flexible enough to make that possible," she said. "It just so happens that sex work is a very lucrative job. As a uni student, when you have such heavy course work, what else do they expect you to do?"
I studied for five years in Sydney, but I was lucky that my parents lived a 10 minute walk from my university, so I stayed at home for almost four of those years. Even so, I still didn't manage to save any money from various retail jobs.
IT'S difficult to determine how many students such as M work in the Australian sex industry, but a University of New South Wales report estimated there are just over 100 brothels within 20km of the Sydney CBD, employing a total of around 3000 workers. In Victoria and Queensland sex workers are required to register in order to work legally and in the other states and territories the industry remains illegal.

Twenty years after sex work was decriminalised, a NSW government inquiry confirmed the current system was in the best interests of the workers, clients and the general public.
When I was in the penultimate year of my degree I met a girl named Alannah who lived in a beautiful house in an affluent Sydney suburb. She always seemed to have enough money to buy lunch and go out for drinks on the weekend. After a while she told me she gave hand jobs for money.
She always seemed to have enough money to buy lunch and go out for drinks on the weekend. After a while she told me she gave hand jobs for money.
ONE night, I went with M to the inner Sydney brothel where she works. The girls, as the workers, mostly in their early 20s, refer to themselves, offer a service known as a rub and tug – providing naked massages and "hand relief" for clients. The brothel recently introduced the option for men to choose "full service" bookings (including sex) for a higher fee, but the majority of the girls only perform hand jobs. I'm told only about one in twenty men who come in are after the full service.
From the outside the brothel is an inconspicuous brick building, and the only hint at the nature of the business within is a neon sign bearing the brothel's name. It's been in the same place for 20 years. The walls are pink, the leather couches brown and the spas baby blue. It's not tacky but rather welcoming and cozy.
On a Tuesday night there are seven to 15 girls working. Potential clients enter and hang out in a lounge area. The girls walk past and introduce themselves one at a time. Some are in short party dresses, some in lingerie covered with a lacy robe, some in leotards. All wear high heels and makeup.
On "Fantasy Thursdays" the girls dress up in costumes ranging from sexy Snow White to a sexy nurse. Groups arrive on Friday and Saturday nights; each client books a girl and they all party together in a spa.
"Party spas are the most fun, because you're not just stuck with one guy in the spa for an hour," one girl told me. "It's a bunch of guys, and a bunch of girls, we crack open the champagne, and it's usually pretty enjoyable."
When there are no clients the girls wait together. Some use the in-house computers to work on university assignments; others watch movies or read. They appear as a bunch of friends just hanging out.
A few of the girls tell me that they started out working retail, but had to jag 25 hours a week just to cover rent and groceries, leaving them no time to actually study. Here, they can make at least $90 for a 75 minute booking. On busy nights, a girl can take home more than $400 for a six hour shift. And they can set their own working hours. But one girl tells me that sex workers need to have a strong character, because "it's something that can really break you".
IN 1994 the Supreme Court of Victoria, in justifying a light sentence for the rape of a prostitute, upheld a precedent that a prostitute who is raped is much less likely to feel psychological trauma than a "chaste" woman who isn't involved in sex work. This sent a loud message: sex workers are to be treated differently.

Lucie Bee (a pseudonym) is an escort, porn star and activist for sex workers' rights who started in the industry five years ago when she was studying in Canberra, where sex work is still criminalised.
One time, Bee said, she was invited to speak on a panel at her old university during Sex and Consent Week. The Facebook page for the event was flooded with messages from women shaming her, telling her she's ill-educated, a victim of anal rape and a puppet for the sex industry. Some even went as far as finding out her real name, threatening to "out" her publicly.
"The fact I have a willingness to speak out about these things openly, without fear or shame, seems to really piss people off," she told BuzzFeed.
Many of the sex workers I spoke to don't reveal the nature of their work to friends, family or fellow students. They've spent years earning (expensive) degrees and don't want to threaten future job opportunities.
Even where sex work is legal it attracts what UK based sex industry researcher Teela Sanders dubs "whorephobia." She says this social stigma is one of the most harmful downsides of sex work because secrecy can distance workers from their friends and family, leaving them more vulnerable to the effects of stress.
"It's isolating, when you're doing something that none of your friends do, or even know about," Bee said. "Sometimes you can have a bad day, sometimes all your clients are just pricks... and you can't talk about it."
M has experienced this emotional isolation first hand. Even her sister, who works as a topless waitress, doesn't know she's doing sex work. She confided in a friend who considers herself a feminist, but was met with the statement that sex work is "so detrimental to women."
"I'm happy to be a feminist and to work where I do. She can't tell me that the two don't mix, they definitely do."
"It was really hurtful at the time," M said. "I'm happy to be a feminist and to work where I do. She can't tell me that the two don't mix, they definitely do."
Feminists are divided on whether sex work is demeaning or empowering. Those in the former group want to reverse decriminalisation, arguing that for true equality to exist all activities where women are considered a "man's object" or products to be sold or rented need to be eliminated.
Those who support a woman's right to undertake sex work view it as a means with which to fight repression. They argue that it is much more acceptable for men to celebrate their sexuality and explore their bodies outside of marriage than it is for women, who are quickly labelled as "easy" or "whores". By working in the sex industry, women are fighting this double standard while also capitalising on their bodies.
Some of the girls I speak to talk about an increased assertiveness and self worth, but really, the key driver is cash. It's not about smashing the patriarchy by making money off hand jobs, it's about being able to pay all your bills and have enough money left over for a night out. Most can't understand the negativity they face for using their sexuality to make money.
"[Men are] fine to go and parade their sexuality around as much as they want," M said. "But God forbid a woman wear a short dress and make decisions about what she does with her body. Because women are choosing to be 'objectified', that's why society isn't OK with it."
NOT every man who visits M's workplace is there for sex or a hand job – some come back regularly, just to hang out. Some are single and looking for a new friend, while others find it difficult to talk through particular issues with their wife or partner.

Mark falls in the latter group. He's been seeing sex workers for 22 years after breaking up with a girlfriend in his early 30s. He claims he was too shy to meet a new partner through traditional means. Ever since, he's been going to brothels all over Sydney, making connections with different girls.
Mark is in his fifties, and he's really old school – he enters wearing a khaki coloured suit, with a pink handkerchief in the breast pocket. M tells me that he tucks his singlet into his underwear. He stands up to meet the women and makes conversation with them rather than just saying a quick hello. He doesn't always want a hand job either, sometimes he just wants to sit in the spa and enjoy the company of a naked girl. He seems lonely.
"I tell my married friends I come here and they get jealous," he said. But, he added: "Girls who work here shouldn't tell anyone they do it... people will get the wrong idea."
There is, it seems, one rule for men and another for women. M believes this double standard also applies to men working in the sex industry.
"Male strippers tell their families and friends what they do," she said. "They can be open with it and be proud of it. It's never treated in the same way that female sex workers are."
"Male strippers tell their families and friends what they do," she says. "They can be open with it and be proud of it. It's never treated in the same way that
female sex workers are."
OVER coffee at the cafe M reflects on her introduction to the industry. She didn't think she had the right "look".

"I had all these preconceptions about what girls who worked in that industry looked like, and it wasn't me," she said.
Even the most open-minded people stereotype the sex industry, which perpetuates the stigma, Bee said.
"We're not at the point yet where sex work is seen just as work and sex workers are seen just as human beings."
Outside Your Bubble is a BuzzFeed News effort to bring you a diversity of thought and opinion from around the internet. If you don't see your viewpoint represented, contact the curator at bubble@buzzfeed.com. Click here for more on Outside Your Bubble.