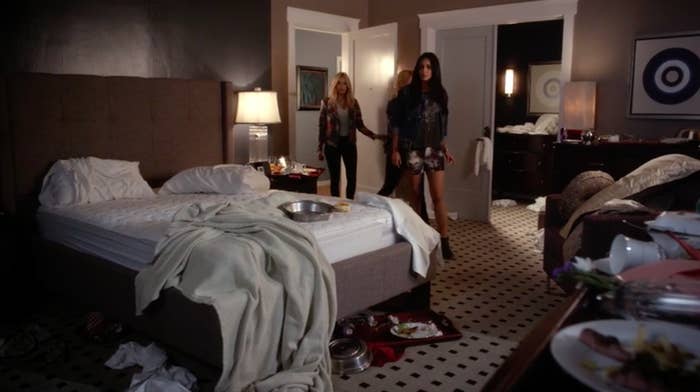 1. OK so now these girls can just waltz into Sara Harvey's room?
2. And they don't have to climb over the balcony any more?
3. God damn if Hanna had got this swipe card ages ago she could have made things a lot easier for everyone!
4. Also how do they know that Sara isn't in her room?
5. CHECK THE SHOWER GUYS.
6. Wait… the hole in the closet is gone?
7. WAAATTTTTTTTT????
8. Did they all dream it?
9. Did they all eat some old gummi bears and get high and imagine this whole thing?
10. But honestly how did Sara repair that so quickly and so well?
11. OMG what if it was Toby?
12. He is a ~builder~.
13. So now these girls are hiding in the closet from a maid?
14. Ali: "We should leave."
15. How? Through that non-existent hole in the wall?
16. Why are they talking so loud? YOU'RE SUPPOSED TO BE HIDING EMILY, STOP YELLING.
17. OMG that maid isn't a maid!
18. Is that Sara Harvey?!
19. She's wearing a mask!!!
20. A has really upped their mask game, no old man today.
21. I hope it's Mona.
22. Actually I'm pretty sure this is Mona.
23. Or maybe Sara Harvey.
24. Or Melissa?
25. Ugh idek.
26. Caleb is very caring.
27. Why can't he make my breakfast?
28. These two have literally gone from zero to a hundred.
29. Together like two weeks, acting like it's been about 40 years.
30. Melissa looking shady once again.
31. In what world can a suitcase handle crack someone's neck though?
32. Explain this to me I. Marlene.
33. Or just add it to the long list of things that haven't yet been explained.
34. *cough* Bethany Young *cough*.
35. Emily is uncomfortable about Spaleb as the rest of us.
36. (When we're not kinda turned on???)
37. Wow Emily what are you wearing? Is that a corduroy jumpsuit?
38. "This isn't like someone's stealing my chapstick." Really Em? Chapstick?
39. You couldn't have thought of a better example?
40. Did Spencer just say that there's a chance Big Bad A could be Pam?
41. Looks like she's been reading too much BuzzFeed.
42. Oh look. Liam's still a thing.
43. Great.
44. OK but when is Liam gonna find out that Ezra and Aria used to bang?
45. "Sat in the back of his classroom" lmao.
46. More like in his bedroom.
47. 😏
48. Hang on Aria's mum is getting married TOMORROW?
49. That was awfully quick. I mean, they have been married before, but still.
50. How does Hanna just have all this fancy couture shit just lying around in the perfect size for Ella?
51. Bring back the wine moms tbh.
52. Ella is riding Hanna hard about getting her own dress organised.
53. "You know what Ella get off my back about my dress you're not my real mom."
54. Ella just said "shower invitations", and somewhere, a hundred miles away, Sara Harvey's ears pricked up.
55. Is this guy trying to hit on Emily by asking for a pen?
56. Lol nice try buddy she's gay.
57. Although he's probably A.
58. EVERYONE IS A SUSPECT.
59. I'm so glad Melissa is back. Such a goddamn shady queen who we don't see enough of.
60. Damn, Spencer's outfit is ON POINT!
61. "Good morning." "It was until I opened my eyes."
62. Same tho Olivia Benson, same.
63. There are soooooooooo many parent storylines. Parent budget is hitting the big time.
64. "Gil" lol is that Spencer's dad's name?
65. No wait he's called something else?
66. Where is he these days we haven't seen him in ages?
67. Guess the parent budget only factors for one parent each for the girls.
68. I mean, they had to get rid of Emily's permanently.
69. 😞
70. Ali has finally got a Big Bad A text!
71. THESE FUCKING EMOJIS I CAN'T DEAL.
72. Literally no one texts like that.
73. 💩 💩 💩
74. But can you imagine if Big Bad A started sending Kimojis?
75. That I would be here to see.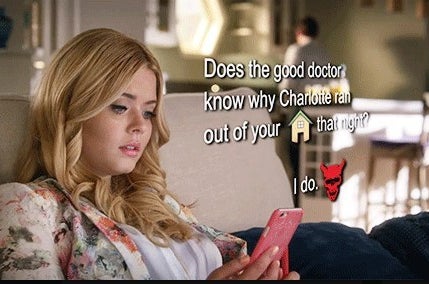 76. Byron wants Aria to OFFICIATE the wedding? Isn't the wedding like… tomorrow?
77. Why don't they just call Pastor Ted to officiate?
78. Lol jk he disappeared along with my faith in us ever getting a satisfactory episode of this show.
79. How the fuck is Aria supposed to get ORDAINED in a day?
80. I call BS.
81. Dear lord if my parents asked me to marry them I'd never stop laughing.
82. "You are the writer Aria."
83. What, wouldn't she just reads out the usual verses? She's not writing the vows Byron you fucking idiot.
84. Holy shit the parent budget in this episode really is through the fucking roof. Aria gets TWO parents.
85. But the Mike budget is still lacking I guess.
86. Where is Mike anyway?
87. Oh lol he's not even coming to his own parents' wedding, how convenient.
88. "Don't worry about Mike." Byron, superdad of the year.
89. Looks like no one is tbh.
90. I love Byron but I kinda do see where Mike's coming from about not trusting him.
91. Same.
92. Lol remember two episodes ago where we all thought he killed Charlotte?
93. But it turns out he was just on a booty call with his ex-wife? Heh.
94. Yesss Melissa the queen. Just sitting in her car being the shady lady she is.
95. She's so good at lying on the spot.
96. Lol well turns out not so good I guess.
97. The looks she gives them are A+.
98. Melissa's like, "I can't even deal with these idiot peasants."
99. Oh shit Ezra has a bit of stubble. He must be upset about something.
100. This book storyline is going nowhere to be honest.
101. I feel like I've lost all interest for any scene that doesn't directly relate to A or Charlotte's killer.
102. Ezra must know Aria still loves him.
103. Even if Aria herself doesn't know.
104. They're definitely going to get it on again soon.
105. Sorry Liam.
106. Ha just kidding I don't care about him at all.
107. Hanna: "I have no issue with Spencer and Caleb."
108. Ella: "y u always lyin' mmmmmmohmygod."
109. Ali looks very pretty in this episode.
110. OK so now Ali feels guilty about Charlotte's death?
111. "She stared at me like a cat." The writers are really digging deep here.
112. Did Charlotte have a crush on Dr Rollins?
113. "I delivered her to her killer."
114. ???????????????
115. Ali this isn't about you anymore.
116. Her relationship with Dr Rollins is so problematic.
117. I feel like he's meant to be 35 or something but looks about 16.
118. Who the fuck VIDEO CHATS someone they don't even know?
119. I don't even like getting voice calls from people I've been best friends with for 10 years.
120. OH SHIT EMILY GOT A BOX THAT NO ONE ORDERED.
121. OMG IT'S DEFINITELY FROM A.
122. Lmao A you classic bitch, never disappoint.
123. Why is she opening it eagerly expecting it to be free textbooks?
124. WHY DONT THESE GIRLS EVER FUCKING LEARN?
125. Poor Emily though.
126. "You need to start talking before our baby does."
127. DID THEY IMPREGNATE HER HOLY SHIT?!
128. OR PUT HER BABY IN SOMEONE ELSE???
129. I don't understand what's happening.
130. WAT WAT WAT X 100 000.
131. Well done Olivia Benson coming clean about being sick.
132. What a lady.
133. YES WE'RE GETTING A FLASHBACK!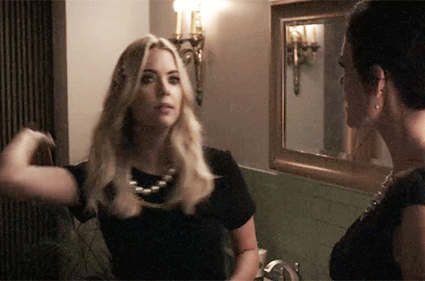 134. Omg that transition though.
135. WREN.
136. WREN!!!!
137. THEY MENTIONED WREN!!!!
138. WREN WAS TALKING TO CHARLOTTE?
139. WHAT?
140. WHY?
141. Oh shit. Is this I. Marlene's way of saying STOP TALKING ABOUT WREN IT'S NOT GONNA HAPPEN GUYS.
142. Still think he's Uber A.
143. MELISSA IS SO NUTS I FUCKING LOVE IT!!!!!!
144. Omg Hanna just threw her phone. Fuuuuuuuuck.
145. THEY'RE BOTH NUTS.
146. This whole scene was batshit insane.
147. This is the kind of content I am here to see.
148. Who the fuck is this guy with Emily, don't they know we don't want any more new characters?
149. Like we still don't care about goddamn LORENZO and he was introduced pre-time jump.
150. OMG IS THAT A COFFEE SHOP THAT ISN'T THE BREW?
151. I never thought we'd see the day.
152. AHA! This guy is a shady reporter after all.
153. Emily has a ruthless look in her eyes, HERE FOR IT.
154. Oooooh Ezra and Liam are having a chat this is going to end badly.
155. I can't wait.
156. Oh yes Ezra is gonna tell him about Aria omg yesssssss.
157. Oh Ezra you beautiful sweet idiot.
158. Oh my god.
159. Ezra SPILL EVERYTHING.
160. SPILL THAT TRUTH TEA.
161. YAS.
162. BYEEEEEE LIAM BYEEEEEEEE.
163. Ezria 4ever.
164. Oh my god poor Liam tho.
165. That knife in his heart right now.
166. He is cute.
167. But you can't mess with our OTP.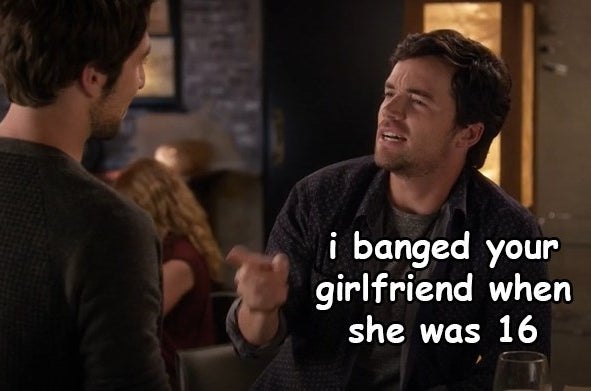 168. Why does Liam's voicemail sound so angry though?
169. "Please. Leave. A message." So blunt.
170. Did he re-record it after finding out about Aria and Ezra or is he just a grumpy guy?
171. Aw Ella looks gorgeous in that dress.
172. Well done Hanna.
173. "People who love each other take a break and find their way back to their first love" OMG HANNA'S TALKING ABOUT CALEB. SHE STILL WANTS HIM.
174. Hanna, m8, why are you engaged to Jordan then hmmmmmmm?
175. Byron wasn't Ella's first love and now Hanna is questioning everything.
176. Honestly Hanna no one is forcing you to marry a rich Australian you're doing that all on your own honey.
177. Ali and Rollins are SNOOOOOZEVILLE.
178. "Is that a message for me."
179. I guess they're both as self-centred as each other though.
180. Fuck off is he proposing????
181. "What are you saying?"
182. "Exactly what you think I said."
183. "No but what though, you just got weirdly emotional on me you fucking weird doctor."
184. Last episode he was saying that they're moving too fast.
185. Now he's proposing to his dead patient's sister.
186. Cool.
187. Guess we gotta get on track for that "Mrs Rollins" on the chalkboard.
188. Why is Spencer so confused about the information about Yvonne being leaked?
189. Lmao this was definitely Big Bad A.
190. Spencer's forgotten about how it all works in Rosewood.
191. Of course Emily is the one sent out on her own at night time to investigate.
192. Hang on.
193. Melissa was back the night Charlotte was murdered?
194. How the hell did Damien know that Melissa was back and why did he tell Emily that?
195. I'm 100% sure that that Emily/Damien conversation is a deleted scene because this phone call with Hanna feels shoved in at the last minute.
196. Why oh why is Emily here, at an abandoned diner in the woods, with no streetlights, by herself?
197. WHERE THE PHONE RECEPTION IS BAD.
198. Fucking hell these girls need to sort out their shit.
199. Also lol sorry Aria, can't come to your parents' wedding, gotta be a vigilante. Again.
200. And probably get myself almost killed. Again.
201. OMG A VAN.
202. COMING TO RUN EMILY OVER.
203. THIS IS LIKE THE TIME THEY WENT GLAMPING AND HANNA GOT RUN OVER!
204. BY MONA.
205. IS IT MONA THIS TIME?!?!?
206. Classic Mona.
207. Why is Emily hiding though?
208. Mona definitely saw her.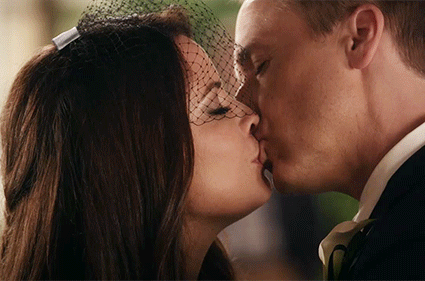 209. Oh this is a nice wedding, not gonna lie.
210. Pretty good considering they only had a DAY to plan it.
211. I just can't get over how many parents are in this episode!
212. But no Pam. :(
213. And the wine moms aren't at the wedding, DID THEY BREAK UP?!?!
214. "Making a new commitment to each other." Lol Byron don't cheat again you sad sack.
215. Oh Liam you sad, sad puppy dog.
216. I can't handle this whole Emily and the van business wtf????
217. NOOO HER PHONEEEEEEEEEEE!
218. The second phone to be smashed in this episode.
219. Emily wouldn't have had that problem if she was using a Nokia 3315. That thing is sturdy as shit.
220. But also it doesn't have emojis on it, so A's texts would make no sense.
221. Win/win really.
222. MELISSA'S SUITCASE HANDLE???????
223. ON THE ROOF OF A SHED OUTSIDE AN ABANDONED DINER????
224. That should have been the first place they looked for it.
225. Also why the fuck is Emily getting her fingerprints all over it ffs?
226. Look, honestly, the driver of this van could be doing a lot better job if they really wanted to get her.
227. Well, well, well. What a surprise. Olivia Benson's opponent was hacked.
228. From Spencer's IP address.
229. When are these dummies just going to tell a responsible adult that A is back?
230. Like I know technically THEY are responsible adults now but like, lol.
231. Fuuuuuuck Caleb's in trouble.
232. Ugh Caleb taking the blame.
233. Hoe don't do it.
234. Oh my god.
235. You'll never be Olivia Benson's fave son in law now.
236. And her other son-in-law made out with the wrong sister and was maybe, possible, hopefully Uber A.
237. And now he's GONE?!?!
238. I'll be 84 years old and still waiting for Wren to come back.
239. We've seen a lot over the last six years of Pretty Little Liars, but I can honestly say I never thought we'd see a scene where Emily is hiding on the roof of a barn, while a van waits in the bushes for her to come down.
240. Oh, and she's maybe holding a murder weapon that was hidden there.
241. Oh and of course her phone is smashed.
242. Poor old Em.
243. Hang on.
244. Emily dropped the suitcase handle.
245. Someone got out of the car and grabbed it.
246. EMILY.
247. WHY DIDN'T YOU JUST LOOK OVER THE SIDE OF THE ROOF AND SEE WHO IT WAS?
248. WERE YOU TRYING TO HIDE?
249. I THINK THEY KNEW WHERE YOU WERE.
250. YOU KNOW, WHEN THEY WERE DRIVING A CAR RIGHT AT YOU?
251. Oh FFS honestly. This all could have been solved if it were Spencer on that dumb roof.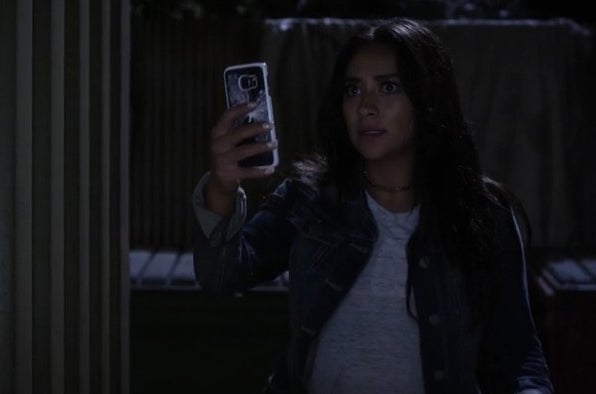 252. Sorry but Aria and Liam are soooooo boooooooring.
253. SNOOZE.
254. Aria, please just tell Liam you love Ezra so we can all get on with our lives.
255. Oh god Aria you are killing this poor guy.
256. "I didn't know until right now." - Aria.
257. Ugh kissing.
258. OK look this is kinda cute.
259. But she's like "lol wait, lemme finish though, where's Ezra".
260. Hanna, you called Jordan back yet bish?
261. These girls and their new boyfriends honestly.
262. Wait where did Lucas go?
263. Hanna's just living in Lucas' apartment while he's off being a rich businessman or whatever he does?
264. So Hanna has now set a date for the wedding.
265. Where the fuck did she pull May 17th from?
266. Like totally out of nowhere?
267. Why is Spencer acting like she'll never see Caleb again?
268. Guys, he can stay in Rosewood it's fine.
269. You've been together for like two days, it's probably healthier if he moves out.
270. He'll go shack up in Hanna's hotel, just watch it.
271. OK YES Emily is safe, I can breathe easy again.
272. Hanna: "What happened?!"
273. Literally all of us right now.
274. How does Emily even begin to explain this though?
275. "A car kept coming out of nowhere and then revving the engine and then hiding and then coming back."
276. So now Emily thinks there are two people after them?
277. ONE IS WREN ONE IS MONA PLS PLS PLS.
278. Oh! Oh! OR ALI! SOCIOPATH ALI BRING HER BAAAAAAAAAACK.
279. I bet she was the one who was trying to figured out who murdered Charlotte and bullying the girls into doing her dirty work.
280. Classic Ali.
281. Way better than whatever the hell this version is they're trying to sell us.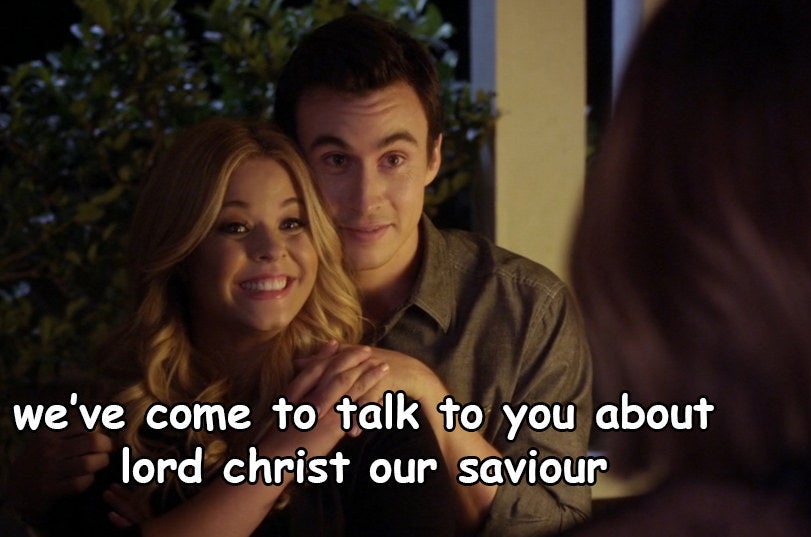 282. OMG a shadow just passed the window of Aria's house fuck fuck it must be A dressed as a mailman.
283. Oh phew it's just Ali and her creepy boyfriend.
284. WTF YOU BITCHES ARE GETTING MARRIED?
285. OK theory: he is defffffinitely marrying her for spousal privilege.
286. So when it comes out that he had something to do with Charlotte's murder, she can't testify against him in court.
287. OK that's probably not a real thing.
288. Because Ali would be mad AF if it turned out Rollins had something to do with Charlotte's death.
289. But tbh I definitely think he is up to something.
290. I hope he is.
291. I hope she is.
292. It is the only way to justify this boring AF storyline.
293. OK so now we have proof that Big Bad A is like eighty years old because not only do they use emoji like an old person, they're reading an instruction manual for a REMOTE CONTROL.
294. HOW DOES A HAVE WEDDING CAKE?! HE/SHE WAS AT THE WEDDING?! THERE WERE LIKE FIVE PEOPLE THERE.
295. God I just want to hit this show over the head with a broken suitcase handle sometimes.