1. OH THIS IS THE MADDIE FROM DANCE MOMS EPISODE!
2. KWEEN.
3. Literal kween.
4. But actually… why is this happening?
5. Like, is this scene literally so Maddie could be in the show?
6. I mean, I'm not complaining, but what relevance does this have?
7. Spencer's there like "Whoa I'm high AF."
8. She's totally dreaming, right?
9. Why is this scene so long?
10. Ohhh Charles DiLaurentis' shoes. OK. This is one of Spencer's ~clue~ dreams.
11. Is Spencer psychic?
12. Spencer just gets all her information from her dreams now, doesn't she? "My dream solved our questions once, let's see if we can do this again".
13. "I was gonna solve the mystery, but then I got high" - Afroman's unreleased hit song.
14. But seriously, why are they treating her dream like it ACTUALLY means something? Instead of just being, y'know, a dream.
15. Last night I dreamed that a furry green elephant named Maurice stampeded through a chocolate factory.
16. OMG guys do you think Maurice is Charles?
17. MONA IS BACK YAAAASS.
18. Where's she been tho?
19. Oh at a day spa rite.
20. Run by Charles lol.
21. What's with the sunglasses inside Mona?
22. Does she think by wearing dark glasses everyone else won't see her?
23. Mona is channeling a Jenna vibe rn.
24. I'm gonna call it. Bitch can see.
25. Poor Ali, so miserable now.
26. Those cops are unprofessional AF.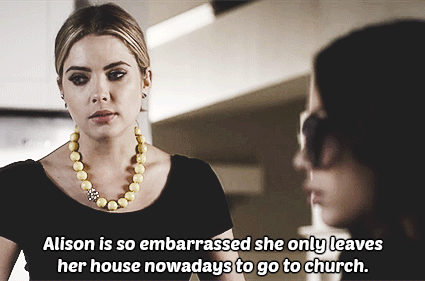 27. Ugh Sara.
28. Go away.
29. Wait, is Sara's mother an alcoholic? Is that why she doesn't want to go home?
30. Emily you can't just get emancipated just like that.
31. Like, just wait the three months until you're 18 jesus.
32. Also though Sara just go away.
33. Ugh Clark.
34. Can he also go away please.
35. IT'S TOO LATE IN THE GAME TO INTRODUCE SO MANY NEW CHARACTERS.
36. Why is Mr DiLaurentis so creepy lately?
37. I guess coz he's actually been in more than one episode at a time. His creepiness has really been given room to shine.
38. What does he even do, BTW? He just leaves the house with a briefcase and comes back and bosses Ali around.
39. Hold on where's Jason?
40. Who is this Leslie chick?
41. Wait, was she in on Mona's Gone Girl plot?
42. Coz if she was, then she has no right to be angry about Mona incriminating her, because she literally did that herself?
43. And if she wasn't… well, then, it's not a crime to be ~tricked~ by someone.
44. Hanna is so sassy this episode.
45. "I don't know what that means, but I really don't like your tone." - Queen Hanna is killing it today.
46. She is so done with everyone's shit.
47. Everyone srsly needs to stop threatening payback towards each other, THIS IS HOW WE GOT INTO THIS MESS IN THE FIRST PLACE.
48. Spencer is sexting Toby? Wut?
49. I guess that means they're still together?
50. Where is Toby tho?
51. Hanna and Spencer are dressed for business meetings all day like HI YOU GO TO HIGH SCHOOL.
52. OMG THEY'RE TALKING ABOUT GRADUATION LIKE IT'S ACTUALLY A THING THAT'S GONNA HAPPEN SOON OMG.
53. But also like… how are any of them graduating when they've barely been at school, even before the Saw house?!?!
54. I guess at least one of them slept with a teacher.
55. Spencer just casually eating drug cookies at school.
56. I THOUGHT IT WAS TO HELP YOU SLEEP SPENCER.
57. "Doctor Oz says sex is a drug too. Maybe you should figure that out." Oh Hanna.
58. Why is Aria hanging out with this Clark dude instead of being in school?
59. These girls literally can't meet a new guy without being asked out.
60. Or girl, in Emily's case.
61. Aria didn't actually go for it though, so character development I guess?
62. But CAN CLARK JUST GO AWAY PLEASE?!?!
63. AND HERE'S LORENZO HE NEEDS TO GO TOO!
64. I. Marlene keeps trying to introduce / reintroduce characters to confuse us, I KNOW WHAT YOU'RE DOING I. MARLENE KING and WE. THE VIEWERS want you to STOP.
65. Mr DiLaurentis probably thinks he's being a really good dad kicking Lorenzo out.
66. Maybe like, handling the whole Charles shit better might have been a good place to start instead.
67. And lol at the thought of any of these parents being a "good parent" anyway.
68. AND WHERE'S JASON?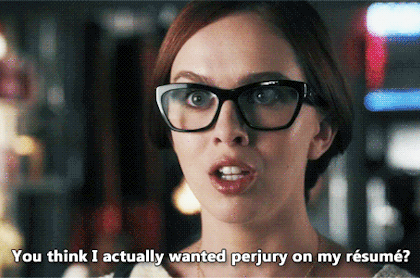 69. Sara literally you're 18 in a few months by the time you fill out all this emancipation paperwork and it's all processed you're going to be 19.
70. JUST BE PATIENT!
71. Sara cannot say anything without looking totally FERAL.
72. This whole plotline is so dumb, can Emily just go back to dancing like a goddamn queen please.
73. Oh look Aria is taking creepy photos of creepy dolls.
74. Definitely A.
75. Is Spencer at Narcotics Anonymous?!?!
76. Oh, Spence.
77. Spencer's like "OMG do those brownies have pot in them?!"
78. Nah she's just got the munchies.
79. OMG what is this storyline tho.
80. OH HEY IT'S HER OLD DRUG FRIEND.
81. Now she's leaving and it looks like she just rocks up to NA meetings to take their food and scram.
82. She got called out awkward hahaha.
83. Aria: "OMG look at this black shadow it's definitely A!"
84. Wait, is that a boob Aria spotted on A?
85. Oh yep that's a boob.
86. Aria's got that square photo crop on.
87. Ready to upload A's boob on Instagram.
88. Aria's all like "A is a girl", but tbh, I wouldn't put it past A/Charles to shove some tennis balls down his top and pretend he has boobs. Such a trickster.
89. But like… is A a girl?
90. Is Cece Charles?
91. Is Sara Charles?
92. Is Charles even A?
93. Am I A?
94. Emily: "Who is Clark?" Speaking for literally all of us RN.
95. Is Caleb Sara's lawyer now?
96. LITERALLY WUT IS HAPPENING HERE.
97. Sara's mother is like "hey maybe come home?" and Emily is like "NO DON'T LEAVE ME EVER LIVE HERE WITH MEEEEEEE".
98. Like, JFC Emily get it together.
99. Sara is also probably on the A team.
100. Have we ever been introduced to a new character without thinking they're on the A team?
101. Probs not, hey.
102. Sara makes me miss Paige. And I freaking hated Paige.
103. Hanna is all business today.
104. I can't wait for the time jump tbh because none of them are pulling off 17 anymore.
105. Leslie is cray.
106. And those glasses aren't doing her any favours in the unhinged department.
107. She's probably Charles, I guess.
108. That mug is probably Charles.
109. That fork too.
110. This show has killed me.
111. So Aria forgets something and Clark runs in to check it for her. What a gentleman.
112. But also does that ever actually happen?!
113. Guys IRL be like "OK cool go back and get that thing you forgot. I'll wait."
114. And like… that's not necessarily a bad thing?
115. ARIA YOU THIEF.
116. Literally this drug buddy is just back because Spencer and Toby are gonna break up soon and she can't be without a boyfriend for like more than two seconds.
117. I'm sick of Toby's shit at the moment, tho, so I'm not even fussed about it.
118. And also, like, they'll be back together by the end of the show.
119. Because everyone marries their high school sweetheart in teen shows.
120. Even if they're a terrible couple.
121. *cough* Chuck and Blair *cough*.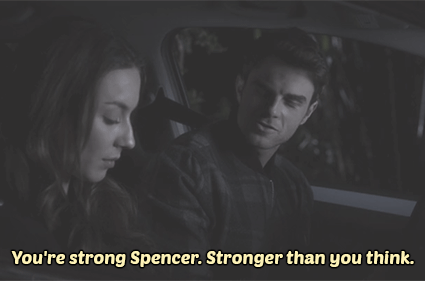 122. Is Mona giving Ali a card or is she just putting anthrax in their letterbox?
123. Mona is definitely still A team right?
124. Like SHE KNOWS SO MUCH why don't they just grill her for some goddamn answers?!
125. Wait… Sara is emancipated now?
126. Wut?
127. Guess Caleb is a really good lawyer.
128. Wish it was that easy to emancipate Sara from the show.
129. And now she's getting a tattoo WTF is happening.
130. Finally, someone is going to investigate Radley.
131. EVERYTHING LEADS BACK TO RADLEY.
132. Why can they never do these scary scenes in the daylight?!
133. Radley has been closed like a month, why does it look like it's been abandoned for like 70 years?
134. Ugh Sara got a birdcage tattoo ugh ~symbolism~ ugh can Sara just go away now.
135. OMG IS THAT TIPPI THE BIRD?????
136. TIPPIIIIIIII IS THAT YOU???
137. IS SARA HARVEY ACTUALLY TIPPI?????????
138. Please god do not let Emily get a Japanese symbol tattoo.
139. No.
140. Nope.
141. Please.
142. Hoe don't do it.
143. Oh my god.
144. LOLOLOL I'm definitely referring to my vagina as "the good China" for at least the rest of this week.
145. Also like, rude of that tattoo artist to be like "don't get a tattoo on your neck" like WHY DON'T YOU STOP JUDGING AND CHECK A DAMN ID.
146. So irresponsible.
147. And illegal.
148. Why wouldn't she let her get it on her neck?
149. Is it coz she saw Emily's tracking chip? Or the scar from when Charles/A/whoever put it in?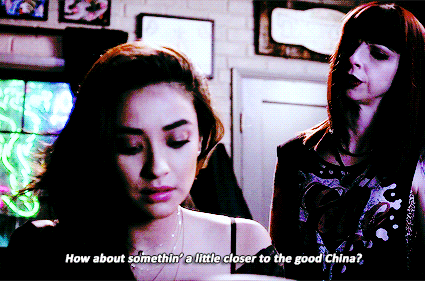 150. How did Hanna and Spencer actually get into Radley btw?
151. Hey why are the medical records there? Weren't they transferred to that warehouse?
152. And even if they weren't, why are they kept in the hydrotherapy room?
153. And why didn't the Radley staff drain the bathtubs when they all packed up and shipped out?
154. OMG IS THAT A KNEECAP?
155. Wait… how would you just have a KNEECAP floating in the water on it's own?
156. IS THAT A FACE?
157. It's a doll. It's always a damn doll.
158. Fuck.
159. No. Ali. No. Don't kiss Lorenzo.
160. Hoe, don't do it.
161. Oh my god.
162. Lorenzo getting his initiation into being a man in Rosewood AKA STATUTORY RAPESWOOD.
163. Lol Mr DiLaurentis is gonna DO A MURDER ON THIS COP.
164. LOOK AT HIS MAD FACE.
165. If I were Emily I'd be so mad that this dumb biatch Sara is reading my messages.
166. Though I guess she is trying to get in her pants so Sara gets a free pass?
167. I get that Sara was trapped in the Saw house for two years but also she's being a real wet blanket about this whole black hoodie thing.
168. Also maybe YOU SHOULD HAVE SAID SOMETHING EARLIER if you've been seeing black hoodies everywhere?
169. Girl's gotta catch up.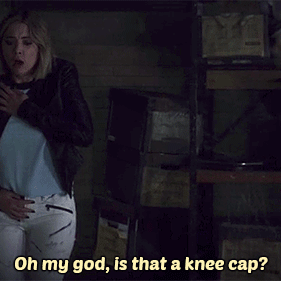 170. MONA. MONA IS THERE. IN RADLEY.
171. Of course.
172. Wait LESLIE WAS IN RADLEY?
173. Not surprised she seems pretty unhinged.
174. Everyone on this show is unhinged.
175. I mean, I would be too if I had been stalked for years and put in a "Saw" house.
176. What is Charles' excuse?
177. There is NO WAY IN HELL that Mona didn't know that Spencer and Hanna were going to Radley. Mona knows fucking everything, and for her to be there means that she wants Spencer and Hanna to have that information.
178. But WHY?
179. Is Mona on #TeAmLiArs or #TeAmChArles???
180. TBH I sort of hope she's on Team Charles.
181. Ali getting a text that says BreAkthrough is literally my favourite thing that's ever happened on this damn show.
182. That text message is literally every PLL fan on Tumblr.
183. This Leslie girl is batshit cray but also probably not A.
184. If the girls suspect someone of being A, we can be sure that they're not.
185. Remember like two episodes ago when they were SURE Andrew was A?
186. Yeah.
187. But what is with that weird shot of Leslie in the van, where you don't see her face?
188. THIS IS SHADY AF.
189. Everything on this damn show is shady AF.
190. Omg A has piles of Aria's pink hair.
191. What is with A's obsession with Aria's pink hair?
192. Jason liked Aria's pink hair.
193. JASON IS CHARLES. CHARLES IS JASON.
194. Maybe?
195. Idk idk idk.
196. OMG THE TENNIS BALL.
197. See I knew those tennis balls down A's top were going to come in handy elsewhere.
198. Sorry but that wig is flawless. A is not making that with that scraggly hair melted in a candle.
199. Charles = expert hairstylist and baby wig maker.
200. *strokes Aria wig on a tennis ball with mini doll brush*.
201. This show is becoming so unhinged
202. I love it.
203. I love it so much.