269 Thoughts We Had Watching Season 6, Episode 9 Of "PLL"
Please, please, please can we have a spin off show called Wine Moms?
by
,
,
,
,
,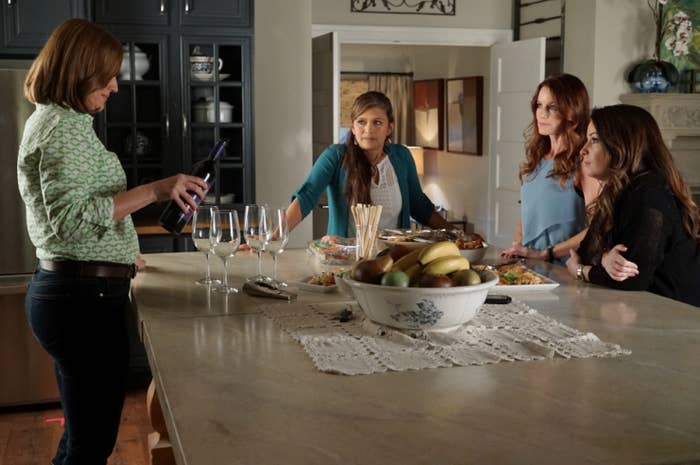 1. Olivia Benson is back!
2. One mom!
3. Two mom!
4. Three moms!
5. FOUR!!!!
6. Whoa.
7. They've used up the entire parent budget for the whole series in the first 30 seconds of this episode alone.
8. All the moms present and accounted for, we're in for a treat.
9. No Mrs D. though. She ded.
10. And buried in Olivia Benson's backyard.
11. OR IS SHE?????
12. Not enough budget to include dads I guess?
13. Lol though when was the last time we saw a dad besides creepy Mr D?
14. Meanwhile surely these girls would just be in witness protection by now.
15. Like, who cares about the prom - they have literally been stalked FOR YEARS.
16. Also like this barn prom idea is terrible.
17. "That barn is not big enough for us, our dates and our pouffy dresses." LOL now I'm picturing all the people these girls have dated trying to get into the barn and it's a full on clown car sitch.
18. Also like as if the barn has EVER been a safe space. That's where all this shit started guys!!
19. Honestly.
20. I love that they're like "tbh we have no friends as if we would talk to anyone else."
21. Love that self-awareness.
22. Um, Aria, there are definitely things worse than not being allowed to go to prom.
23. Like, oh you know, being trapped in a dollhouse.
24. Or being MURDERED.
25. For all they've been through, these girls really lack perspective.
26. Also, and this happens every week… but literally where is Mona???
27. #FindMona.
28. Like is she allowed to go to prom or nah?
29. Because like she probably shouldn't be let's be real.
30. I am praying that she is on the A Team.
31. Our flawless, problematic queen.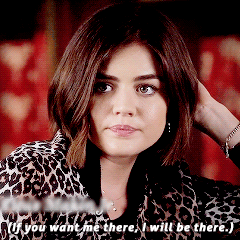 32. "I'm thinking." Oh Aria, don't hurt yourself.
33. "I'll come to prom… Unless I have to dress up like a troll." EZRA WHAT DOES THAT EVEN MEAN????
34. WHY WOULD YOU HAVE TO DRESS UP LIKE A TROLL???
35. HAS THAT EVER HAPPENED TO YOU BEFORE?
36. IS THIS A ROLE PLAY THING?
37. ARE YOU A FURRY?
38. TROLLLLL IN THE DUNGEON.
39. A is kind of a troll though tbh.
40. Or he's a really bad murderer.
41. This is probably a clue.
42. Ezra is Charles I'm sure of it.
43. CALEB! Caleb is back!
44. He's so hot.
45. "Caleb, why do you have an industrial laptop in your boot?"
46. "Because I'm shady AF Hanna, just like every other person on this show. Keep up."
47. Imagine if Caleb was Charles tho.
48. Like, he's literally the only person who I've never really suspected.
49. Shit, that probably means it's him.

50. SARA GO AWAY.
51. Em, how could you forget about Paige so quickly?
52. Call her up, she'd get on a cheap flight to Rosewood ASAP.
53. You know it's a sad, sad day when we want Paige back.
54. Yes Sara - GO TO YOUR OWN PROM.
55. Lol Toby I forgot you got stoned on the job you big dumb idiot.
56. Not much of a loss to Rosewood police force tbh.
57. Back off of Spencer, Lorenzo, what even is your purpose other than to be another creepy old man creepin on these teen girls.
58. Sorry moms but do you really think that stopping the girls from going to prom means that Charles can't get them?
59. A has literally been in all of your houses a hundred times.
60. That barn that you think is safe is the place where Ali "disappeared" from. Lol.
61. Bless Ashley tho - the only mom that cares whether her daughter still gets to dress up pretty.
62. CALEB IS AWOL MORE LIKE #A-WOL AMIRITE OMG.
63. A+ joke tbh.
64. But really is Caleb A?
65. OMG ALI LOOKED RIGHT AT ARIA AFTER THAT CHARLES TEXT.
66. ARIA IS A.
67. GUYS. COME ON. ARIA IS 100% A.
68. IDK HOW IT FITS BUT SHE IS.
69. Does… does Spencer work at The Brew now?
70. She's rich AF, why does she have to work?
71. Maybe she's just hanging out.
72. But she's wearing an apron? And offered Lorenzo a coffee?
73. Maybe she was just being polite and the apron is a fashion statement?
74. Or wait is that overalls?
75. God, who knows with Spencer, seriously.
76. "All I've heard since I got here is that Alison is a master planner and manipulator." SAME LORENZO BUT WHERE IS THE ACTUAL EVIDENCE OF THIS?!
77. Ali has been so dumb lately.
78. UNLESS IT'S ALL AN ACT.
79. MAYBE SHE IS A AFTER ALL.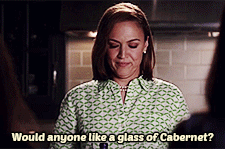 80. Omg.
81. MOMS!
82. WINE MOMS!
83. Where's Pam tho?
84. Classic Pam Fields, doesn't bother to show up.
85. Oh there she is. Sorry Pam.
86. PARENT BUDGET ON FLEEK.
87. "These aren't high ranking officers so they wouldn't know anything." Literally describing all of Rosewood police force rn.
88. Wino Marin turned down wine what is happening???
89. This is a world gone topsy turvy!
90. Oh, wait. There we go.
91. Olivia Benson wants to get oooonnn it.
92. YAAASS OLIVIA BENSON GET IT.
93. Major #SquadGoals.
94. I want to drink wine with these moms.
95. Spencer's barn. Ali wearing yellow. A dark and stormy night. This is ~that night~ all over again.
96. But seriously ALI LOOKS SO PRETTY.
97. QUEEN.
98. WOAH. A's new mask is next level.
99. Mask budget on fleek.
100. And THAT CAPE!
101. Mona was in a red cape in the preview! GASP.
102. A is so ready for prom.
103. What a look.
104. Looks like she's come straight from Carnivale in Venice.
105. They all looks so gorgeous!
106. All dressed up and nowhere to go. :(
107. Wow Hanna dat eyeliner. Hanna Marin or Taylor Momsen?
108. Lol as if they have Uber in Rosewood, the only Uber there is Uber A.
109. And MURDERS HAPPENING ON ALL THREE STREETS TBH.
110. Of course there's a thunderstorm on prom night. CLASSIC ROSEWOOD.
111. This looks like the worst prom ever tbh.
112. And the moms in the house drinking.
113. This is my favourite thing to ever happen on Pretty Little Liars.
114. Forget the prom I just want to watch wine moms 4eva and eva.
115. I, Marlene, can we please have a spin-off?
116. #WineMoms. Get it trending.
117. Pretty Pinot Moms.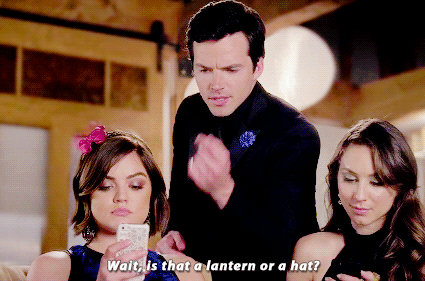 118. Aria you're still so in love with Ezra, stop trying to deny it.
119. Ugh I know they're endgame and I kinda hate it.
120. YAAAASSS QUEEN ALI you look FLAWLESS.
121. YOU BEAUTIFUL SOCIOPATH GO GET ME SOME ANSWERS.
122. The waiters are in red capes and masks?
123. Why would they have a scary prom when there is LITERALLY a murderer on the loose?
124. "Oh nope girls, you can't come to prom because there's a crazed murderer after you but let's make it horror themed for the rest of y'all! LOL!" - The teachers of Rosewood.
125. OK I'm not 100% sure about some of these girls' prom dresses.
126. Shay Mitchell looks so happy to be wearing something other than gym wear.
127. All dressed up to sit on the couch.
128. Me every Saturday night. Minus dressing up.
129. Lol gossiping about the girls in their year like normal teenagers, you don't even know those bitches.
130. They haven't been to school in months how are they even graduating?
131. I feel like we say that every week.
132. "The girls are fine." Oh god they are literally never fine, do you moms know anything.
133. They're all having fun and drinking wine and then suddenly Olivia Benson just HAS to bring up the dead body in her backyard.
134. Debbie Downer tbh.
135. Also, like, if you can't go into your backyard without thinking about a corpse, maybe it's time to move?
136. Like, pack up yo shit and get OUT OF ROSEWOOD?
137. Kenny D was on that. One text from A and he was like "lol bye Rosewood it's been nice and by nice I actually mean pretty fucking shit tbh".
138. I still always wonder how Mrs. D had time to have Charles and Jason 15 months apart from two different daddies, that's commitment tbh.
139. "CLARK DOESN'T EVEN GO HEEEEEEREEEEE" - Aria rn.
140. Clark is up to something.
141. I 100% bet he's an undercover cop.
142. Ok I'm like 20% sure, you can never be 100% with this show.
143. WOAH HOW DO YOU TEXT IN RED THOUGH???
144. #REDCAPETEXTS.
145. I bet it's Mona.
146. PAM HAS A THEORY.
147. So much for FAN THEORIES…. What about PAM THEORIES???!??!
148. Pamtheories dot tumblr dot com.
149. Would click.
150. I love how Pam is just rambling and pointing her wine glass at everyone coming up with all these crazy theories.
151. PAM IS ALL OF US RN TBH.
152. "Right next to MY LILACS." Olivia Benson has her priorities straight.
153. Like, forget the dead body of your neighbour, WHAT ABOUT THE FLOWERS?
154. That dead body might be a good fertiliser though tbh.
155. Oh yaassssss Olivia Benson being detective Olivia Benson.
156. Lol at Pam gulping down those dregs before they leave.
157. Pam really is is all of us.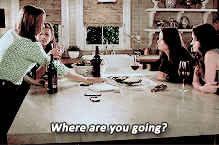 158. Liars: "Hoe don't do it."
159. Ali: "..."
160. Liars: "Oh my god."
161. So the girls, who actually go to Rosewood High, cannot go to prom, but Sara Harvey can?!
162. SHE LITERALLY DOESN'T EVEN GO HEEEEEERRRREEEEEEE.
163. Em your friends are actually on a kinda important mission rn, I think they'd appreciate your attention.
164. These mums should've teamed up months ago
165. DETECTIVE PAM ON THE CASE.
166. Is Mr. D dead?
167. Oh, he's so dead.
168. Half-drunk brandy and a book propped open = definitely dead upstairs.
169. Is Jason dead too?
170. OMFG IT'S FAKE JASON.
171. Freeze him, Piper!
172. Ali says Charles' message wasn't threatening OK LET'S JUST FORGET ALL THE THREATS HE'S SENT EVERY DAY FOR YEARS THEN SHALL WE.
173. Oh ok she just wants the "why". I can understand this a little more.
174. But honestly enough with the Charles sympathy.
175. I know I. Marlene has said we'll feel sorry for him but I literally can't see any scenario where that could be possible.
176. CALEB YAASS YOU LOOK SO GOOD.
177. Haleb is my most unproblematic fave.
178. Except for that whole other-soulmate-ghost-girl-in-Ravenswood thing.
179. We'll just pretend that never happened, shall we?
180. LBR the creators do.
181. Ella shushing Pam gave me so much life.
182. Poor Pam.
183. "We just met Charles."
184. Then like, go do something? Go after him? Don't just stand there drunk mommy, go!
185. Wait. Wait. Is Ali's flawless plan to find Charles to literally go up to everyone in a mask and ask them if they're Charles?
186. Fuck that's a terrible plan.
187. Surprise it's not Charles.
188. Is Dominic relevant?
189. Remember when Ali was a queen bee and a damn sociopath and now she's just like "hello excuse me kind sir could you perchance be my brother Charles who gave me icing one time 10 years ago?"
190. How the mighty have fallen.
191. Also, I'd like an answer about how Ali got that scar on her leg that we never got an answer to please.
192. Ugh Sara go away.
193. She's red coat right?
194. She's shady AF.
195. PS. When did they just decide no one was in danger anymore and decide to drop everything and dance??
196. Great stress relief tbh.
197. Do people actually dance like that at prom?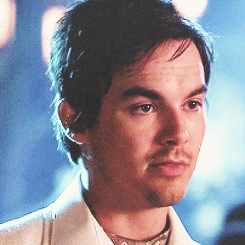 198. "The only reason we survived is because we had each other." Real talk the strong female friendship on this show is the main reason I've stuck through all this craziness.
199. I love it so much.
200. Toby is still acting so suss.
201. Maybe he IS Charles after all.
202. Oops they lost Ali OF COURSE because you were doing as good a job guarding her as your moms were doing guarding you.
203. ITS NOT ALL ABOUT YOU ARIA!
204. Ezra has an Australian girlfriend, remember?
205. She looks damn devastated.
206. CHECK THE BUTTON JAR MOMS!
207. "It came from the basement." DUN DUN DUNNN.
208. That door is gonna close.
209. Fuck.
210. Aaaaaand it closed.
211. Wine Mom dollhouse.
212. Would watch.
213. "The wind has a name. Charles."
214. THESE MOMS.
215. I wish there was more parent budget for every episode I just want to see them drunkenly solving the case.
216. Still would've solved it faster than the Liars tbh.
217. Caleb has a super-secret tech job. Hmm.
218. It's that company that Jason's lookalike/fake Charles works at. For sure.
219. Or it's the CIA.
220. Or he's just A.
221. LOL WINE MOMS.
222. Pulling a lever and the light breaks, what a classic household issue.
223. Kenny D's booby trapped the basement for when he needs to trap some sneaky wine moms in there.
224. Kenny D - Trap Lord.
225. "Why didn't any of us bring a phone?" Literally tho.
226. OMG Clark has a gun!
227. He's a cop!
228. Yep he's trying to go after Ali to save her HE IS TOTALLY A COP.
229. "I am an officer." Lol keep telling yourself that Toby.
230. "I am too." YES! I KNEW IT!
231. Clark is the only competent cop in this whole town tbh.
232. Toby "I fucked up again" Cavanaugh.
233. "Lol soz you guys I'm high af".
234. AGAIN: How did he even become a cop?
235. Why is Emily so mad at Aria for not knowing Clark was a cop tho? No offense Em, you're not exactly the Queen of Logic.
236. Literally she would be dead several times over if it weren't for Spencer.
237. Pretty sure Emily can't read.
238. MAZES MAZES MAZES.
239. Who sets up this fucking maze bullshit?
240. Why does every dance at Rosewood High have a maze?
241. Like. There's killer on the loose, maybe don't set up a GIANT DEATH TRAP?????
242. Also like, killers aside, that is a haven for teens who wanna dry hump a.k.a. not what responsible teachers would want to happen.
243. This is Rosewood though the teachers probably set it up so they could dry hump the students tbh.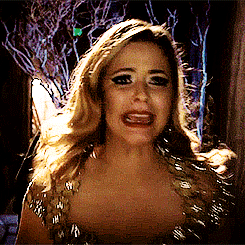 244. "Our girls went through this and worse" is the saddest line I've ever heard.
245. Pam is that drunk who sits in the corner crying into her wine while everyone else is just trying to have a good time.
246. "We had one job." Pam. This is so symbolic of the whole show rn.
247. YOU HAD ONE JOB.
248. OMFG. OMFG. OMFG.
249. A IS TAKING OFF THE MASK.
250. IS IT A OR IS IT JUST SOMEONE IN BLACK.
251. OMG OMG.
252. SHOW MEEEEEEEEEEEEEEEEEEE.
253. IS IT MONA?
254. IS IT CHARLES?
255. IT'S CHARLES RIGHT?
256. WHO IS CHARLES?
257. WHO IS IT?
258. WHO IIIIIS IIIIIIT?
259. WHAT? WHAT? WHAT? NOOOOOOO DON'T CUT OFF NOW!!!!
260. NOOOOOO.
261. HOW DO WE LIVE FOR THE NEXT SEVEN DAYS?!
262. I AM SO NOT READY FOR NEXT WEEK.
263. I FEEL LIKE I'M GOING TO HAVE A NERVOUS BREAKDOWN.
264. I'M GOING TO CRY.
265. I'M CRYING.
266. NO.
267. DED.
268. RIP ME.
269. ONE. MORE. WEEK.