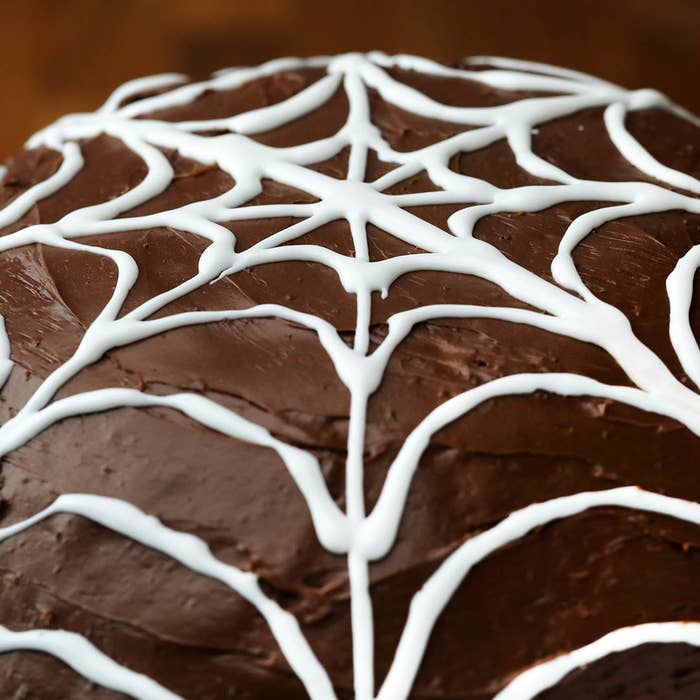 Ingredients:
Cake
2 boxes chocolate cake mix
Water (quantity according to package instructions)
Eggs (quantity according to package instructions) Vegetable oil (quantity according to package instructions)
Filling
2 (8-ounce) blocks cream cheese, room temperature 2⁄3 cup sugar
2 teaspoons kosher salt
2 cups heavy cream
2 teaspoons vanilla extract
2 (3.4-ounce) packages JELL-O Instant Cheesecake Pudding Mix 2 cup milk
Decoration
2 containers chocolate frosting White cookie icing
Preparation:
1. Preheat oven to 350oF (325oF for convection).
2. Cake: Mix together both boxes of chocolate cake batter according to package instructions. Divide batter between 2 greased bundt pans. Bake for 40 minutes or until toothpick inserted into center comes out clean. Remove from oven. Let cool for 15 minutes, flip out cake, and let cool completely.
3. Filling: Combine cream cheese, sugar, and salt in a bowl. Whip with a hand mixer for 30 seconds, then add in heavy cream and vanilla extract. Whip until it forms soft peaks.
4. In a separate bowl, mix JELL-O Instant Cheesecake Pudding Mix and milk together. Let stand for 3 minutes to set up. Add pudding to filling mixture and whip until well-combined.
5. Assembly: Line the inside of a medium-size glass bowl with plastic wrap. Cut cake into 1⁄2–3⁄4" slices.
6. Place a layer of chocolate cake slices along the inside of the bowl, going up the sides. Patch gaps with torn pieces of cake. Spread a layer of filling on the cake, about 1 inch thick. Place another layer of cake on top of filling. Make two more layers each of filling and cake (for a total of three layers of filling). On the top layer of cake, patch any gaps with more cake.
7. Cover bowl with plastic wrap and refrigerate overnight.
8. Carefully flip the cake out. Frost all over with chocolate frosting. Decorate with white cookie icing in the shape of a spider web. Slice and serve!