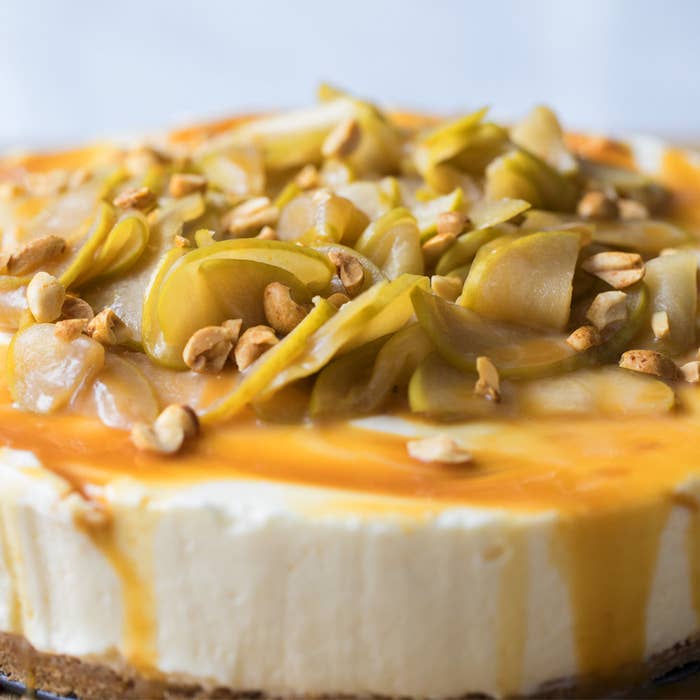 Ingredients:
Crust
14 graham crackers
1 teaspoon kosher salt
1 teaspoon cinnamon
10 tablespoons melted butter
Filling
2 (8-ounce) blocks cream cheese, room temperature
⅔ cup sugar
2 teaspoons kosher salt
2 cups heavy cream
2 teaspoons vanilla extract
2 packages (3.4-ounce) JELL-O Instant Cheesecake Pudding Mix
2 cup milk
Caramel Apple Topping
1 (11-ounce) bag of caramel squares, unwrapped
¼ cup water
¾ cup apple cider
¼ cup brown sugar
½ teaspoon kosher salt
1 tablespoon butter
2 green apples, thinly sliced
Chopped roasted peanuts, for garnish
Preparation:
1. Coat a 9-inch springform pan with nonstick spray and place a circle of parchment in the bottom.
2. Crust: Place graham crackers, salt, and cinnamon in a food processor. Process until crackers are fully broken down into crumbs. Transfer to a bowl and mix in melted butter. Dump into springform pan and press down into an even layer. Refrigerate while making filling.
3. Filling: Combine cream cheese, sugar, and salt in a bowl. Whip with a hand mixer for 30 seconds, then add in heavy cream and vanilla extract. Whip until it forms soft peaks.
4. In a separate bowl, mix JELL-O Instant Cheesecake Pudding Mix and milk together. Let stand for 3 minutes to set up. Add pudding to filling mixture and whip until well-combined.
5. Pour filling on top of crust and smooth the top. Refrigerate for at least 6 hours, or overnight, until fully set up.
6. Caramel apple topping: Melt caramel squares and water in a microwave-safe bowl, by microwaving in 1-minute increments, stirring in between, until caramel sauce is smooth. Set aside to cool slightly.
7. Combine apple cider, brown sugar, and kosher salt in a saucepan over medium heat. Bring to a simmer, stirring to melt sugar. Allow mixture to simmer until it has reduced by about half. Melt in butter. Stir in apple slices. Cook until apples are softened, stirring occasionally, about 5 minutes. Remove from heat and let cool.
8. Remove cheesecake from springform pan. Drizzle with caramel. Pile apples on top and drizzle with more caramel. Sprinkle with chopped peanuts. Slice and serve!