13 People Shared Their Favourite Memories From Pride, And Honestly They're So Heartwarming
"The happiness I saw on my parents faces as my two worlds collided is a memory I'll never forget"
We know how sad it is that most Pride Parades for the year have been cancelled, so we wanted to re-live some stories from previous Prides to keep the spirit alive. So, we asked members of the BuzzFeed Community to tell us about their favourite Pride memories. Here are some of their submissions:
1.
"I've been out to my mom since I was 18 and for many years she accepted me but wouldn't tell our family or her friends. I always felt she was embarrassed of admitting her only kid is gay. Five years after I came out to her she flew across the world to where I was living to go to Sydney Mardi Gras with me all while wearing an "I love my gay daughter" shirt.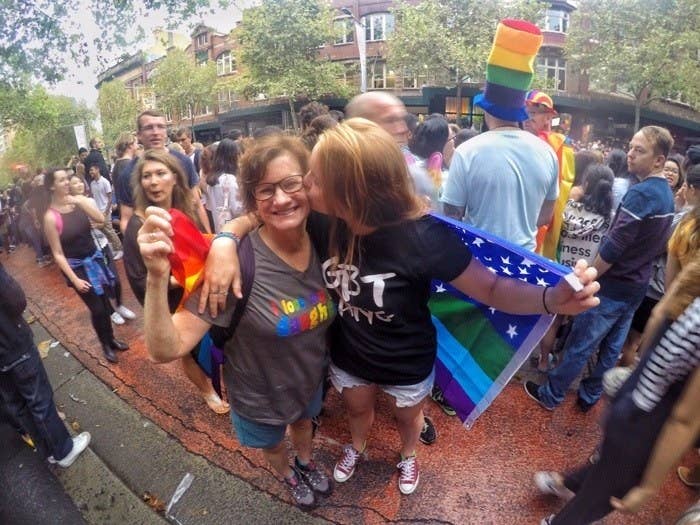 2.
"I went to Cleveland Pride with my mom and there was a poster with markers where you could write what you're proud of. I wrote that my mom came with me to Pride because I knew she was kinda uncomfortable with it, but that she made an honest effort to support me and have a good time with me.
She saw it and wrote next to it 'proud mom'".
3.
"After years of political back and forth over equality measures for the LGBTQ+ community, the British Overseas Territory of Bermuda held its first ever Pride event last year. As with any 'first', I was afraid of how it would be received; especially with rumours circulating of protests being organised along the route. As soon as I got to the gathering point, however, the atmosphere was so energetic and welcoming that it was impossible for those fears to persist.
4.
"My favourite Pride was in 2005 in London. It was the realisation that me, and my bf of now 17 years, celebrate our love every day. We don't need a parade to feel Pride. We just need each other. Love is love."
5.
"My best memory of Pride was at London Pride last year. It was so special to me as I managed to not only take part in the parade and feel the energy of the crowd, but my Mum, Dad and Brother were also in the crowd showing their support."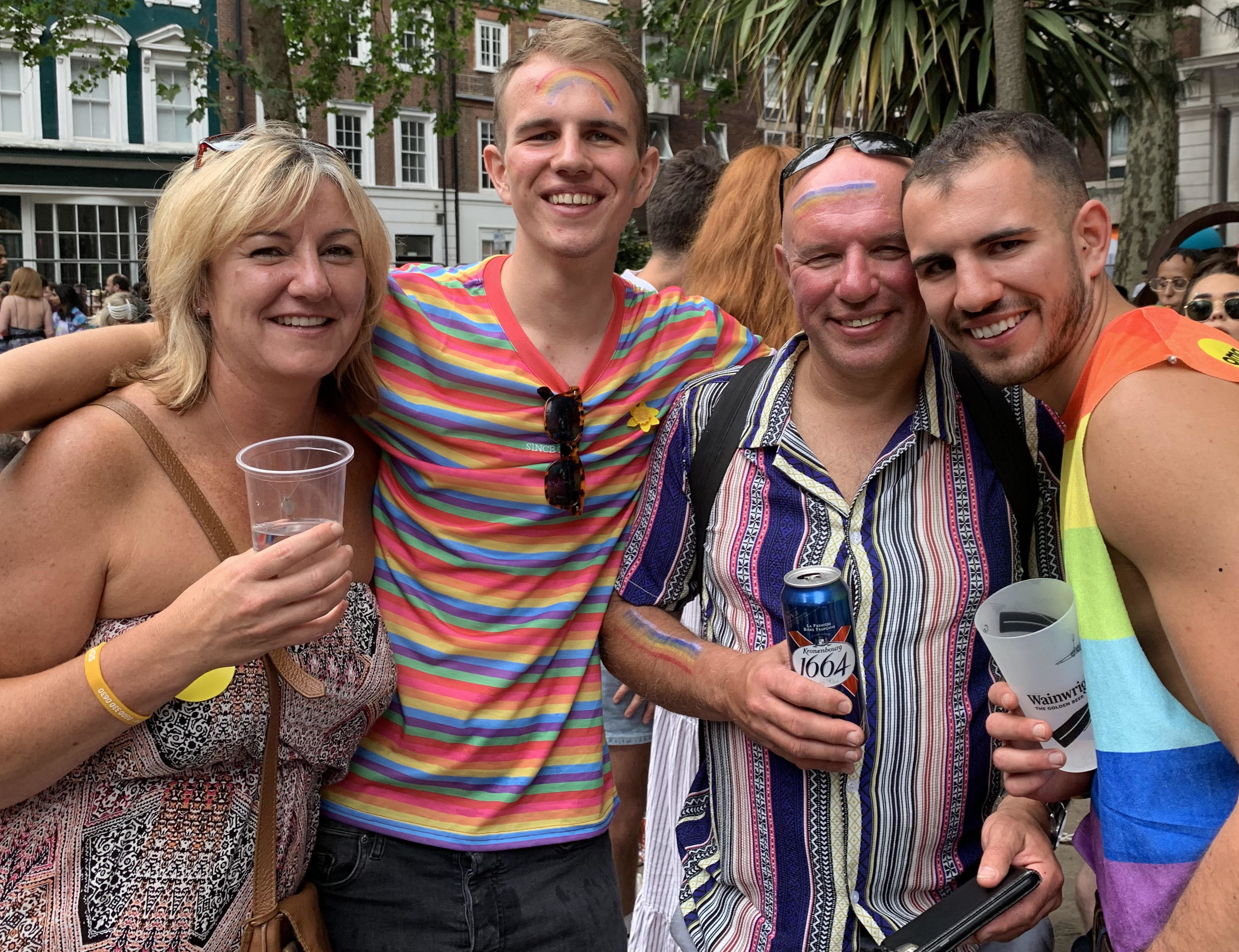 6.
"I've had a couple of gorgeous Prides with my best friends, whether we've been embarrassing ourselves falling out of restaurants or improv'ing for strangers on the streets of Soho! But my favourite Pride so far was the first year I went to Brighton Pride – which is SUCH a scream, btw. A friend and I dressed up as Patsy and Edina and walked in the parade.
7.
"Not long after I realized I was a lesbian, I used all my courage to go watch my city's pride parade in secret form the sideline, by myself. I was scared of being recognised and only stayed for a little bit but it was the most heartwarming feeling to be surrounded by 500,000 people, celebrating the one thing I was afraid to acknowledge. It was the first time I felt like I belonged!
A year later I went to actually celebrate with a friend and last year I finally marched, hand in hand with my amazing girlfriend, and not an ounce of fear or shame!"
8.
"My first time attending a pride ever was in 2013 and I marched as part of the British Armed Forces contingent in the parade! This year marks the 20th anniversary of the lifting of the ban on LGB personnel serving in the Armed Forces.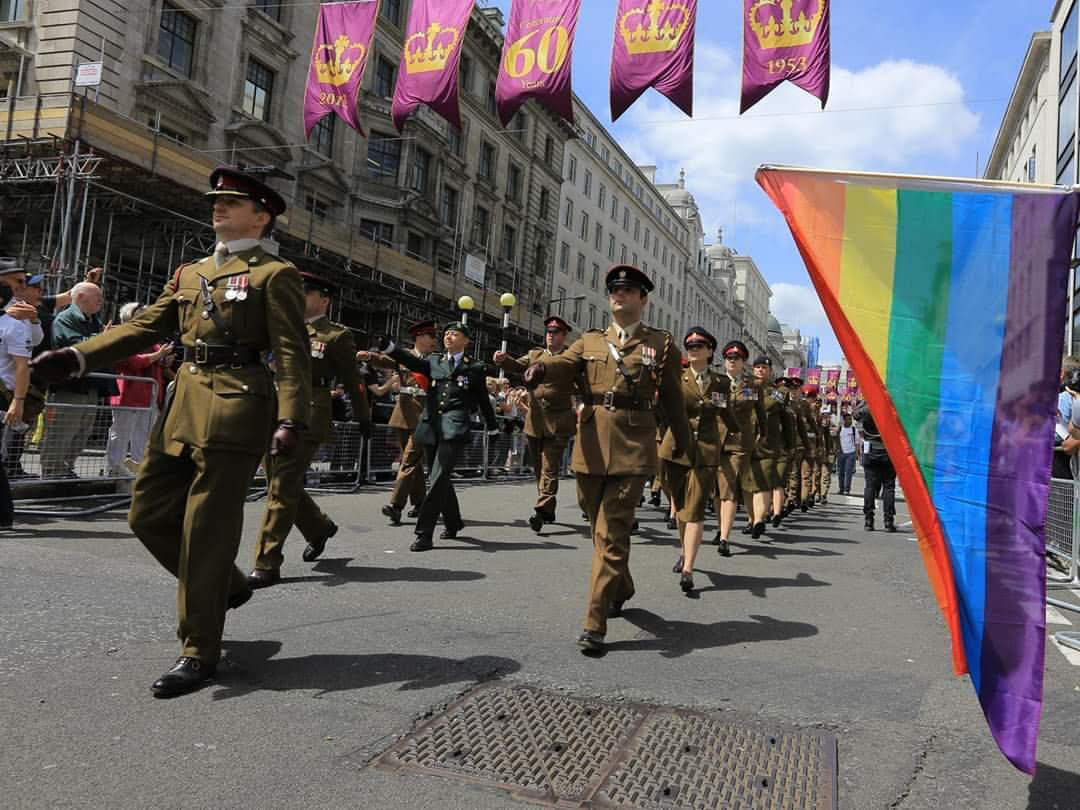 9.
"I'm proudly (and loudly) bisexual, but only recently out. My first kiss with a man was on the dance floor of Stonewall last year during the 50th anniversary celebration!
Was a pretty spectacular life moment for sure."
10.
"Manchester Pride 2019 is one of my favourite all time memories. The entire city becomes one giant Pride party – from the street parade to the Gay Village, to the music festival, Pride is everywhere. I was also extremely lucky to feel like every friend I had in London was there as well, so I was celebrating Love with the people I love.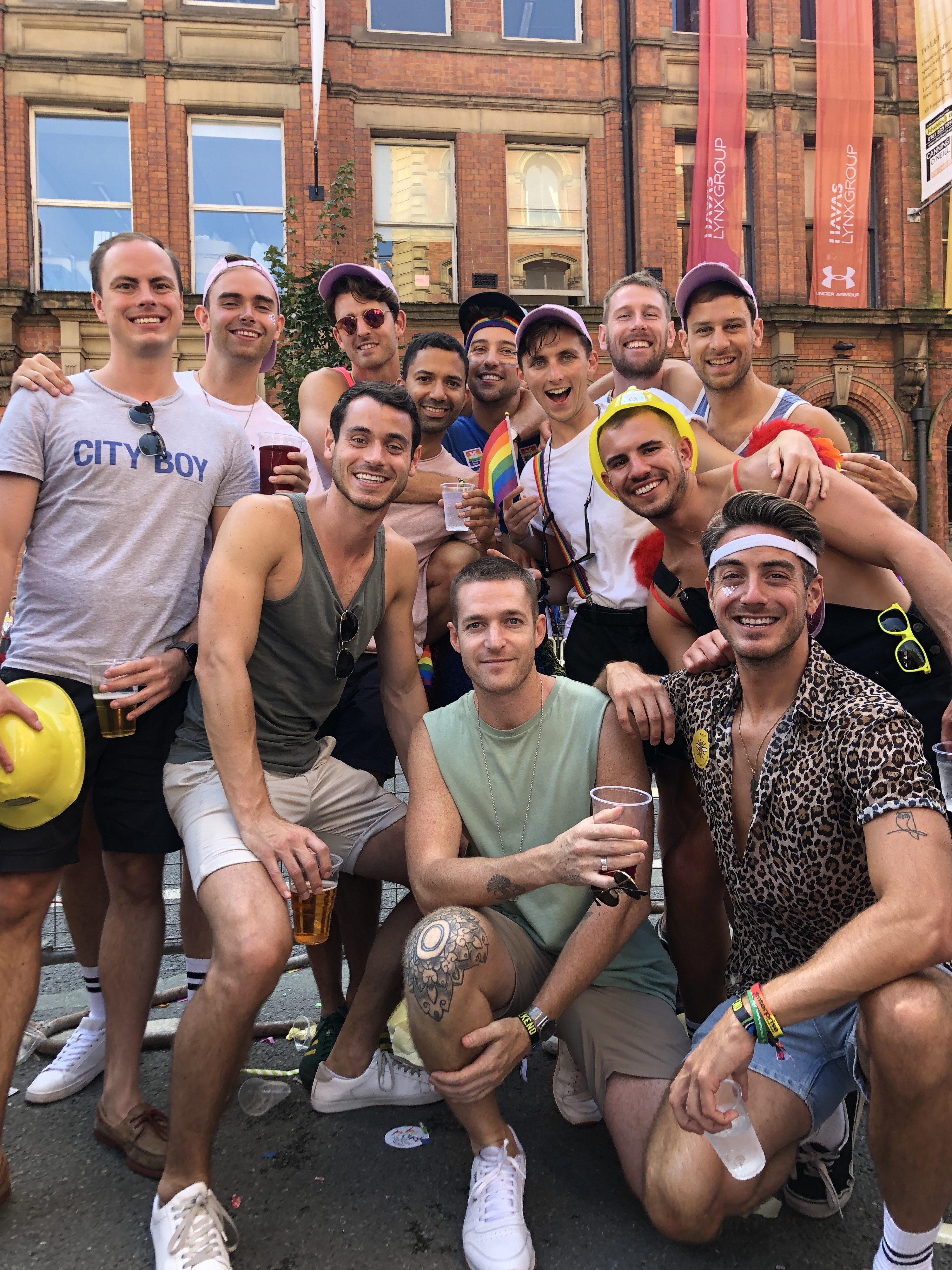 11.
"In 2016 I went to my first pride parade while I was still a closeted bisexual. I was young and nervous, and anxious in big crowds. But as the parade began I felt all those nerves melt away and I was having so much fun. But the real highlight was when a group in the parade carrying the Bi pride flags went by. They were jumping around and celebrating and it was at that moment I realized that that could be me: happy to be me, and proud to be Bi. It was a pivotal moment in my young life, and it helped me slowly start to come out to friends.
I'm still working on telling my parents, but that pride parade moment will always stick with me and make me happy. Being able to see people like me, who weren't ashamed of themselves and instead proud of who they were."
12.
"I've been out as bisexual for years but I had never been to Gay Pride. I finally got my chance a few years ago when Comic Con announced they would be marching. It was an amazing experience to be part of something like this, walking in cosplay holding the banner next to my fiancé."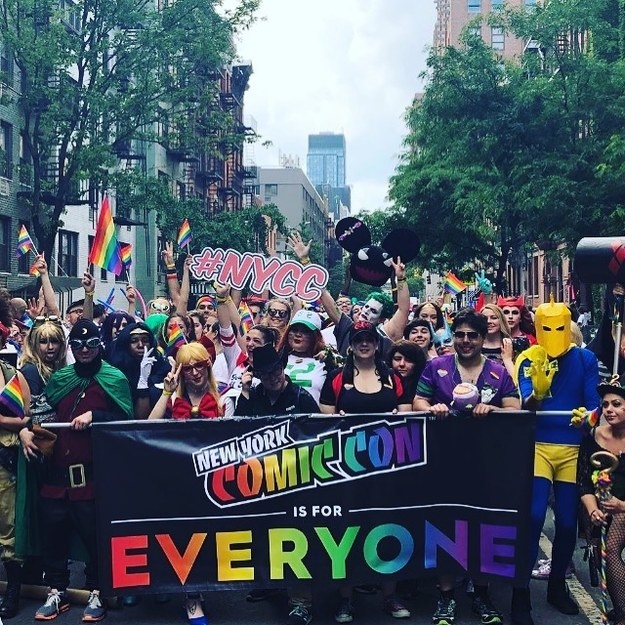 13.
"I remember waiting in a car park on a Saturday morning in late August last year, wondering whether the 50 or so people who'd said they'd come, would actually turn up for the first ever Yeovil Pride Parade. It broke me when I realised that, out of nowhere, some 200 people had arrived to march with me through the town, giving LGBTQ people in South Somerset a day they could be proud of.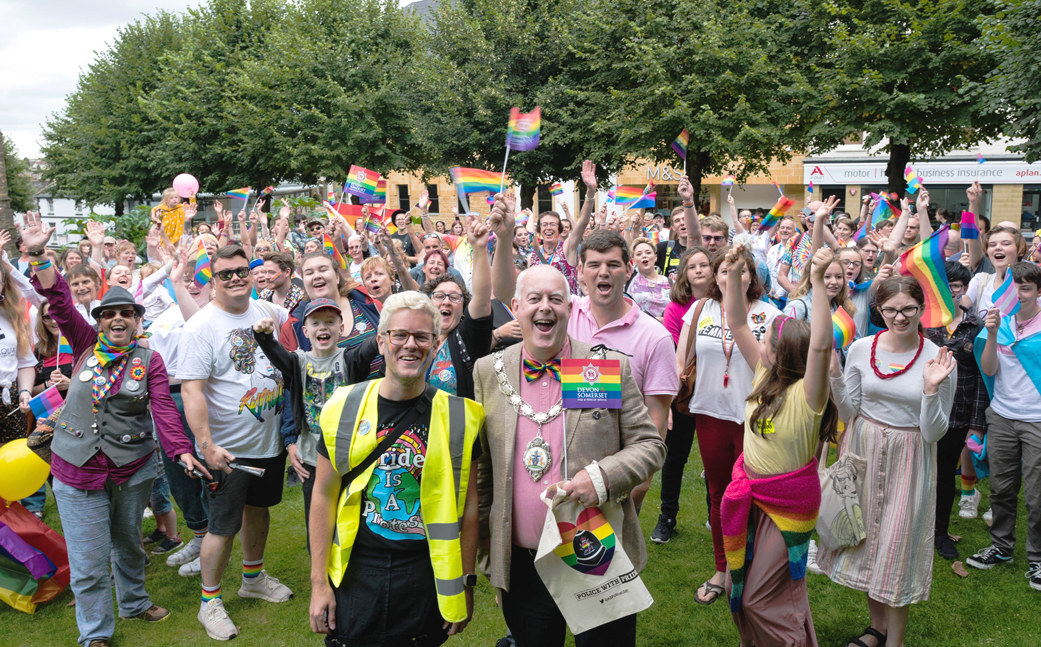 Some submissions have been edited or length or clarity.
If you fancy reliving good times, Manchester Pride is streaming some of the performances from their previous Prides! Make sure to tune into their YouTube channel for their final week of live-streamed performances: this Friday (8 May) at 8pm BST.