Luxe Interior
If you want your home on wheels to reflect the grandeur of a seven star hotel, start by redoing the decor. Replace the fabric; use exclusive home collection lines from the likes of Ralph Lauren or Anna Casa. Replace those modest folding chairs and insufficiently-upholstered benches with soft and comfortable recliners and sleeper sofas. Also, upgrade the old mattress with a pillow-top or an adjustable version which will allow you to read or watch TV in bed. Get rid of carpeting; instead, opt for a full-tile inside each and every slide out to create the illusion of a greater floor space.
Home Appliances
Of course, vacations are not meant for spending your time washing clothes and cleaning pots and pans. Use public appliances? Well, that is even worse. That is why you should invest in high-end dishwasher and stacking washer dryers. These two items are worth every penny as they will let you complete your chores in a jiffy.
Residential Refrigerator
What is a vacation without feasting on scrumptious meals? However, the idea of making multiple trips to the departmental store to refill your stock sounds plain ridiculous. The way out? Install a residential refrigerator to stock enough food items to last you throughout the trip. Consider buying a 19.7-cubic foot Whirlpool refrigerator which comes as a default feature with almost all the recent luxury motor home brands.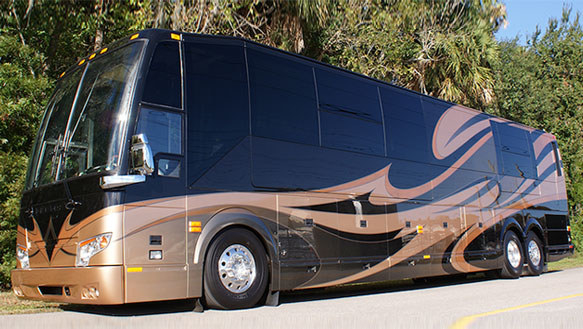 Residential Shower
Negotiating the challenging mountain trails, long walks along the beach and roaming in the wilderness on foot – day times are meant for indulging in a variety of adventure activities. But evenings are for relaxation. After coming back from a day-long excursion, a gush of steamy water on your over-stressed muscles feels like complete bliss. Relax, revive, rejuvenate –and that is exactly what a gorgeous residential shower will allow you to do after a hectic day out in the open. And yes, you should also invest in heated holding tanks to get a steady supply of warm water. These specially-engineered tanks help to keep water at a liquid state, regardless of the outside temperature, so you get to enjoy a splash no matter what time of the day or how chilly it is outside.
Electric Awning
Manually doing things is commonplace. Get rid of those old awnings that require you to operate them with your hands. Luxury is chores done with the press of a switch, and an electric awning provides you precisely this convenience.
Doing housework is never fun. While on a vacation, we all crave a life that is just the opposite of mundane. Your well-equipped rolling home lets you experience a holiday extraordinaire. Don't worry if you can't afford a brand-new luxury rig. You can always buy a used luxury motor home and upgrade it to hold all the latest additions you want. Do keep our suggestions in mind while giving your rig a makeover.
This post was created by a member of BuzzFeed Community, where anyone can post awesome lists and creations.
Learn more
or
post your buzz!