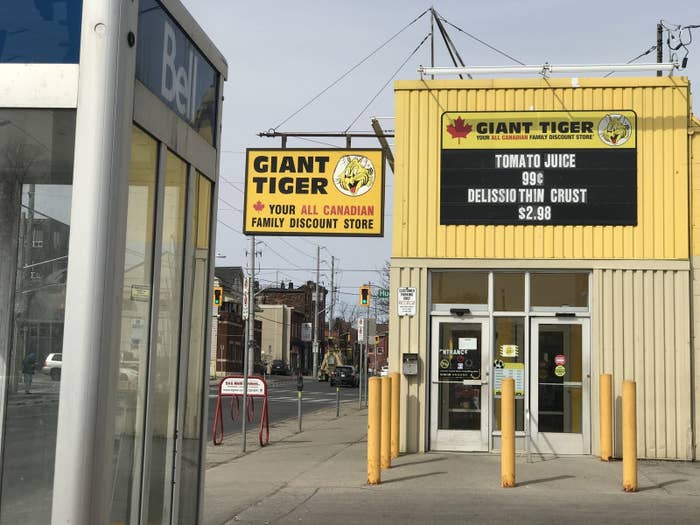 Giant Tiger made headlines last year when the Canadian discount department store chain fired a loss prevention employee after receiving complaints that he'd been following an Indigenous guy around in a Regina location. For this reason, Giant Tiger probably popped up in your timeline just like it does IRL: unexpectedly. Not that shopping at Giant Tiger is a nightmare (except for some Indigenous folks in Regina, apparently), it's just that when you are daydreaming about shopping, it's almost 100% certain that none of the store logos in your mental movie montage feature a wild-eyed feline of the forests, mid-roar.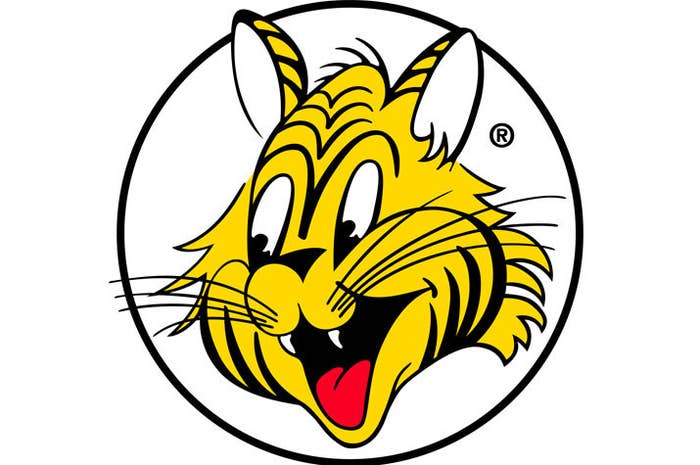 Giant Tiger doesn't offer aspirational shopping. It's tucked into suburban corners and old main streets in small towns. It's like a smaller, less-slick Walmart. It's a more jumbled Dollarama with worse lighting. It is the place your grandmother used to buy canned ham. It is where your parents stopped on the way to the cottage to buy you a colouring book. It is an afterthought.
I popped into the downtown Hamilton Giant Tiger in December and it had all the hallmarks of other locations I've made use of over the years. The walls and floors were unintentionally greige. From the slushy doormat at the entrance, I could see all four corners of the store. There were benign dust bunnies. It was as though the ambience of a neglected Sears change room had been applied to an entire store. Freezers in the back offered mostly frost build-up but also TV dinners. It was a place of function, not comfort or beauty. Giant Tiger felt like a holdover from the past, an odd little store, a survivor.
Not long ago, Giant Tiger was but one member of a crowded pack of Canadian discount department stores, including SAAN, Bargain Harold's, and BiWay. Where did all these stores come from, with their bins of jelly shoes, shelves of Garfield T-shirts, and cartons of Sweet Secrets Switch Watches? Where did they go? And why did they leave Giant Tiger behind to be the nation's apparent main purveyor of parakeet treats and tinned mixed nuts? What makes Giant Tiger the outlier here? How did it survive — and how will it?

Gordon Reid was a 28-year-old travelling salesman trying to replicate the new discount store format he'd seen in the States when he opened the first Giant Tiger in Ottawa's Byward Market in 1961. His original location was created on such a shoestring budget that he couldn't afford store furniture to display merchandise, so he had to build his own tables.
"Giant Tiger is incredibly focused on cost," said Canadian retail expert Bruce Winder, cofounder and partner at the Retail Advisers Network. "They're a low-cost operator. They're not fancy."
SAAN was founded by the Cohen brothers of Winnipeg in 1947. The shop name is an acronym for the store's original product line: Surplus Army, Air Force, Navy. Wilfred Posluns' family was in the clothing industry for generations before he founded Dylex in 1966. Christened with the Drake-worthy acronym of "Damn Your Lousy eXcuses," the Toronto-based apparel conglomerate acquired BiWay in 1984. Bargain Harold's founder Harold Kamin (Yes! The guy's name is really Harold! I know, right?) was an immigrant who worked at his parents' variety store before opening his first Bargain Harold's location in Toronto in 1970.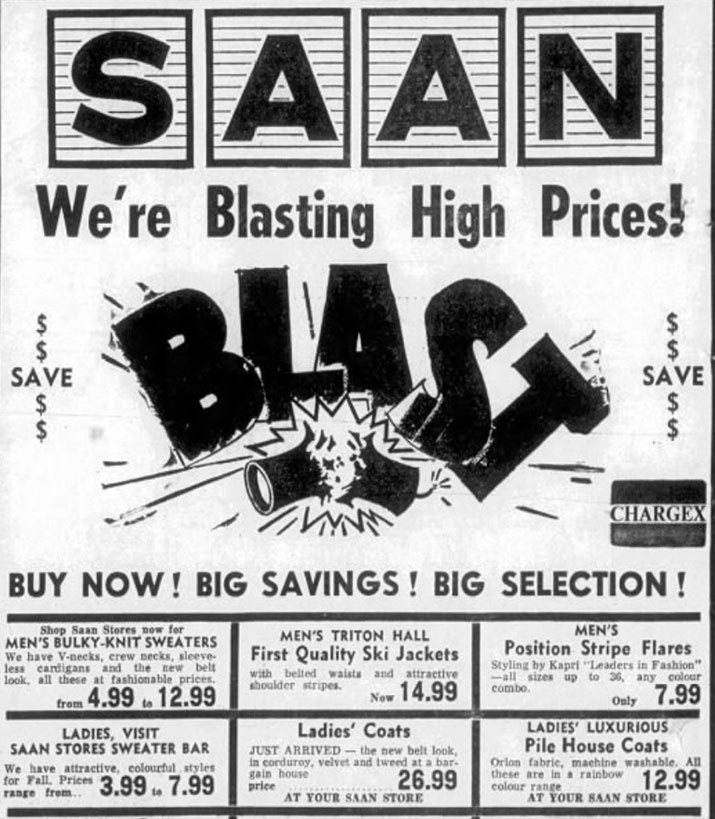 Although the discount retail landscape in Canada was beginning to feel a bit crowded by the end of the '70s, its target market of budget-conscious shoppers was about to go through a rapid expansion due to an economic downturn: In April 1982, Statistics Canada reported that unemployment was at its highest level since 1939, with 1.23 million Canadians out of work. The economic recession created budget-focused shoppers who were more ready than ever to embrace no-frills stores that dispensed with fancy displays and handsome mannequins in exchange for discount pricing. According to a 1985 article in Maclean's, bargain-price chains increased their annual sales from $650 million to more than $1.5 billion between 1980 and 1985 (that's like growing from $1.5 billion to $3.4 billion in today's dollars).

Giant Tiger began franchising stores in 1968, and by 1985 there were 35 locations. "Our owners are operators," Alison Scarlett, Giant Tiger's senior manager of brand communications, said in an email. "They live in the community and are actively involved in the day to day management and operation of the store." Giant Tiger owners earn their franchises through a process of sweat equity and in-house management training, but this slow and careful expansion meant that by the mid-'80s, Giant Tiger's store count was dwarfed by its rivals: BiWay had 138 stores and the number of SAAN stores had grown to more than 200. Bargain Harold's, which boasted sales of $100 million a year by 1983, was sold to the US department store chain Kmart in 1985, which had an ambitious expansion planned for the chain.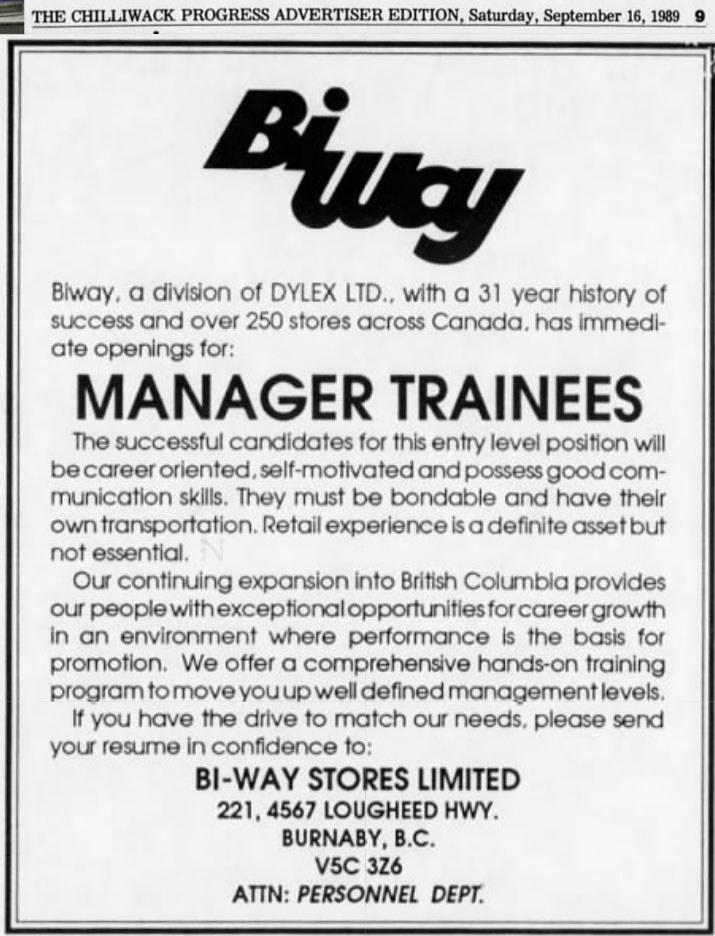 The early '80s recession had bolstered the fortunes of BiWay, SAAN, and Bargain Harold's, so when another recession hit in the early '90s, it should have been another boon to these bargain shops, right?

No. You know why? Because the '90s were different. The grunge movement glamourized thrift store finds. The strong Canadian dollar lured shoppers stateside. People were all like, "Frig the GST, eh?" because that came into effect in 1991, and then they were like, "Free trade, eh?" (because NAFTA came into effect in 1994). This is a pretty breezy explanation of a lot of economic history, but it helps tell the story of the store that had that Rainbow Bright doll you always wanted.
Anyway, the early '90s recession wasn't a boon to SAAN, BiWay, and Bargain Harold's, but it was a boon to one bargain shop in particular. Walmart, right? You're thinking of Walmart. Because by the mid-'90s, US retailers (yes, yes, like Walmart) had moved into Canada, and with them they brought US retail trends like big-box stores, everyday low pricing (as opposed to regularly run sales like Bay Days or Woolco's $1.44 Days), and fancy computer systems that made distribution logistics more efficient.
In 1985, there were only 10 US-based chain stores operating in Canada. By 2003 that number had risen to 185. I don't want to be all, like, "Let that sink in," but really, that is a lot more stores. It's not 175 more stores: It's 175 more chains of stores, like Costco (established in Canada in 1985), Gap (1989), Staples (1991), Michaels (1993), EB Games (1993), Home Depot (1994), PetSmart (1996), Old Navy (2001), American Eagle Outfitters (2001), and Best Buy (2002).

And not only were the US chains coming but new shops were opening from all over the world. We're talking here about big chains like Ikea (which came to Canada in 1976), Zara (1999), and H&M (2004). The number of foreign-owned stores in Canada more than tripled between 1975 and 1995, from slightly more than 3,000 to about 10,000. By 1996, about 35% of all retail sales in Canada were made in foreign-owned stores.
But alongside a mammoth change in Canada's retail landscape that saw shoppers abandon downtown malls in favour of suburban big-box power centres populated with many foreign retail giants, there was a new player in Canada's discount retail game.

They weren't really that new: Since 1910, the Rossy family of Montreal had kept variety stores, and by 1973, their chain of Rossy stores numbered 20 shops, all within Quebec. They continued to expand, and in 1992 they did something new. The Rossy brand was converted to a new concept in discount retailing with all items offered for $1. Their stores were rebranded with a new name: Dollarama.
"They've taken the grimy dollar store with dust bunnies and they've turned it into a nice place to shop," said Winder. By 2016, with 1,030 cheap and cheerful stores across Canada, Dollarama is by far the leading dollar store in Canada, but by no means the only one: There's also Dollar Tree, Everything for a Dollar Store, the Great Canadian Dollar Store, and more.
Faced with a changing retail landscape and an onslaught of new and foreign competition, SAAN survived long enough to die a slow death. It opened 28 new big-box concept stores to compete in the new power centre–based retail arena, but they were a flop. By 1999, the company had started to lose money at a rate of nearly $8 million a year on average until 2005, when it was granted court protection while it restructured. SAAN slipped into bankruptcy protection again in 2008 and by September of that year, its 126 locations across the country were closed for good.

The aggressive expansion planned for Bargain Harold's was completely abandoned, and in 1994, less than a decade after purchasing the Bargain Harold's chain, Kmart went bankrupt and closed up shop across the country.

But BiWay has perhaps the most unusual death story of this doomed retail trio. In addition to BiWay, Dylex owned a who's who of '90s mall tenants, including Fairweather, Tip Top Tailors, Thriftys, and Big Steel. When shoppers' tastes shifted from malls to big-box stores, Dylex was hit hard. BiWay was acquired by controversial tycoon Meshulam Riklis's Hardof Wolf Group. Riklis, an Israeli businessman, had famously married a 19-year-old Pia Zadora when he was 49 and financed her critically derided, three-time Golden Raspberry Award–winning 1982 debut film, Butterfly. His BiWay deal was just as popular: Dylex filed for bankruptcy in August 2001 and Canada's National Apparel Bureau was left to try to recover some $13 million for creditors.

An undeniable factor in Giant Tiger's staying power has been its bargain basement (hey! literally!) locations that keep overhead prices down. Giant Tigers are more likely to be found in less-than-ideal retail spots on main streets than at the mall, so the shopping mall–to-big-box shift had less of an impact. "They've tried to stay in secondary markets, away from high population trading areas where there's a Walmart," said Winder. "They've done a great job of staying in markets where they're really the only game in town."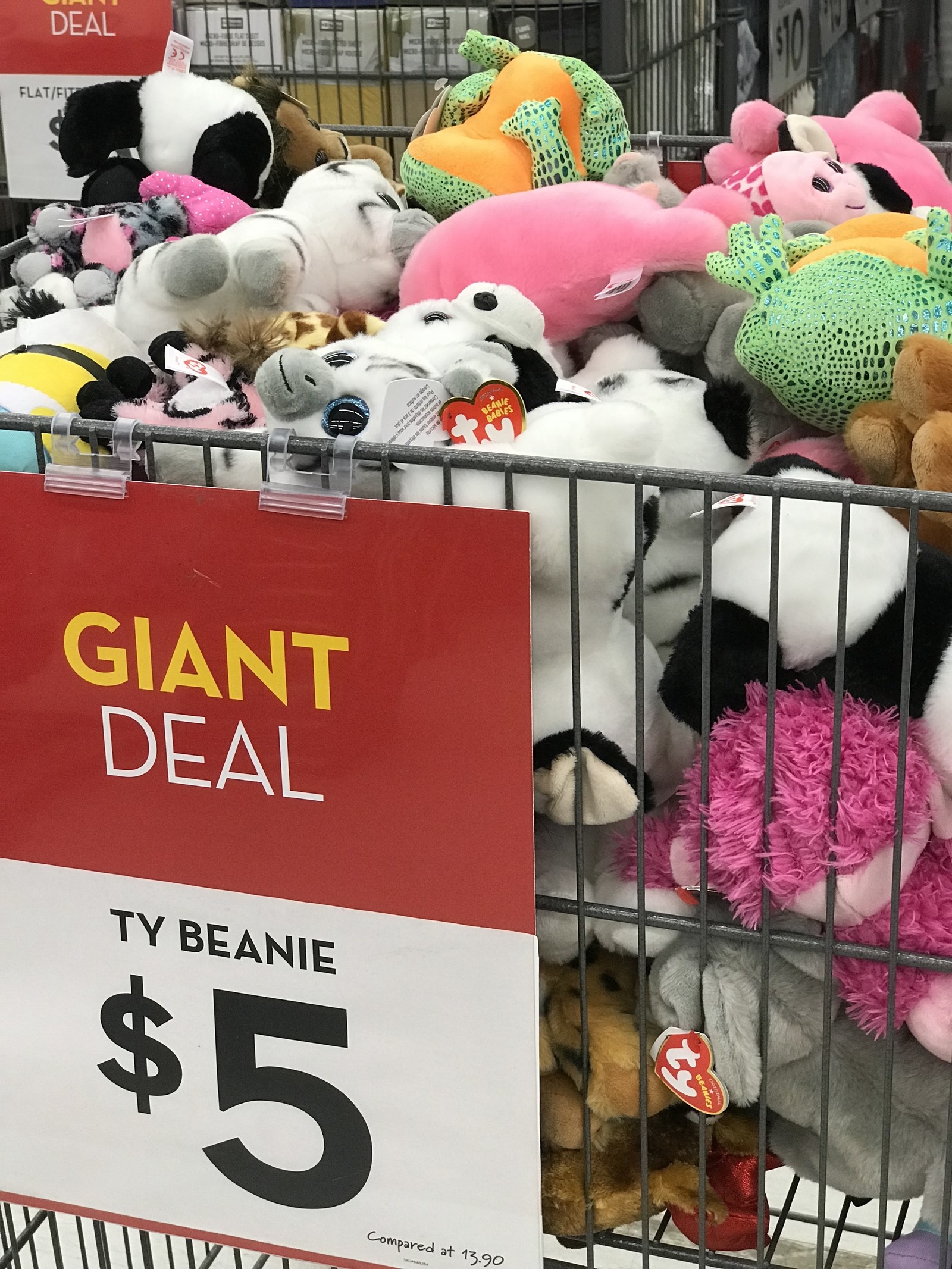 And while its competitors added locations in leaps and bounds, Giant Tiger grew slowly but steadily through a franchise system that awarded stores to experienced discount store workers who were empowered to order the stock they knew would sell in their shop's neighbourhood. (Near a hospital? Scrubs. Near a job site? Work gloves. Near my house? Just wall-to-wall donuts.)
Inspired by Canada's agricultural cooperative movement, Giant Tiger founder Gordon Reid implemented a profit-sharing system for Giant Tiger's 2,000-plus employees which included all shop, office, warehouse, and trucking staff. Reid hoped this each-for-all philosophy would inspire employees to share a common interest in maximizing profits.
Giant Tiger's tiny store footprint even works to its advantage: It's a differentiator and an advantage for folks who need to pop out to grab instant coffee but don't want to walk through Walmart's majestic acreage to get to it. And unlike Dollarama and its dollar store brethren, Giant Tiger has a food section offering all the dixie coleslaw and vanilla wafer cookies (and, you know, milk, eggs, bread, or whatever) you could want. No press is bad press: A byproduct of Giant Tiger's alleged involvement in the Competition Bureau's ongoing investigation into bread price-fixing, alongside Canadian grocery heavyweights Loblaws, Sobeys, Metro, and Walmart, is a regular reminder that Giant Tiger sells groceries.
And then there was a recession. Wait, what? Okay, we're not in a recession but just hear me out: They kind of come around every 10 years and we're kind of due for one. So what effect would another recession have on Le Tigre? (That would be a badass name for the French locations, but actually they're called Tigre Géant so we'll have to settle for lobbying for @letigre to be the Twitter handle to replace @GTboutique and I'm glad we're all agreed on this.)
Since 2016, Giant Tiger has been undergoing a rapid bricks-and-mortar expansion, moving into some of the real estate left vacant by Target, with a goal of opening 10 to 15 new stores a year at least until 2019 and maybe clear on through to 2021. Will its bet on an increased bricks-and-mortar presence pay off? Will it be able to succeed in power centres where SAAN failed?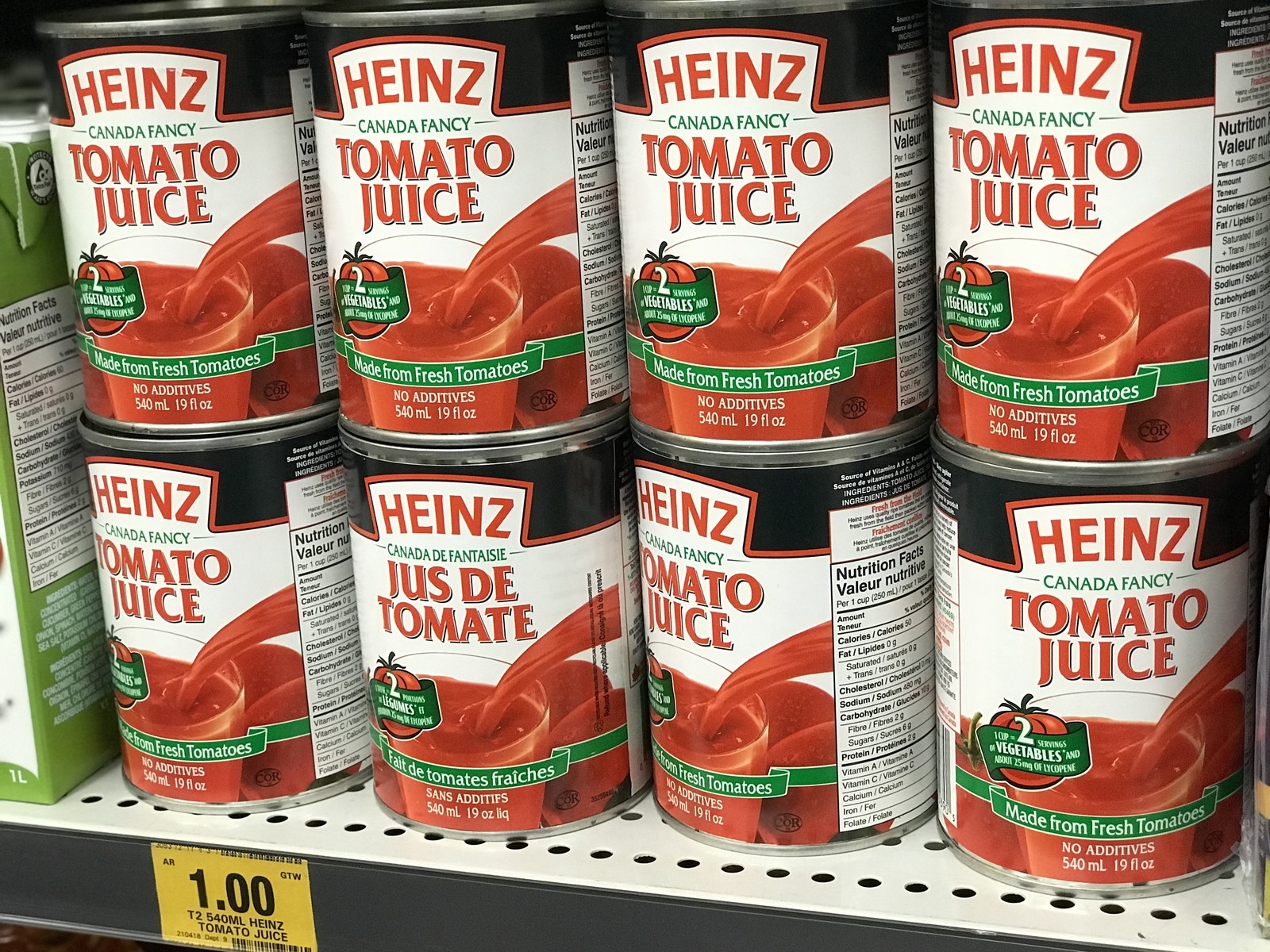 Scarlett said the store's expansion has been meticulously planned. "We began over five years ago with the New Store Experience program," she said. "This involved us renovating our existing stores to the look and layout you see today."
From the cozy cultural shopping experience of Indigo to the friendly futurism of the Apple Store, store experience has been done so well, for so long, by so many other stores, and Giant Tiger has stood almost proudly ugly and defiantly untamed in the face of the experiential shopping trend. Until now.
Karen Sterling, vice president of marketing at Giant Tiger, has often said, "Giant Tiger is known to many as Canada's best kept secret." Sterling should change her line now to "Giant Tiger is going to surprise the shit out of you," because I headed back to the downtown Hamilton Giant Tiger location and here's what happened:
When I entered, I didn't detect that familiar plastic-y smell (aka the Payless ShoeSource smell). There was another smell in the air: fresh paint. They're painting the worn-out walls a cheery yellow! The store is loud with drills. Workers are installing big, new refrigeration units. The staffers wear shirts that proclaim that they're part of the reno crew. This is the New Store Experience. I don't know what I expected the New Store Experience to be, but I had set the bar so low that it was conceivable to me that the greige GT of last December had already undergone whatever Giant Tiger deemed to be the New Store Experience renovation.
I was so wrong. GT ain't playing. Enclaves have been constructed to house separate departments. It's like, it has a floor plan and a colour scheme and everything! It's a major upgrade.
The spring fashion accessory display made me say "ooh" out loud. The girlswear section had LOL Doll dresses my 5-year-old would love. In December, I was in and out of Giant Tiger quick as a wink to grab life-sustaining cookies. This time, I browsed around and somehow spent $70 on housewares and holiday supplies.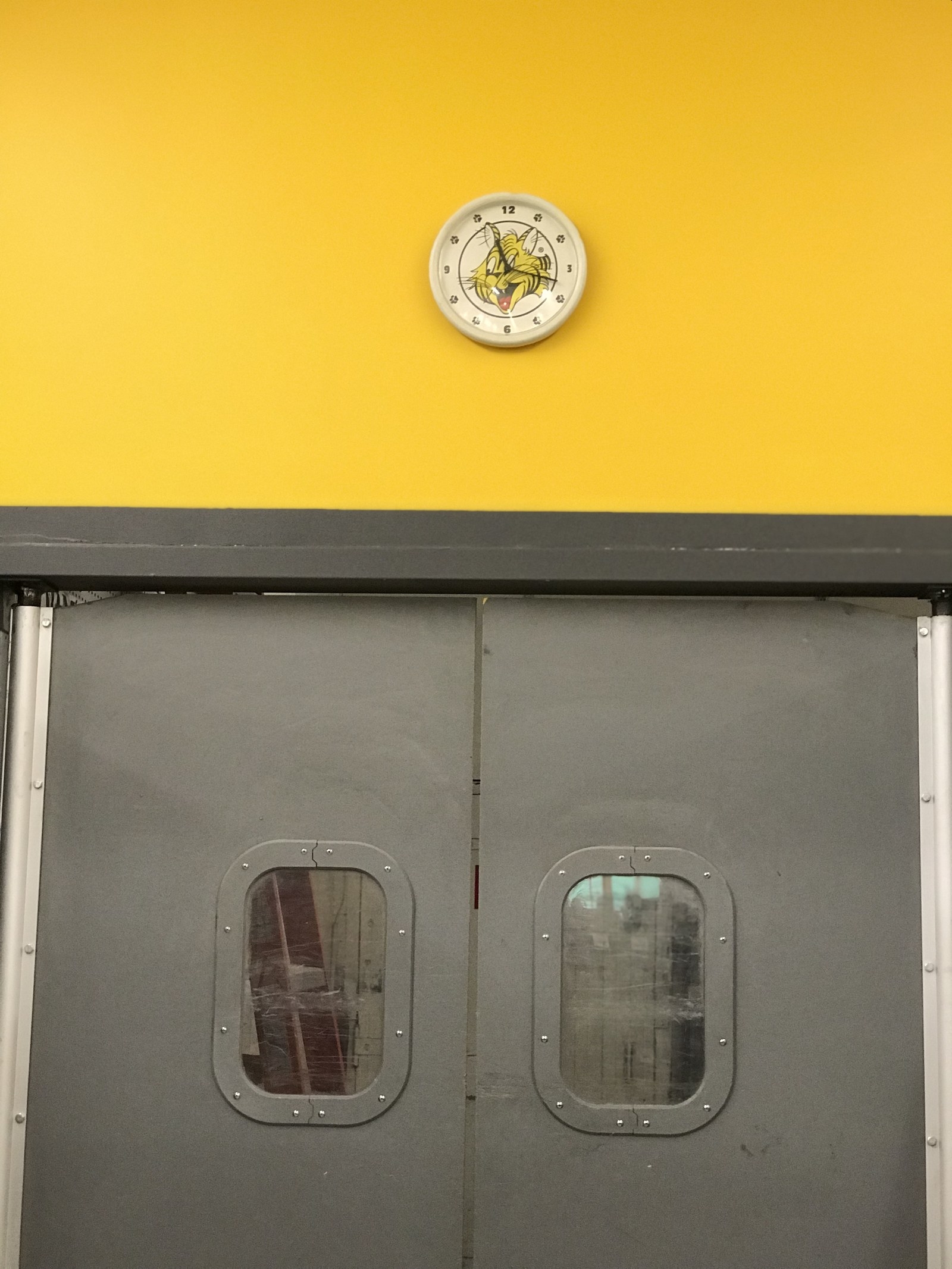 "I've been in some of the newer stores and they're quite lovely," Winder said. "They are spending some capital on it. It's still reasonably capital-light."
Where Winder is more concerned is the capital spending on Giant Tiger's expansion, which includes a new warehouse facility near Ottawa that opened last fall. Because Giant Tiger is a privately held company that doesn't release its earnings or sales figures, we are left to speculate. "It sounds like they're really investing a fair amount of capital, which is good: You want retailers to invest capital, you have to do that, you have to renew your concept," Winder said. "The only thing I'm wondering is: Have they invested too much? Will it pay off for them? They're the last people who I think would be overextending themselves and living on a wing and a prayer, and then going too big, too quick. They seem too smart for that," said Winder.
But can the Tiger outsmart Amazon? With over 350 million products, this single US company is revolutionizing the way we request, receive, and remit payment for an inconceivably large array of everyday products delivered to increasingly remote locations. Giant Tiger is building out its (already expansive) online offerings as it comes to terms — as we all do — with the future possibility of an Amazon retail monopoly.
For now, "Giant Tiger has found a nice niche in between Dollarama and Walmart," Winder said. And with the New Store Experience, this tiger's really changed its stripes. It's got the eye of the tiger. It's got a tiger in its tank. It's got the tiger by the tail. It's not a paper tiger. It's a Giant Tiger. Surprise!