Summer is a magical season. To me, it's the sounds of summer that resonate most intensely: the subtle crunch of a fresh watermelon slice, the cracking open of a cold brew, the giant splash after a cannonball dive. But most importantly, it's the soundtrack. Good summer pop music allows you to escape into a world of whimsical dance and jubilant feels, but great summer pop has the power to make you feel nostalgic for the moment you are currently living. For these reasons, it's my favorite genre of all.
When I was younger, I tried to drive down the classic-rock highway and the country-music dirt road. I even found myself at a crossroads of hip-hop and emo punk during my high school days. I stayed in the pop closet for many years to avoid the judgement and the sneers. ("Aren't you a little too old to be listening to Hilary Duff?") However, as I got older, my heart started to only beat for pop. Therefore, when I came across the opportunity to head to Vegas for the JBL Fest (a three-day music party), I practically twerked out of my chair when I heard DNCE and Demi Lovato would be performing. Demi is one of my top female artists, as her toe-tapping jams make me want to dance and cry at the same time.
I will admit that I'm a Vegas virgin — haaay ;) — but I have tackled my share of music fests throughout my twenties. When I think of Vegas, the only thing that pops into my head is the tagline, so I can only image that people forget their keys and their dignities in their hotel rooms. To say I have no idea what to expect truly is an understatement. But at least I have my JBL Fest schedule, which includes: a Quincy Jones–hosted party; a poolside party; and the ultimate climax, a DNCE and Demi Lovato party. I zip my suitcase closed and take a deep breath. If Demi can do this, so can I.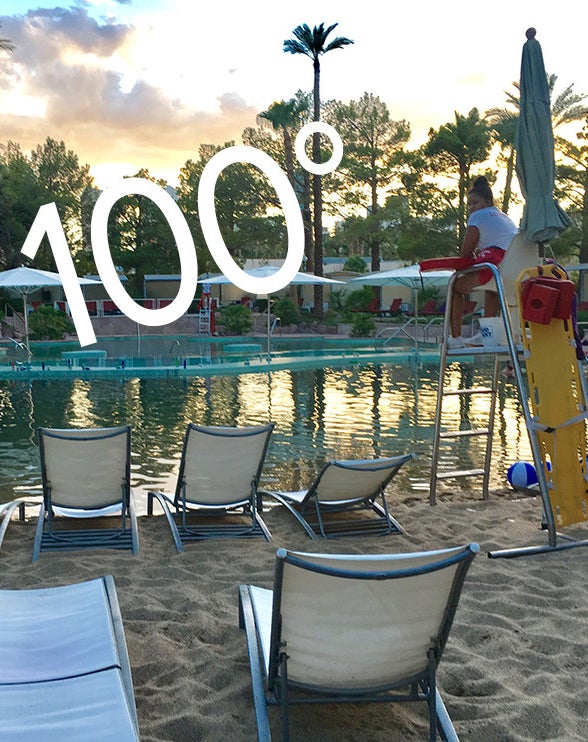 It's 8 p.m., and Vegas is burning. It's still 100 degrees even though the sun is setting. It feels as though I'm in a hot yoga class as I stroll the streets, which kind of feels like a personal attack since I did not plan on working out this weekend. Vegas is an adult amusement park filled with hot bodies, bright lights, and a constant buzz of high energy. I'm regretting my decision to cut coffee out of my diet, but thankfully adult beverages are flowing at the first event to kick off the weekend: the "Platinum Party" hosted by Quincy Jones. I spot him from across the room and feel as though I should kiss his feet. This man is a living legend, having received an EGOT (Emmy, Grammy, Oscar, and Tony) and holding the record for the most Grammy nominations (79).
In fact, this party is decked out with actual Grammy awards, which makes me very nervous. What if someone knocks one over!? If I have any more drinks that person will be me, and people will stare, and everyone will know I'm a Vegas imposter.
People will stare, and everyone will know I'm a Vegas imposter.
I carefully slide away from the golden statues and find my happy place with a glitter-dusted cake pop in one hand and a fizzy champagne drink in the other while a DJ spins tropical house remixes of all the hot summer hits. As I devour my pop in one bite, Skylar Grey takes the stage to play a couple of her songs, including "Love The Way You Lie," which later became a mainstream hit after Eminem and Rihanna recorded it.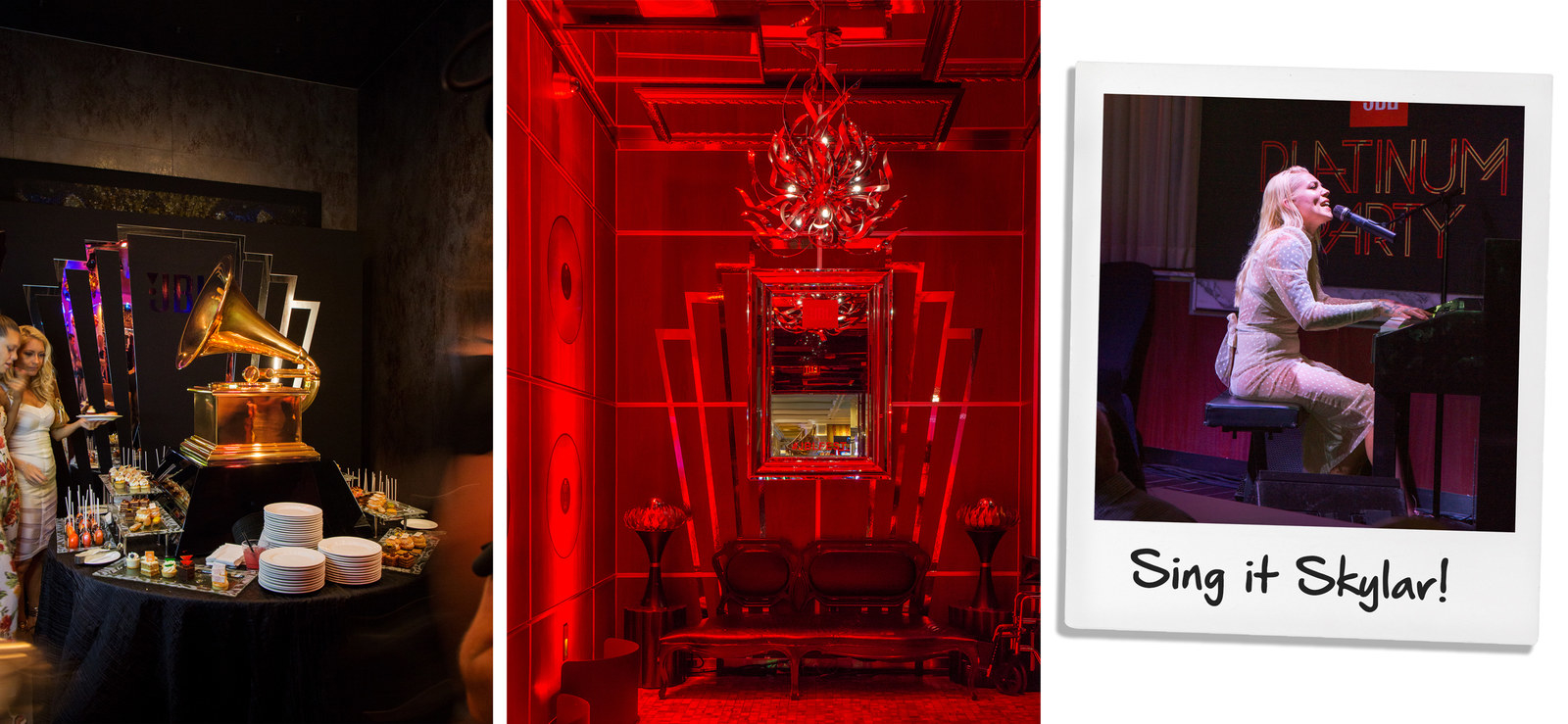 The room is dimly lit, and as I sip my bubbles, I can only help but wonder…has Demi landed yet? Is she in the same city as me breathing the same air? Oh God, is she AT this party? I take a moment to scan the room, but it's dark and I'm overwhelmed. I should probably know what I would say to her in the event that we wind up in the bathroom line together. I know that "nothing" is always the correct answer, but I have an embarrassing track record of compulsively blurting things out to celebs when I shouldn't, like the time I exclaimed "thank you" to Kristen Wiig for no reason. Thankfully, I manage to make it to the end of the party without destroying a Grammy or mortifying myself in front of my idols.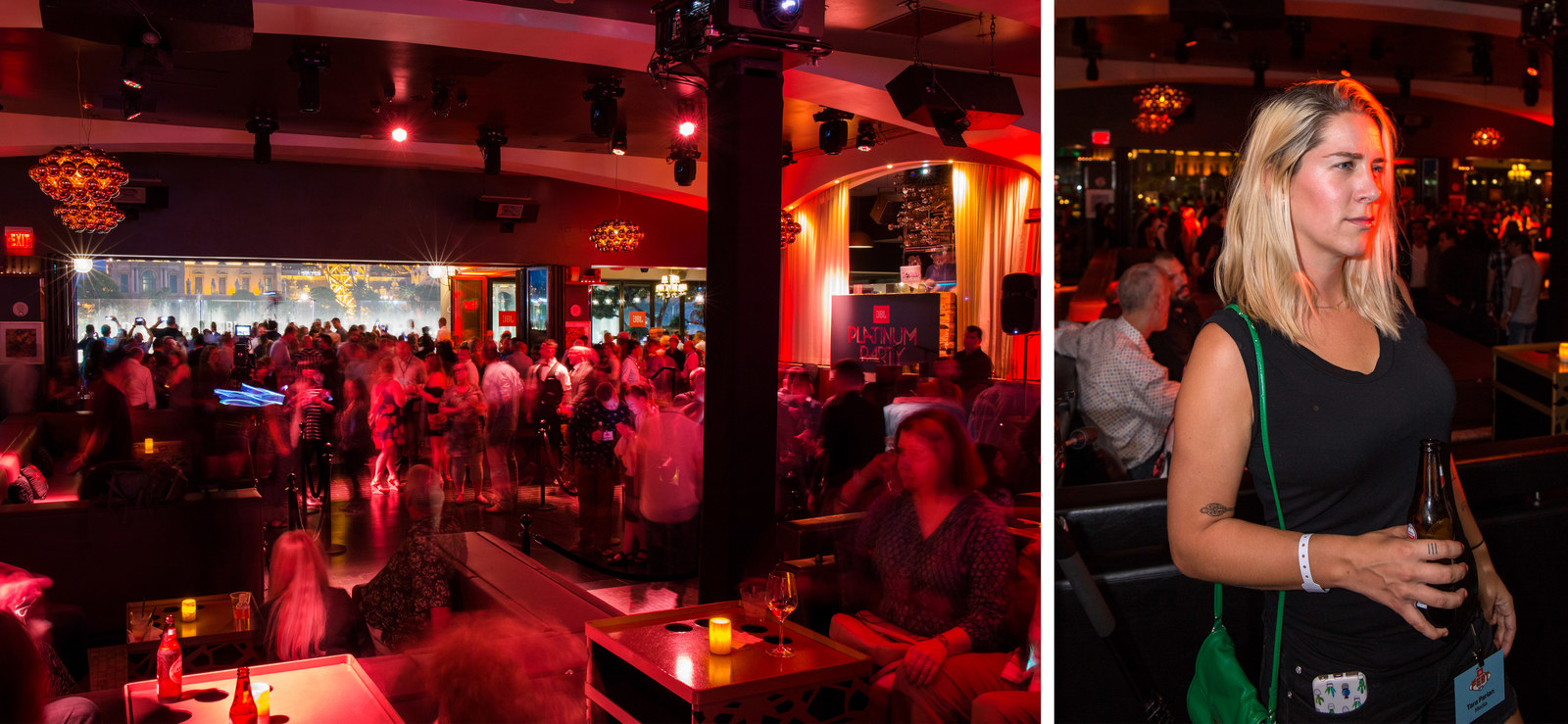 It's Friday morning, and I thankfully got to sleep off my jet lag. Still no signs of Demi, but lots of signs of fun to be had. It's 11 a.m., and the beats from the pool area float up into my room.
On the agenda today is a pool party with my man Flo Rida. I packed four bathings suits for this trip, but I ended up wearing the same one the whole time. I like to think of it as my Cool For The Summer suit, which will naturally grab Demi's attention. Right?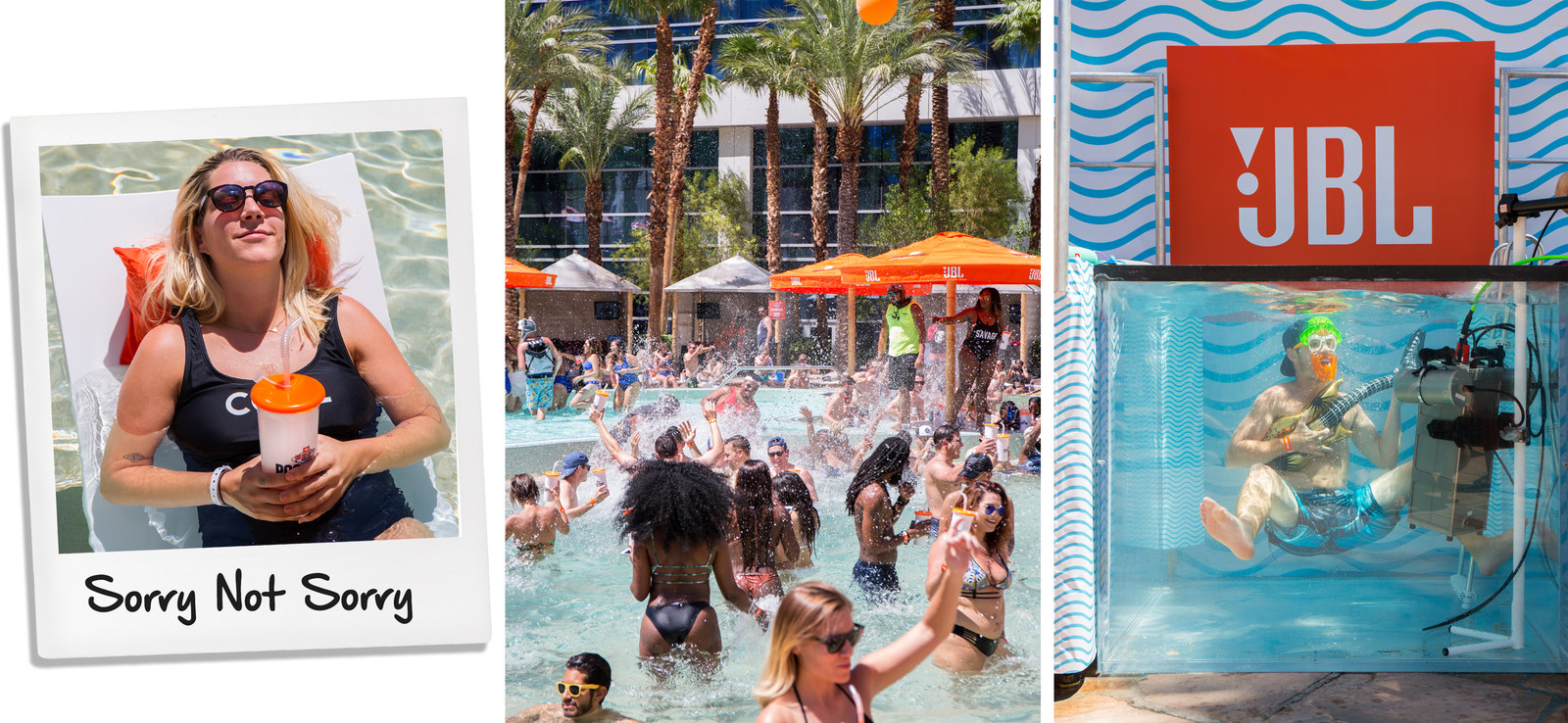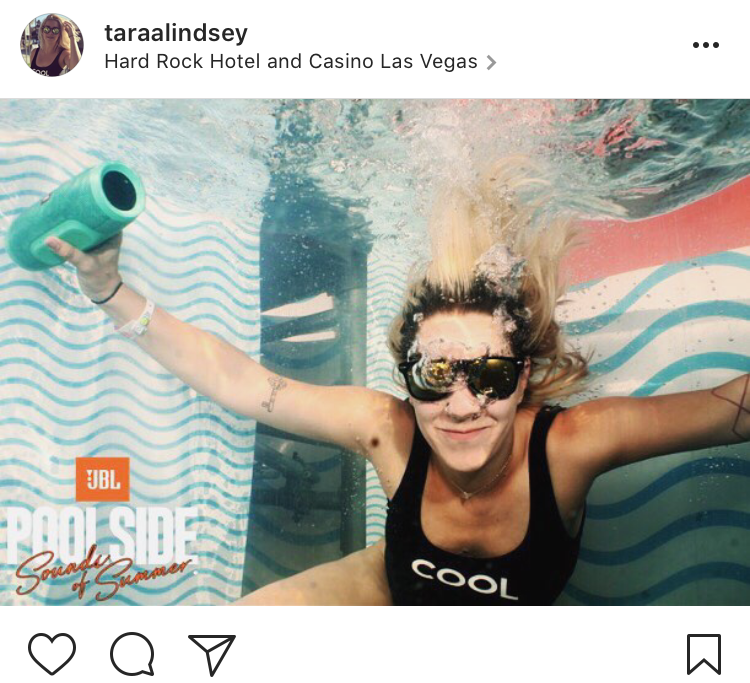 The heat is no joke, but when you're at a pool party it doesn't seem all that ba—oh my God, there's an underwater photo booth here! Okay, this is gonna be JUST FINE. I dunk into the tank and of course take my photo three different times to get the perfect one. Wait, what the hell am I talking about? No one looks good in underwater pics, so I post the most ridiculous one.
Damian Lillard takes the poolside stage first. You may know him as the Portland Trailblazers' point guard, but he's also a rapper. The crowd does not seem to mind the heat and is loving his vibe. I take shelter under a sliver of shade from a nearby palm tree and guzzle my ice water. I try to blend in with this wild Vegas party crowd and hope that I'm not outed as a newbie. New sounds fill my ears as Flo Rida takes over the stage, and boy has this man come to get down. During "Good Feeling," he actually climbs on his bodyguard's shoulders and takes the performance into the pool, where everyone goes nuts, including me.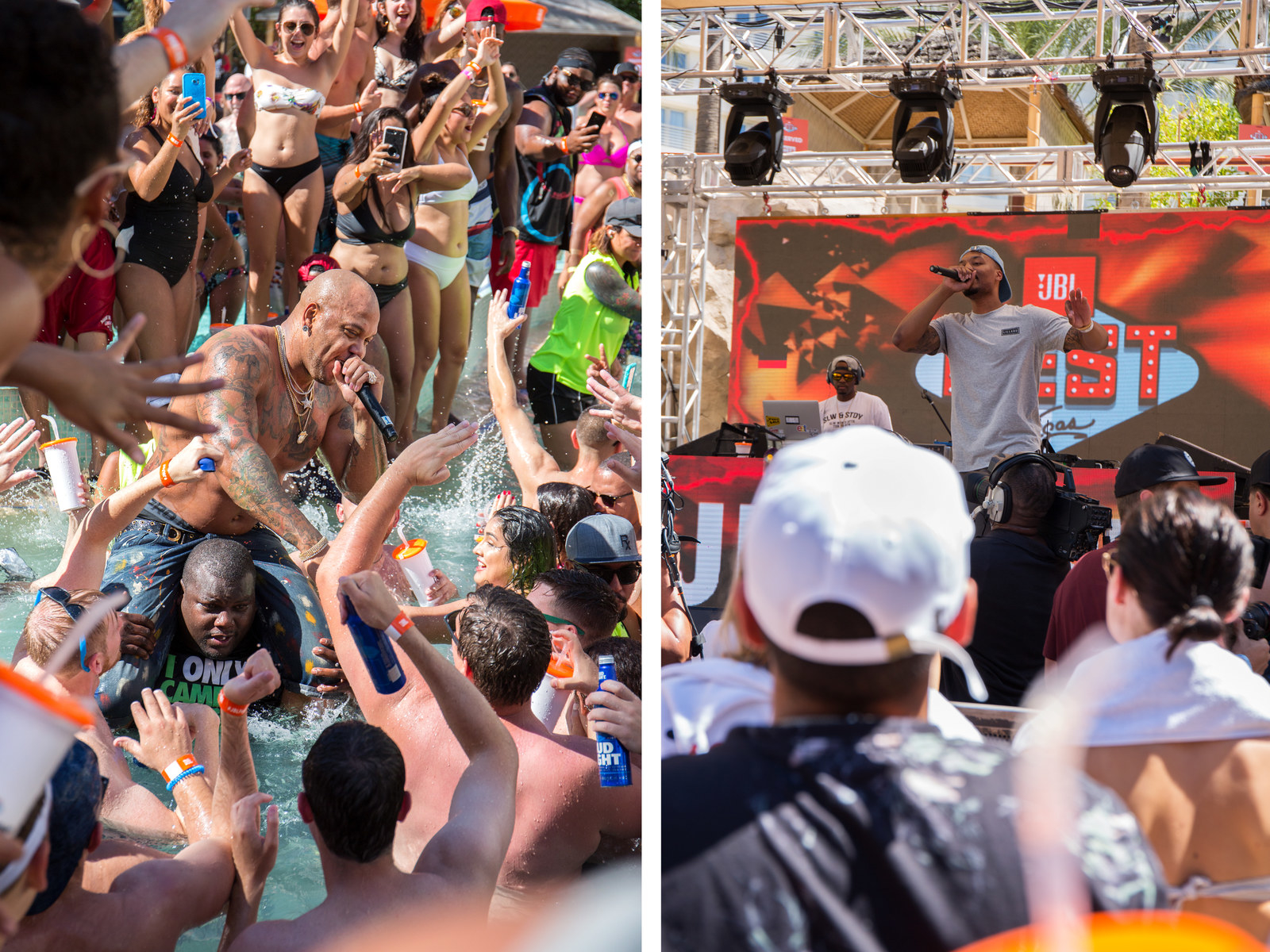 So far, the most unfavorable thing I've had to endure is finding out the pool closes at 7 p.m. Remember when I said it was still 100 degree at 8 p.m.?? I feel utterly betrayed by this rule.
I try to blend in with this wild Vegas party crowd and hope not to be outed as a newbie.
It's now Saturday, another day waking up to fun summer music in my hotel room. Thanks to JBL, I received portable waterproof speakers that I take with me into the shower. The energy is infectious, and I can't wait to see what excitement this day will bring. OH WAIT. It's Saturday…which means it's THE DAY OF DEMI. OMG. She's performing tonight, along with DNCE. How am I going to make it through the day?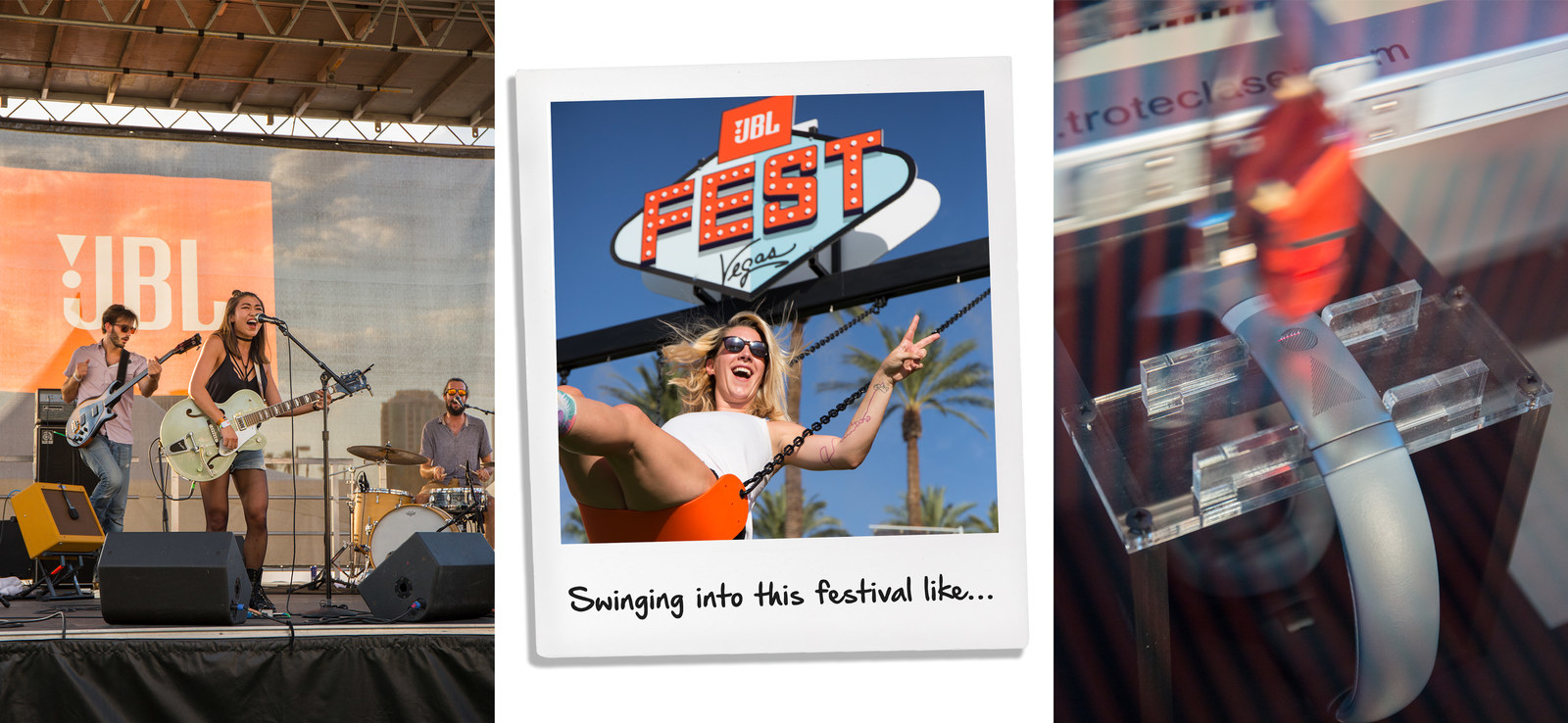 First up is the "Backyard Oasis," which is an event complete with a headphone-engraving station (I got "Queen" on mine, because, duh), swings, delicious food trucks, and a stage area where the Crane Waves rock out. After two snow cones, I cut myself off, and before I know it, the time has come. D.E.M.I. is almost here.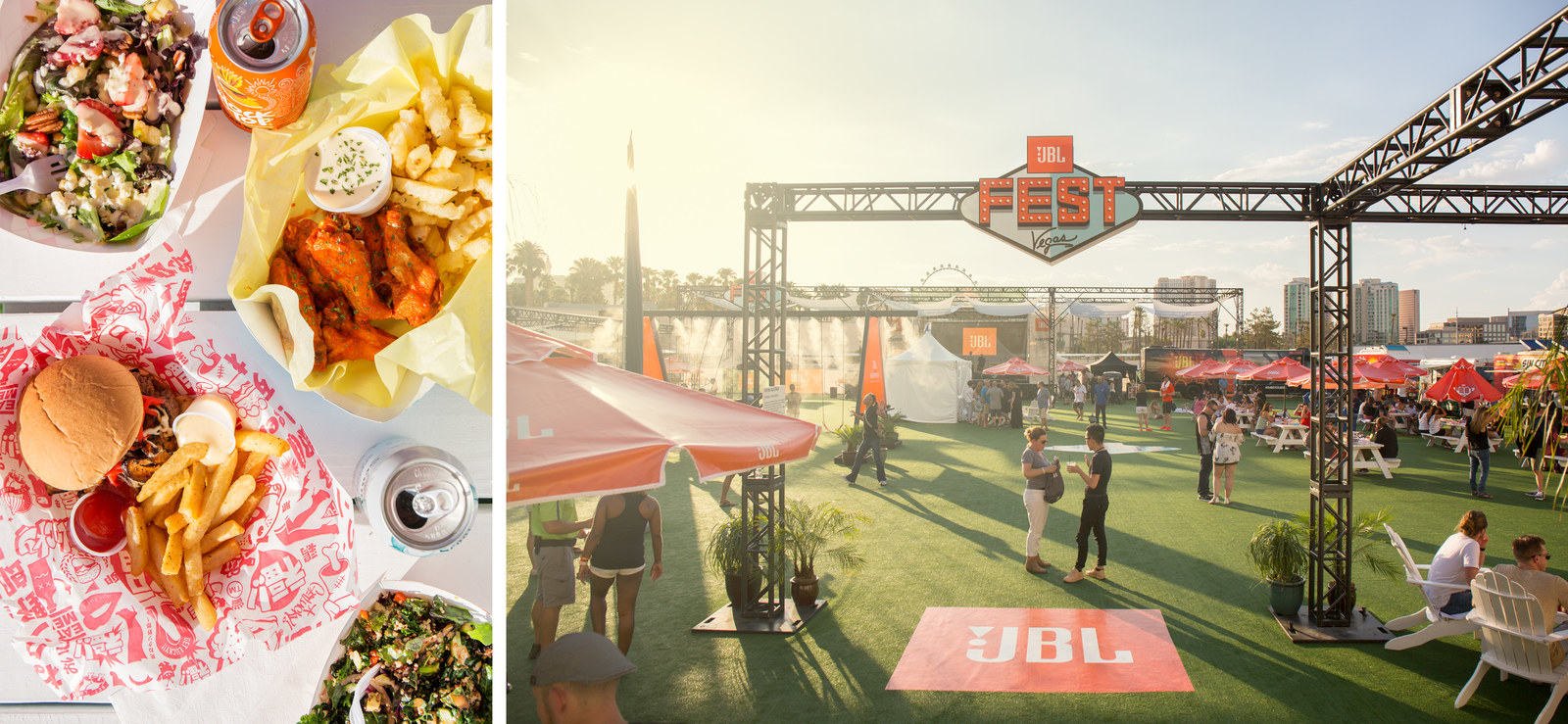 As a tween, I was a hardcore teeny bopper, which clearly never left my soul. I have finally fully leaned into my love for all sorts of pop, and I couldn't be more proud to accept that this who I am. So when it came time for DNCE and Demi to hit the stage, you bet your ass I got there nice and early and held my ground for a front-row spot. The room quickly filled with fans half my age, but when you truly love something, those small details don't matter.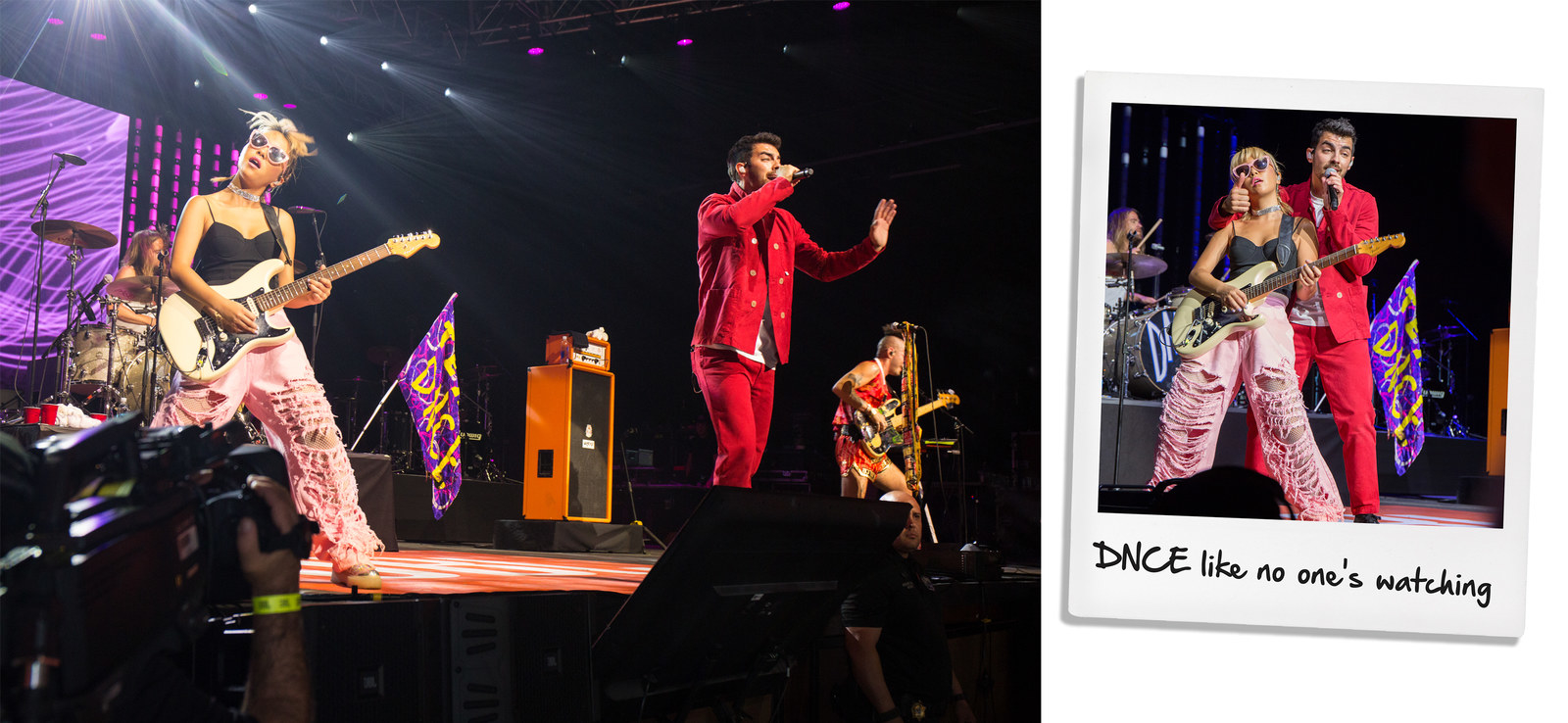 DNCE generated endless positive energy, and I found myself dancing and singing along. Then, it was Demi's time. She wore a green sequin leotard and belted all her hits while owning the stage. This was her first time performing "Sorry Not Sorry" in a concert setting, so the fact that I'm witnessing it for the first time feels monumental. My dreams are all coming true on this very night. I leave the show feeling high on adrenaline and excitement. Now, the epic music-infused weekend is officially over. Just like that, over.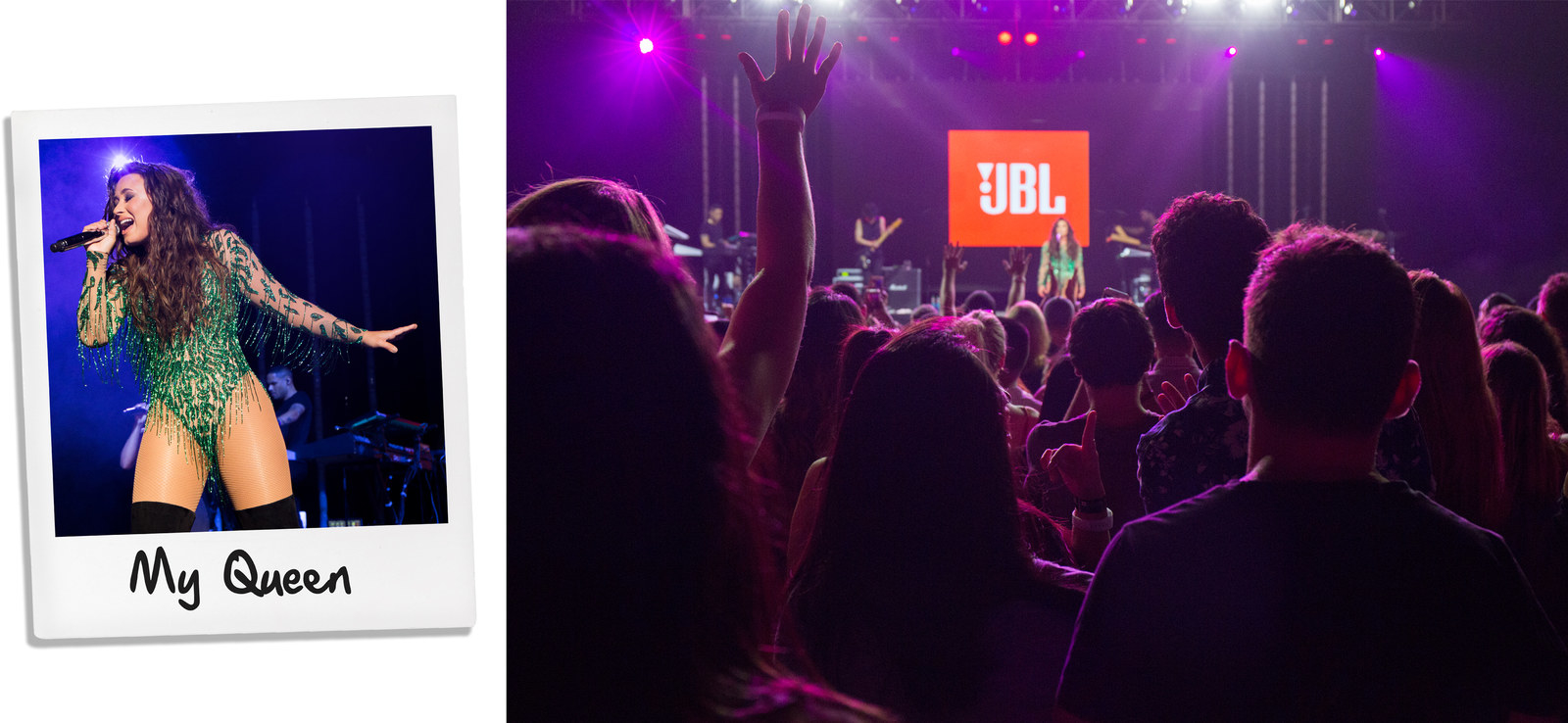 I did not leave my keys or my dignity in my hotel room, so I'm taking that to mean I have conquered Vegas. I came out alive, I passed go, and I collected a whole $20 at the slots. Hey-o! I did not meet Demi, but I was in the front row and I think maybe it's better this way (no mortification). To me, this was a rebirth of my teeny-bop youth, and I can only believe that tween Tara would be incredibly proud of the adult she becomes.

Summer comes and goes in the blink of an eye. To soak up every moment and really appreciate it, one must stop, look, and listen. Listen to those sweet, glorious summer sounds thumping in the air all around you. Absorb the music that fills your heart with so much joy that it could explode. Find yourself a beat you can either settle down with or get pumped up to. Do you hear that? It sounds like a party to me.
Images by Sarah Stone / Design by Kara Mohr © BuzzFeed
Make the most of your summer soundtrack with JBL waterproof speakers, wireless headphones, and more!