An Indigenous-led social media campaign is blowing up in response to #Canada150 and Canada Day celebrations.
The hashtag #Resistance150 was started by four diverse Indigenous community leaders: Anishinaabe storyteller Isaac Murdoch, Michif artist Christi Belcourt, Métis author Maria Campbell, and vocal Cree activist Tanya Kappo.
Now, it has blossomed into a roaring social media campaign with thousands of Indigenous and non-Indigenous followers.
For one thing; the federal government is spending half a billion dollars on #Canada150. Yet, some First Nations communities have been under a boil water advisory for so long, that "an entire generation" of kids have grown up without ever running a tap of clean water in their own home.
Jussayin'.
Some believe #Canada150 (or Canada Day, in general) is merely a celebration of colonialism and genocide.
Two words that tend to make a lot of Canadians uncomfortable.
Some are taking advantage of the opportunity to educate others about the "truth" behind Canada's history.
And remind us of the violence that came with Canada's founding.
Both before and after confederation.
Non-Indigenous folks are taking notice.
And figuring out how they, as settlers, can help.
However, the Grand Chief of the Assembly of First Nations recently said that Indigenous peoples should take advantage of #Canada150, in order to keep highlighting our history and future in Canada.
Cree artist Kent Monkman has also taken the opportunity to "celebrate" Canada's 150th birthday by shifting the focus back to Indigenous people.
Monkman recently took on the illustrious role of Grand Marshall at this year's Toronto Pride Parade, in response to #Canada150.
A skateboard company even collaborated with Monkman to use #Canada150 as a way to bring attention to the history of residential schools.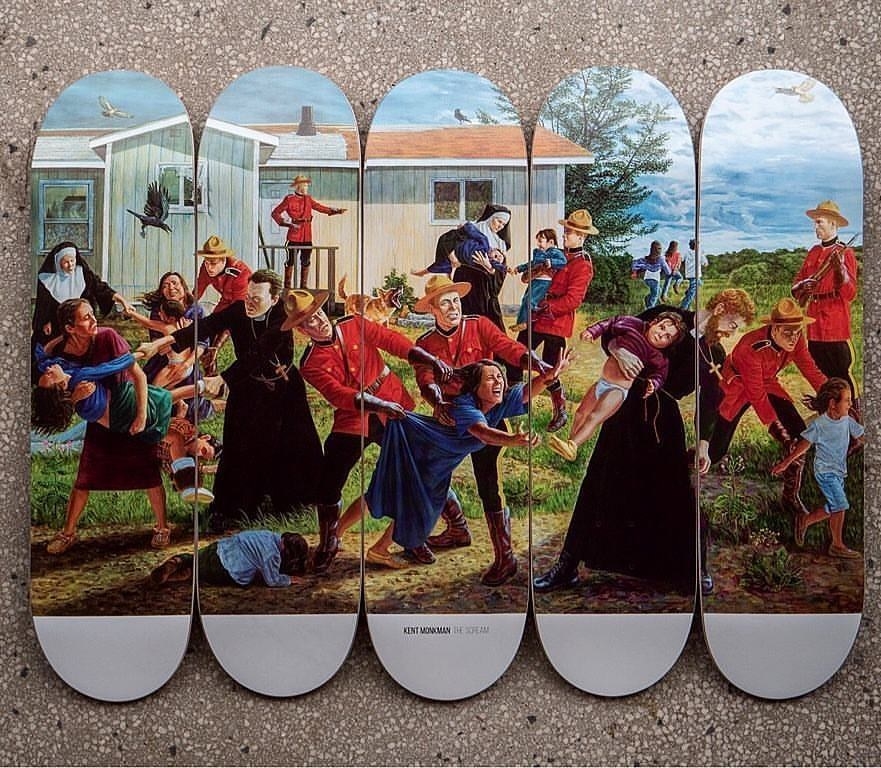 Although many have seized the opportunity to educate others about some of the darker parts of Canadian history, some are using the hashtag to poke fun at the irony of it all.
L O L
But some Indigenous people are taking action for #Resistance150 in the form of demonstrations.
And were met with opposition from police.
The demonstration was meant to be a sign of Indigenous resilience, resistance, and more importantly, a sign of a revitalized First Nations culture.
And is now a symbol of #Resistance150.