Fire-roasted marshmallows a time-honored tradition and tasty treat. However, opinions vary on what makes a good roasted marshmallow.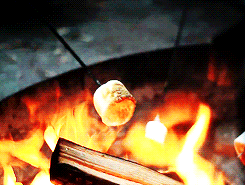 Over the weekend this image from lifestyle site Food52 made the rounds on Twitter asking a version the question, "What is the perfect roasted marshmallow"?
Some people prefer an extra crispy nine or 10.
While others favored a more middle of the road five or six.
This guy insists that there are some missing tiers on the spectrum.
While this response leans heavily on marshmallow ~science~.
This man mentioned that the version his wife prefers is literally off the charts.
Some think marshmallows are disgusting altogether.
In short, the answers are all over the place and vary from person-to-person.
However, the question still remains — how toasted do YOU like your marshmallows?