21 Scantron Memes That Are Hilarious And Clever
Test-taking just got humorous.
Remember scantrons? Those endless rows of bubbles that plagued you in countless multiple choice test.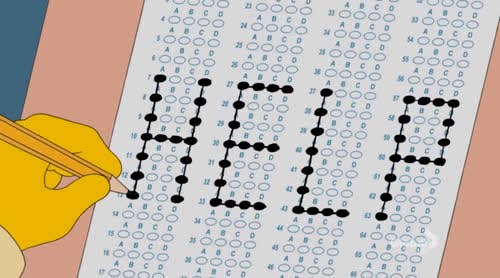 Well, last week people took to Twitter to make funny versions of the not-so-beloved bubble sheets. The scantrons quickly became memes, and they are as numerous as they are funny.
Here are 21 of the best ones:
1.
This accurate Buddy The Elf scantron.
2.
This nursery school melody.
3.
This dolphin scantron who did swimmingly.
4.
These answers from the greatest band ever.
5.
The melodic sheet.
6.
This take on anti-vaxxers.
7.
This throwback.
8.
These aptly filled-out spaces.
9.
This scantron that got an "A" for effort.
10.
This dad joke that so bad it's good.
11.
This baseball analogy.
12.
This meta "filled out" sheet.
13.
These weed smoking answers.
14.
These answers that were all of us taking a test.
15.
These country cues.
16.
These answers we all STAN.
17.
This scantron from a legendary frontman.
18.
This inside joke.
19.
These sleepy bubbles.
20.
Finally, these two sheets that are adorably off the mark.
21.
😂😂😂