This is Polyana Viana, she's a 26-year-old mixed martial artist fighting out of Rio De Janerio, Brazil with an impressive 10-2 record.
Most of her victories in the ring have come via submission, but she also has punching power and has bested opponents through striking.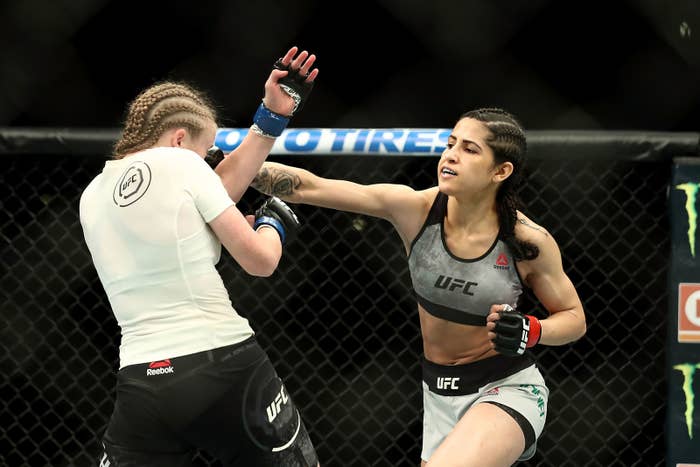 On Saturday night while waiting for an Uber in front of her apartment in Rio Viana says a man approached her. Everything seemed normal at first, but it quickly became apparent that the man was looking to rob her.
She went on to tell MMA Junkie what happened.

When he saw I saw him, he sat next to me," He asked me the time, I said it, and I saw he wasn't going to leave. So I already moved to put my cell phone in my waist. And then he said, 'Give me the phone. Don't try to react, because I'm armed.' Then he put his hand over (a gun), but I realized it was too soft.

He was really close to me. So I thought, 'If it's a gun, he won't have time to draw it.' So I stood up. I threw two punches and a kick. He fell, then I caught him in a rear-naked choke. Then I sat him down in the same place we were before and said, 'Now we'll wait for the police.'
After subduing him, Viana discovered that the gun was in fact, a cardboard cutout resembling the shape of a gun. You can see the pics at MMA Junkie.
After the whole event UFC President Dana White shared this photo of Viana and the man who allegedly tried to rob her which she took at the scene.
Viana saw passers-by in the area who she asked to call the police. She told MMA Junkie that it the man wanted the cops to come. "He said, 'Call the police, then' because he was scared I was going to beat him up more."
As of today, Viana is fine and back to training, and MMA Manager Alex Davis tweeted this pic with her along with a message to the "The Robber Union in Rio de Janeiro."
Viana is not to be messed with.
BuzzFeed has reached out to Polyana for comment.