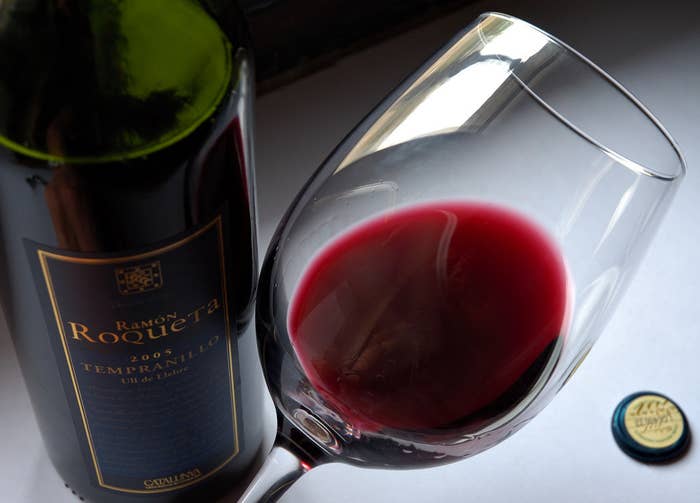 Valentine's Day is approaching. While others are preparing to go into debt by splurging on expensive diamonds and flashy bling or making reservations for a filet mignon dinner and that perfect glass of wine, I'm sitting here thinking of the all-time greatest love songs.
The best love songs for Valentine's Day (and other occasions) can be found in a list, discovered in late night infomercials, or by simply grabbing your old Boyz II Men CD. It's not that hard to make the night extra special with a collection of love songs.
What about if you wanted to take a different route? What if you wanted to compile the best songs about wine or songs that mention wine in their lyrics?
That's exactly what I've done today. These five songs might be well known among various groups of listeners, but here are five songs about (or that mention wine) that deserve a listen, especially while enjoying a bottle of Merlot.
Red, Red Wine
Quick. Name the artist…
Did you say UB40? If you did, then you'd only be partially right. Before this British pop band took Red, Red Wine to the top of the charts, Mr. Neil Diamond was singing about the one beverage that could make all of someone's worries disappear.
Diamond wrote this song back in 1967 as his career was getting started. It never had quite the popularity that UB40's version did (it was the 80's, after all), but Diamond's ode to red wine is the version I hold closest to my heart.
Scenes from an Italian Restaurant
Bottle of red. Bottle of white. Why not both?
Billy Joel has had his fair share of hits over the years and this song, though never released as a single, has become a favorite among fans. Off of 1977's The Stranger, Scenes from an Italian Restaurant ranks up there as one of Joel's top ballads. This entire album, in fact, is still one that should be played from start to finish. That should give anyone plenty of time to choose between the bottle of red and the bottle of white.
Cracklin' Rosie
It's safe to assume that Neil Diamond must have enjoyed his wine in the late 1960's and into the early 70's. Three years after Red, Red Wine appeared on the radar, Diamond scored his first number one hit in America with Cracklin' Rosie, a song about lonely men ending the night with a bottle of "Cracklin Rosie" wine.
If this isn't a perfect song for those alone with their wine on Valentine's Day, I don't know what is.
Champagne Supernova
Once upon a time, in the 1990's, the band Oasis had the world at their fingertips. Champagne Supernova was the closing song on their best-selling album, (What's the Story) Morning Glory?
A song with the word champagne in the title? A fitting way to close the album, encapturing the aura of the entire song list preceding it and reminding listeners that a champagne toast is a good way to end any celebration.
Okay, maybe that's too much, but the song does provide a sentimental outlook on life. And nothing gets the emotions pouring forth like a good bottle of wine or in this case, a champagne supernova.
Strawberry Wine
Wine in a box. Boone's. MD 20/20. Who doesn't remember their first foray into the world of wine? Or not remember, in the case of perhaps imbibing a little too much of the aforementioned.
Deana Carter's song Strawberry Wine may not be all about wine (first loves, anyone?), but she has stated that the title at least comes from this notion. A lost love takes the front seat here, but it's infinitely tied together with memories of that first taste of wine.
These are only a few of the songs out there that are about wine or have wine in the title. There are probably enough song to create a "wine" list for your iPod.
Now, if you'll excuse me, I have a box of wine to drink and some Billy Joel to listen to.