1.
A dishwasher magnet for a simple yet effective way for everyone in your household to *finally* determine if they can grab a clean spoon to eat their late-night ice cream.
Promising review: "I bought this because of a TikTok video. Super cool and now nobody has to ask me if the dishes are clean or not." —D. Washington

Get it from Amazon for $7.99+ (available in four styles). 
2.
An Oxo over-the-drain hair stopper, because, no, paddling your feet in a pool of water every time you shower is not considered the done thing. This little creation will catch clumps of hair like a magnet *before* they make their way to clog up your drains.
3.
A mold and mildew removal gel to banish gunk in your grout and dark spots along silicone caulk. Your bathroom surfaces will shine once again after one overnight application of this. And before you say anything — nope, no scrubbing necessary. I know, right?!
Former BuzzFeed Shopping editor Kayla Suazo uses this and raves: "This mildew remover can destroy any stain in its path. When I moved into my apartment, it looked like there hadn't been repairs since the '60s, and that included re-caulking the bathtub. I tried bleach and every type of shower cleaner at the store, but nothing removed the mold and mildew stains that had been there for like, 40 years. UNTIL I BOUGHT THIS INCREDIBLE MAGIC GEL. I am one happy customer."
Promising review: "I have scrubbed this caulk hundreds of times trying to clean it; it always stayed so gross. I decided to try this stuff and I am so glad I did!!! 10/10. I highly recommend you get this if you have any gross caulk. Follow the directions and it works like a charm. Some spots were a little wet, so I am going to redo a couple of spots, but I couldn't be happier!" —Reviewer
Get it from Amazon for $13.99.
4.
A set of Wad-Free pads invented to make sheet washing day a little more enjoyable. If you've ever pulled out a tangled mess of bedcovers clumped together with other (sopping) items, you're going to want to listen up: These time-savers clip onto the ends of sheets to ensure everything *stays separate* so you don't have to do multiple drying cycles.
Wad-Free is a small biz that was launched during the pandemic. Cyndi, the founder, learned CAD (computer-aided design) to create the pads. And 5% of profits are donated to the American Brain Tumor Association.
Promising review: "Wow!!! You wonder if things like this really work and well, I can absolutely confirm it does! First, I was impressed that the package came with two of the devices because I was only expecting one. So there was one for the fitted sheet, and one for the flat sheet. Finally, I tried it out, and my sheets not only did NOT wad up, they came out of the dryer feeling fresher, feeling more dry, and unwrinkled! I will be buying a set of these for each of my immediate family members and close friends! What a great gift!!!" —katy
Get it from Amazon for $19.99.
5.
Oven liners to get ahead of unavoidable spills come dinnertime (since you're familiar with the method of cleaning smarter instead of harder). These'll prevent stovetop and oven messes, so you can give your arms a much-deserved rest after all that weekly meal-prepping.
These reusable mats are heavy duty and can be cut according to where they need to be placed. They're also dishwasher safe and safe for temperatures of up to 500 degrees Fahrenheit!
Promising review: "I love these oven liners. We moved into a house a few years ago with liners in the oven and I am amazed that I did not know about these before! They have literally saved me from EVER cleaning my stove. They protect the bottom of the stove from spills and are so easy to clean. We just replaced our stove and my first purchase was a new set of liners. They should last for years. These were so easy to trim to fit. Very thick and nice quality. I ordered two so I could also line my toaster oven." —anonymous
Get a two-pack from Amazon for $11.99 (also available in a four-pack and two colors).
6.
A set of cooling bamboo sheets so you can seamlessly switch out the ones that have been pilling since 2017. And for those who wake up in a pool of sweat no matter the time of year, these bedcovers will wick away moisture and ensure your snooze environment is as comfortable as can be.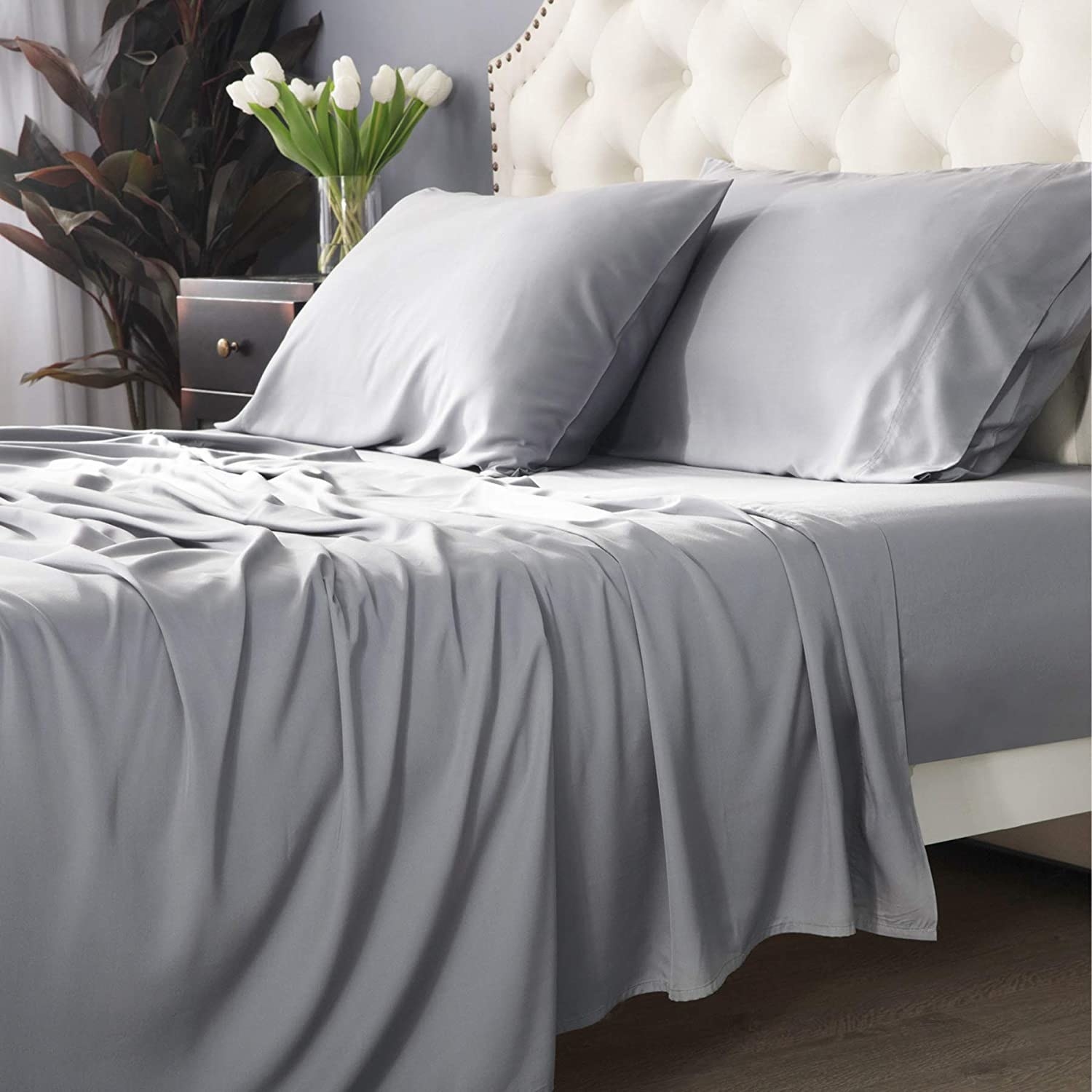 Includes one full sheet, one flat sheet, and two pillow cases.
Promising review: "Suffering from severe insomnia, we are trying to change everything that we possibly can about my sleeping environment. I bought these after hearing the benefits of bamboo related products. This sheet set has to be one of the softest sets I've ever slept on. The fabric has a slick, silky feel to it. It stays quite cool and doesn't make you sweaty. I've slept rather well on these and don't even notice that they are underneath me. These sheets are great. I would love to have a few more sets." —Justin and Amanda Lanphere
Get it from Amazon for $38.99+ (available in sizes twin—California king and 11 colors).
7.
Light-dimming stickers because the annoying LEDs beaming from your TV, computer charger, and just about every power outlet in your bedroom have been keeping you up at night for the past 10 years. It's finally time to block them out once and for all.
This game-changing pack comes with a variety of 100 peel-and-stick dimmers shaped to fit lights on most electrical appliances.
Promising review: "Ingenious little idea. I suffer from migraines, so I know how a little LED light can irritate you in an otherwise pitch black room. This product does a great job of dimming those harsh LED indicators that EVERYTHING seems to have nowadays. They are neat, not unsightly." —Jarom A. Daszko
Get them from Amazon for $6.49.
8.
Rubbermaid food saver containers dubbed the miracle for keeping produce as fresh as the day you bought it. With its snazzy FreshVent technology, it regulates the flow of oxygen and carbon dioxide so much better than if your lettuce and berries were kept in their original containers.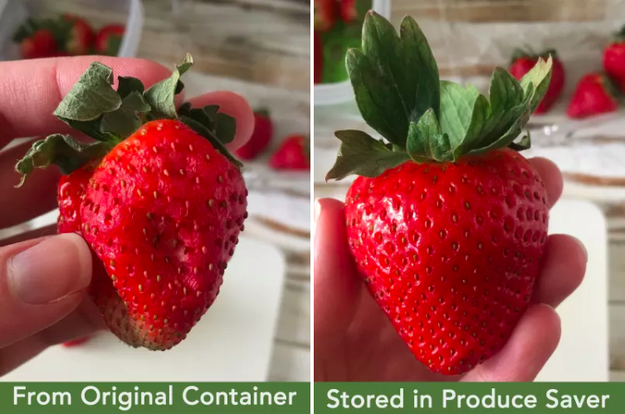 Promising review: This product really works. I frequently buy spinach leaves for salads and smoothies, and it's always a race to use it before it goes bad. With this product I don't have to worry about that any longer. It really does extend the shelf life of your produce." —Rayray
Get it from Amazon for $19.49+ (available in three sizes).
Read our full review of the Rubbermaid FreshWorks food storage containers!

9.
Microfiber glass-cleaning cloths you can count on to dust down tricky light fixtures that are notorious for gathering gunk. These'll make your home *glow* once again and they won't leave fibers behind — because streaks have no place on your glassware any longer.
Promising review: "I've tried everything to clean my pendant lights. The grease from the kitchen just gets on them and using regular cleaning liquids just smears it. I was very doubtful in using these towels but decided to give it a shot. With water ONLY these lights were cleaned in the matter of minutes. I would def recommend these towels." —The Muryns
Get a pack of eight from Amazon for $16.13.
10.
A pack of detergent cup holders so nifty, they'll make laundry day go by a little quicker. Your housemates will thank you for making this purchase since these little trays not only hold your caps but also prevent any drippy mess.
Tidy-Cup is a woman-owned small business that was started by Julie Reinhold, who created this drip catcher as a way to stop her economy-sized detergents (which she loved) from dripping all over her laundry room.
Promising review: "I had no idea I needed this until I saw it on TikTok. Listen, it's the little things that matter. This little thing saves me the headache of a laundry room mess. I love it. Fits perfectly on my liquid detergent. No more messes!" —Luke & Christina
Get a set of two from Amazon for $13.49 (also available as a pack of one). 
11.
The Pink Stuff all-purpose paste and spray (as seen on TikTok) that'll magically clean practically anything and everything in your home — and even in your closet! This potion in a paste reverses wall markings, cooked-on grease, soap scum, shoe scuffs, and whatever else that could use a little abracadabra alakazam.
Promising review: "WOW!!!! This stuff is amazing. I literally just have to spray it, let it sit for a few minutes, come back, and depending on what I'm using it for, I either wipe it and it comes right off, or I just use a scrubbing pad and it comes off. There's nothing out there that is anywhere in comparison to this product!!!! This stuff is the absolute best. I highly recommend purchasing this. I can tell you that half of my cleaning products are now going to be thrown out because all I need is The Pink Stuff. Whoever invented this stuff is an absolute genius; if you're a clean freak like me, this really is the way to go. Also it doesn't have that nasty chemical smell; it smells great. Just buy it; you won't regret it." —Twin33
Get the original cleaning paste and multi-purpose spray from Amazon for $19.99.