Unless otherwise specified, all sizes in this post are listed in women's.
1.
A stretchy and supportive longline sports bra you may wanna get to know as an alternative style to those offered at pricier athletic brands. Worn at the gym, running errands, or to brunch, your friends will surely be eyeing all the comfort, sophistication, and affordability this bub has to offer.
Promising review: "I bought this after seeing a TikTok review and it's even better than expected! I removed the padding because I never like them in sport bras and it's absolutely adorable! It holds up during my workout routine! I definitely recommend! I ordered a size Large which is my normal size in sports bras and it fit great!" —Shannon
Get it from Amazon for $21.98+ (available in sizes XS–XL and 22 colors).
2.
And! A ribbed crewneck crop tank (sans padding) that's also known as *the* basic of the moment reviewers are commending for its fit and cut. Excellent for ~le layers~, this gem teamed up under a cardigan or shacket, plus a pair of high-waisted...well, anything, is quite frankly worth a 5-star rating.
Promising review: "Love it! Fits perfect, exactly what I was looking for. I was skeptical of ordering clothes off Amazon but decided to and I'm glad I did. I saw this in a TikTok." —Meredith McDonald
Get it from Amazon for $15.99+ (available in sizes XS–L and 20 colors).
3.
A versatile pair of faux-leather leggings guaranteed to up the ante on any look like *clicks fingers* that. And no one has to know that you snoozed through your alarm five times this a.m. — but they will be giving you and these puppies a good look.
4.
A truly divine tropical-themed one-piece that would make anyone wanna dive straight into a crystal clear body of water just so they can show this off from every angle. Pair it with some linen bottoms and you could get away with wearing this glamorous cut-out piece as a bodysuit — no question.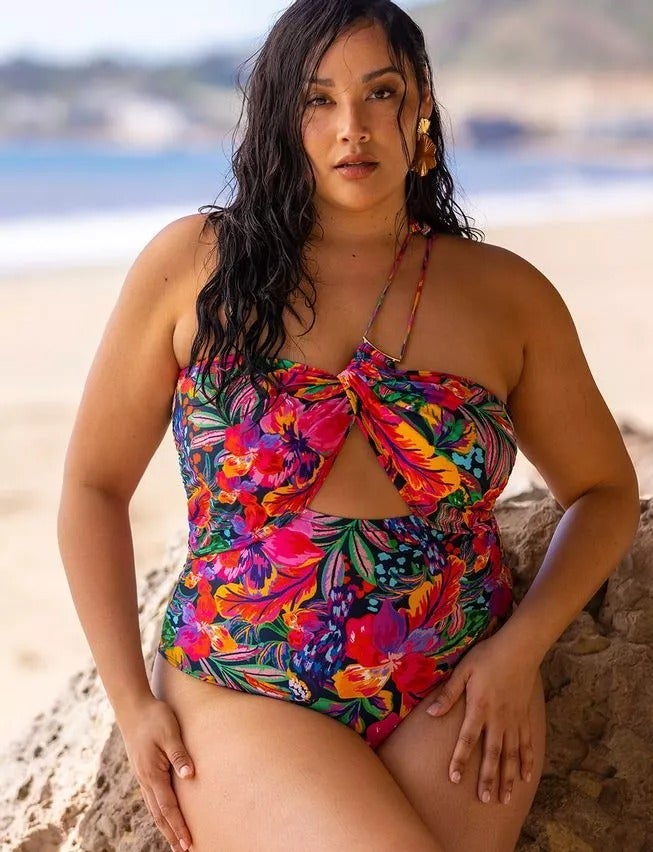 5.
A cushy pair of slides you'll be patting yourself on the back for tossing in your case for your next vacay. Because not only are they incredibly Insta-worthy, but their marshmallow-y sole will have your happy feet bouncing from the pool to the beach and back to the Airbnb with zero pinch around your little piggies.
6.
A sweater with a sweetheart neckline that the internet is currently obsessing over — and something you'll want to snap up if you're looking to be totally on-trend. This is absolutely *chef's freakin kiss* for date nights, girls' nights, and nights where you may just wanna stay in and feel fancy as you cook up your stove-top mac 'n' cheese. No judgement, just good looks!

Check out a TikTok of the sweetheart neckline sweater in action. 

Promising review: "Looks similar to the Abercrombie bodysuit but much cheaper and with a variety of colors. Highly recommend. Got so many compliments. Fits true to size." —CDO
Get it from Amazon for $29.99 (available in sizes S–XL and 19 colors). 
7.
A top-rated pair of slouchy socks making the rounds on the 'Tok for 1) being super easy (and trendy!) to style with cozy ankle boots and sneakers, and 2) feeling super soft, warm, and snuggly (without making your feet sweat!). AKA it's time to ditch those discolored, mismatched pairs that are currently sitting in your drawers!

Check out one way to to style the slouch socks on TikTok!

Promising review: "I was searching high and low for this look of the scrunched-up sock. Finally found it. I thought the price is expensive but we will see how they will hold up. And for three pairs it's actually not that bad! I love the look, the socks are comfortable for my feet and keep my feet dry (bc my feet do sweat a lot). A lovely purchase I'll probably have to get another pack!" —Aiyana C.
Get a three-pack from Amazon for $21 (available in three color combinations).
Psst! If you have Amazon Prime, you can give these a spin before you buy it!

8.
A buttery-soft ribbed long slipdress your bod will be ready to ~slip~ into on the reg'. Because this type of comfort *and* high fashion is what your under-caffeinated Monday (and Wednesday and Friday) morning dreams are made of.
Pop a duster cardigan on top = workplace dress. Throw a sweater overhead = chic skirt. Toss a leather jacket with it = going out 'fit. Translation: It's a weekly wardrobe success!

Promising review: "THIS DRESS RIGHT HERE!!! I saw it and was like 'ehh idk, I like it, but where would I wear it?'. Then I saw it on TikTok, and I was like, 'Okay maybe I need it'. THEN I saw a girl with my same shape wearing it and styling, and I HAD TO GET IT! This dress is so comfy. I love it! I haven't worn it out just yet, but I recommend tying the side as it is pretty long. Go ahead and buy this dress, baby." —Ember
Get it from Nordstrom (available in sizes XXS–4X and in 10 colors) or from Skims (available in sizes XXS–4X and in eight colors) for $78. 
9.
A double-lined cap-sleeved bodysuit so sleek and comfy, all of the bottoms that are currently folded up in your Ikea dresser won't know what's hit 'em. You'll never run out of outfit ideas with this — this being something that you never have to worry about tucking or re-tucking in all day long. We applaud you, fashion gods.

Catch one TikToker wearing it here!

Promising review: "Incredible material that's thick enough where a bra isn't really needed. I will be buying more from this brand." —Alexis Brady
Get it from Amazon for $19.99 (available in S–XXL and 10 colors).
10.
A puff-sleeve maxi dress with a comfy elastic bodice and super cute puff sleeves that are giving me the sudden urge to scour Airbnb, grab my closest friends, and book a stay at a fancy farmhouse cottage.
Promising review: "I saw this on TikTok and fell in love with the dress! This dress is very cottage core and fits well. The dress also has a slip under, so that it isn't too sheer, and the sizing is correct for the most part (depending on your bust as the top half of the dress is made of 'stretchy' material). I would definitely recommend this dress! Buy it if you're thinking about it." —Jin
Get it from Amazon for $29.59+ (available in XS–XL and in 27 colors). 
Psst! If you have Amazon Prime, you can give this a spin before you buy it!

11.
A shearling-lined shacket soon to be touted as your favorite "lazy day" piece, and something you'll still want to keep on hand as the weather starts to transition. Showing off your naked legs might actually be possible now that you can slip into something toasty (but not overbearing) on top.
Promising review: "I saw this on TikTok, and I was hesitant at first, but I bought it. I'm really small, so I bought the medium to be oversized, and it's great. I could def fit smaller sizes, and it would still be big. So if you want the sleeves smaller, I'd size down. So comfortable and cute especially with bodycon dresses." —Bela Maria
Get it from Amazon for $29.99+ (available in men's sizes S–3X and in 13 colors). 
Psst! If you have Amazon Prime, you can give this a spin before you buy it!

12.
A sophisticated waterproof travel tote perfect to snap up for school, flights, work... The list truly goes on, since it has the magical powers to transform from a handbag, to a backpack, to a crossbody. Worth the splurge? I sure think so.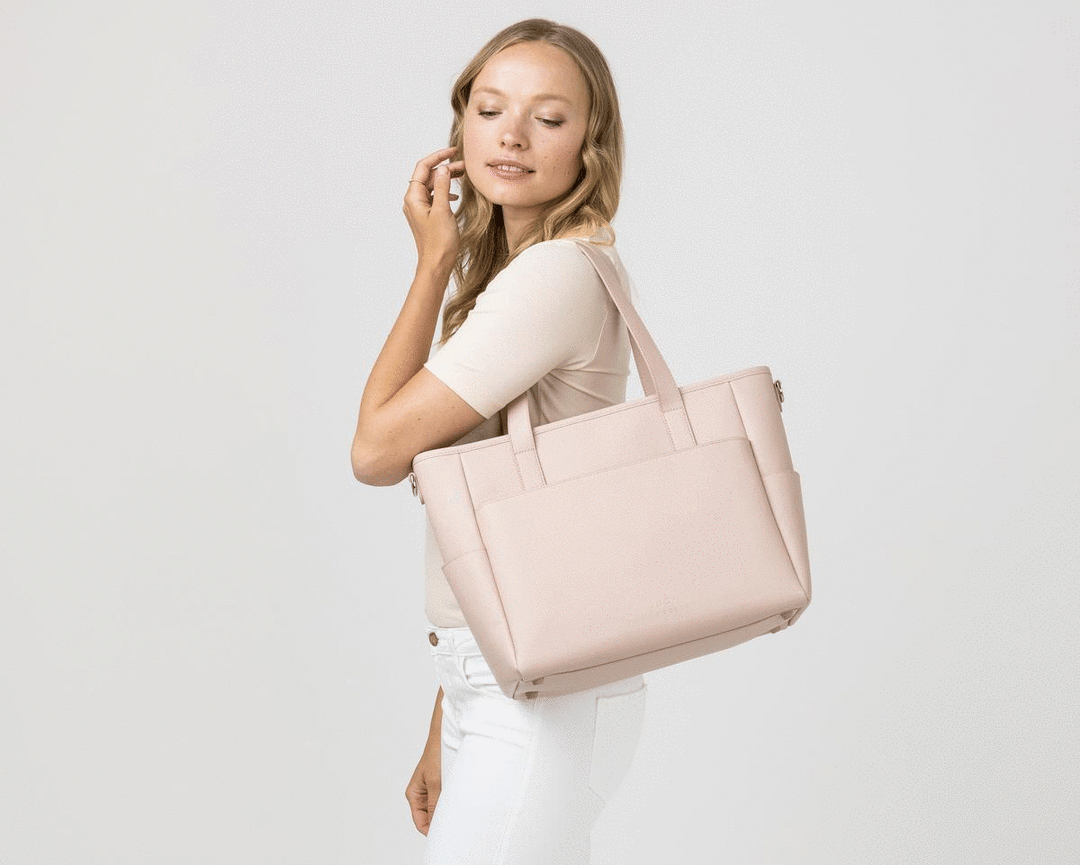 Pond Los Angeles is an Asian woman-owned small biz making luxurious travel products that'll make you feel like you're in first class, even if you're flying coach.
Check out why this TikToker thinks it's worth the splurge as well here!
Promising review: "This is the best tote of my life. I got it for work. The selling point for me was the many pockets and the outside ones easy for keys a mask and other things you need to access conveniently. I also carry a water bottle and coffee cup to work so the outside pockets perfectly fit those. The material is such good quality and my laptop fits. Its honestly just my best purchase. I love it so much." —Customer
Get it from Pond Los Angeles for $285 (available in four colors). 
13.
The TikTok ruched leggings known for accentuating le derrière. These stretchy bottoms are ultra high-waisted and are as comfortable as your sleepwear — aka you're not gonna want to sleep on adding these to your closet any longer!
Promising review: "These are hands-down my favorite leggings. I love the fit and the feel of them. Would repurchase in every color, and I already have probably six different colors already and I want MORE!! They hold up in the washer/dryer and color doesn't bleed onto other clothes. The only thing I didn't love on the leggings was that the waistband was quite thick; my simple fix for it was just making a small cut on the inside seam and cutting the elastic out, and it makes them fit PERFECTLY." —Aspen LaGrone
Get them from Amazon for $14.99+ (available in sizes XS–4XL and 93 colors).