Unless otherwise specified, all sizes in this post are listed in women's.
1.
A fluffy shoulder bag to hit the refresh button on your drab-looking tote. This cutesy accessory is a total steal, plus is the perfect way to lighten up the look of any and every outfit.
2.
A plaid shacket for a casual-chic layering piece that's suitable for days that involve almost all forms of weather — and will go with every pair of bottoms you have folded up in your Ikea dresser.
Promising review: "It's soft and comfy. I wore it over my blouse and sweater. Love the pockets on the side. It just sheds a little on my black pants I was wearing. My first time wearing it was on the plane. I would recommend this. So far it still looks nice and not wrinkled after wearing it a couple of times. I would get more in different colors." —Amazon Customer
Get it from Amazon for $14.99+ (available in sizes S–XL and in 13 colors).
3.
A basic relaxed fit tee you can buy three of and still be under your $20 budget. Stylish *and* thrifty...?! Now *that's* a superhuman talent in and of itself.

Promising review: "Super soft tee! It is a relaxed fit so I'd size down if you want a slimmer fit. The material washes up great and retains the look and softness. Well worth the money!!" —Target Customer
Get it from Target for $6 (available in sizes XS–4X and 10 colors).

4.
A fan-favorite thick-knit beanie over 1,000 people gave 5 stars for keeping their noggins warm. And as an added bonus, it looks super cute with practically every outfit.
Promising review: "Loving this beanie! Feels super comfy on my head without being too snug. I like the fact that it doesn't give me a weird bulge on the top of my head. Also like the black lines that gives it a cool definition. Will be buying more in other colors!" —Lindsay D
Get it from Amazon for $13.99+ (available in 17 colors).
5.
A fabulous pair of standout tiered pearl earrings you'll reach for again and again to attend nighttime soirees and black tie weddings with you. Even paired with a basic shirt and jeans, these'll be the perfect addition to your jewelry lineup.
Promising review: "Loved these earrings! They didn't weigh down my ears. Very elegant as well. I would purchase again." —Brandon Adams
Get them from Amazon for $8.66.
6.
High-waisted flares designed with elements that are a) soft to touch, b) stretchy as all heck, and c) have garnered a following of over 4,000 reviewers, some who refer to these as their "happy pants." If I were you, I'd jump on this comfy bandwagon ASAP.
Promising reviews: "Very soft and comfy! Perfect for traveling because the fabric allows the skin to breathe." —ET
"I wore these pants on a first date, and they made my booty and thighs look amazing. I also wore these pants to my office job, and my coworkers went wild over them. I literally emailed and texted, shared item, and copied links to these pants all day. They are so soft. You want to touch them all day, and they make great sleep pants." —Christina Tahey
Get them from Amazon for $19.99 (available in sizes S–XXL and in 16 colors).
7.
A glitzy ear chaser for any fashionista who wishes they were tough enough in high school to get a whole row of lobe piercings. Some of us (me) were not. So I shall be carting this since it can be worn with or without the dangling charms cascading along the lil' earring jacket.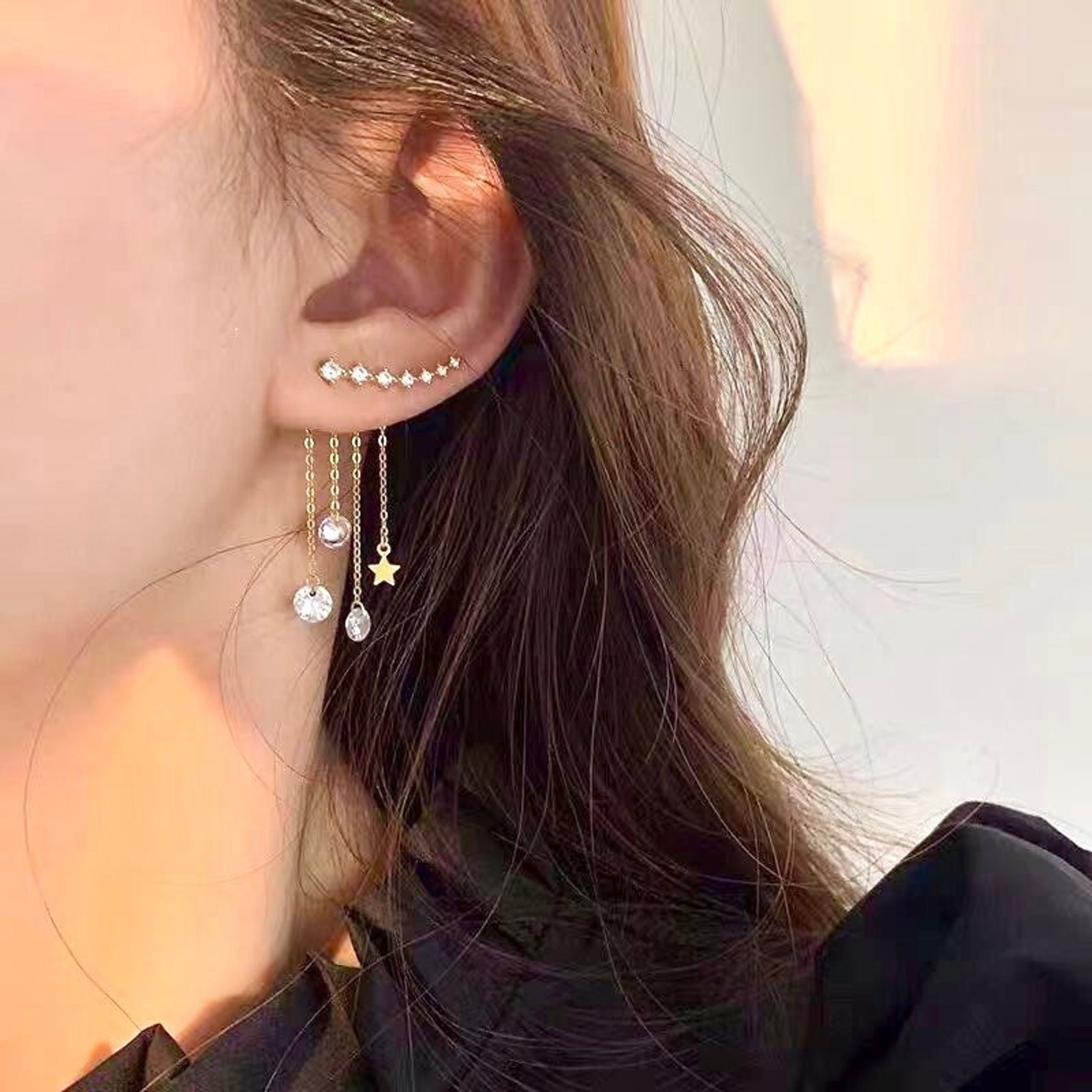 Minimoon jewelry is a small Etsy shop run by Kate in Hong Kong who makes super-unique dainty earrings and rings.
Promising review:  "These took a little longer to get to us than expected, but now that it's here, it was totally worth the wait. These earrings are absolutely BEAUTIFUL and my daughter could not be happier with her new set of earrings. I couldn't be happier that I decided to give these a shot. They are even more gorgeous in person than they are in the photos and we love the versatility of being able to wear them with or without the dangling section. 110% pleased and impressed with this item." —Etsy Customer
Get it from Minimoon on Etsy for $13.69+ (available in gold or silver and as a single or pair).

8.
A ribbed, collared midi dress otherwise known as your new closet staple that's gifted with the ability to be thrown on when you've hit snooze one too many times. Pair it with tights and boots to winter-proof your pulled-together-in-10-minutes look and then ditch the tights once the weather starts to perk up!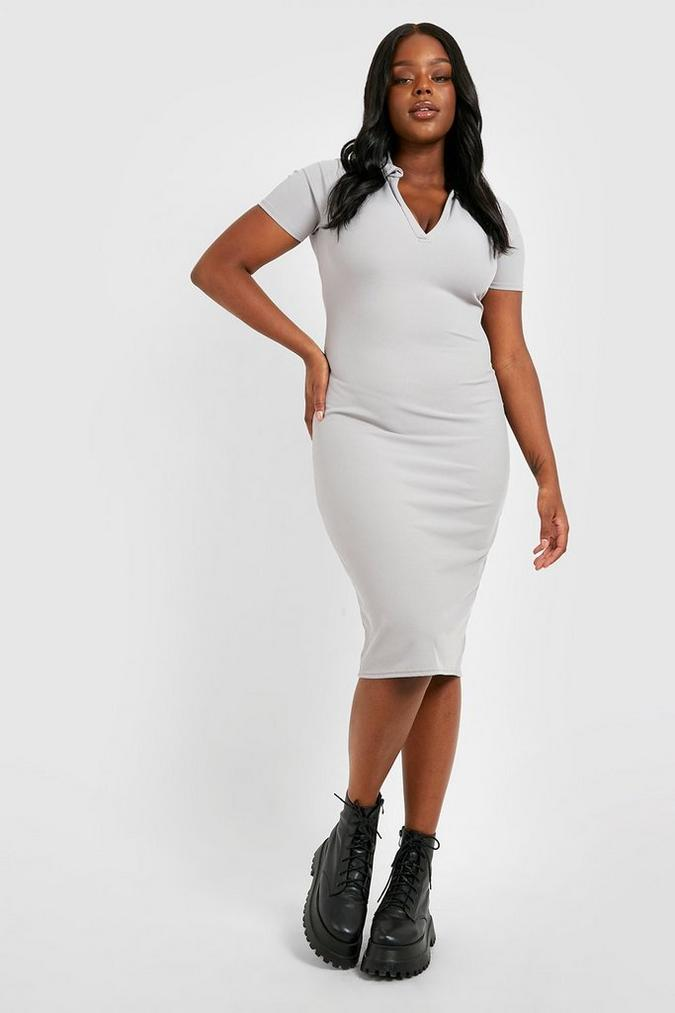 Get it from Boohoo for $16 (available in sizes L–4XL).

9.
An initial ring conveniently designed with an adjustable opening that'll make it super easy to adapt to whatever finger you want to wear it on. A perfect gift from you to you? This.

10.
Fleece-lined tights that will seamlessly weather-proof any (and I mean, any) outdoor outfit with their thick, fuzzy layer. Once you slide on these leg warmers, it'll be even more obvious that it's what's on the inside that counts.
Promising review: "I do not know how I managed to live 39 years before discovering fleece-lined tights. I purchased a pair of black and navy to take home to Wisconsin for the holidays. They are incredible. The fleece is beyond soft and it doesn't add any bulk to the tights (which I was concerned about). I was able to wear dresses in 20-degree weather without my legs turning into icicles, and they really helped keep my feet warm as well." —Blondie, Esq.
Get them from Amazon for $19.97+ (available in sizes S–XL and in five colors; and two-packs).
11.
A lace-trimmed, adjustable racerback tank available in so many colors you might be inclined to buy a couple to go with both your blue and black denim *and* leather skirts. Get ready for your going-out collection to get an upgrade STAT.
Promising review: "Getting one in every color! Love the lace trim. Fits great. Super cute to layer with a sweater, cardigan, or jean jacket. Love the versatility of it!" —Colie Marie
Get it from Amazon for $19.99 (available in sizes S–XXL and 19 colors).
12.
A buttery-soft bodycon maxi dress reviewers note seems like an affordable dupe for a ~particular~ well-known, celeb-owned brand. If you catch my drift, you'll know exactly the one I'm talking about — the one that's consistently out of stock. Seems like we've found the perfect solution to finally getting your hands on a replica, folks.
Psst! Just in case we aren't on the same wavelength with this, I'm talking about about the Skims Long Lounge Slip Dress 😉 (for $78).
Promising review: "I bought a size small, I'd def go down. I WAS OBSESSED over all tho. It fit great, it's quality you pay for but not sheer at all and soft stretchy material. I received soooo many compliments and felt best dressed. Def a dupe for the viral Skims lounge dress. I'll buy this product 100 times." —Kelsey Manzano 
Get it from Amazon for $13.99+ (available in sizes XS-XL and in 29 colors). 
13.
A fuzzy bucket hat, the perfect touch for anyone who believes their look can never be snuggly enough. Plus, this not only looks super cute, but it has a sneaky drawstring inside to allow for an adjustable fit that'll keep your noggin super toasty!
Promising review: "Very warm! I had previously purchased this same hat in black and loved it so much I just bought it again in white. I love that it is adjustable for a perfect fit. It's machine-washable and -dryable...what could be better?" —Deezee
Get it from Amazon for $15.99 (available in six colors).