1.
An Oxo over-the-drain hair stopper, because, no, paddling your feet in a pool of water every time you shower is not the done thing. This little creation will catch clumps of hair like a magnet *before* they make their way to clog up your drains.
Promising review: "I've been very impressed! It's tall enough to fit easily over my pop-up drain and (even without suction cups) the weighted top keeps it in place. I have medium-length hair and seem to shed almost as much as my cat, but the drain protector catches it all and is easily removed and tossed away. Best of all, the silicone doesn't hold on to mildew or mold. I have been able to spray and wipe away any grime with very little effort. It looks like this drain protector will last a very long time. This has been a very worthy purchase!"—Suneimi
Get it from Amazon for $11.99.
2.
A set of ~luxe~ velvet slip covers to update your drab, worn-in sitting area with a living room glow-up that is a lot more affordable than buying a brand-new couch. And it couldn't be easier for a DIY newb, since you just slide these babies over your seating area and secure them with nonslip straps.
This four-piece set comes with a base cover and three individual cushion covers.
Promising review: "I was hesitant about purchasing these since we all know slipcovers are normally a waste of money but these are actually fantastic. Are they new furniture???....well no but they are an excellent affordable 'hold me over.' My furniture was very worn, had some stains, and was definitely starting to embarrass me when friends and family would visit. These completely changed the look of my room and will definitely hold us over until new furniture is an option. I think the pillow covers being individual really do the trick. Please note these are a thinner material so I wouldn't recommend having your pets jump up on your furniture since they definitely wont withstand their nails for any amount of time. I'd highly recommend these to anyone looking for a decent-priced quick fix!" —jessica prasch
Get it from Amazon for $37.49+ (available in sizes M–XL and 10 colors).
3.
Wet & Forget shower cleaner, which *gasp* doesn't require you to do any scrubbing. No, seriously. Simply give the areas in your bathroom that could use some TLC a quick spray down with this...and then rinse off the next day. Plus, it only has to be used once a week!
Promising review: "I wish I took before and after pictures because the results are unbelievable with no scrubbing or elbow grease. We have a stone floor/wall shower with stupid large and annoyingly mold prone grout lines. I used it per the directions and rinsed with hot hot water the next morning, and couldn't believe all the crap that rinsed off. Seriously worth every penny!" —Kate
Get it from Amazon for $17.97.
4.
A shirt folder that you'll be patting yourself on the back for every time you use it from now until the end of time. Seamlessly crisp folding in less than five seconds will make laundry day an absolute breeze, and the space your shirts will now take up in your typically overrun closet? Halved.
Promising review: "My first reaction was 'Why did I buy this?' because when I opened the box and wasn't too convinced by the way it looked. Then I gave it a try with a couple of shirts I had just washed and next thing you know I simply had to do my entire drawer! Everything folds so pretty, neat, and easy. I still couldn't believe it, so I ended up organizing our bedsheets and towels. I am amazed at how much of a game changer this is. It's a must-try! I am in love with how beautiful it leaves my clothes." —Jesus Antonio Vedia
Get it from Amazon for $16.99+ (available in four colors).
5.
The Pink Stuff all-purpose paste and spray (as seen on TikTok) that'll magically clean practically anything and everything in your home — and even in your closet! This potion in a paste reverses wall markings, cooked-on grease, soap scum, shoe scuffs, and whatever else that could use a little abracadabra alakazam.
Promising review: "WOW!!!! This stuff is amazing. I literally just have to spray it, let it sit for a few minutes, come back, and depending on what I'm using it for I either wipe it and it comes right off or I just use a scrubbing pad and it comes off. There's nothing out there that is anywhere in comparison to this product!!!! This stuff is the absolute best. I highly recommend purchasing this. I can tell you that half of my cleaning products are now going to be thrown out because all I need is The Pink Stuff. Whoever invented this stuff is an absolute genius; if you're a clean freak like me this really is the way to go. Also it doesn't have that nasty chemical smell, it smells great. Just buy it; you won't regret it." —Twin33
Get the original cleaning paste and multi-purpose spray from Amazon for $19.99.
6.
Kaleidoscopic window film to provide a smile-inducing light show guaranteed to transport your WFH setup to another realm — just what we need to get over that afternoon slump, if you ask me. Plus, it adds some extra privacy if your place happens to be street level.
Each tile you buy is peel-and-stick, so it's super easy to use!
Promising review: "Not only is this functional, it is SO pretty. It gives my bathroom a totally serene feel. It's easy to install — there IS a film on the back that must be removed. On a corner, use a piece of tape on the front and one on the back, and pull apart until the film comes off. Note: The film is clear; the rainbow effect comes from light being refracted by the film." —Stephanie Graham
Get it from Amazon for $10.98+ (available in 11 sizes).
To learn more about this, check out "Everyone Should Consider Getting This Window Film And Filling Their Home With Rainbows."
7.
An old faithful carpet cleaner that works so well, you might think it's magic. Don't worry — your eyes aren't deceiving you; this formula literally clears up any evidence of (horrific) accidents, sticky soda spills, pet stains, and shoe markings from your light-colored carpet.
Promising review: "Better than the best! This stuff cleans grease off of chinos. Yes, we did purchase it to clean the rugs in our motorhome and it reliably cleans them like new as I can't convince the spouse to remove his dirty shoes. Beyond rugs be sure to try it for clothing spots as it's better than those stocked on grocery store shelves and leaves zero residue, even on chinos. Blot the moisture out, let dry, and ready to wear. If you have pets, order the large size as you'll find it indispensable. Doesn't take much to do the job, just a little spritzing, wait a few moments and rub with a clean rag or towel for rugs. My order included two bottles; one loaned to a friend to try and now she won't give it back." —Sharon l. smith
Get it from Amazon for $8.05+ (also available in multiple packs).
8.
A set of bedsheet holders — the swoonworthy solution you've been looking for to hold crumpled sheets in place. And if your covers happen to have lost a couple of inches in the dryer, these'll make sure they don't creep around when you're trying to find your comfy, still spot.
Each pack comes with four bands which can stretch from 12 to 18 inches and hold adequate tension.
Promising review: "Say goodbye to rearranging your fitted sheet every morning! My boyfriend sleeps like he's rolling down a hill, so every morning I would wake up to the scratchy feel of my mattress cover because my soft silk fitted sheet was all over the place. Thanks to these bed bands, our sheets stay put no matter what. The only way for your fitted sheet to come off is if you manually remove these first. I wish I would have bought this so much sooner." —Khalysee
Get a pack of four from Amazon for $12.99 (available in three colors and four pack sizes).
9.
A marvelous arched cabinet, aka the answer for tidying up your cluttered dining table that's currently being used as a landfill for miscellaneous items rather than an actual dining area. This beauty is adored by reviewers who say it's totally worth the splurge, since it works as both a storage *and* display item....excuse me while I swoon over this for you.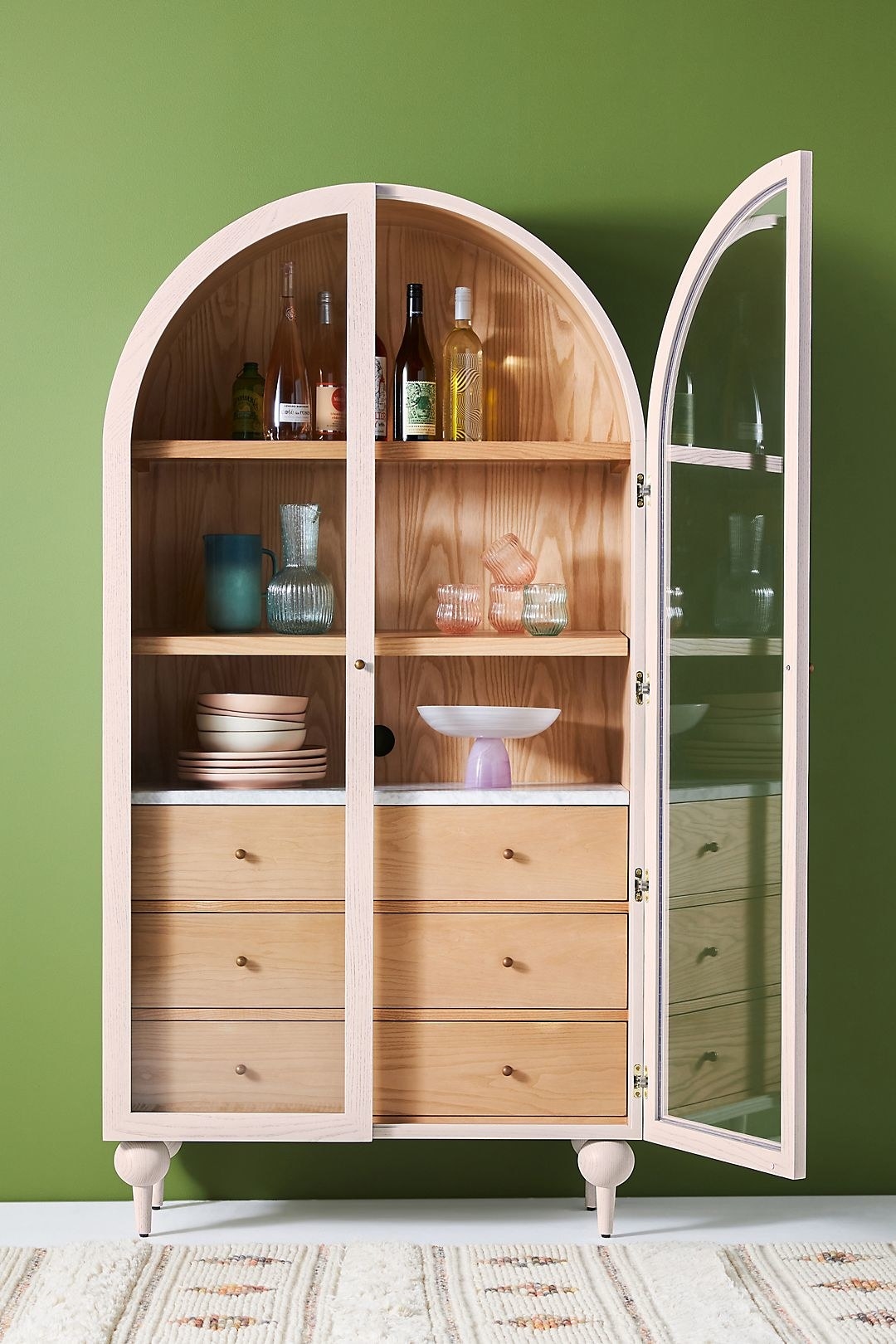 Not to mention, this has soft-close doors, a marble shelf, and...*gah* gold fixtures! 

Promising review: "Couldn't be happier with this purchase! Not only is this piece absolutely beautiful in person but the quality is amazing. Definitely something that I will hold onto forever! Very very happy with my purchase. Worth every penny!" —Emel
Get it from Anthropologie for $2,498 (available in four colors).
10.
Affresh dishwasher tablets if you've never thought to deep clean the appliance that does your least favorite chore for you. All you have to do is pop one of these in to dissolve residue buildup, blast away foul odors, and get your machine cleaning dishes like it used to.
Promising review: "I've been using this product for a while and I've started to a rely on it. I first used this out of desperation. My dishwasher was broken from a fried control panel. I eventually replaced the panel. I opened the dishwasher and it was fairly gross. A little stagnant water gave way to some mold. I found this product and figured I'd give it a shot. I did need to use this two or three times before the dishwasher was cleaned and usable. But I find that a major win considering the shape it was in beforehand. Now I use it every month or two and I have to say way easier than cleaning by hand. Definitely worth the price I paid." —Justin
Get a pack of six tablets from Amazon for $8.99.
11.
And some for your washing machine, because laundry day doesn't have to stink. These fast-acting tablets eradicate funky smells and nasty buildup from the edges of the drum in just a couple of cycles.
Promising review: "So impressive! These tablets really get rid of the funky smell in your washer. I use one on the factory setting for tub wash on my washer and then after that, run a regular cycle to make sure all the tablet residue is gone. Once a month is all it takes! Big difference!" —Bendy W
Get it from Amazon for $6.99+ (available in packs of three, five, and six).
12.
A set of clear stackable drawers to spark so much organizational joy, your search for meds, hair accessories, nail polishes...whatever will finally be less of a headache-inducing treasure hunt. Plus they're sleek enough to be out on display and compact enough to fit inside of cupboards.
Promising review: "These drawers are just what I needed to organize loose items under my bathroom counter! They fit all of my nail polish perfectly. I wasn't expecting them to look so nice, and had planned to put them under the sink. I was very surprised by the quality and have kept them on my counter for easier access. I'm very happy with these drawers and I'm going to buy a couple more to stack under my sink. Since they can be customized by stacking, they're a great way to organize around those annoying pipes under the sink." —Katie Steinberg
Get it from Amazon for $24.99+.
13.
A grout pen if your tiles have become so unsightly you've forgotten what color the lines that separate them are. (Spoiler: they're white!) You'll feel instantly gratified with how well this brightens up floors in your bathroom, backsplashes in the kitchen, or literally wherever tiles live in your home.
Promising review: "I just bought my first house and because of COVID I have not had the funds I wanted to fix it up. This was cheap and the backsplash in my new kitchen was an eyesore. I wasn't expecting much because of the price and I am absolutely stunned. My kitchen looks so much better! It was easy to use, no odor, and quick! I did two coats because the color was dark brown. Some places I did more but I didn't mind doing it because it was actually really satisfying. Definitely recommend this product!" —Kim
Get it from Amazon for $8.99+ (also available with a wide tip).
14.
A glass desktop dry erase board to optimize your once groan-worthy workspace and save you from hoarding (and losing) a bajillion sticky note reminders. It even comes with a hidden storage drawer so you can *appear* to be keeping everything organized, even if your schedule isn't.
Promising review: "This thing is absolutely perfect. I highly recommend for those of you working from home. I needed a white board but really didn't have the space nor did I think a stand-up board would be functional for me. This is the perfect solution. I have it set out right below my extra monitor and it is at my fingertips whenever I need to jot down an action item for myself. It has significantly helped to reduce my number of sticky notes. Helps to make my desk space cleaner and more efficient-looking, which helps me to work better."—Shannon
Get it from Amazon for $30.99+ (available in six designs).
15.
A peel-and-stick faux-tile backsplash so you can ~cook up~ a new look in your kitchen without the hassle. They're probably the easiest way to modernize your space, and what's even more fabulous? These are mold-, heat-, and moisture-resistant.
Promising review: "We did a kitchen facelift this summer, repainting and making everything look fresh. We were looking at The Home Depot version of these, which are more than double the price. We decided to go for these instead and they are amazing!! I put them up myself in about two hours. I did buy the adhesive spray just in case but it wasn't needed, even for the few I had to peel off and re-stick to center correctly. These aren't too difficult to apply but definitely require patience. 100% worth the buy for a DIY affordable update!" —Hope Consilvio
Get a 10-pack of 12x12 tiles from Amazon for $29.99 (visit the shop page for more colors, including a multi-color one, a white marble one, and a brown one).