1.
Edison bulbs to switch up your living room lighting from stark white to ambient as heck. These beauties are dimmable and illuminate with a warm ~vintage glow~ for the definition of a low-effort, high-impact upgrade.
Promising review: "Well, I've only just received them but I'll tell you, I'm already in love! I paired it with this industrial/steampunk type lamp to improve my working-from-home conditions and it illuminates my keyboard just enough. It's just the glow I was looking for and perfect for the look I had in mind. I've never reviewed anything before, but I felt compelled. I'm pretty new to ordering things online and so I'm still kind of hesitant, especially when considering ordering something as fragile as light bulbs : ). However, they were carefully packaged and in perfect condition. I will definitely be ordering more!" —jshort
Get a four pack from Amazon for $19.99+ (also available in a six pack and in three styles).
2.
An ~artistic~ area rug so elegant, it'll elevate your space with style and sneakily disguise any unsightly scuffs that have probably lived in your home rent-free for years....
Promising Review: "I don't normally write product reviews but this one was too good to not! The rug exceeded my expectations. Not only was the price very affordable, but the quality of it is beyond amazing. It's soft and very lightweight for when you need to deep clean and hang it to dry outside. I had our elder dog pee on the corner of it, and I was able to treat it and take it outside to dry in the sun. What would have been a two-person job, I was able to do myself because of how light it is. It really changed the appearance of a room. Definitely makes the house feel more homey. So happy with my purchase!" —Patty K
Get it from Amazon for $28.72+ (available in 16 shapes and sizes and in four colors).
3.
An insulated tumbler that actually keeps drinks cold for HOURS. You'll probably want it in every marble and ombré design, because, I don't know about you, but staying hydrated never looked so dang stylish.
Psst! This also keeps hot drinks toasty for hours. And it comes with two reusable straws and flip top lids!
Promising reviews: "Another 'TikTok made me do it' purchase. I love this tumbler. This is the most gorgeous simple tumbler you could get. It comes with two different lids, one for straws, and one for sipping. It also comes with two plastic straws but you can use stainless steel ones instead if desired. The cup keeps your drinks cold or hot and is fairly durable. Although the straw lid is not 'spill proof' it is fairly resistant. My 2-year-old loves to carry it around and use the straw, it usually doesn't leak if it's knocked over! Overall the wait for this particular color is well worth it and I plan to buy more!" —Sinaxis
"LOVE!!! This is exactly what we wanted — a cup that truly keeps cold drinks cold, with ice. It lasts 24 hours+. We have tried, at friends recommendations, Tervis, Yeti, and generic store brands and they — even Yeti!!! —were fails compared to this Simple Modern. The description states it has a copper lining. The copper must be the extra-special insulation that the others lack. Everything about it is outstanding: the color, the size, fit, feel, no spills or troubles, and ICE cold retention (most important feature). We haven't tried it on hot but since it's so trustworthy in cold, we're certain it keeps hot HOT, too." —Doreen Bowler
Get it from Amazon for $14.99+ (available in five sizes and 32 colors).
4.
A marvelous humidifier tank cleaner, which looks after your misting machine that's saving you from becoming dryer than a lizard. This cartridge "swims" as it cleans to prevent any gross buildup for up to 30 days.
5.
A pack of Crayola Globbles if you're looking to keep your little ones' hands busy all holiday season (and well into the new year). With these bright and colorful sticky globs, the fun and entertainment never stops. Plus, no need to panic, parents — reviewers say these don't leave any sticky mess on the surfaces they're hurled onto, and the globs themselves are super easy to clean.
Promising review: "I waited over two months to write my review! My daughter is 4 and plays with these DAILY! YES they do attract dirt and hair HOWEVER they are so easy to rinse off it's not a big deal! We took these to a family gathering and ended up giving two away because they were SO loved! The two we gave away went to a 12-year-old and my 19-year-old brother. They discovered throwing them at the ceiling fan and watching them shoot across the room which was pretty entertaining! None of these have busted or ripped and they are definitely NOT gentle with them! I will definitely be buying more!" —Kindle Customer
Get a pack of six from Amazon for $10.69 (also available in a pack of 16).
6.
Trendy light switch plates to swap out the plain ol' plastic covers you're currently sick of looking at. These gorgeous things will bring a smile to your face every time you go to flip the switch — aka a quick fix that took very little effort. HGTV, who?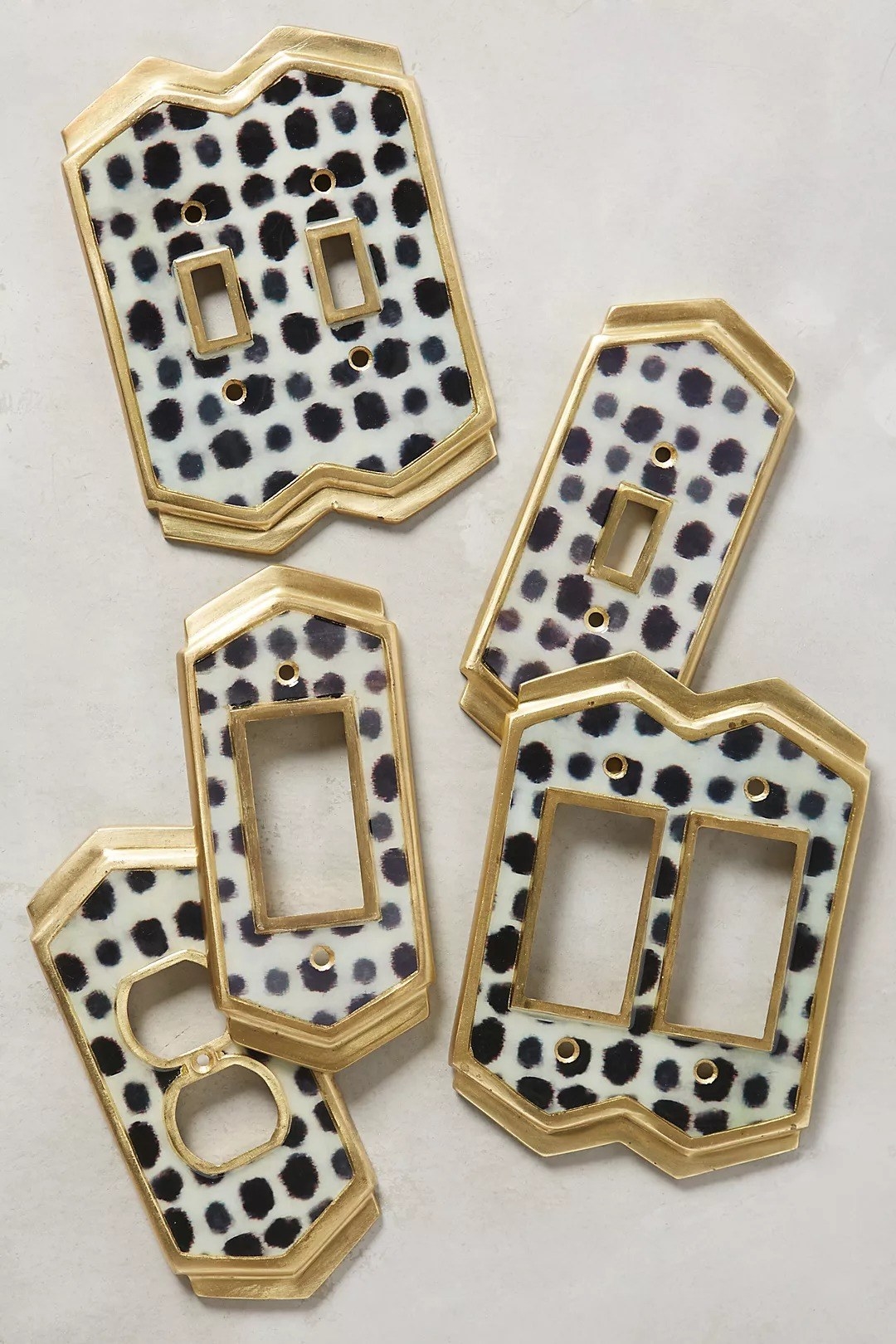 Pssst! These are backordered until March. Snag 'em now and get them just in time for a spring ~switch up~.
Promising review: "I was really pleased with these. They look and feel high quality and were very easy to install." —Anthropologie Customer
Get it from Anthropologie for $22+ (available in five styles).

7.
A set of packing cubes you'll want to take a top-down shot of because you'll be impressed with how tidy *and* Instaworthy they make your vacation 'fits look. It's just a bonus that over 5,000 people love these for their ability to make packing, unpacking and retrieving belongings, and then repacking a buttload more efficient.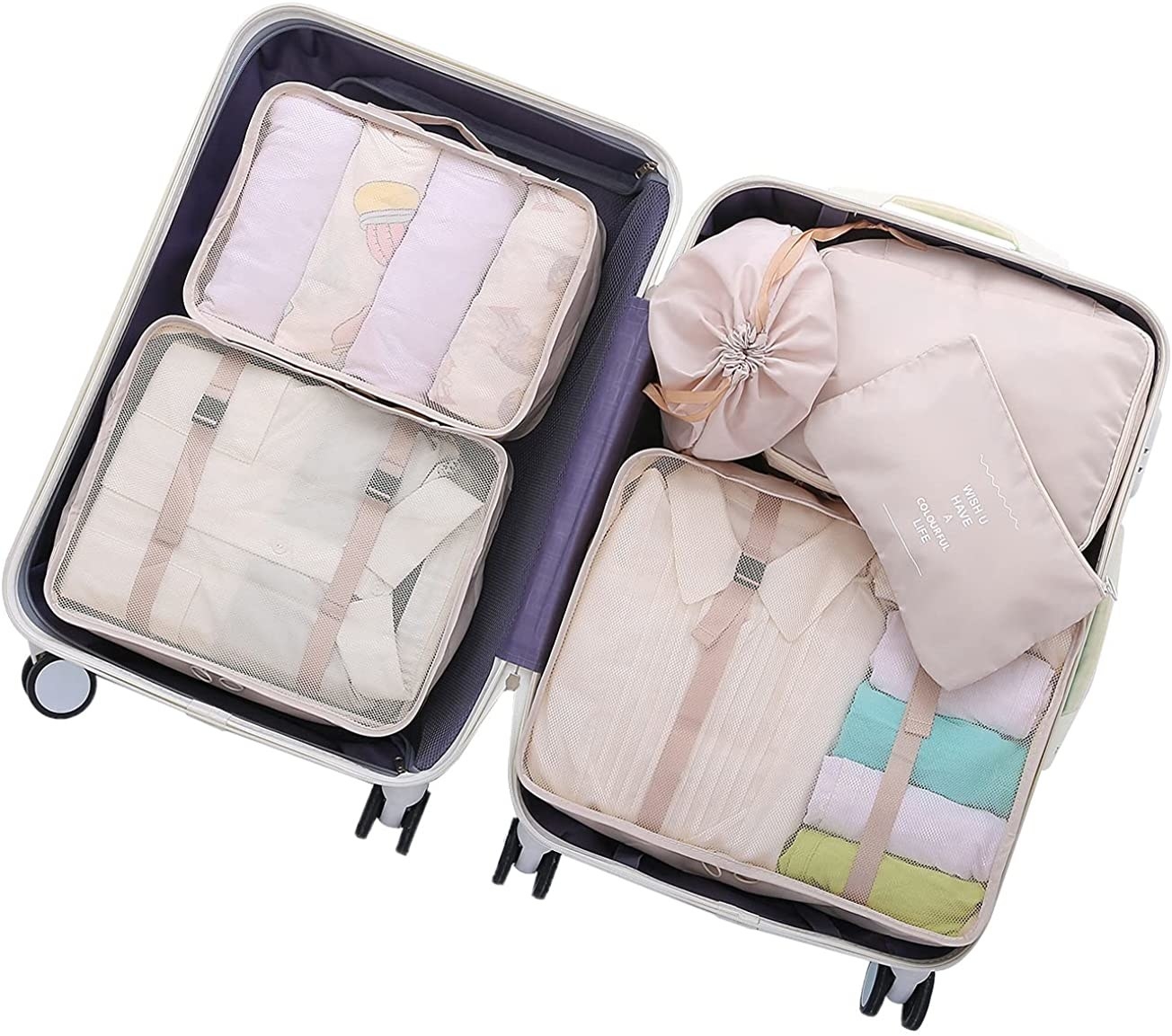 The set includes three different size packing cubes, one bra and underwear bag, one shoe bag, and one bag for your toiletries.
Promising review: "When I first became aware of packing cubes, I thought they seemed completely unnecessary and a waste of precious suitcase real estate. Then a friend gave me these as a gift to celebrate my impending trip to Iceland. I'm now a devout convert! These little devils saved me so much time and aggravation I still can't believe it. When I got to my hotel room, it took me exactly six minutes to unpack and put stuff away. Getting dressed in the morning was faster because used items were in cubes separate from fresh. Packing to return home was faster because, well, I was already basically packed. I just popped the cubes back in the suitcase and voila." —Robin Osbourne
Get the six-piece set from Amazon for $15.99+ (available in eight colors and also as an eight-piece).
8.
An unbelievably adorable display stand so your glasses have a designated place to live when they're not resting upon your nose. You can now bid the hours that turn into days spent trying to locate your spectacles adieu.
Promising review: "I usually store my glasses in their case. I don't know why that's such a hassle, but I like to be able to just reach for them. But they are also unsafe when they are just sitting on my desk. This little koala solves my problem! He holds my glasses securely and does it in the cutest way possible. Now I can sit at my desk, grab my glasses, and get to work with a smile on my face. And at the end of the day, I just leave them with my koala for safe keeping. Seriously, just get one. I haven't lost my glasses once since I got this." —Bianca
Get it from Amazon for $14.99+ (available in 11 styles).
9.
A clever and sleek-looking morning and night dog feeding tracker you'll be so happy you bought — especially if you can never seem to remember if you gave Sparky his breakfast.
The gadget comes with adhesives on the back so it can be mounted just about anywhere to keep track of feedings from a.m. to p.m. Sunday through Saturday. The sliders "click" into place when moved, so you don't have to worry about bumping into them and messing up the system.
Promising review: "Awesome product! There are four of us that are working together to feed the dogs. It simplified everything because I no longer have to text to see if anyone had fed them every morning. Now I just see if it's green and if not I feed them and indicate it; we all love it so much!" —Toni Deegan
Get it from Amazon for $10.95+ (also available in different pet versions and trackers that monitor if you've brushed your teeth and medicated your dog, plus one for yourself).
10.
A chic and insulated crossbody water bottle bag from Calpak that's designed to give you pure hands-free bliss when you're carrying around your essentials. Perfect for the plane, beach, or basically any outdoor excursion.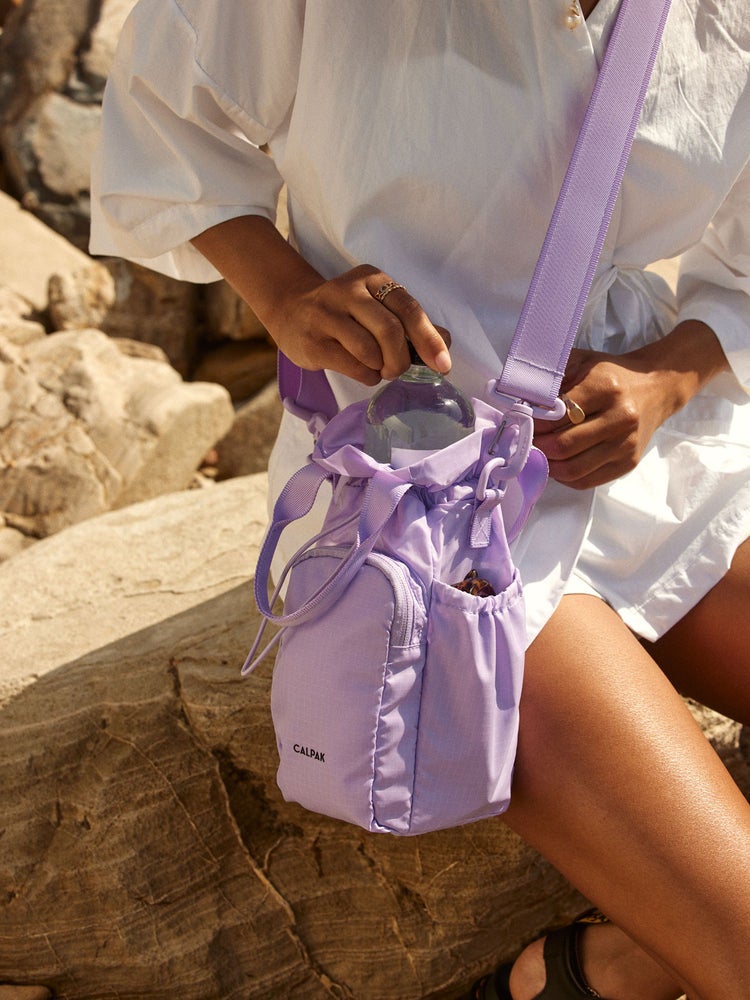 Promising reviews: "I'm pretty much obsessed with this bag. It allows me to take the necessities, which are my iPhone13 Pro Max, 32 oz water bottle (which never fits in anything and fits in this with a bit of room), keys, wallet, headphones, and mask and still leaves room for any small items I may collect during the day. I also like that it has two handles and a crossbody strap. It's also very adjustable and comfortable to wear while riding my bike. I got the plaid which is flipping adorable and will probably get black too!" —Calpak Customer

Get it from Calpak for $42 (available in five colors and patterns).
11.
A glamorously modern floor-length mirror whose simple yet totally sophisticated shape will shine a light into any room. Place this smack bang on a wall, have it leaning, or just standing upright to open up your space and make every area appear *10 times* the size.
Promising review: "I am obsessed with this mirror! I've been looking for a high-quality mirror for quite some time now and finally found the one! I chose the recessed one because it's unique, and the recessed lip gives it a modern yet sleek design. Although I was a little hesitant to order a mirror online, afraid that it would be distorted or cracked, it arrived in perfect condition. I am in love with this mirror I haven't been this excited about a new piece of furniture in years!! You really can't beat the price. The mirror helped tie in together the look I was going for. If you're looking for a new mirror to help brighten up your living space, this is the one for you! Theres a wall mount attached to the back or you can lean it up against the wall like I did. I love it, my friends love it, all around best mirror!" —Elle
Get it from Amazon for $219.95 (available in three sizes and in either recessed or slim lips and with gold, black, or silver finishes).
12.
An ingenious (and adorable) scrunchie with built-in storage you can use to discreetly stash your cash, extra bobby pins, lip balm...whatever you need to keep handy when you don't want to carry around extra weight.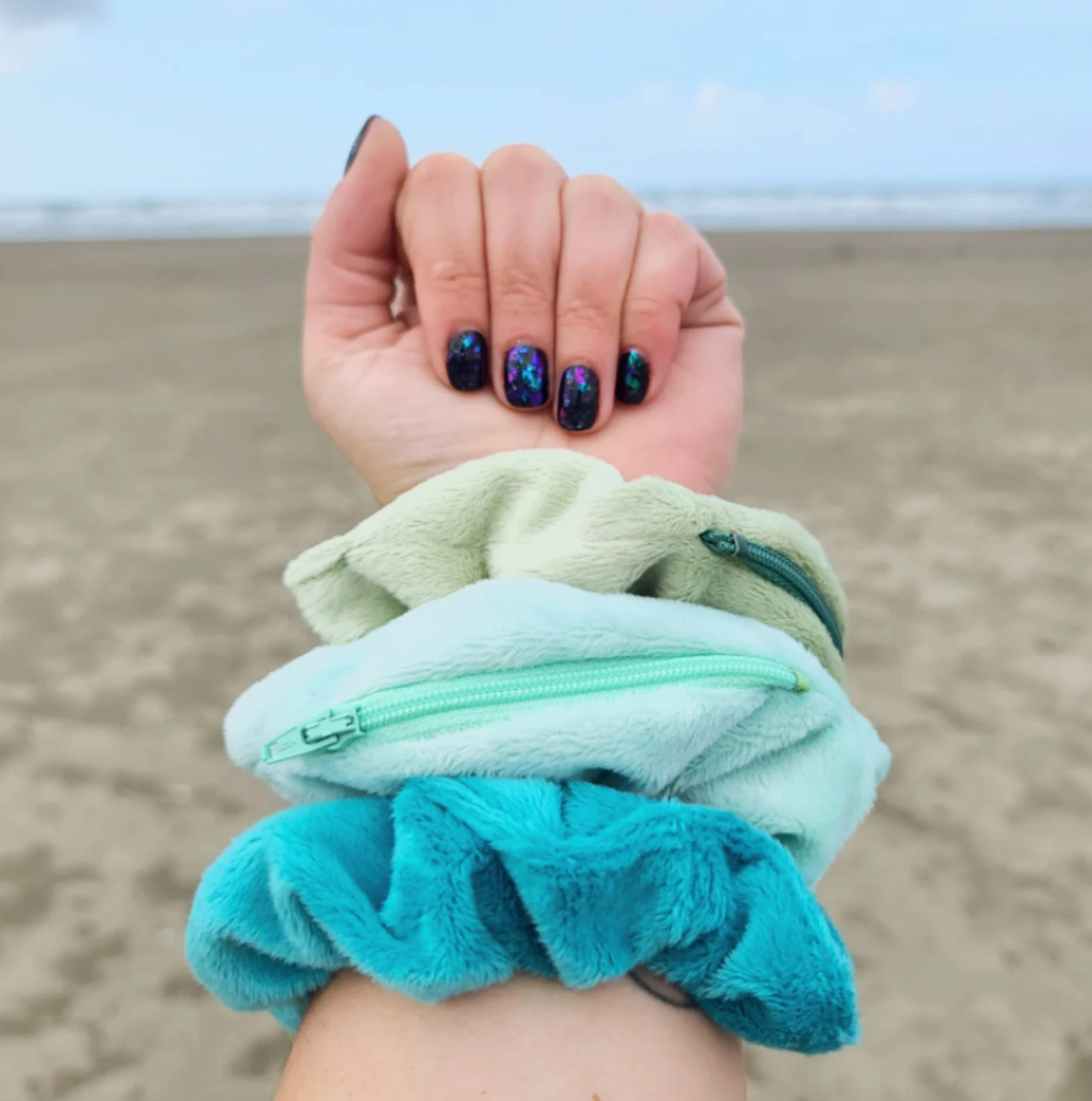 Hustle Sew Shop is based in Oregon and hand-makes goods like face masks and scrunchies.

Promising review: "Love this scrunchie! This is perfect for when I walk my dog; it fits my house key, Chapstick, and treats, and STILL holds my hair up! I will be buying more for friends in the future. Highly recommend." —Sarah Dickinson
Get it from Hustle Sew Shop on Etsy for $8 (available in six fabric colors and three zipper colors).