1.
Seraphic Korean Skincare Exfoliating Mittens slough away dead skin to reveal visibly (and touchably) softer arms...legs...bums...literally wherever you want to use it — and much more effectively than your worn-in loofah!
I can attest, this thing is like witchcraft in a mitt. I use this weekly to rid my skin of dullness and dryness. And I'm not joking, my arms, legs, tummy, bum, literally everywhere this thing graces becomes 10x smoother. It's now part of my routine before I shave — and if you think a razor can give you slick skin...paired with THIS, oh boy, you haven't seen (or felt) anything yet. Is it gross to see a week's worth of skin trickle off your body and into the tub with you? Yes. But is it oh-so-satisfying to get a closer shave? You betcha. Oh, and for me, I feel like this has stopped ingrowns in their tracks, too, because it lifts layers of skin before they harden and become more of an ish'. Basically, if you're looking to up your shower time routine, give this a go. Being gentle for the first couple of uses is key, and then once your skin becomes more tolerant, you can increase the pressure you apply. I can't wait for you to see how you and your skin like it!

Promising review: "I'll be honest; I thought this would be another thing I saw on Amazon via TikTok that was way overhyped. I have dry skin, and despite using lotions, oils, and gentle body washes, I'm ashy. This thing is incredible. I don't think I've ever been this exfoliated in my life! Not a single flake or scaly patch in sight. 1,000/10." —Ruth Bromberg
Get it from Amazon for $7.99+ (available in a one-piece and two-piece option). 
2.
L'Oréal 8 Second Wonder Water Lamellar Hair Treatment works like a treat in eight, yes, you read that correctly, EIGHT seconds to transform fine to curly textures. Think: mirror-like shine and softer-than-soft locks in less time than it takes to pull a rabbit out of a hat!
Apply this directly to wet hair, avoiding the roots, massage it in for eight seconds, then rinse. Effort required = practically zero. You can use one dose for fine- to medium-textured hair, two to three doses for thick- to curly-textured hair, and add one more dose if you have long hair.
Promising reviews: "I don't usually do reviews on products, but for this one, I absolutely have to. I have 3c type hair and struggle a lot with breakage, unmanageability, and moisture. When my mom mentioned this product to me, I didn't take her seriously because of the simple fact that we have two completely different hair textures. I never would have thought this brand would work on my hair. I have never in my 22 years felt my hair like this. I feel like I have a completely different head of hair. This product is so amazing, and I will FOREVER be using this product in my hair regimen. Thank you so much!! ♥️" —Theressa Hailey
"I have never had a hair product make such a fast and wonderful impact on my hair EVER! I have naturally good hair. Long and shiny.....until I went to Madison Reed and had most of it completely damaged beyond belief. My silky strands felt like hay. They were breaking. I was masking, conditioning, oiling, air drying, not brushing it, and still, it was a total tragedy. I turned to the TikTok gods and found this. ONE USE OF EIGHT SECONDS completely restored my hair to its soft shine down to the ends! If I did not use this myself, I would never have believed it. Thank god it is so reasonable in price. If you are anything like me — your hair is your crown, and when changes happen to it, it is devastating until you find a way to make it work. This stuff is a miracle product. I love it!" —Sonia

Get it from Amazon for $8.74.
3.
CeraVe Salicylic Acid Body Wash says "see ya!" to scabs left over from picking ingrowns and "au revoir!" to keratosis pilaris flare-ups. This exfoliates without the rough, physical microbeads and buffs away bumpy skin while smoothing — thanks to hyaluronic acid and niacinamide.
See why this TikToker swears by this body wash.
Promising review: "My 6-year-old daughter has keratosis pilaris, commonly known as 'chicken skin.' This year it really flared up during warm weather so I gave this wash along with lotion a try. Wow, I saw results after just a few uses and after a couple of weeks most of her bumps disappeared. Thrilled we skipped a trip to the dermatologist! Can't beat this price for the results either." —Ashley Steigerwald
Get it from Amazon for $13.99.
4.
Schick Dermaplaning Razors carefully take care of any unwanted peach fuzz, plus keep your eyebrows lookin' on fleek. The blades are designed with built-in guards that won't hurt your skin, plus they come with an extra attachment for salon-precise eyebrow shaping.
This tool also helps soften skin by gently exfoliating as you use it!
Promising review: "I saw these on TikTok and was skeptical but they work so well. I use them for any facial peach fuzz and to shape my eyebrows and they're perfect." —Megan Kopicko
Get a set of three from Amazon for $5.67 (also available in a nine-pack).
5.
Essence Lash Princess Mascara achieves skyscraper, falsie lashes at such a gasp-worthy price, 24,000-plus reviewers haven't been able to shut up about it. Yep, this holy grail sculpts lashes at only $5 a tube, which, if you think about it, is less than a fancy coffee order!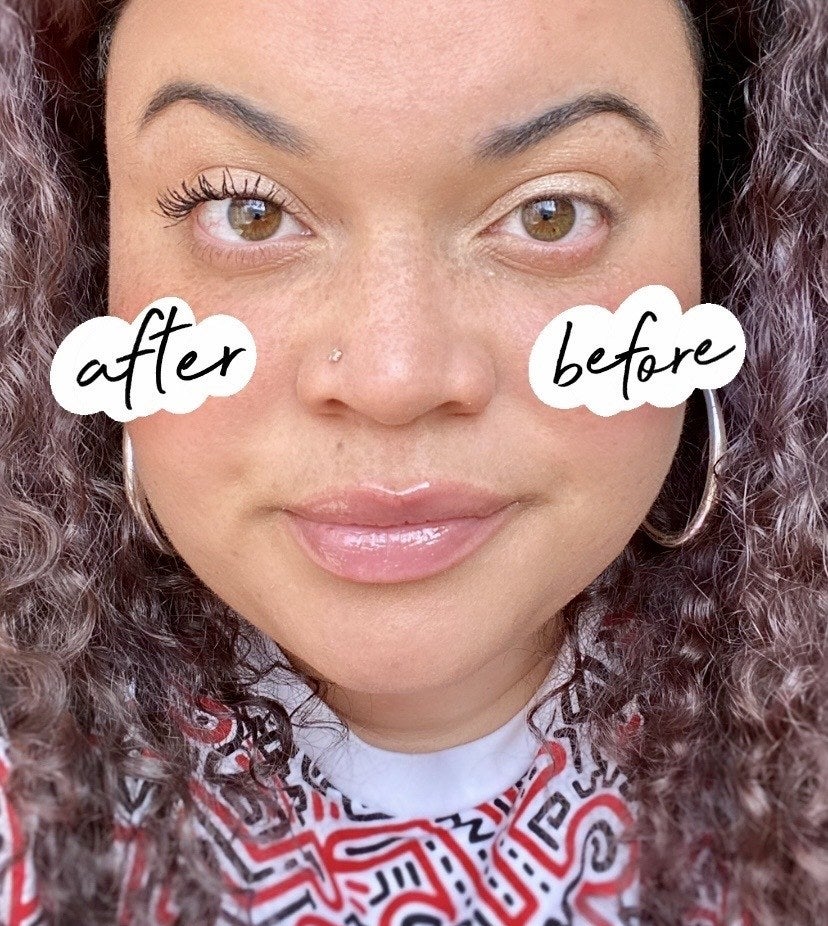 And this is cruelty-free!
BuzzFeed Shopping editor Kayla Boyd tried this out and raves: "As someone who isn't a big fan of false lashes (the glue irritates my eyes, and I'm terrible at applying them), this budget-friendly holy grail does the trick for both lengthening and volumizing my lashes. After you've given it a minute to dry, it lasts all day long and doesn't smudge or fade. It seriously gives the effect of false lashes, without the discomfort."
Promising review: "After using Lights, Camera, Lashes by Tarte for the past year, I got tired of breaking the bank over mascara. My sister suggested Essence Lash Princess False Lash Effect, and I IMMEDIATELY fell in love. It provides dramatic length and great volume. I can honestly say I can't stop looking at my eyelashes in the mirror every single day because of how awesome they look. Also, it is very long-wearing. I go from an eight-hour work day right to the gym and sweat like wild...and this stuff doesn't budge! I love it!!" —Carrie E Weikert
Get it from Amazon for $4.99 (also available in multipacks).
For more info and review pics, check out Kayla's full Essence Lash Princess Mascara review!
6.
SoCozy Leave-In Curl Conditioning Spray turns your *and* your little one's after-shower bedtime ritual into one that's a little more manageable (plus features soft, fanciful curls and ringlets). This stuff will gently detangle and restore tresses, all without the use of harsh and nasty chemicals.
Check out a TikTok of the SoCozy Curl Spray in action. Reviewers say this spray will leave wavy or curly hair (from 2a–4c hair) shiny, soft, and bouncy. And it's free from parabens, sulfates, phthalates, synthetic colors or dyes, propylene glycol, gluten, wheat, and nuts!
Promising review: "This is the BEST product EVER! I will never use another hair detangler ever again. We use this product daily in my house, my daughter, my son, and me. Both of us girls have long and thick curly hair, and it allows us to brush through our hair with no problems! And my son mostly uses it to style his hair before gel, and because it smells so good! We tried a few products from Walmart, Ulta, and Target, and nothing was good enough. This is now on my Subscribe & Save every month!" —Tamira McLelland
Get it from Amazon for $7.99 (also available in multipacks).
7.
Cosrx Snail Mucin 96% Power Repairing Essence absorbs into skin quickly with its lightweight — but hydrating — formula that delivers on renewing damaged skin. Reviewers rave about its ability to help heal acne scars, fade dark spots, and smooth fine lines. AKA you might even see results even after the first use!
8.
The Colossal Foot File tells pricey pedis to beat it once and for all, since it reverses crusty feet epidermis back to its OG baby-soft state. If you want to let your hooves see the light of day, this miracle worker will gift you with brand-new skin that you'll be proud to parade around.
Promising reviews: "I heard about this from either BuzzFeed or TikTok and thought I might try it. I don't have terrible feet, just wanted something a little more effective than a pumice stone. I soaked my feet for 10 minutes and gave this a shot, and it did not disappoint! I had no idea it could get so much dry skin and callus off, and my feet have not looked like this since I was a teen (I am in my 30s). This will eliminate the need to go get a pedicure regularly and save me a ton of money. Don't hesitate, just buy it." —KR

"AMAZING!!! Seriously beyond impressed with this product. I've never had dry or cracked heels until recently, and I've tried everything I could find to get rid of them. This is all you need!!! I literally opened the box and did this in less than a minute! I'll never use anything else! Even better than professional pedicures!!!" —Kyla Jackson
Get it from Amazon for $9.99.
9.
Maybelline Age Rewind Concealer treats *and* defeats dark circles, puffiness, and fine lines that are taking up prime real estate around your delicate eye area. This comes with a built-in sponge applicator so you don't even have to *think* about using another tool when your mind is still on snooze.
Promising reviews: "I swear by this neutralizer! It covers my dark circles incredibly well (and instantly!), and the coverage is still light and never cakey. I love that it dries and sets very fast as well. This will not crease if you are applying it properly on the area. I have tried EVERY under eye-circle product that exists, and this is now my one and only. I can never find it anywhere except for Amazon, and I'm happy that they offer it." —Jasmine
"I bought this after seeing a TikTok, and I am very glad I did. I am NOT a makeup expert — but this product allows anyone at any level to successfully conceal under eyes." —Jennifer
Get it from Amazon for $8.80 (available in 16 shades).
Want to know more? Check out our full Maybelline Instant Age Rewind Eraser Concealer review (#4).
10.
Fanola No Yellow Shampoo tones and neutralizes yellow hues in preexisting blondes with a purple pigment. The result? Icy blonde tresses that a) didn't cost you $100+ for a salon treatment and b) look like they belong on a hairspo Pinterest board.

Promising review: "I'm not one to leave reviews...but this product deserves it! Holy cow! I was going to go into the salon to brighten my hair up, but after discovering this product I cancelled my appointment. I'm totally in love! This shampoo is not drying at all and just after two washes I achieved my desired results! I can't recommend it enough!" —Rachael B.
Get it from Amazon for $15.94.
And check out our Fanola No Yellow shampoo deep dive.
11.
And John Frieda's Brilliant Brunette Shampoo elevates brown hues with shine-locking ingredients like natural cocoa and evening primrose oil. Expect deeper, richer, natural-looking shades — even after one wash.
BuzzFeed Shopping editor Heather Braga says: "I recently received samples of this shampoo and conditioner and, honestly, wasn't sure if it was only for people who had dyed their hair dark. In fact, it is not! It's for brunettes of all kinds — natural and all!"
Promising review: "I purchased this John Frieda Brilliant Brunette Shampoo and my hair looks golden brown instead of brown with a lot of gray underneath. I didn't want the mess of coloring my own hair nor did I think I could do as good a job as my hairdresser, so I was so pleased that Frieda's shampoo did the job. I definitely recommend this shampoo along with the Brilliant Brunette Conditioner." —Dan Cremeans
Get it from Amazon for $9.79 (also available in a two-pack).
12.
LilyAna Naturals Eye Cream depuffs and softens the skin around tired eyes with a rosehip and hibiscus-infused potion. Over 19,000 admirers gave it 5 stars, so do your morning and nighttime routine a favor and add this to the lineup.
Check out this TikToker's review after a year of using this magic sauce!
Promising reviews: "I just started to notice fine lines appearing under my eyes, so I ordered this eye cream on a whim, and it is SO WORTH IT! Major game-changer. I noticed a huge difference not only in fine lines but also in under-eye darkness and puffiness in only one week! Highly recommend this product to anyone and everyone, I have extremely oily skin, and I put this all the way around my eye and haven't had any breakouts, not to mention my skin is super smooth, which makes makeup application a dream. 10/10 product, will purchase again!" —Katherine E Brings
"I'm 26, so I wanted an eye cream for preemptive measures. I had seen this one on TikTok, and it had amazing reviews so I figured I'd test out. I have now religiously used it every night for about a year or so. It is easy to dispense, you only need a small amount, and it keeps my under eyes so smooth. I love it and have bought four of them so far. Definitely recommend." —Taylor Mulligan
Get it from Amazon for $14.99+ (available in three sizes or a two-pack).
13.
Juno & Co.'s Clean 10 Cleansing Balm removes every little speck of makeup so well that reviewers are calling it "amazing." Yep, even your stubborn waterproof mascara won't stand a chance up against this. Its balm-like consistency features Japanese pearl barley, which melts into the skin to hydrate and brighten while cleansing away impurities sans irritation.
Promising review: "I LOVE THIS PRODUCT!!!! I found it on TikTok and OMG!! It works so well. I don't have to sit there and rub the crap out of my eyelashes to get the waterproof mascara off. I will admit, it doesn't take 100% of the makeup off but about 95% of my makeup comes off. It is not water-resistant, as emulsifying it with water helps take the makeup off. I have not found a better makeup remover, and yes, that includes micellar water (which also works well but leaves my skin feeling oily). With this cleansing balm, my face feels hydrated and smooth. LOVE LOVE LOVE IT!!!!!!!! 1,000/10 would recommend!!!" —Deetje Frederick
Get it from Amazon for $14.99. 
14.
Revlon One-Step Hairdryer and Volumizer Brush handles two jobs in one go at a fraction of what you'd pay for one of those high-end styles (that frankly have so many attachments it has our head spinning). This also cuts your routine in half so you can achieve silky smooth, frizz-free locks in ~30 minutes.
Folks, one of my favorite purchases over the last couple of years has to be this godsend from Revlon. I've never been much of a blow-dryer — I never had the patience, energy, or the technique for that matter. But then in swoops this 2-in-1 tool to give my hair the glam of Jackie O in just about 20 minutes. I have relatively thick, wavy, shoulder-length locks and I've never enjoyed witnessing a transformation quite like the one I'm able to achieve with this styler. Giving myself a quick, ~salon-worthy~ blowout for morning meetings has been my new way to feel a little less disheveled for the day.
Promising reviews: "I never write product reviews, but this brush is amazing! I have curly/wavy hair that is past my shoulders, but very fine. If I don't blow-dry and straighten it right away it gets very curly and frizzy and has always been a pain to blow-dry and flat iron. I have never been very good at blow-drying with a round brush and have always relied on the flat iron to get my hair smooth after drying. With this brush, I can let my hair air dry for a bit, and then use this, and I don't need to use the flat iron at all. My hair looks so full and bouncy that several people have asked me if I just got my hair done. Honestly, with this brush, it looks better than when my hairdresser blow-dries! It is so easy to use and takes way less time to do than blow-drying. My only complaint is that the handle is a little big and hard to hold on to, but that is fairly minor. Also, I was worried about it getting tangled in my hair, but so far I have been able to wrap my hair around the brush and not have any issues getting the brush out. I love it!" —Bostonchick

"I used this to blow out my hair for box braids. The first time it gave me this beautiful fro (I have a mix of 4a, 4b, and 4c coil patterns). Being that my hair is thick and has those patterns I did use it twice in order for it to be easily braided. I blew out my hair and honestly I loved the look. My parents said it reminded them of Afros from back in their day! A compliment in which I enjoyed!!! I can't wait to do this look and actually rock my hair like this 🥰🥰🥰 OH and I would like to add that if you have my hair type or a lot of thickness like I mentioned PLEASE detangle your hair first. Always and that's with any tool. ♥️" —Mariah D.
Get it from Amazon for $40.27+ (available in three colors).