1.
L'Oréal 8 Second Wonder Water Lamellar Hair Treatment works like a treat in eight, yes, you read that correctly, EIGHT seconds to transform fine to curly textures. Think: mirror-like shine and softer-than-soft locks in less time than it takes to pull a rabbit out of a hat!
Apply this directly to wet hair, avoiding the roots, massage it in for eight seconds, then rinse. Effort required = practically zero. You can use one dose for fine- to medium-textured hair, two to three doses for thick- to curly-textured hair, and add one more dose if you have long hair.
Promising reviews: "I don't usually do reviews on products, but for this one I absolutely have to. I have 3c type hair and struggle a lot with breakage, unmanageability, and moisture. When my mom mentioned this product to me I didn't take her seriously because of the simple fact that we have two completely different hair textures. I never would have thought this brand would work on my hair. I have never in my 22 years felt my hair like this. I feel like I have a completely different head of hair. This product is so amazing and I will FOREVER be using this product in my hair regimen. Thank you so much!! ♥️" —Theressa Hailey
"It does exactly what it says...makes your hair soft, shiny, and cooperative! I have given this to two of my friends ALREADY — one with thick and curly hair, the other with limp and fine hair — and THEY BOTH swear by this product! Just can't think of enough good things to say! I have short bleached hair, so am getting excellent results using less than half as much as they recommend. Buy this stuff — you'll thank yourself later!!!!!" —enamelcamel
Get it from Amazon for $9.87.
2.
Levoir Winged Eyeliner Stamp receives cult status with beauty newbs and experts alike, since the dual-sided applicator (stamp + pen) gives you the slickest wings of your dreams in little to no time; seriously it's as if a wizard created this or something. No more wasting precious minutes — that usually turn into hours — redoing your look.
Promising review: "Let me start by saying this isn't my first cat eye rodeo. I've tried the taping method, normal liquid liner, plastic winged stamping devices, stencils, all of it! Well, this gem arrived and I immediately had to try it out, all while laughing at how terrible this would probably turn out...but to my surprise I put the left cat eye on first and it was perfect. I thought this was a fluke and did the right eye...again, it came out clean and perfect! I HAVE NEVER IN MY LIFE BEEN ABLE TO DO A CAT EYE IN UNDER 10 MINUTES, LET ALONE THE TWO MINUTES THIS TOOK TO DO! There were no sloppy streaks that I had to touch up or anything you would expect. Just a clean crisp line. I can now do a cat eye EVERY day and look/feel like a badass. Everyone can think I spend hours doing my makeup in the morning." —LadyMeow
Get it from Amazon for $14.98 (available in three sizes or in a combo pack).
3.
Youthforia BYO Blush Oil marvelously reacts to the pH of skin and actually changes color to adjust to different tones. That means anyone who uses it will have their own unique shade of blush! (AKA so long to the days of wasting time trying to pick a shade that works for you.) Plus, its feather-like formula withstands the heat, never feels greasy, and won't clog pores.
It's also made with skincare ingredients so just in case you *gasp* sleep in it, you'll still wake up with good skin! It's suitable for all skin types, fragrance-free, vegan, and cruelty-free.
Youthforia is an Asian woman-owned small biz that aims to make makeup that's so good for your skin you can sleep in it. The founder, Fiona Co Chan, even tested the blush by sleeping in it for two months! They are passionate about being environmentally-friendly and not using fossil fuels or gross toxins in their products.
Promising reviews: "I don't wear makeup to work but I still wanted something that made me look alive in the morning and this is it!! I just apply this oil blush with my fingers or a brush and it's blended within seconds! This gives me a natural flush that lasts a full work day and it's become my favorite for a natural, everyday look. I have been taking this with me everywhere and has replaced all my powder and cream blushes. I know I will keep repurchasing this product for years. Highly recommend!" —Elena P.
Get it from Youthforia for $36 (available in four shades) or from Amazon for $35.99.
4.
E.l.f.'s Poreless Putty Primer grips makeup for all-day wear. Simply sweep the velvety-soft formula (that has 25,000+ positive ratings) over skin pre-foundation to smooth out uneven complexions and minimize the appearance of pores in a flash.
Promising reviews: "Trust me, believe the hype with this primer! I have used a lot of different brands of primers, especially the higher end ones, and this one seems to take the cake over all of them. It goes on smooth, and it's easy to apply. It covers your pores and makes your face matte for really easy foundation application." —Courtney
Get it from Amazon for $9.99 (available in four versions).
5.
Freck Beauty Slimelight redefines the meaning of the term "highlighter" with a supernatural pearlescent formula and cream-like consistency. Stroke this across your cheekbones for an easy-to-achieve, strobe-like glow, dab it around your lids for a pop of shimmer, or mix it in with a moisturizer for a look that'll truly wake up your makeup with little to no effort.
Remi Brixton is the founder of OG faux freckle cosmetic company, Freck Beauty. Her brand is a clean, vegan makeup line based in Los Angeles. Remi, along with her team behind Freck Beauty, is known for creating an attitude, in which she prides herself on creating holy grail products that are made for anyone who: "Cares about ingredients, respects the process, but doesn't care about the rules."
I consider myself *blessed* to have been able to try out this powerful, feels-so-good-on-the-skin beauty product. It comes in three highly pigmented shades that complement different skin tones. And depending on the occasion, all three really do work for my darker complexion. Big Bang features a green/gold shimmer, Beam Machine a bronze/pink, and Space Face has a violet/purple hue. I like to think Beam Machine is perfect for an everyday glow, Big Bang is for a fancy dinner party, and Space Face for when I know I'm going out out.
Promising review: "Okay, so I bought this because I love a good highlighter. I mean, I want to GLOW. I want to SPARKLE. I want the sun to catch my cheekbone and BLIND people. This does that. Fine glitter is placed into this easy applicable and buildable highlighter. I usually try not to wear foundation and just some highlighter and blush and it plays very nicely with blush too. I apply it with my fingers and it goes on great it probably works well with a brush or sponge too! I love this." —Sephora Customer
Get it from Sephora for $28 (available in three shades).
6.
Maybelline Lip Lifter Gloss hydrates your pout with hyaluronic acid and leaves your skin with a sheer silky finish so you can look like you tried, without actually having to — a much sought-after superpower if you ask me. Reviewers mention that this does a fab job at hiding fine lip lines and leaves them feeling soft, full, and never sticky.
Promising reviews: "I keep going back to buy more colors. This is THEE gloss. You can throw it on alone and it has enough pigment to look great even without lip liner. I've never had a gloss wear this well without being sticky. I have some fine lip lines and it doesn't bleed. Bonus that as it wears off, it leaves a nice bit of color without any weirdness and my lips just feel moisturized. Excellent price point that makes it fun to keep trying more colors. I just ordered my fourth and love them all. I can't remember the last time I was this excited about a beauty product." —Natalia
"Stone is an excellent color for those looking for a natural, everyday gloss. Very moisturizing. Gives a subtle plumping effect which I loved. Not the kind of lifters that make your lips burn and look swollen." —Grace Rodriguez
Get it from Amazon for $7.49+ (available in 21 shades).
7.
Pretty Fab Nails Mani Wraps afford you the ability to live out your nail art Insta dreams without the fuss, time, or effort. These minimalist, spellbinding lines look like the real deal and won't chip or smudge, *plus* they last for weeks — according to admirers.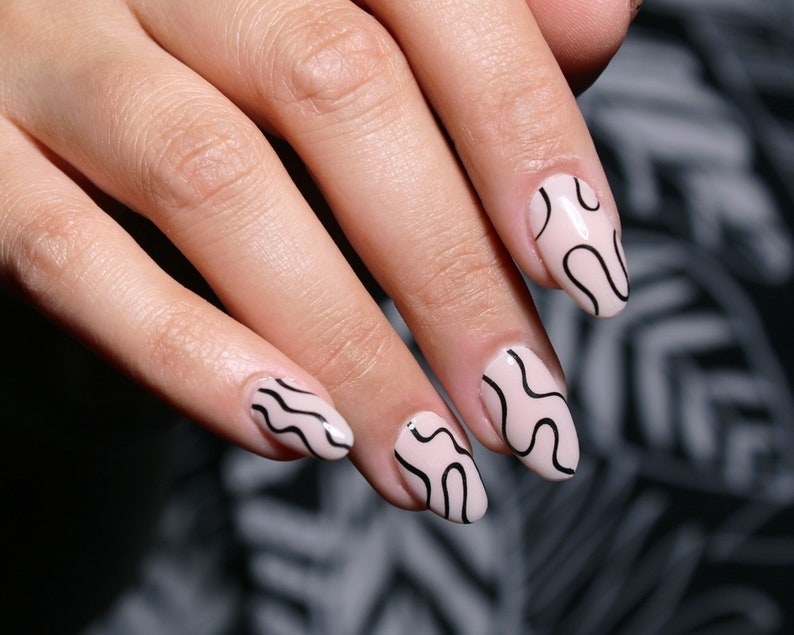 Pretty Fab Nails is a Florida-based small business founded by Nicole.
Promising review: "Probably the best nail wraps I've used so far. I applied these to my Kiara Sky Gelly tips as I am not great with painting my own nails lol. I finished them off with a gel top coat and cured them. I've been wearing them for the past week and no chips or tears. I'm sold!!" —Etsy Customer
Get it from Pretty Fab Nails on Etsy for $4.79.
8.
LilyAna Naturals Eye Cream depuffs and softens the skin around tired eyes with a rosehip and hibiscus-infused potion. Over 18,000 admirers gave it 5 stars, so do your morning and nighttime routine a favor and add this to the lineup.
Check out this TikToker's review after a year of using this magic sauce!
Promising reviews: "I just started to notice fine lines appearing under my eyes, so I ordered this eye cream on a whim and it is SO WORTH IT! Major game changer. I noticed a huge difference not only in fine lines but also in under-eye darkness and puffiness in only one week! Highly recommend this product to anyone and everyone, I have extremely oily skin and I put this all the way around my eye and haven't had any breakouts, not to mention my skin is super smooth, which makes makeup application a dream. 10/10 product, will purchase again!" —Katherine E Brings
"I'm OBSESSED! I always have trouble with eye creams because my skin in general is very sensitive and dry. Usually I get a bad rash or my eyes tear up when using eye creams so I just stopped using them. I decided to give this one a try with all the great reviews and I'm so glad I did! Super hydrating, doesn't make me tear up, and sits well under makeup! It did instantly hydrate my under eyes with no reaction and had a brightening effect that made me look less tired! Can't beat the price of this either, definitely worth a try!" —D
Get it from Amazon for $14.99+ (available in three sizes).
9.
Korean skincare exfoliating mittens slough away dead skin to reveal visibly (and touchably) softer arms...legs...bums...literally wherever you want to use it — and much more effectively than your worn-in loofah!
I can attest, this thing is like witchcraft in a mitt. I use this weekly to rid my skin of dullness and dryness. And I'm not joking, my arms, legs, tummy, bum, literally everywhere this thing graces becomes 10x smoother. It's now part of my routine before I shave — and if you think a razor can give you slick skin...paired with THIS, oh boy, you haven't seen (or felt) anything yet. Is it gross to see a week of skin trickle off your body and into the tub with you? Yes. But is it oh-so satisfying to get a closer shave? You betcha. Oh, and for me, I feel like this has stopped ingrowns in their tracks, too, because it lifts layers of skin before they harden and become more of an ish'. Basically, if you're looking to up your shower time routine, give this a go. Being gentle for the first couple of uses is key, and then once your skin becomes more tolerant you can increase the pressure you apply. I can't wait for you to see how you and your skin like it!

Promising review: "I have always had skin issues. Itchy, flaky skin, lotion won't absorb, no product really helps remove the gross dead skin in high-friction areas. These changed my life! Remove dead skin with ease, and aren't as coarse as those gloves you see in big box stores! I'm significantly less itchy, lotion absorbs better, and I feel better when I wear tank tops or even less! These things are a lifesaver. Most gross and satisfying, while scrubbing, I noticed the water turning gray in the tub as I scrubbed away all those dead skin cells. My allergies aren't half of what they were a week ago, and I can use all those cute soaps and lotions! I feel great. I'd buy these a million times more. I had no idea how much body soil I was retaining. I feel great after a shower and for once, I feel truly clean." —Rachel Anschuetz
Get it from Amazon for $7.99+ (available in packs of one or two).