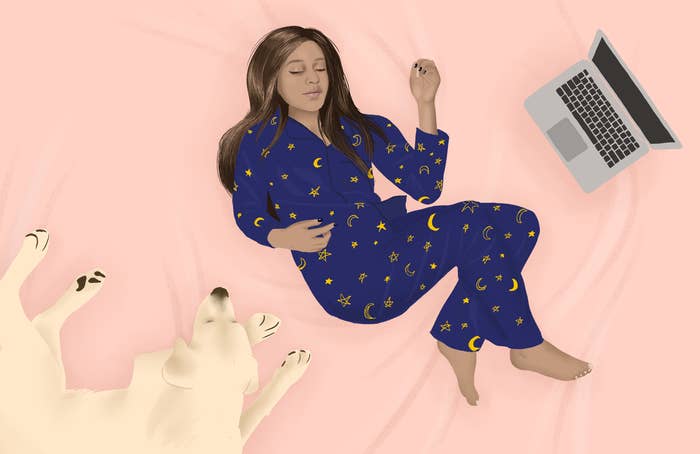 There are lots of practical, long-term steps you can take if you feel like you don't have your shit together – involving goal-setting, meticulous planning, and a whole lot of soul-searching. Or, and hear me out, you could buy yourself a set of matching pyjamas. For most people (including myself up until last year) your sleepwear/lounging around clothes are most likely a big T-shirt and some sweatpants that have a hole in them, which prevents you from wearing them in public for prolonged periods of time.
You do chores in them, go down the road to buy milk in them, and then go to sleep in them. Yes, they're super comfy, but what they don't do is make you feel like a woman in a romantic comedy who works at a high-end magazine and lives in Manhattan. Do you know what does do that? Matching pyjamas.
Considering the apartment in Manhattan is well out of range for most of us, having your top and trousers match while you're at home is a much more realistic way to feel glamorous. I never really saw the point of being a little dressed up just to sit at home and eat pasta with pesto in front of my laptop, but last Christmas I was given not, one, not two, but THREE sets of matching pyjamas, and let me tell you – it's been a real game-changer. Changing out of work clothes straight into a set of these is nothing short of a treat; you're being enveloped in cosy fabrics, simultaneously looking like a no-nonsense businessperson – after all, it is basically a suit – and a cosy bear. It's a combination that's both powerful and adorable.
Dressing up to leave the house and ~making an effort~ to look like you've got your shit together can involve planning, accessorising, and browsing through Instagram trying to cobble together an outfit from stuff you have. But when it comes to being at home, with pyjamas you basically have to do nothing at all to look like a confident adult who probably owns a planner and organises their underwear by colour! Even something as mundane as taking out the bins, answering the door to get a delivery, or shouting at your dog to come in from the garden seems a little bit more luxurious when your home clothes aren't just any old clothes, they're an ensemble.
I'm big on doing small things that help give me the overall illusion (emphasis on "illusion") that I am a super well-put-together person who can confidently hail a black cab and who makes pasta without accidentally cooking enough for a family of five. It's why I burn so many posh scented candles and insist on buying bath products that turn the water pink. It's like having a little treat every day – a treat that makes you feel like you're a person who has a five-year plan and knows how your pension works.
Plus the tiny change in clothes can go a long way when you're at home and are feeling more than a little bit gross. Even with a greasy bun and spot cream dabbed on my face, my flannel pyjamas (or my star-and-moon print ones if I want to feel extra) imbue me with a little sense of "You're not a mess, you've got this! Look – you're wearing a button-up shirt at HOME. You're basically the CEO of this house!"
If you want to feel like a glamorous woman who goes for brunch every Sunday with a sassy group of girlfriends, get yourself a silky pair with an ~interesting~ print. If, like me, you like to consider yourself the human embodiment of Paddington Bear, opt for something cosy like a flannel set. You could also accessorise this with one of those little candle holders that have a handle like the Victorian men in Charles Dickens novels use, but this is optional.
Sure, matching pyjamas aren't going to make you the kind of person who preps all their meals on a Sunday night, or who never tries to justify spending too much money online shopping purely so you can meet the free delivery threshold, but it will make you feel a bit more like a movie character who would do this things, which is a pretty decent start if I'm being honest.