18 Tweets That Will Only Make You Laugh If You Have A Boyfriend
When he asks you "what do you want to eat?" like you're supposed to know.
2.
And when they unfairly manage to fall asleep before you:
3.
When your bag becomes their bag:
4.
When they ask this frankly ridiculous question:
5.
When you remember this true benefit of relationships:
6.
When this makes you anxious:
7.
When you face this problem:
8.
When you don't mean to bother them but do:
9.
When you know that as much as you love them, you're great regardless of relationship status:
10.
When you feel affectionate:
11.
When you can't stop talking about them:
12.
When they upset you in a dream but it feels so real: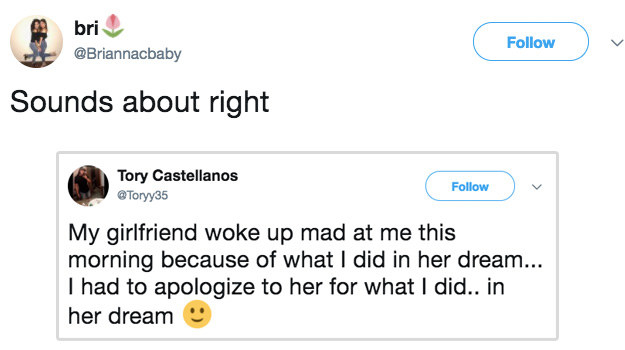 13.
When they encourage you all the time:
14.
When you have unique names for each other:
15.
When they buy a new hoodie but soon it'll be yours:
16.
When you refuse to let anyone slander them:
17.
When you have an argument:
18.
And when you just feel so proud of them: