1.
Having different concepts of time when it comes to how long you and your S.O. spend on your phones:
2.
And feeling secretly smug when they die in the game they're playing:
3.
Using your partner as a heat pad for your freezing cold feet:
4.
Struggling to follow through on your plans to give the silent treatment: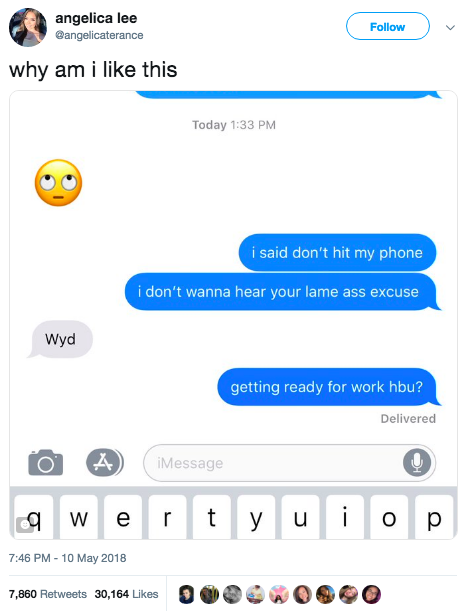 5.
Not letting an argument truly die until you have said what you have to say:
6.
Having a code for expressing your dismay:
7.
Missing your love when they're right next to you:
8.
Using some variation of the line "that must have been your other girlfriend":
9.
Not knowing where to eat, ever:
10.
Grabbing your partner's butt at inopportune times:
11.
Understanding that there is kind of a difference between someone asking you if you want to come over and someone inviting you to:
12.
And making them do a detour so that you can grab the snack you want:
13.
Feeling mildly infuriated in situations where you don't want logic applied to your problem, but rather someone to agree and be overdramatic with you:
14.
Giving out roasts but struggling to take them:
15.
But also appreciating even the little things:
16.
And knowing how to take really good pictures of the person you love even when the courtesy is never extended to you: