1.
This guy who ended up with an unexpected outfit.
2.
This woman whose new jacket was...a bit much.
3.
This dog owner who ended up with an unrecognisable dog.
4.
And this one whose pet went from adorable to a little terrifying.
5.
This well meaning step-mum who wanted to do something nice for her husband.
6.
This aspiring latte artist who was hoping for a prettier result.
7.
This amateur baker who eschewed cookie cutters.
8.
This guy who fancied a pair of veneers.
9.
This woman who understandably felt pretty disappointed by these trousers.
10.
This person who ended up in a mix-up.
11.
This guy who assumed there wouldn't be quite this much alcohol.
12.
This person who tried a Beautyblender cleaning hack but missed out a crucial step – putting it in water.
13.
The person who was a gifted a portrait that didn't provide the self-esteem boost it intended.
14.
This woman who ended up with an unique new decoration for their home.
15.
This mum who ordered the wrong bed, although the dog didn't mind.
16.
This dog owner who had hoped for their dog to dress up as a lion, not as a person with a bad haircut.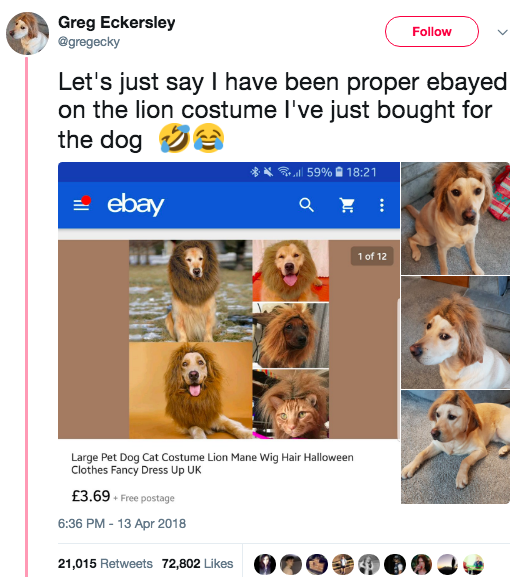 17.
This woman and her mum who thought they'd found a practical solution to drying this hoodie.
18.
And this woman who was probably pretty damn surprised by what they received.