Anne Hathaway como Mia Thermopolis Anne Hathaway desde entonces ha estado en montones de películas enormemente exitosas, que incluyen papeles como protagonista de The Devil Wears Prada, Selina Kyle en Batman: The Dark Knight Rises, y Jules Ostin en The Intern. También ganó un Óscar por su interpretación de Fantine en Les Misérables.
Heather Matarazzo como Lilly Moscovitz Heather ha continuado con la actuación y ha aparecido en programas de TV como The L Word y Grey's Anatomy. Últimamente tuvo un papel junto a Amy Poehler y Tina Fey en la película Sisters.
Robert Schwartzman como Michael Moscovitz Robert ahora es músico; es el vocalista de la banda Rooney y también lanzó su propio álbum solista. Trabajó como compositor para la película Palo Alto protagonizada por Emma Roberts.
Julie Andrews como la Reina Clarisse Renaldi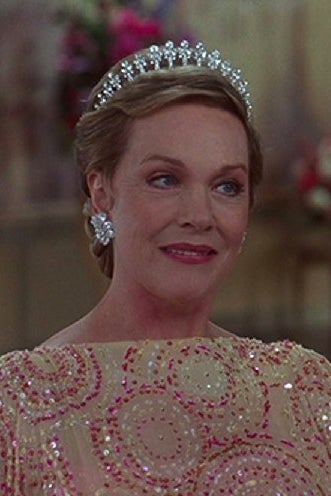 Julie ha sido una mega exitosa estrella desde décadas antes de la película, pero en los últimos años ha tenido un número uno en la lista de los éxitos de ventas del New York Times por el libro para niños que escribió junto con su hija, titulado The Very Fairy Princess. También ha hecho tour por Australia, Nueva Zelanda e Inglaterra realizando conferencias. Más recientemente creó una serie de TV preescolar con su hija y Judy Rothman, que estará en Netflix el próximo año.
Caroline Goodall como Helen Thermopolis Caroline recientemente interpretó a Cecily Neville en el drama de la BBC The White Queen, y ha tenido papeles en la película de terror fantástica Dorian Gray y la comedia dramática australiana The Dressmaker. Héctor ha aparecido en diversas películas como Valentine's Day y The Book of Life. En televisión, interpretó a Carlos Torres en Grey's Anatomy y tuvo papeles dando su voz en series animadas como Avatar: The Last Airbender y The Legend of Korra.
Erik von Detten como Josh Bryant No es claro si Erik todavía está en la industria del entretenimiento, pero su último crédito en películas fue en Toy Story 3 donde repitió su papel como Sid.
Mandy Moore como Lana Thomas El año pasado se anunció que estaría en la película de suspenso bajo el agua 47 Meters Down. También está en la nueva serie de la NBC This Is Us prevista para estreno más adelante este año. Una de sus películas más grandes en los últimos años fue Tangled, donde dio voz a Rapunzel. También estará realizando la voz de Rapunzel en la serie animada de Tangled, prevista para su emisión en 2017.
Sandra Oh como la subdirectora Gupta Probablemente ahora conoces a Sandra por el papel que la hizo ganadora de un Golden Globe, la Dra. Cristina Yang en Grey's Anatomy. Conjuntamente al trabajo en televisión, ella ha tenido papeles en películas como Hard Candy y Tammy, donde en esta última trabajó junto a Melissa McCarthy.
Patrick Flueger como Jeremiah Hart Patrick interpretó a Shawn Farrell en la serie de ciencia ficción The 4400. Tuvo un papel recurrente como Adam Ruzek en Chicago Fire y ahora es protagonista de la serie derivada, Chicago P.D..