Good news for Neil Gaiman fans: there's an upcoming TV show based on American Gods, and now there's finally a color illustrated hardcover version of the book too — an incredibly gorgeous special collector's edition designed by artist and illustrator Dave McKean for The Folio Society.
McKean has been Gaiman's longtime creative partner, working with him on Violent Cases, Sandman, and illustrated editions of The Graveyard Book and Coraline.
Award-winning artist and illustrator Dave McKean first worked with Gaiman on the graphic novel Violent Cases before going on to work with him again on Sandman, a comic book series that revolutionised the form. Like Gaiman's stories, McKean's multimedia pieces, with their layered meanings and half-monstrous creatures, capture the uneasy relationship between the real and the unreal. Now a legendary creative team, Gaiman and McKean have joined forces on several celebrated projects, including illustrated editions of The Graveyard Book and Coraline.
The Folio Society provided BuzzFeed with images of and from the new 560-page edition, which contains 12 stunning illustrations by McKean, including a frontispiece and three double-page spreads.
It is also bound in cloth and features special designs on the binding and slipcase "that complement and mirror each other."
The slipcase artwork features an impressionistic image of Shadow in his cell on the front, and a bison – a nod to the buffalo man who recurs as Shadow's guide in the novel – on the back. The binding plays with these images further, interweaving them using stylised, dynamic shapes, suggesting the overlaying of the supernatural realms and the real world in the novel itself.
The text features new revisions approved by Gaiman, and includes a new afterword titled "How Dare You?" about Gaiman's challenges as an Englishman writing a book about America.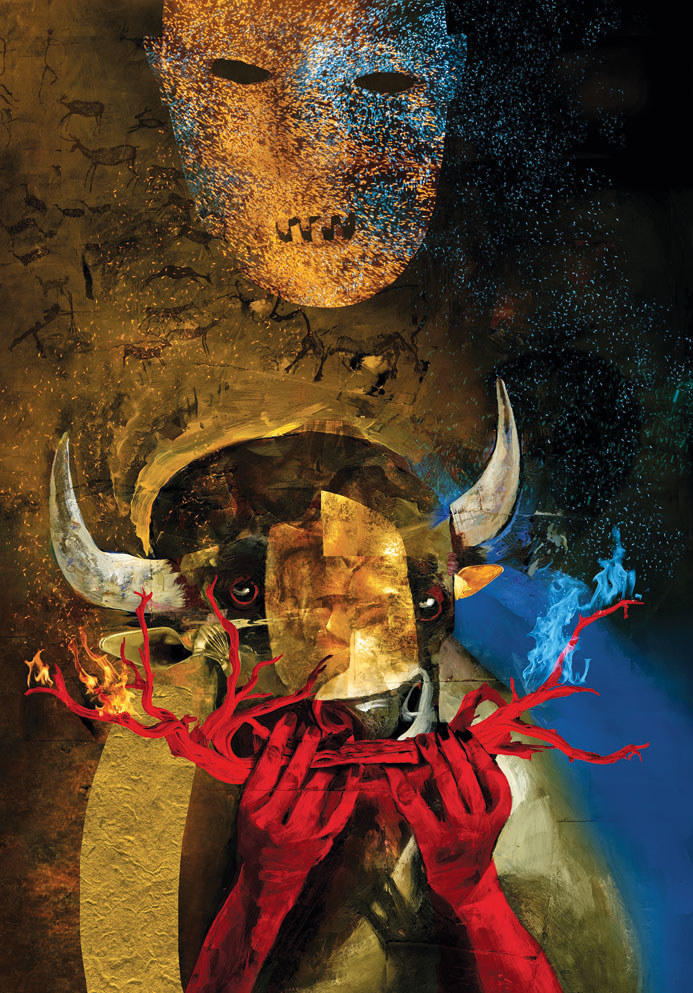 There's also an introduction by McKean exclusive to the edition on his creative process and approach to illustration.
McKean writes, "My favorite way of working on an illustrated book is to really get under the skin of the text, to get in between the lines and allow the images to have an almost equal voice, commenting undercutting, adding to, interpreting and questioning the words. Providing atmosphere, like the music behind the lyrics…"
Looks like there are no comments yet.
Be the first to comment!