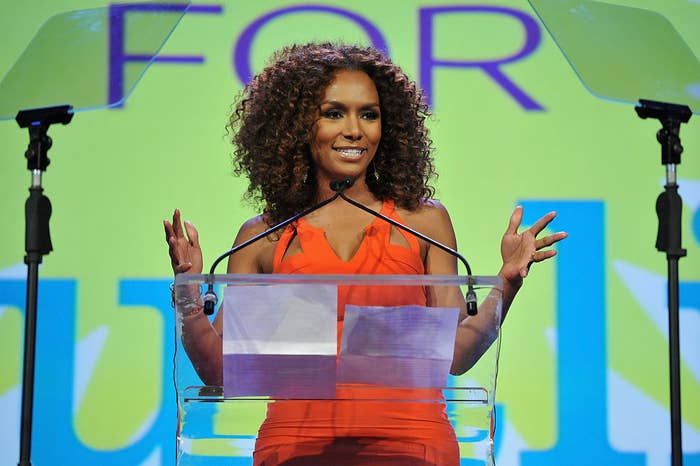 Janet Mock, author of the New York Times best-selling memoir Redefining Realness, has a second book coming out on June 13, 2017 titled Surpassing Certainty: What My Twenties Taught Me.
The new book is a memoir about Mock's "search for purpose, love, and self-realization" during her twenties.
A few months before her twentieth birthday, Janet Mock is adjusting to life at the University of Hawaii and finally content in her own body. It's here that she experiences her first love story — an infatuation with Troy, a yeoman stationed at Pearl Harbor Naval Base. With Troy, she experiences several incredible firsts: he becomes the first person to whom she truly opens up, the first person to witness her embrace her natural hair, and the first person to provide for her in ways that her parents failed to do. The pleasures and perils of their union as they navigate disclosure, infidelity, and distance serve as a backdrop for Janet's progression — her stint as a stripper, her first-generation college experience, her move to New York, and her start in journalism. Mock's publisher, Atria Books, provided BuzzFeed with the book's cover (shot by renowned photographer Mark Seliger) and Mock's thoughts about it.
What I love so much about the cover for Surpassing Certainty is it feels much more adjacent than the cover for my first book Redefining Realness. I hope the reader feels like they're sitting across from me — their girlfriend-narrator — as I tell them the next chapter of my story. I love that it feels intimate, close and hiding behind nothing — except for all my curls which is fitting since I do write about my journey to embracing my natural hair at age 20.

I knew immediately that I wanted to work with Mark Seliger – a brilliant photographer who I collaborated with on his recent collection On Christopher Street. I basically begged Mark (a man who has taken portraits of everyone from President Obama to Beyonce) to take my photograph. Mark and I both wanted the portrait to be unfussy, strong, and close – and we spent a day in his downtown studio in November trying to make that happen.

Once we chose the portrait, Albert Tang, the art director at Atria, came up with the elements for cover. He sent me a few options, and I knew the proof with the slender gold text was it. I gasped when Albert told me that my name and the title of my memoir would be in glittering gold foil. Gold is one of my power hues.
Mock hopes that readers will see themselves reflected in her story of her journey growing into adulthood.
Redefining Realness was about my coming-of-age and my girlhood – within the unique sociopolitical yet personal context of being a teenage trans girl of color. Surpassing Certainty starts at the dawn of my twenties when I'm finally comfortable and confident in my body yet not completely forthcoming about my trans-ness. I was living stealth as we say in my community, negotiating just how relevant my being trans was to each situation and relationship. It traces my journey of growing into adulthood and experiencing all the growing pains – falling in and out of love for the first time, living away from home, and working towards a career in the highly competitive world of New York magazine publishing. Surpassing Certainty centers around a time in my life when I needed to just be me — to learn how to advocate for myself (at home, at college, at work) before becoming an advocate for others. Ultimately, I hope the book allows readers who are so often not granted the opportunity of seeing themselves reflected on bookshelves to actually see themselves and nod in affirmation.