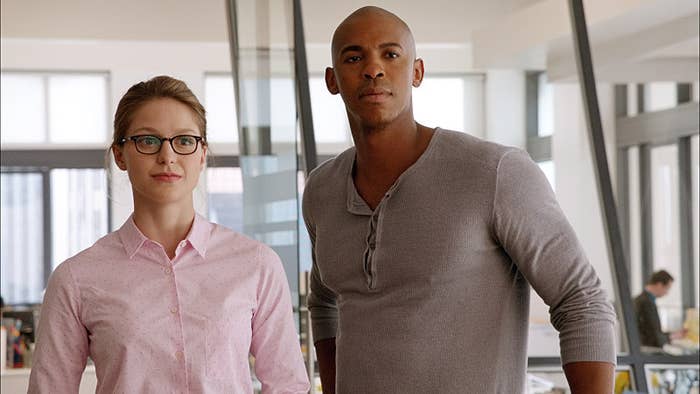 CBS's upcoming fall series Supergirl marks Calista Flockhart's return to television and the first time in a long time that we've seen a female superhero starring on a television show, but it was the casting of black actor Mehcad Brooks as the traditionally white character Jimmy Olsen that generated the most buzz on Twitter.
"If you have a problem with someone's race or sex or sexual preference or anything else that differentiates them from you, that's your problem," the actor told BuzzFeed News after the Supergirl panel at Monday's Television Critics Association summer press tour in Beverly Hills. "That mentality is either going to get fixed in your lifetime or you'll have to die with that. The world is too small and life is too short to hold on to negativity that way. I hope people judge me on the content of my character — excuse the pun."
The character of Jimmy Olsen — a photojournalist who worked at The Daily Planet alongside Clark Kent — has previously been played by white actors Jack Larson (Adventures of Superman), Michael Landes and Justin Whalin (both on Lois & Clark: The New Adventures of Superman), Aaron Ashmore (Smallville), and Marc McClure (alongside Christopher Reeve in the feature films). But when time came to cast an older Olsen for the CBS series, executive producer Greg Berlanti says they looked, simply, for the best actor.
"One of the blessings of what we get to do is to introduce it to a new generation and that means changing key elements of the character but still keeping true to the core about the DNA of the character," Berlanti said during the Supergirl panel. "For James Olsen, we were looking for someone that could be best friends with Superman, that had the heart and soul of a well-liked boy who had grown up. Mehcad came in and, in addition to his acting talents, best demonstrated that. Then it's really easy to go to the network or the studio and say, 'We found him.'"
And getting the part was a huge surprise for Brooks, who said that auditioning for perceived white roles in the past felt more perfunctory than genuine. "A lot of times, you go into a role and think, They're being nice by allowing everybody to come in for it, but it's not a realistic thing," he said. "Callback after callback, I was part of the running and I was kind of astounded by that. I was like, You guys do know this is Jimmy Olsen, right? I think DC, Warner Bros., and CBS deserve a round of applause. It's a testament to our society. I think it shows the country is headed in the right direction."
Supergirl premieres Monday, Oct. 26 at 8:30 p.m. ET/7:30 CT on CBS, before switching to its regular 8 p.m. ET/7 CT timeslot on Nov. 2.