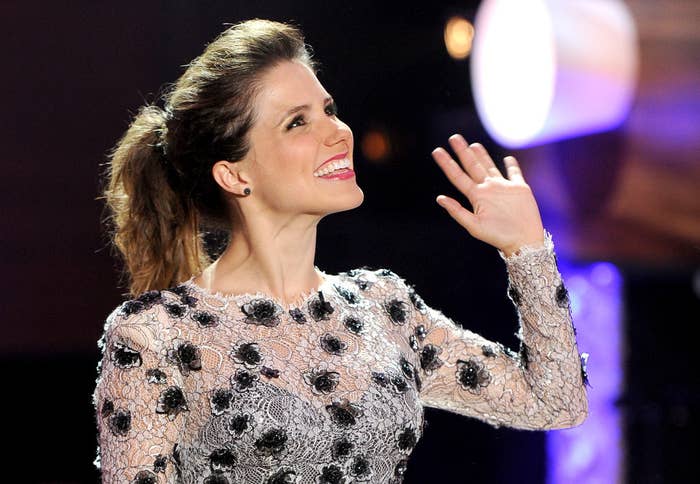 While the roles Sophia Bush has played over her 12-year career have varied wildly — from One Tree Hill's dramatic cheerleader-turned-fashion-designer Brooke Davis to Chicago P.D.'s junkie-turned-detective Erin Lindsay — there is one trait every character she takes on shares: "I could never play someone who didn't have an opinion," Bush told BuzzFeed over coffee at Le Pain Quotidien in L.A. "For me, there has to be a perspective, there has to be a substance. And as I get to know myself better, the women I can step into become better and better."
Voicing her own opinions has always come naturally to Bush. "My mom jokes that I was Joan of Arc in a diaper," she said with a laugh, looking back on a childhood that was largely spent doing community service in Pasadena, Calif. "I was running around, defending the defenseless, since I came out of the womb." It made sense, then, that she dreamed of a life far from Hollywood for most of her childhood. "I wanted to be a doctor since I was a small child, so that was an interesting conversation to have with my parents," the 31-year-old recalled, attributing the 180-degree swap to discovering a passion for acting after auditioning for high school plays.
Bush's parents backed her dreams — especially since they saw this new career path hadn't altered her priorities. Though she quickly obtained management (a tough task made easier when you live so close to L.A.), Bush refused to let acting detract from her schooling, only agreeing to go on auditions for jobs that filmed during the summer or over spring break. "I remember my agent saying it felt like I was treating my career like an extracurricular activity — and I was," she said. "School came first."
But after tossing her high school graduation cap up in the air, Bush decided to dedicate herself 100% to acting, and, within less than two years, she booked a lead on One Tree Hill, a WB drama (which later aired on The CW) that, when it launched in 2003, followed the lives of two high school–aged half-brothers, Lucas Scott (Chad Michael Murray) and Nathan Scott (James Lafferty). Bush would play Brooke Davis, a wild, carefree girl and an early love interest for Lucas. The only hitch? The show filmed across the country from her friends and family in California.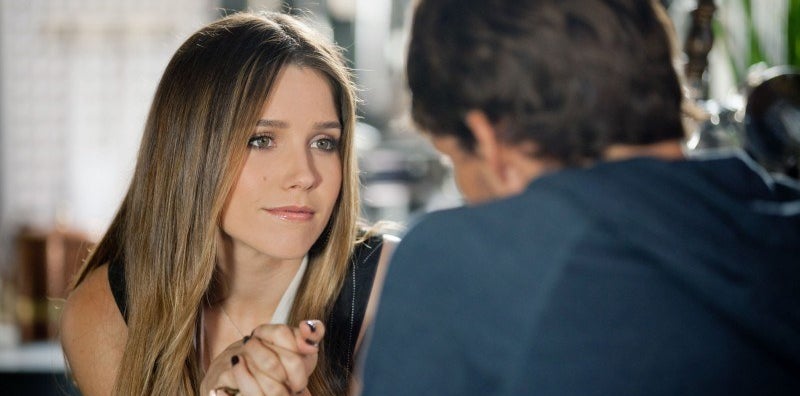 "I think my life would have been very different if the show filmed in L.A.," Bush said of the move to North Carolina to film One Tree Hill. "But I don't believe on surmising on the 'what if?'s because that's not what happened. It shot where it did, and it was beautiful and brutal and difficult and impossibly hard at times, but I kept my head up because I loved that job and would never let personal bullshit stand in the way of my professional integrity."
She added, "But there were years where I would have given anything to have been at home and been able to crawl into my best friend's bed and eat ice cream."
Those brutal and difficult times Bush is referring to were likely her five-month marriage and subsequent divorce from co-star Chad Michael Murray, whom she wed shortly after the show's second season wrapped and from whom she split during Season 3. But in the end, those aren't the major life events Bush focuses on when looking back on the show's impressive nine-year run. "Twenty-nine babies were born between our cast and crew while we were filming that show," she said, her face instantly lighting up. "I watched kids grow up, I saw people get married, I held people through divorces and breakups and deaths of parents and grandparents; there was so much life on those sets, which is why I was a hysterical mess for the last two episodes. I couldn't stop crying."
After the series finale aired in April 2012, the tears eventually dried and Bush began to look for her next project. "I hadn't slept in a decade," she said with a laugh. "I had been getting up at 4 a.m. every day and going to sleep at midnight. I didn't need to do another show — I would have loved to sleep, but I just loved the script for Partners so much."
Partners was a CBS comedy from Will & Grace's Max Mutchnick and David Kohan that was picked up for the 2012–2013 television season. It revolved around two best friends, one gay (Michael Urie) and one straight (David Krumholtz), and their significant others (Brandon Routh and Bush, respectively). But Partners failed to draw a large enough audience for CBS and, after six episodes, the show was canceled. Devastated, Bush decided to give herself the break she previously longed for. "I gave myself some space and traveled for two and a half months," she said. "I opened the school I built for my 30th birthday in Guatemala, and then built another school in Guatemala."
By that point in time — November 2012 — philanthropy had become as synonymous with Bush's name as acting. She had secured mainstream coverage for The Democratic National Convention, Fuck Cancer, Invisible Children, Global Green Gulf Relief, DoSomething.org, Pencils of Promise, Global Poverty Project, and I Am That Girl while other actresses were praying their publicists could hide their DUIs, sex tapes, and rehab stints from TMZ.
"One of my best friends describes me as an activist who is inconvenienced — in a good way — by her career as an actress," said Bush with a laugh. "I love my job, but I couldn't keep doing this if it ever actually precluded me from working on the world. I would just get another job."
So far, that's not necessary. Bush soon found herself back on television with NBC's Chicago P.D., a spin-off of Chicago Fire that premiered in January. She plays Erin Lindsay, a recovering drug addict who's now a tough-as-nails detective, and perfectly fits the intellectual requirements Bush requires of all her characters.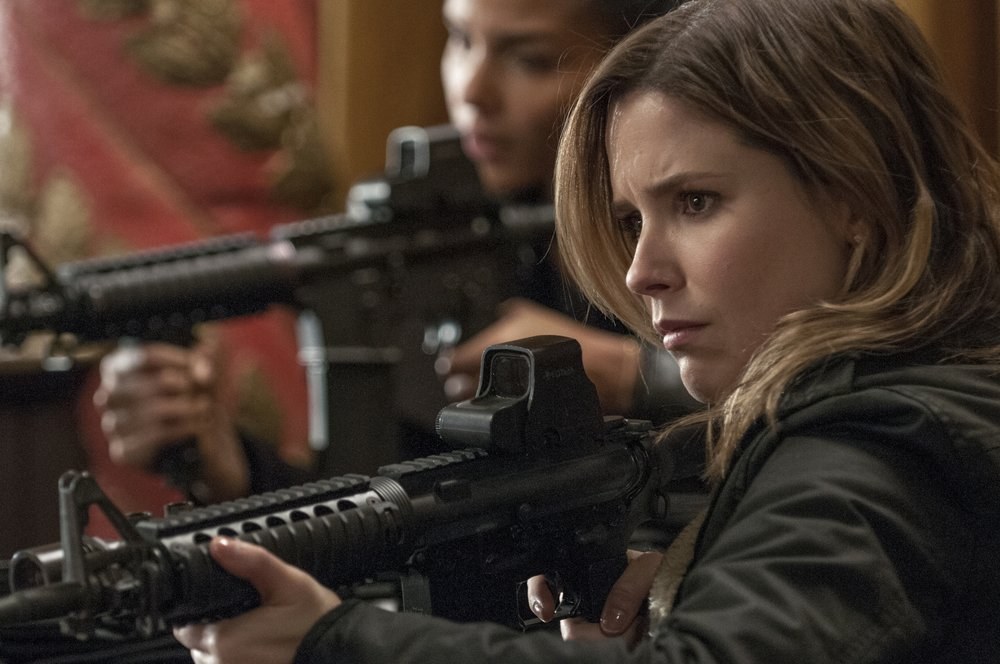 "Imagine if you walked into a house, and the person who lived there gave you a tour, but then you discovered there was a trap door and a whole other house underground," Bush said of her character. "That's kind of who Lindsay is to me."
Ironically, as a result of playing the character, Bush has ended up discovering a trap door within herself as well. "I've found a lot more space to embrace my own power as a woman through playing Erin, who is very still and quiet," the actress said, her voice softening. "Whoever knows me knows I could talk to a wall all day; I wanna have five-hour dinners and drink wine with the people I love and dig into issues and get really deep with people. That is a quality I like about myself. But there's also something to be said for people who don't have to talk for you to know who they are. People have always told me that I have a presence, but I never used to understand what that meant. Funnily enough, I'm learning about my presence as a human by playing a woman who is much more comfortable sitting silently in a room than I am."
With Chicago P.D., Bush once again finds herself miles away from her L.A. home, working and living in the titular city that helps make the series feel authentic. But she's come a long way since that North Carolina move more than a decade ago, and unlike last time, she has a decade of life lessons under her belt to ensure the mistakes of the past weren't repeated.
"The biggest thing I learned from that time was to trust my gut instincts about people, both professionally and personally," Bush said. "There was a time in my life when I would see behavior I didn't like and think, The universe put us together for a reason; obviously I should stick it out and try to make it work."
She added, "I wish I'd known to trust my instincts more, but that's just life, though. When a red flag comes up and you ignore it because you're trying to be nice or keep things easy, I've learned not to do that. I've really realized I don't need to be a people pleaser. I don't need to give anyone else's opinions more weight than my own. My opinions should matter the most because they're mine. And if your opinions are formed from a place of genuine honesty and kindness for others, then your opinions are worth defending — and now I do."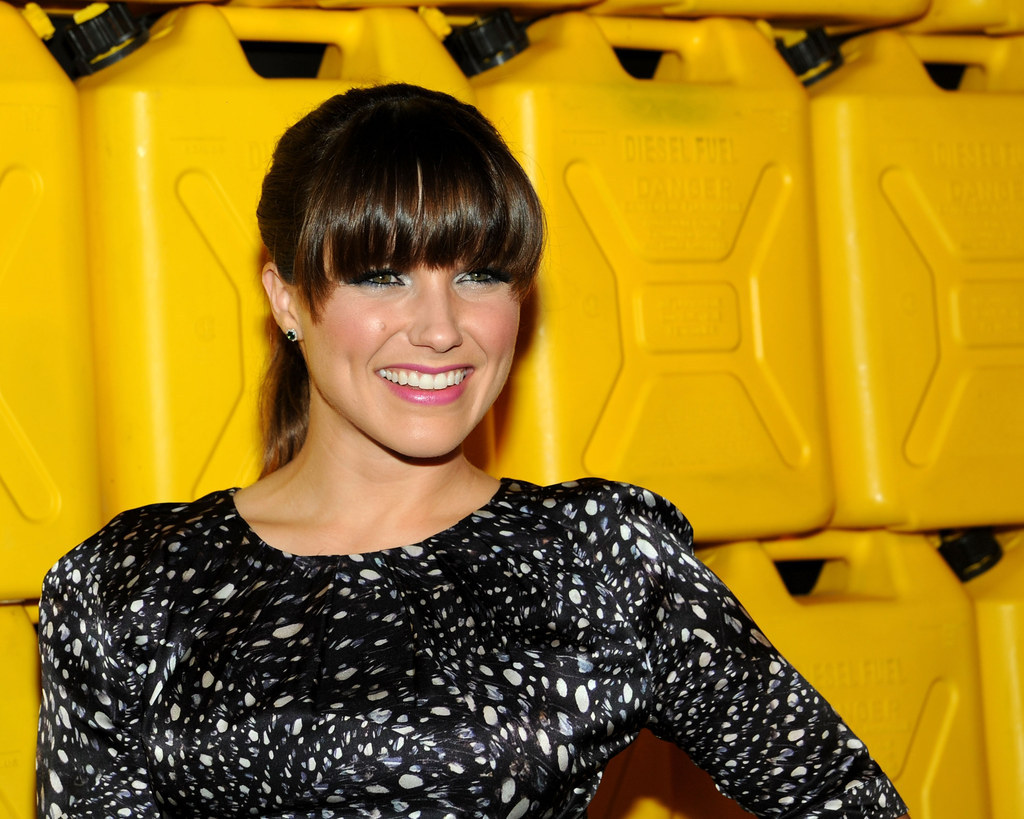 And these are the types of messages Bush is working on spreading to her nearly 1 million Twitter followers and half-million more on Facebook. Since the inception of those sites, Bush has used social media as a gateway to the world and a means of engaging her fans in intelligent, meaningful conversations about body image, self-worth, social responsibility, and human rights. Through this ongoing dialogue it becomes clear that Bush is not just working on fixing current world problems, she's actively engaged in mobilizing the next generation of crusaders.
So, while other celebrities appear single-minded in their quests to perpetuate their image — and, therefore, their "brand" — by sending out messages like "a little side boob never hurt nobody" to millions of young, impressionable followers, Bush spends hours replying to individual fans, talking about their problems, their home lives, and their dreams: a job she doesn't take lightly.
"To have conversations with people I'll never meet but know on a soul level because of social media is amazing," she said, hands clutched over heart as she talks about her Twitter followers and Facebook fans. "It's so beautiful and inspiring to have conversations about real life stuff with my followers. We talk about how it feels be in love, and how to accept who you are; how we can own the good and the bad and everything in between about who were are as people without needing to apologize for it. I have all these humans who I may not really know but, in some ways, I feel like we know each other the best. I love them for who they are, and they love me for who I am — and not for who I am on TV or in a magazine, but for who I really am: all my excitable, loud, messy, sensitive, courageous, badass tendencies. They love all of my stuff and I love all their stuff too."
Chicago P.D. airs Wednesdays at 10 p.m. on NBC.