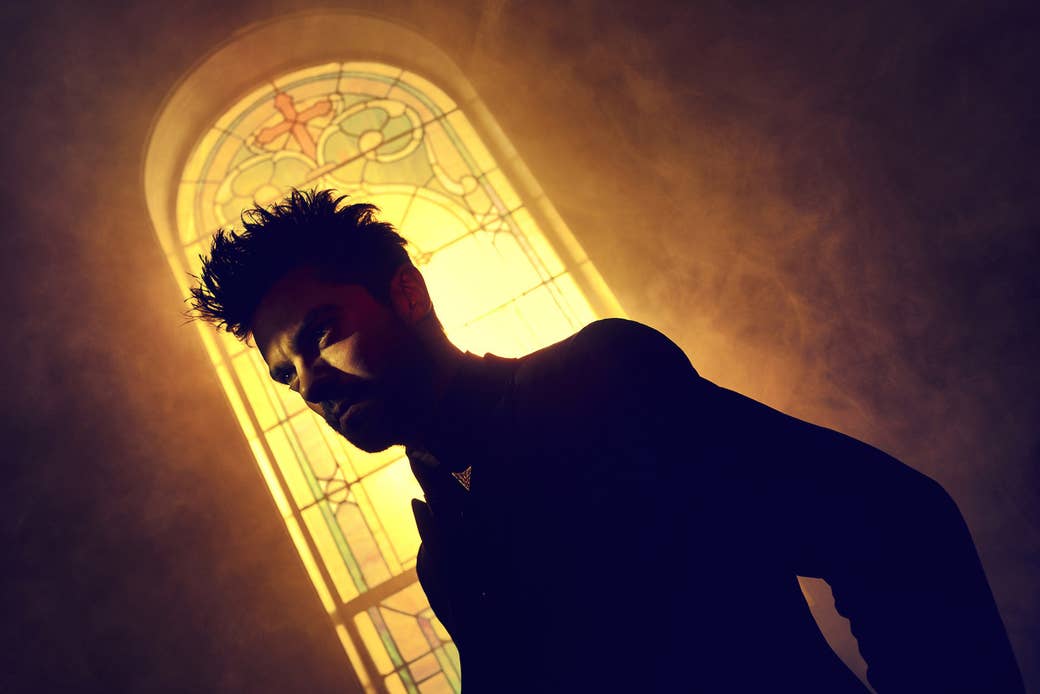 The camera trails an object — a fantastical light that looks like a comet but is clearly something more supernatural — as it blows past the rings of Saturn and speeds toward Earth. Cut to Africa, where a local preacher stands on his pulpit. The instant the word "God" passes the preacher's lips, the intergalactic object crashes into him. First, it infuses the mystery man with an immediately perceptible influx of power. "I am the prophet," he bellows. "I am the chosen one." And that's when he explodes, drenching his congregation in a horrifying but comical typhoon of blood and entrails.
That opening scene — a defacto "Welcome to the insanity of Preacher!" — kicks off AMC's inspired adaptation of Garth Ennis's revered comic book series; it's part gritty Western, part religious examination, part vampire thriller, part slapstick comedy, part action-adventure, part family drama, and — by design — entirely risky.
"It's fucking crazy, and it should not be on television," Preacher co-executive producer Sam Catlin told BuzzFeed News, with a laugh, backstage at WonderCon in March. "But also could only be on television now." Catlin, who spent four seasons executive producing and writing on Breaking Bad, said thanks are due to boundary-obliterating genre shows like Game of Thrones and The Walking Dead so that unconventional Preacher is even able to exist as a series today.
Created in 1995 by Ennis and artist Steve Dillon, Preacher is centered on Rev. Jesse Custer, a small town Texan who has lost his way, his faith, and the trust of his congregation, when Genesis — the same supernatural entity that obliterated that African cleric — possesses him. After successfully bonding with the spirit, Custer begins to slowly develop otherworldly powers and discovers he's not the only supernatural being on this planet.
The comics, which spanned more than 70 issues, were one of the first of many pop culture obsessions Seth Rogen and Evan Goldberg — who developed the series with Catlin and co-directed the pilot — bonded over as kids. As adults, the duo spent longer than a decade trying to get the rights to Preacher to no avail. "More successful people than us were always able to get their hands on it," Rogen told BuzzFeed News in a phone interview. Among those were Kevin Smith and Sam Mendes, who each previously attempted to adapt the source material, but the genre-bending series proved to be too tricky, and their projects never made it off the ground.
"Everyone before us tried to do a darker version, and without the lightness and the comedy that is in the comic, it doesn't work," Goldberg told BuzzFeed News in a phone interview.
"I think the sense of fun is something that seemed to be elusive in other incarnations of this," Rogen added. "It's not a combination you see very often by any means, and for us, that was the thing we talked the most about as we put the show together and prepared to direct it: How do we combine this dramatic character Western story with all these crazy elements that converge on it?"
In addition to comedy, drama, and Western, the show includes touches of noir, sci-fi, action, horror, and some of the blackest humor to ever grace television screens. Take for example, a scene where the empowered Custer kindly advises Ted (Brian Huskey) — a parishioner with mommy issues — to "open your heart." Taking the advice way too literally, Ted confronts his mother and cuts his heart from his chest before, in his dying act, handing the bloody gift to his mother.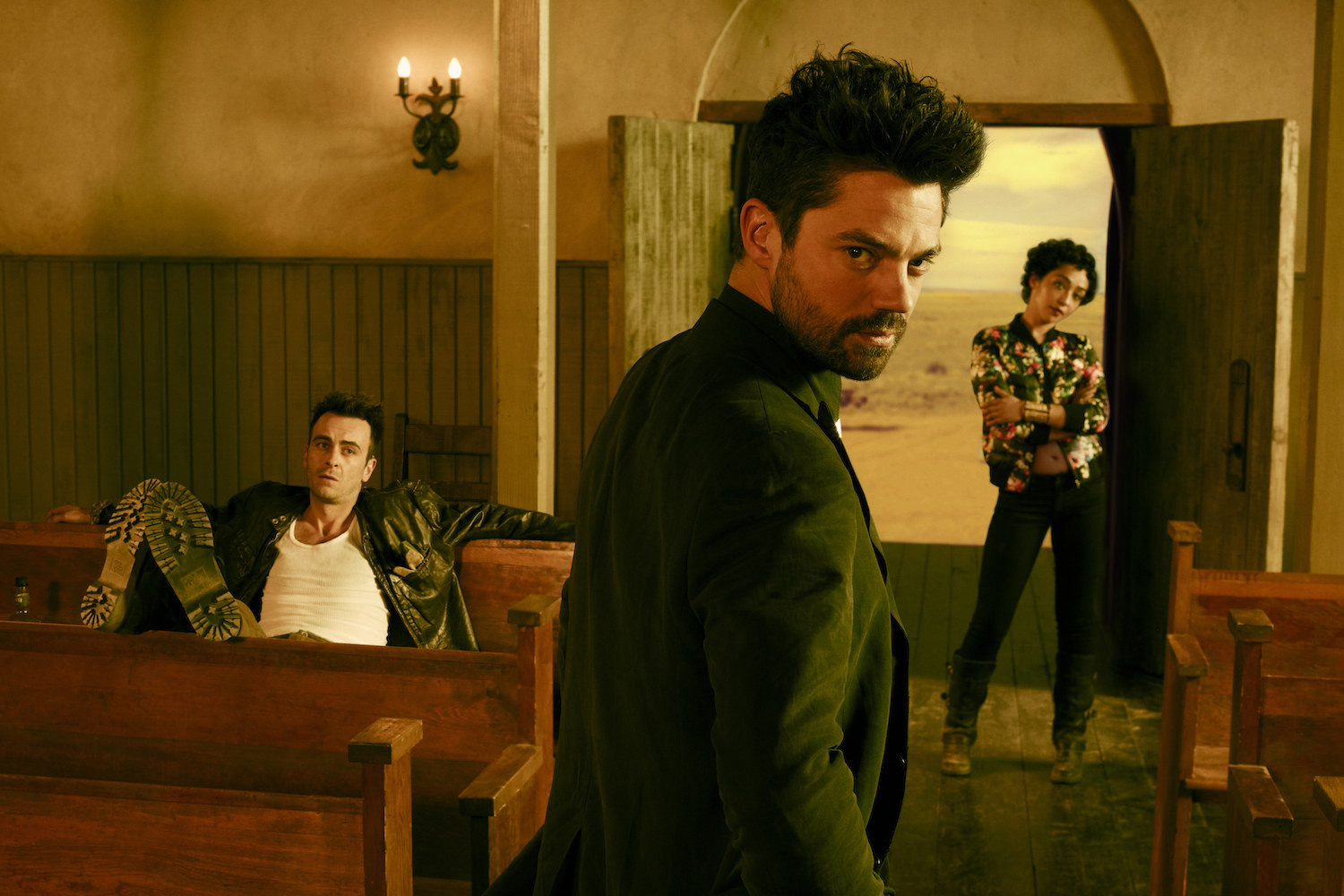 To pull off the giant stylistic mashup, Catlin drew inspiration from Ennis's self-assured source material. "Garth just does it," he said with a simple shrug of his shoulders. "There's something unapologetic about it. It's a recognizable world that looks like America, but there's vampires and crazy cults and angels, and the confidence with which these elements are introduced has been the example we've been trying to follow."

Dominic Cooper, who plays Custer, called the pilot "one of the best things I've read in years," but he initially had reservations over the intimidating number of genres the script required him to play. "I was petrified about the prospect once I actually realized I was going to do it," he told BuzzFeed News at WonderCon. "Every day is quite complex and quite a challenge because of all that. It can be daunting and you can feel a bit lost at times, but the writing is so strong and so clear and Sam's overview is so secure, it's a joy. But you do question a lot."
Cooper was also slightly worried by the idea of breathing life into a character that millions of comic book readers had visualized in their heads for years. "I felt such a responsibility to the people who have grown up with the comic," he said.
"The actor needs to encompass everything the show encompasses, which is something that's very dark at times but also light at times, something that is very funny at times and romantic and sexual at times," Rogen said. "We needed an actor who could star in all those different shows, basically."
For the show's trio of creators, Cooper was always someone at the top of their ever-changing list, thanks to the varied roles he's played throughout his career. They cited Cooper's humorous work as Howard Stark in the Captain America films, his malevolent performance as Saddam Hussein's twisted son in Devil's Double, and the posh swagger he brought to Bond author Ian Fleming in Fleming.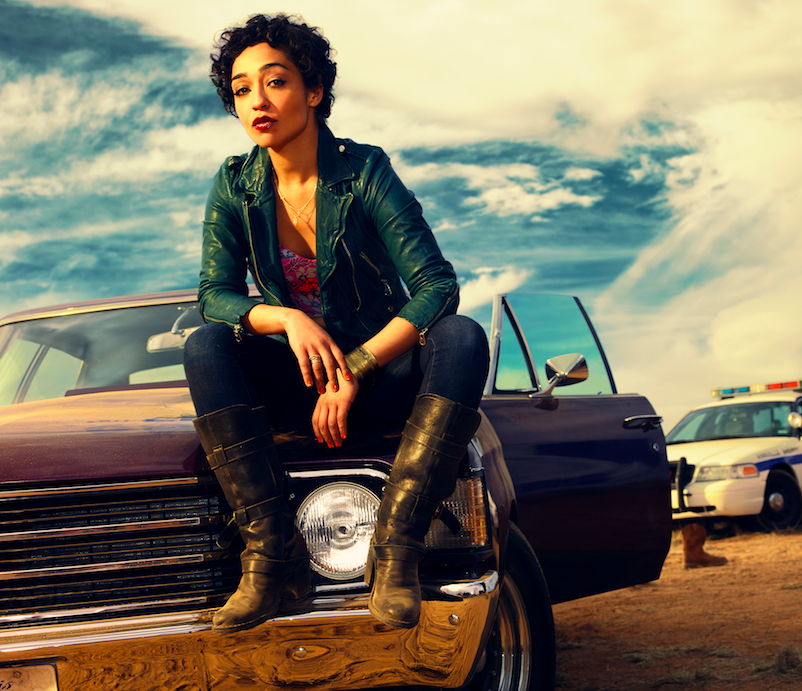 Producers cast a much wider net when it came to hiring an actor to play Tulip O'Hare, Jesse's deadly ex, who is first introduced on the show when she's in the middle of a brutal close-quarters fistfight with two men in a moving car. After what "felt like 72 auditions," Ruth Negga — best known for playing Raina on Marvel's Agents of S.H.I.E.L.D. — landed the role she never imagined she would ever get.
"When I read the pilot, I rang my agent and said, 'You're sending me something I'm never going to get and that's mean,'" she told BuzzFeed News. However, once she stepped into tryouts, Rogen and Goldberg quickly became fans of Negga's take on Tulip. "Seth and Evan were like soccer moms cheering me on."
"There's a wild, unpredictable nature to her as a person that works for the character," Rogen said. "There's a very easy way for it to just become this femme fatale with a gun, but she really added a lot of humor and sympathy and at the same time, created a character that was immensely watchable and someone you were really interested in learning more about."
On paper, Negga — who stands 5' 3" — might not seem like the most obvious choice to play an unabashed brute, but she feels that being physically underestimated works to the character's advantage. "It's not because she's got big muscles, it's because she commits to the idea that you can't fuck with her. And her temper is her strength," she said. "I think a lot of women can identify with that, but I've never seen it reflected on camera at all actually. Her volatility is something we've only really seen in men characters before."
Tulip's belief in herself speaks to the show's most significant theme: faith. The faith one has in God, the faith one has in society, the faith one can exploit, and how the faithful are tested day to day. Building an entire series around religious identification (or the lack thereof) might seem risky, as the desire for every show to appeal to as broad an audience as possible has resulted lately in increasingly agnostic television fare. But everyone involved insists that Preacher isn't, ironically, preaching to the audience.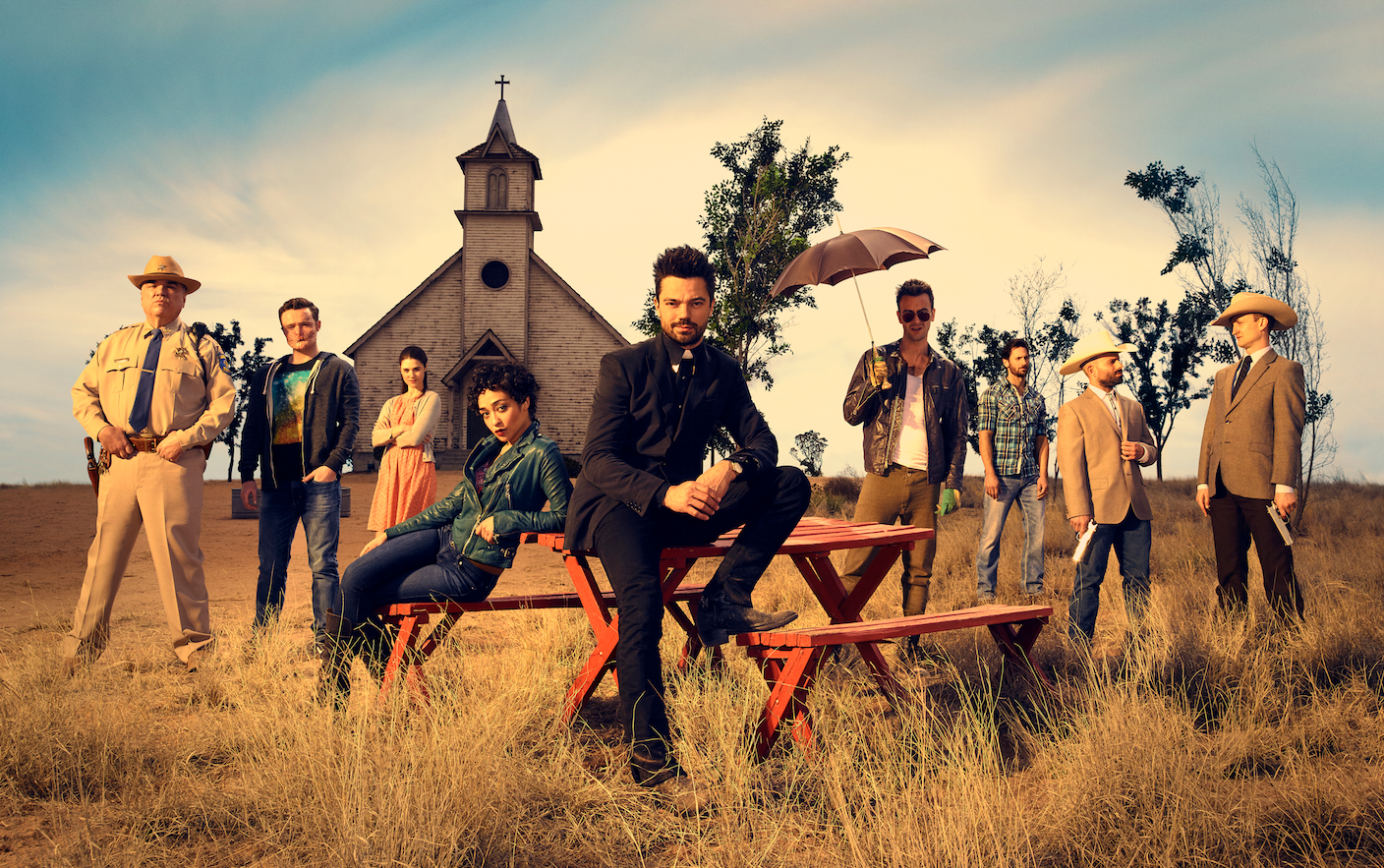 "I think religion as a topic, everyone has an opinion about it — religion is in decline or religion is under threat or religion is the cause of every problem in the world," said Catlin. "What I like about the world in Preacher is we have hardcore atheists and very religious people and they're all sort of butting heads together. But it isn't about religion, it's about what we're all doing here on this mess of a planet."
Like all good preachers do, the show is committed to presenting complex concepts but leaving it up to the congregation to decipher meaning. "It asks loads of questions, and it's not afraid to ask questions it knows there's no answer to," Negga said. "It's like a 'fuck you' to tidy politics. That's what Garth's comics do, they really force you to think about what you believe and why you believe it — and if you should believe it, because is it really worth believing in?"
While it remains to be seen if audiences congregate every Sunday for Preacher, should the series follow in the footsteps of The Walking Dead — AMC's most popular show, also adapted from a comic book — Cooper feels confident the stage is set for a rich, multi-season journey. "Playing Jesse for a long time doesn't feel daunting because — and this happens so rarely — each scene is like this little nugget of excellence that I can't wait to crack open," he said. "One minute you'll adore him, and the next you'll think he's the most vile human being on Earth, given what he's capable of. And that makes for an amazing character for someone to play, and an audience to watch, for years and years — that's the hope anyway!"
Preacher premieres May 22 at 10 p.m. ET/9 CT on AMC.