When news broke on April 1 that Will Ferrell and Kristen Wiig were making in a Lifetime movie, the world assumed it was an April Fools' joke. Why would two of the biggest stars in comedy take time out of their busy moviemaking schedules to star as a husband and wife being tormented by a deranged woman (played by Jessica Lowndes)? A day later, Ferrell released a statement saying the leak had forced him to scrap the project, cementing those it's-just-a-joke assumptions.
"This movie was the biggest secret," Jessica Lowndes, who co-stars with Ferrell and Wiig in the film, told BuzzFeed News in a phone interview. "I had to sign a nondisclosure. I wasn't allowed to talk about it."
But two months later, billboards for A Deadly Adoption began popping up all around Los Angeles, and it was clear that Will Ferrell and Kristen Wiig's Lifetime movie would actually air (on June 20). The news was not only a relief to fans desperate to see the actors tackle such an unexpected terrain, but also to Lowndes.
"I didn't know what was going to happen," she said. "I was confused and worried. And then when I saw the billboard I was so unbelievably excited."
The film — which Lowndes calls "Ferrell's brainchild" — was created by Andrew Steele, who has a long history with the modern comedy legend. Steele spent 13 years writing on Saturday Night Live, including a four-year stint as head writer, which ended in 2008. He also worked for Funny or Die, wrote the screenplay for Ferrell's 2012 Spanish-language film Casa de Mi Padre, and co-created the IFC miniseries The Spoils of Babylon, produced by Ferrell and starring Wiig, who earned an Emmy nomination for her performance.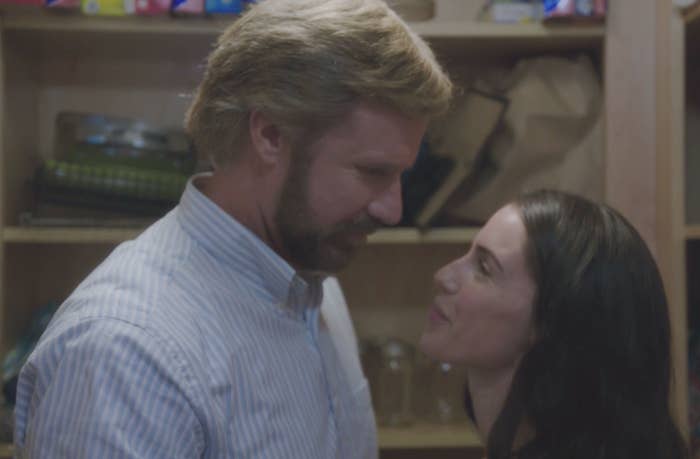 While A Deadly Adoption is undeniably a satire of the movies Lifetime is best known for, there is no winking at the camera, nothing too over the top, and no moment where the film truly segues into pure camp. "We played it 100% straight," Lowndes said. "I think that [with] anything comedic, the more the character and actor cares about something, the funnier it appears to be."
The tone is one Ferrell worked very hard to cultivate, both on screen and on set. "I was surprised to see how determined he was to make it as real and intense as possible in every moment," Lowndes said of her co-star and boss. "He wanted it to be as serious as possible so it felt like any other Lifetime movie — this one just happened to star Will Ferrell and Kristen Wiig."
And Lowndes knows a thing or two about Lifetime movies, having starred in 2006's To Have and to Hold and 2012's A Mother's Nightmare, roles that landed her the job in the first place. Lowndes — who played Adrianna Tate-Duncan, the drug addict turned teen mother on The CW's 90210 — was offered the part in September 2014 and, after signing the ironclad NDA, she went about filming the movie around Los Angeles in the fall of 2014. "We just slipped under the radar," she said of the unassuming production. "Secret movies are so hard, but we pulled it off."
The secrecy surrounding A Deadly Adoption carried through until the film actually aired on June 20: The cast and crew were not allowed to give interviews and press was not given access to screeners, so the first time Lowndes saw the film was with all of America. "I was with a huge group of people and … what I love is that people didn't know if they should laugh or take it seriously," she said. "One person would laugh, then the drama sucks you in and everyone is staring at the TV and they're mad when there's a commercial break."
For Lowndes, that contradiction is undeniable proof that A Deadly Adoption accomplished its goal. "That response is exactly what we wanted it to be," she said, with a laugh. "This was not meant to be a comedy, [but] I definitely knew what we were [making]."