Gabourey Sidibe Refuses To Back Down
With a role on TV's hottest drama and a forthcoming memoir, the Oscar-nominated actor has the kind of career that she never dared dream of — due, in large part, to the fact she's not afraid to speak up for herself.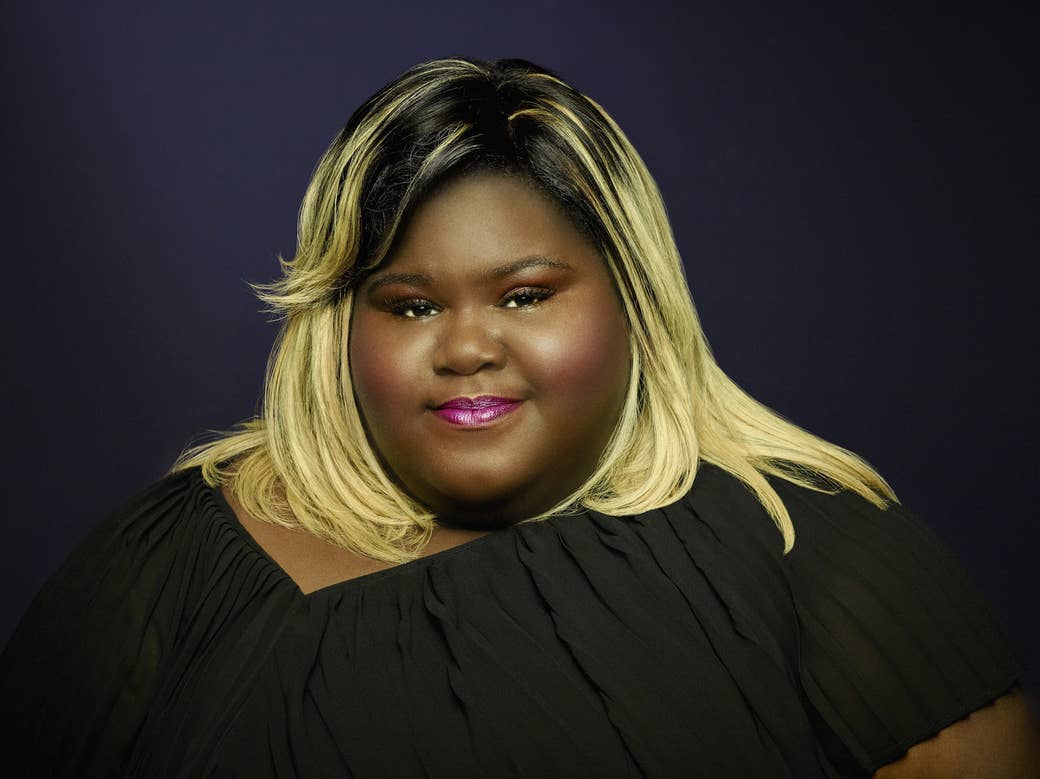 When Gabourey Sidibe found out Becky, the cool and confident music industry upstart she plays on Empire, was getting a love interest in Season 2 of Fox's cultural juggernaut, she said "it was like Christmas morning."
But the morning after the episode that featured a 50-second love scene between Becky and rapper J-Poppa (Mo McRae) aired was anything but. Viewers were tweeting hateful messages at and about Sidibe, who was introduced to the world six years earlier as the title character in Precious.
"It was like they were more comfortable with the rape scene in Precious than the love scene in Empire," she told BuzzFeed News over lunch at Stir Market in Los Angeles, mere days before her comments about the scene went viral. "People were like, 'What?!? Fat people have sex? What? Does not compute.' 'Yes, idiot. You watch Maury. Get out of here.' I think that people think someone like me sits at home in the shadows crying. And that's not reality. It just isn't. I like the unexpected character. I like playing a badass. I like getting stuff done."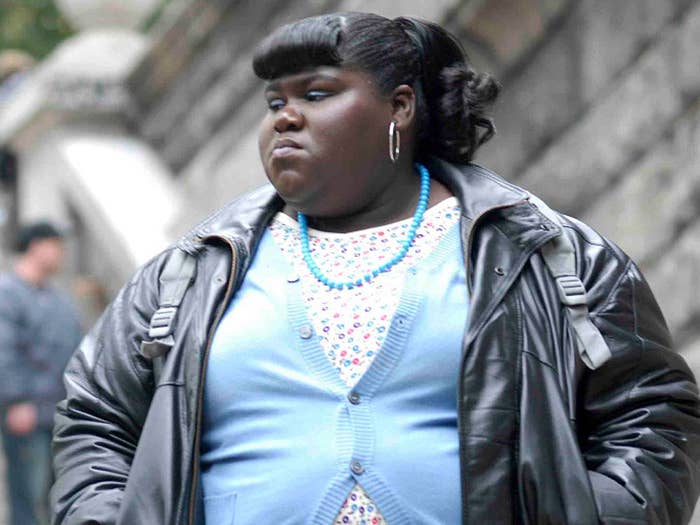 And Sidibe has done just that since earning rave reviews for Precious in 2009. In the years since she scored a Best Actress Oscar nomination for that performance, there have been only three weeks when she considered herself unemployed.
Following that emotionally devastating breakout role, Sidibe got the chance to show her range — in addition to half a dozen films roles and hosting Saturday Night Live in 2010, Sidibe played Andrea, the bubbly fashion designer on Showtime's acclaimed The Big C; then Queenie, the outspoken human voodoo doll on FX's massively popular American Horror Story: Coven; and now, Becky.
But Sidibe's nearly nonstop workload is hardly the result of Hollywood constantly banging down her door. "I think people assume I'm reading scripts all the time, but the reality is, I'm no Jennifer Lawrence. She has quite a bit more privilege than I do," Sidibe said. "I saw very, very soon — like right after the whole Oscar race ended — that this could be over tomorrow and that I would never be heard from again because no one was going to hand me a job."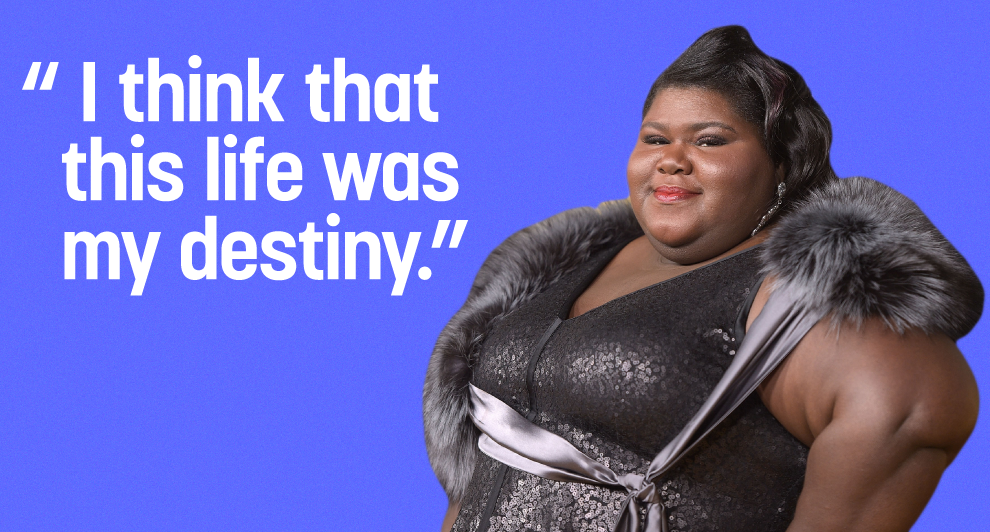 Sidibe isn't like other actors who had childhood aspirations of working in Hollywood, and that was because of what she saw growing up in Harlem. "My mom is a singer — a really good singer — but I watched her struggle to do her art. Watching her struggle made me want to get a 9-to-5 job," Sidibe said of her mother, Alice Tan Ridley — a video of whom singing in the New York City subway went viral after Sidibe and Precious became a sensation. (In 2010, Ridley appeared on America's Got Talent.) "I didn't want to struggle," Sidibe added. "I didn't want to wonder where my next paycheck was coming from."
That uncertainty is exactly what she tried to avoid by enrolling in college to become a psychologist, a solid plan, since "people always tell me way too much information, too soon," Sidibe said, as her signature giggle — part mischievous, part bemused, entirely infectious — echoed through the restaurant. "I really just wanted to have people come and tell me their stories and their secrets," she continued. "That just wasn't the plan in my life. No matter what, I still ended up here. … I think that this life was destiny."
Actors will often talk about fate as a way to counter the privilege their job affords them, but Sidibe's backstory could make you a believer as well.
Sidibe had just enrolled in college when the opportunity to audition for Precious came her way — but the audition time conflicted with one of her first classes. Doing her best to make responsible choices for her future, Sidibe opted to skip the audition and left her apartment to go to class. "The audition was uptown and the class was downtown," she recounted as if launching into a ghost story. "I walked out of my building and American Gangster was shooting on the downtown side of the street. I tried to walk through and a [production assistant] made me go back — to the uptown side of the street! I said, 'Well shit, I guess this is a sign. If I'm on the uptown side of the street, I might as well go uptown to the audition.'"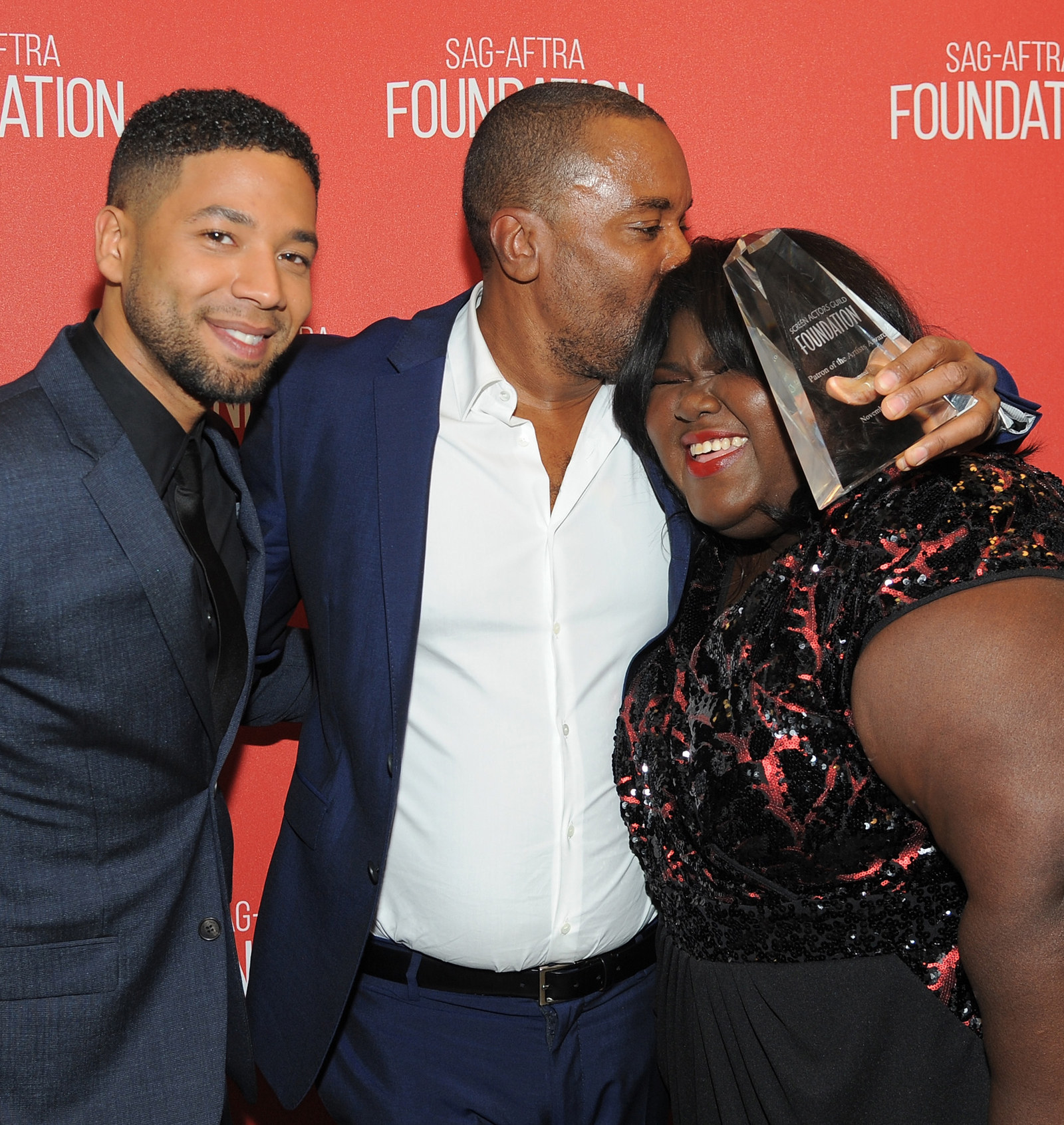 Two days later, director and co-producer Lee Daniels cast Sidibe in Precious and changed her life forever.
"When I met him, I was a shy, scared 24-year-old girl," the 32-year-old actor said of the man who has become a father figure to her. "He saw me and it's easy to say that he saw more — but he didn't: He saw exactly who I am. He saw a flawed human, and that is the magic of Lee. He sees reality, he sees honesty, and he still finds it beautiful. He was the first person that has looked at me and said, 'You are great. You are a star. You are everything.' He's like a wizard. He's honest and he demands your honesty. He's so insane, but he is so truthful, and without him I would probably still be a struggling college student or in a ton of debt listening to people tell me their problems and hating it."
After The Big C signed off in 2013 and her two-season run on American Horror Story: Coven and Freak Show ended in 2014, Sidibe and Daniels reunited to film the pilot for Empire in 2014. The series went on to become the year's biggest breakout hit, proving to the television industry that a network series could draw cable-size ratings with a nearly all-black cast.
"Empire is more than I could have ever dreamed of," Sidibe said. "The weird thing is, I don't get very far dreaming. That doesn't make sense, but I didn't dream this. My whole life I've just been hanging out, and what I really want more than anything is to do work that's fun — and Empire is fun. I love the work I do. I feel fierce, I feel pretty, I feel gorgeous, and to have these actors, who I admire so much, be such good people, it's more than I could have dreamed."
The currently airing second season still focuses on the Lyon family — Cookie (Taraji P. Henson) and Lucious (Terrence Howard) continue to loom large over their sons, Jamal (Jussie Smollett), Andre (Trai Byers), and Hakeem (Bryshere Gray) — but it's also taken time to expand the breakout characters from Season 1, like Cookie's loudmouthed and hilarious assistant Porsha (Ta'Rhonda Jones) and Sidibe's Becky, hence the love interest.
"They asked me in the writers room what I think Becky's type was and I said, 'Tall, dark-skinned, great smile, tattoos, kind of hardcore rapper but then will then pray in the middle like DMX.' Like, when DMX used to pray, remember that? And they manifested the hell out of that by casting Mo. He is perfect," she said of the Sons of Anarchy alum.
But when it came time to film the scene that caused so much backlash, Sidibe was nervous — after all, playing a sexualized character onscreen was a first for her. Her co-star, however, put her at ease. "I was so nervous when we were shooting our love scene because I've never really shot a love scene — I've shot a rape scene but not a love scene," she said. "Mo was like, 'Explain to me why you're nervous.' I'm nervous about touching other people. I'm very strange in this way where I feel like, 'Oh, I'm in your way. I'm touching you too much. Oh, I'm being inappropriate.' And once I explained it, he was like, 'That's a weird thing to be nervous about. You don't have to if you don't want to,' and that just made everything better."
While everything was perfect behind the scenes, the audience's reaction to the scene was "weird," according to Sidibe. Days after this interview, she also penned a short response to the internet's reaction in her weekly Empire recap:
On that love scene…


Also, yes. I, a plus sized, dark-skinned woman, had a love scene on primetime television. I had the most fun ever filming that scene even though I was nervous. But I felt sexy and beautiful and I felt like I was doing a good job. I'm very proud of the work we all did to make that scene a great opening for the episode. I keep hearing that people are "hating" on it. I'm not sure how anyone could hate on love but that's okay. You may have your memes. Honestly, I'm at work too busy to check Twitter anyway. #Booked. Hope you enjoy next week's show!
It is not the first time Sidibe has gone online to educate the masses. Her most notable retort came after the 2014 Golden Globes, when she tweeted, "To people making mean comments about my GG pics, I mos def cried about it on that private jet on my way to my dream job last night."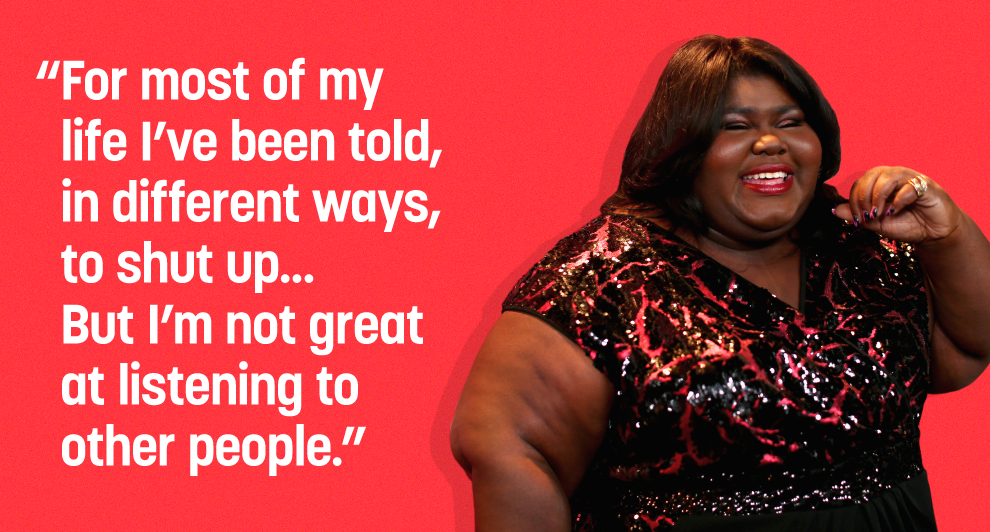 "I say that sarcasm was a birth defect," joked Sidibe, who's as intelligently snarky and coolly confident in person as her social media presence would imply. "I've always spoken as an adult. That made childhood so shitty because I had too many things to say, too many opinions, and too much truth, and I wouldn't lie about anything. I've always been that person. But for most of my life, I've been told, in different ways, to shut up. 'Shut up. Your voice isn't yours right now. Like, that might be OK when you're an adult, but you're a kid now, so you can't have this voice.' It has taken some time. But I'm not great at listening to other people when they tell me to stop being who I am. For a long time, it just didn't work. I've done things to be quiet or just be cool and not cause a ruckus, and I can't."
Sidibe may have triggered some social media disruptions in the past, but in May 2014 her deeply personal speech at the 2014 Ms. Foundation for Women Gala set the internet on fire. "There are very few times I am proud of the internet, but I was proud of the internet that day," she said, tapping a boldly decorated black-and-pink nail on the table for emphasis. "I was proud that people were able to read it and see it for what it was. It felt cathartic that there was some part of me I'd locked down that I had let out. And the response was more than incredible."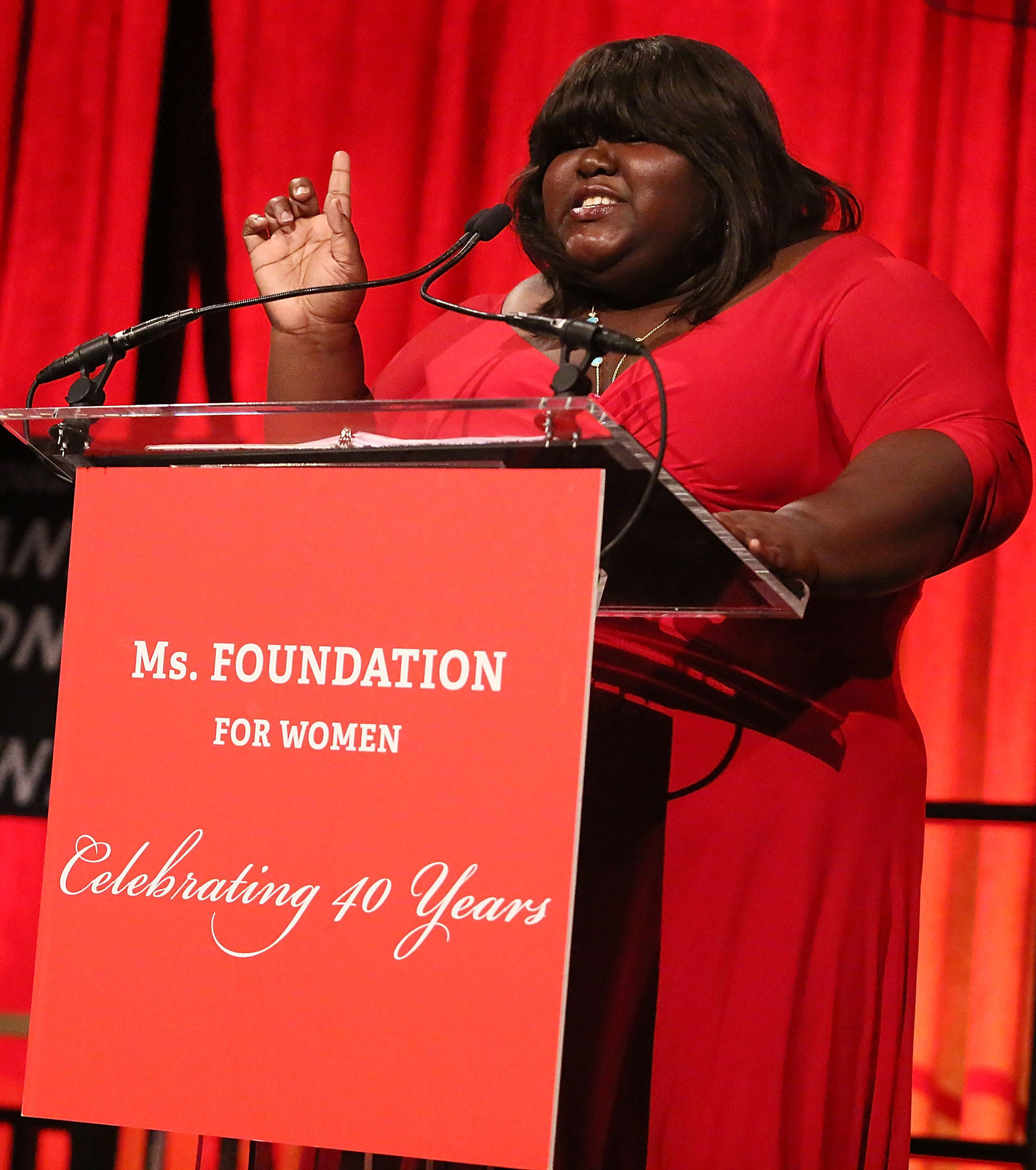 The speech did more than let Sidibe know "the internet is happy with me today" — it put her on the publishing world's radar. "With all the tweets and reposting of it, all of these publishers came out of the woodwork saying, 'We think you're a talented writer and we think you have a whole book in you,'" she said. "I used to write as a kid. Mostly fiction, but I was really good at English, so I knew that I could write. I didn't know what I wanted to write, though. With that speech, it was real. It was a thing I needed to do to convince me I could write. Like, I can write, but I don't think I can write for real. I'm no Lena Dunham or Edgar Allan Poe — if I may compare the two — but maybe I am. And it's fine that I'm neither of those people because I'm Gabourey Sidibe."

Buoyed by the reaction to her Ms. Foundation Gala speech, Sidibe set out to draft a manuscript that could be shopped to publishers. "Every chapter is like ripping my skin off and revealing more and more of my flesh, and that is scary, but also really cathartic too," she said, a feeling she had that night at the gala in 2014. "It was more than I'd ever really said about myself than ever — and that's on purpose. I give you whatever side of me I want to. I'm very smart and protective about different parts of me, but I was really, really nervous because it was more than I'd ever shared and I also didn't think I could do it without crying — and I couldn't. But that's fine."

It took Sidibe almost a full year to write the manuscript. Afterward, she sent it to 30 publishers for consideration, 20 of whom wanted the book, triggering a small bidding war. Sidibe eventually signed with Houghton Mifflin Harcourt and her memoir will be published in 2017.
The process of writing the book, which will consist of first-person essays on everything from dating to shoes, has been an invaluable learning experience for Sidibe. "It's a really interesting thing to sit down and write a book," she said. "I've been going back into my memory thinking about what I've been through and what I've experienced and I'm learning more and more and more about myself. I'm learning more about the people who love me, I'm learning more about the people who hurt me, I'm learning more about everyone I've ever been involved with, and even the people I haven't; I'm learning more about society and strangers and my relationship to them. It's so scary, and there are times when I write something and I go, 'Oh god, if I say this, then people will hear it and I'll either have to answer to it or I'll ignore it and be a fraud.' I'm getting more and more used to putting myself out there and the idea that other people will read it."
And writing her memoir has also renewed Sidibe's interest in writing scripts for films and television. "I've been behind the idea of 'let's make the work' for a long time," she said, echoing other women in the industry like Ellen Page, Zoe Saldana, and Olivia Wilde. "Because I don't have the privilege of being a pretty blonde white girl … I want to start creating my own work; not just for myself, for other people too. I've really been on the uptown side of the street with all the work I get to do, [and] I want to be in this business for a long time, whether it's in front of the camera or not. I can't leave it. I can't."
Empire airs Wednesdays at 9 p.m. ET/8 CT on Fox.