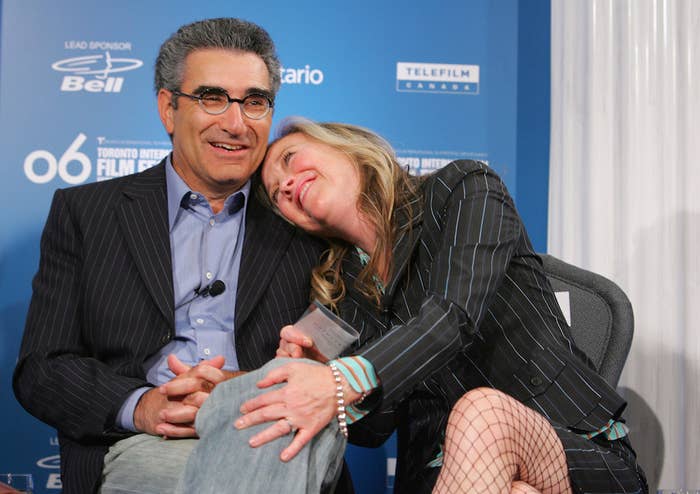 LOS ANGELES — For the last 40 years, Eugene Levy and Catherine O'Hara have been friends, colleagues, and one of the most beloved comedy duos, thanks in particular to their work in Christopher Guest's improv-heavy films, like 2000's Best in Show and 2003's A Mighty Wind.
But on Feb. 11, their act will transition to television with Schitt's Creek, a new comedy coming to Pop (formerly TV Guide Network) where they play super-duper mega-rich (but also mega-brainless) couple Johnny and Moira Rose. Their entitled children, David and Alexis, are played by Levy's son Daniel, who co-created the series with his father, and Annie Murphy. After the Roses' fortune evaporates thanks to a shady accountant, the family is forced to move to Schitt's Creek, a podunk town Johnny purchased years ago as a gag gift for his son.
BuzzFeed News recently sat down with Levy and O'Hara — after he gallantly escorted her to her chair — on the set of Pop's promo shoot for Schitt's Creek to talk about when they first met, the secret to their decades-spanning collaborations, and to see if they've figured out why audiences love seeing them paired up on-screen. (It might have something to do with the fact that, after working together for 40 years, the actors can — and often do — finish each other's sentences.)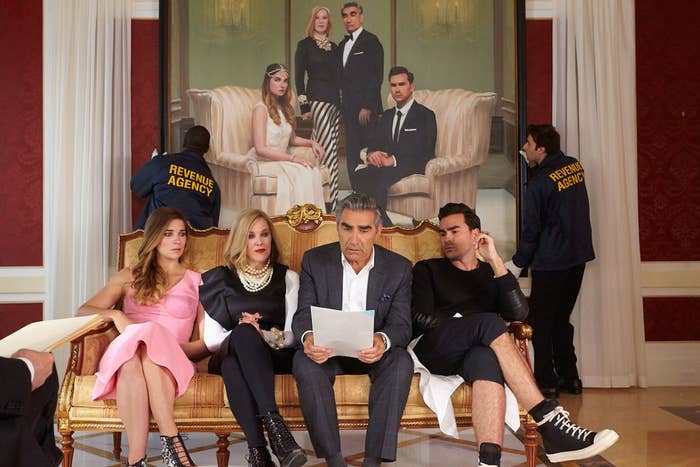 Eugene, at what point in the planning process did Catherine's name come up to play Moira?
Catherine O'Hara: Yeah, how many people said no?
Eugene Levy: She was the very first. We had nobody else in mind besides Catherine. The thing was, Could we actually get her to do it?
CO: Because I'm lazy, not because I'm popular.
EL: No! You're very, very, very picky about what you do, you know? You're very selective... And then, in actual fact, you said, "No, I can't do it." Then I had to go and call somebody else, and they said yes, and then I heard from Catherine saying...
CO: No! You called me! You said, "I know you're not sure you want to do this series, but will you do the pilot presentation please?" He knew what he was doing. He knew I'd be in.
EL: Right. And then I said, "Listen, there's no ties at all. Come and do the pilot and even if this thing goes, you're fine. There's no commitment." And she said OK.
Catherine, you haven't done much television over the years. What kept you from committing to a series before?
CO: I have avoided series because you're in the hands of strangers. At least with most of the series I've been offered. Even if you've seen their other work, you never know what it's going to be like. And I'm so spoiled from work that Eugene and I have done together where I could collaborate and I could be heard and have a say in what I was doing and how I was serving the project.
EL: I think you've had a lot of creative input. Usually movies are quite collaborative, particularly comedies. They will listen to what you have to say. Sometimes in the process of a television series... What was the question?
CO: About avoiding a series.
EL: Yeah! So that's why I'm glad we got Catherine. And then, of course when this thing actually happened again, when I found it was going [to series], I had to kind of go back and beg...
CO: No, you didn't! You didn't beg at all.
Let's take a step back. Catherine, what do you remember about the first time you met Eugene?
CO: I was a waitress at Second City ... and Eugene was in the cast, and I auditioned for the cast. At that time, Joe Flaherty, who was directing, said, "I heard you auditioned. Keep up the day job. Keep up the waitressing." But even waitressing at Second City was a cool job. My sister was a waitress there, my brother was a waiter there, and Eugene was in the cast, so I, of course, remember Eugene because I saw him on stage.
EL: I remember the audition, and it was a really good audition, and I think the general feeling was she was just a little young.
CO: Yeah...
EL: A lot of good potential. Anyway. Less than six months later, you were in the cast. You replaced Gilda Radner.
CO: God bless her.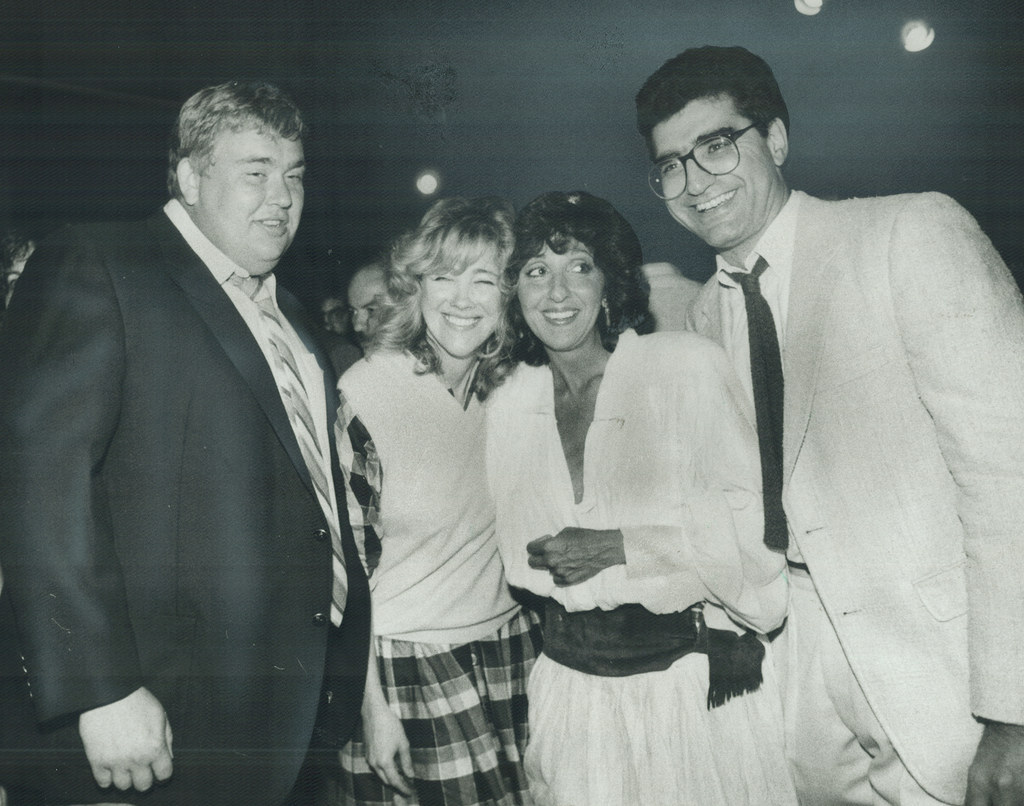 Why do you think you two work so well together?
EL: I think we both approach what we do in the same way. I've never considered myself a comedian, and yet I've spent my life in comedy.
CO: Me too.
EL: It's like the biggest enigma when you think about it, because I'm not funny. If somebody said, "Go up and do 10 minutes," I'd be like, "What?!"
CO: "Ten minutes of what?!"
EL: We're two character actors — I mean, certainly on SCTV where all we did was characters. Second City theater, you get up on stage and you're doing characters, and to get a good, funny character is great. We both approach it like an actor. You want to get inside the character and make it funny, but it all goes from the inside out. ... You kind of look for what you can do with a character — Is this a meaningful character for me to play? And, How much mileage can I get out of it? And, How will the marriage with me and the character be?
CO: And I feel like my job is to protect my character, so there have been times where we had discussions that verged on some tension. But with Eugene — this is the lovely thing about working with a friend who you love and respect, and I really love and respect Eugene — he is really funny, he's very thoughtful in his work, he's a great writer, and a great actor. So even when it gets into an argument, I believe that there's no other crap in the way, it's all about making this the best it can be. And I hope he believes the same of me. It's great.
EL: I always listen to reason.
CO: Even if Eugene doesn't agree with you right away, he'll go think about what you said, as opposed to people who just go, "No. I didn't think of it, so that's not going to happen." If Eugene is not sure, he'll go and think about it and come back with a great reason why he agrees or why he doesn't. [To Levy] You're defending it. You're always very thoughtful.
EL: I try to side on what is creatively right. And, you know, we started this show with a completely different character as it was written.
CO: Yours or mine?
EL: Yours. Which is kind of the way we did it in the pilot presentation, but then Catherine had a couple of great, brilliant ideas to change her character, which, actually was the thing that just kicked this show into high gear. It was great.
CO: Well, thank you for allowing me.
EL: No. Your ideas are always really great; your ability to come up with lines and ideas for your character are things you just can't find when you're hiring just somebody who can't do this kind of thing.
CO: Thank you. Well, your writing is great. It's inspiring.
EL: We're a good combination.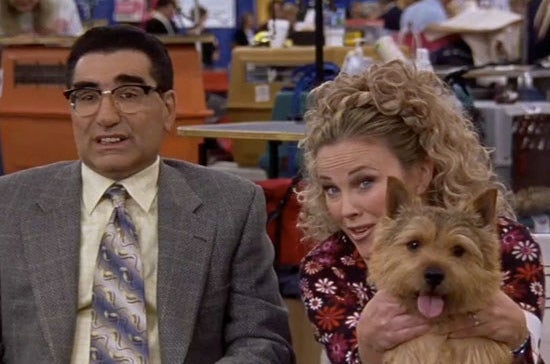 When did you realize that audiences were interested in seeing you two as an on-screen couple?
CO: I don't know. I'm not sure they are. I just hope they enjoy us in this.
EL: There's been a few things we've done together. We did some animated things, voice work.
CO: And then your movies with Chris Guest.
EL: Oh, yeah, yeah.
CO: More than anything, that's probably it. That's where we worked together ... but we were only married in one movie [2000's Best in Show].
Well, you also played ex-lovers in 2003's A Mighty Wind.
CO: Oh right! Cookie and Gerry and then A Mighty Wind.
EL: I guess for the people who saw those movies, or are fans of those movies, it's like a cultish kind of thing.
CO: You mean small.
EL: People who loved it, really loved it. So I think people fell in love with the cast, the vibe of those movies, and the fact we were a couple in two of the four movies. ... And I guess because of the movies you've done, and I've done, the profile kind of stays up there.
CO: You're lucky to work with friends, and I think it's nice to see friends together. I like knowing when people know each other and have a history; that comes across on screen. I think it's fun for people to see. It is for me.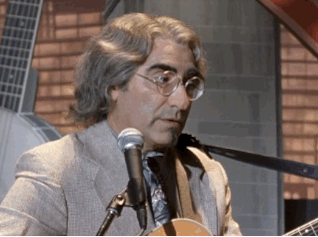 Eugene, were you trying to capitalize on the success of Best in Show by pairing up again with Catherine in A Mighty Wind or is that just how the chips fell?
EL: We just came up with the scenario of Mitch and Mickey and it was, again, a given. I mean, who else was going to play Mickey? No one else made sense. ... Not a lot of thought or discussion went into it because there's no rehearsals with those movies — you just show up and the cameras roll. That's the first time you see what's going on.
CO: Right, because all the dialogue is improvised. So you go your own way. You went your way with how you would play Mitch, and I interviewed as many people as I could and researched that world to play Mickey. You just show up and hope to god something comes out of your mouth that makes sense. And I remember with Best in Show we really didn't talk — at all — about the characters. We did discuss that we wouldn't have had that long a history with dogs, because it was just too much to learn for me to have that much knowledge, so we were new to the game of dog handling. But we hadn't discussed our looks or our history much at all except what was in the outline — that I had been the greatest lover for all these guys. Oh, and thanks for that! I loved that storyline! The guys just kept coming up. But the first time I saw what Eugene looked like as Gerry was in the makeup trailer on the first day and we looked at each other and I've got my ridiculous hair and he's got the glasses and the V-neck sweater...
EL: And the teeth.
CO: Oh god, and the teeth! And I was like, "Oh my god. OK, so that's who I'm married to." And he says, "My god. That's who I'm married to." And you go from there. It's such a fun gift.
And now you're back together again. What are your hopes for Schitt's Creek?
CO: I just hope the audience cares about the characters and what they're going through and they laugh, because we really had fun doing it, and hope to continue having fun doing it. I hope it feels relevant and relatable — I know it is, but I hope it feels that way to them. Because of reality TV and because of all the wealth on display for the average person to see, you don't even have to explain what kind of world this family came from. ... Everyone understands what this insane world could be and what we've lost. Unfortunately, people love to see people fall, but hopefully they'll laugh at us trying to scrounge our way back too.
EL: We said from the beginning that if the audience is not emotionally involved with these characters, this show will have no future. It's about the characters, and the cast really came through in such a major way with real, three-dimensional characters, so I'm encouraged that the audience will take to these characters if they stick with the series long enough.
CO: They'll laugh at us and, eventually — hopefully — with us. But they'll most definitely laugh at us.
This interview has been edited and condensed.
Watch a new promo for Schitt's Creek, premiering Feb. 11, 2015 on Pop (formerly TV Guide Network).
Pop