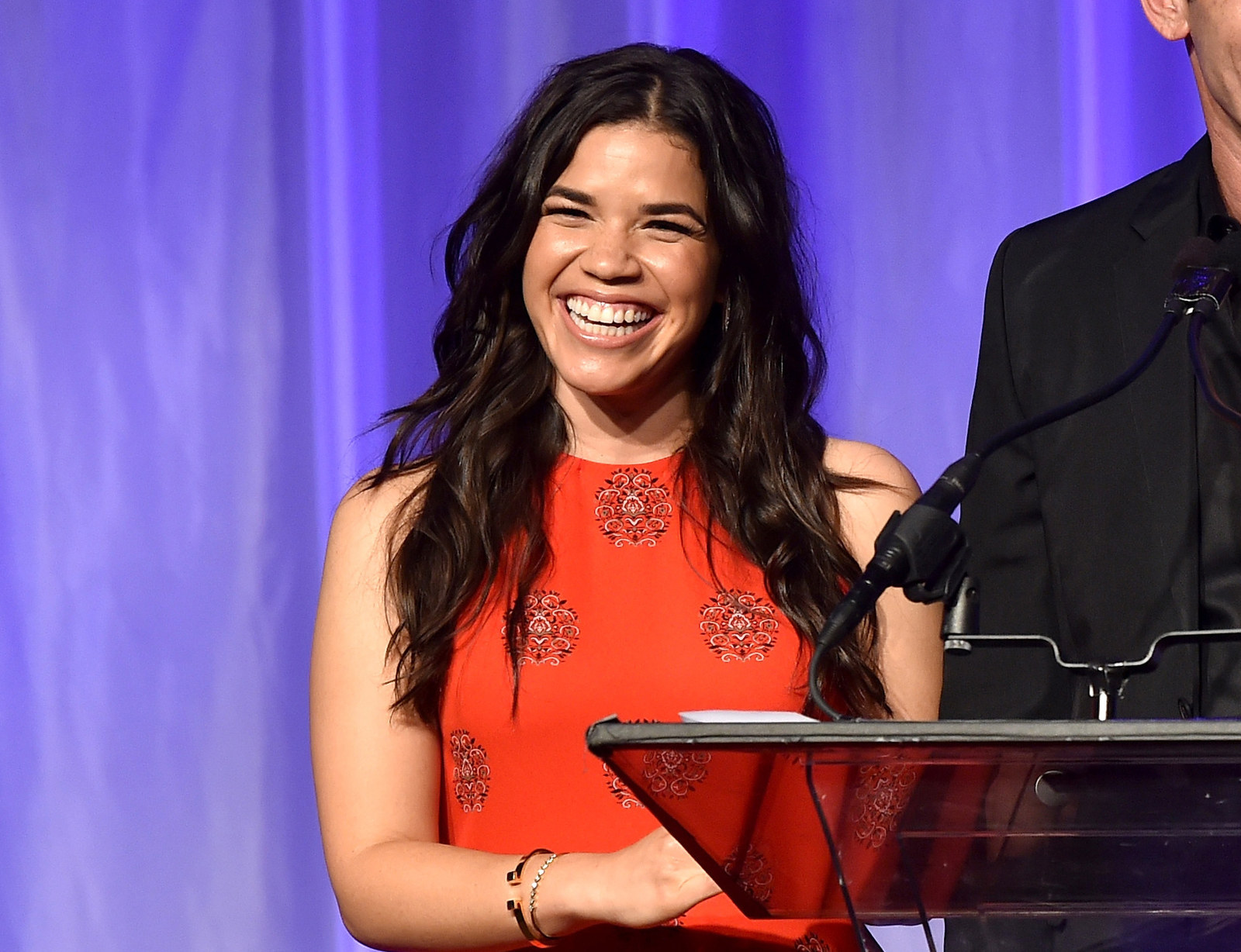 In January 2016, America Ferrera will return to television, full-time, as the star of NBC's new comedy Superstore, her first series-regular role since ABC's Emmy-winning Ugly Betty went off the air in 2010. But Ferrera is returning to a television landscape that's very different from the one in which Ugly Betty's Suarezes were one of the only Latino families.
Over the course of the last five years, Jane the Virgin star Gina Rodriguez proved "she can and she did" when she accepted the Golden Globe for Lead Actress in a Comedy/Musical. Cristela Alonzo created, produced, wrote, and starred in her own network sitcom. Sofia Vergara was nominated for four Golden Globes and four Emmys for her role as Gloria Pritchett on Modern Family. And Selena Gomez and Demi Lovato used their respective Disney Channel television shows — Wizards of Waverly Place and Sonny With a Chance — as launchpads to international superstardom.
That kind of high-profile, primetime representation was nearly nonexistent when Ferrera played Betty Suarez — a brilliant but unstylish college graduate who found herself working at Mode magazine, the fashion industry's (fictional) leading publication. Her crazed, superficial work world was juxtaposed with a satisfying, rich family life; Betty lived in a warm and welcoming Queens home with her father Ignacio (Tony Plana), her older sister Hilda (Ana Ortiz), and her nephew Justin (Mark Indelicato). When it debuted in 2006, the series represented a drastically underserved demographic and, because of that, everyone involved felt the pressure to be inclusive of an identity that means so many different things to so many different people.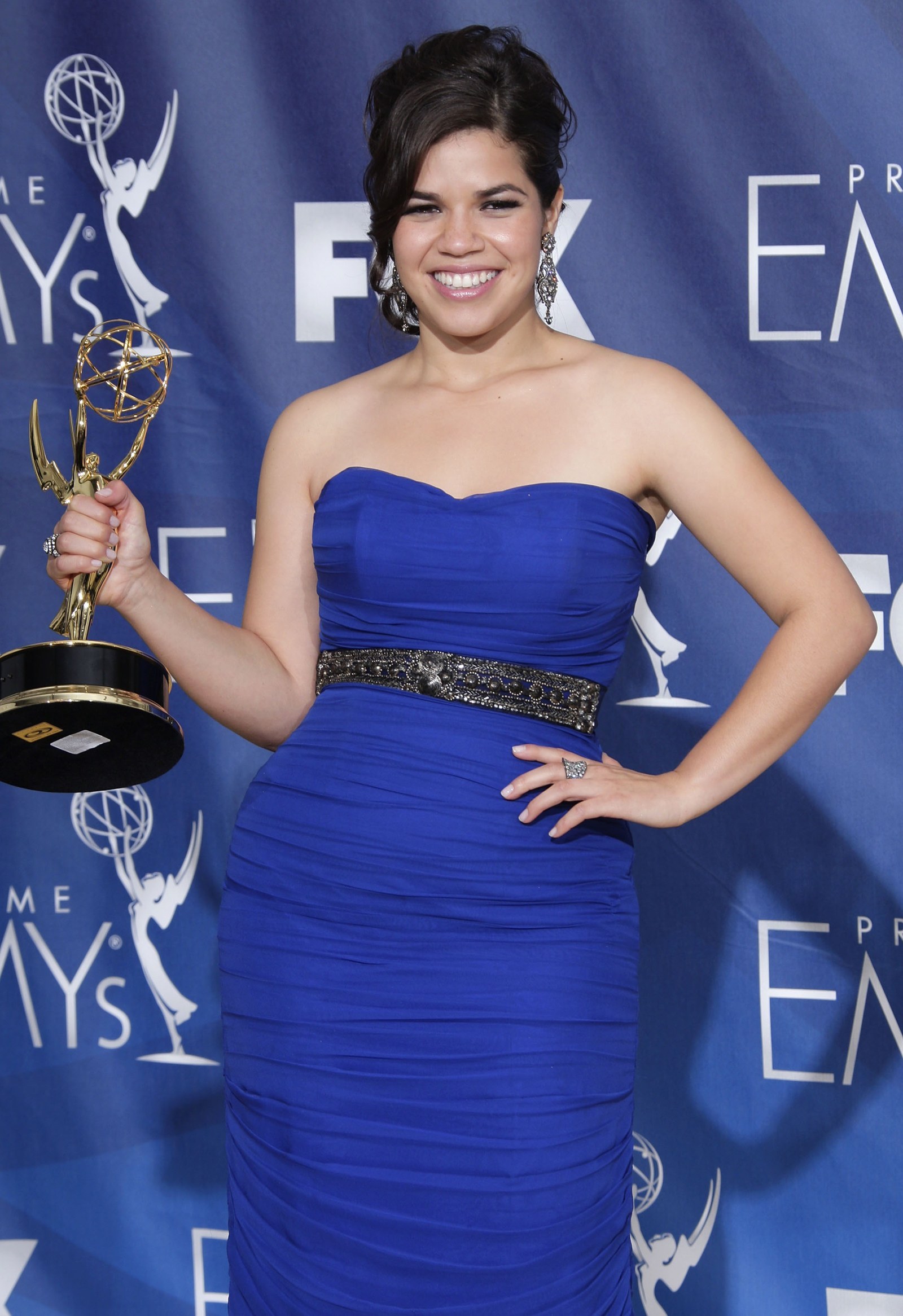 "We needed to be really mindful of the choices we were making and the stories we were telling and what we were saying, being as we were the only Latino family on television," Ferrera told BuzzFeed News of the show, through which she became the first Latina to win an Emmy for Outstanding Lead Actress in a Comedy in 2007. "I can't wait for the day when it's not history for a Latina to win an award or a black woman to win an award or an Asian woman to win an award. The fact that it's almost 2016 and a black woman winning an Emmy is history ... that's appalling. I don't think it brings any of us any joy to be 'the first' or 'the only' because that represents so much talent and so many voices that have yet to be heard. It's exciting to think of what's to come, but it's also really hard sometimes to think about how hard you always have to fight to get people to see things a different way, that the norm and the status quo is not you."
The 31-year-old actor is continuing that fight today with Superstore's Amy, the compassionate but no-nonsense boss of Cloud 9, a Target-like big-box store. The half-hour comedy is a time commitment that, while still intense, pales in comparison to Ferrera's grueling workload as the lead of an hourlong series that boasted her character's name in the title.
"I needed a break to feel human again after Ugly Betty and that took a couple of years," Ferrera said as she stirred her latte at Culina at the Four Seasons Hotel in Los Angeles. "It was a brutal, brutal schedule. ... [But] even on the days when I was so tired, I would wake up every morning just so psyched to go to work because I loved being on the show and I loved my cast and I loved my character."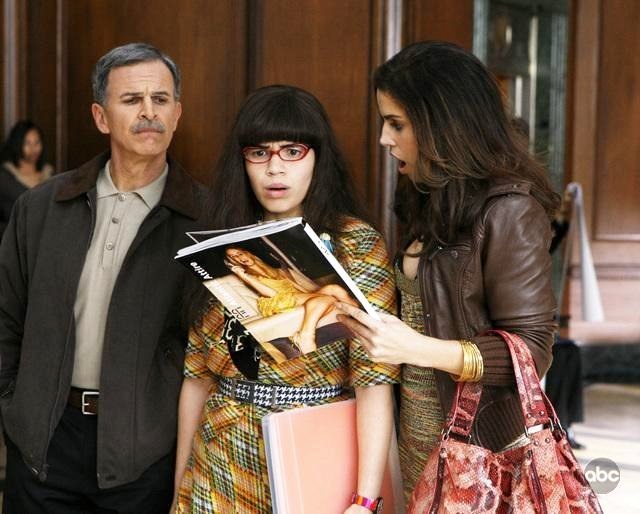 And everyone loved Ugly Betty. Following its highly rated debut, the dramedy became a cultural lighting rod — Saturday Night Live, Mad TV, Scrubs, and 30 Rock all name-checked the series — and its leading lady garnered just as much attention. In addition to her Emmy win, California Rep. Hilda L. Solis saluted Ferrera for her boundary-breaking work from the floor of the U.S. House of Representatives in 2007 and Time magazine named Ferrera one of 2007's most influential people.
It was a level of fame Ferrera couldn't have dreamed of growing up as the youngest of six children in Los Angeles. The self-professed latchkey kid spent hours in front of the television, but was continually frustrated that no one ever looked like her. That dissatisfaction with the lack of representation, however, ended up being dwarfed by Ferrera's passion for acting. "When I was a teeny tiny little person, my feelings were so big and they needed somewhere to go and what I found in acting was an expression of that," she said. "In its purest form, acting is just about expressing. I have always been an incredibly emotional, feeling, expressive soul. I think that little America found an outlet for that in acting."
Ferrera first gained attention — and a Sundance Film Festival Award— for her breakout performance in the 2002 independent film Real Women Have Curves. She followed that in 2005 with the beloved coming of age drama, Sisterhood of the Traveling Pants and its sequel in 2008, which, paired with the popularity of Ugly Betty, turned Ferrera into an unofficial spokesperson for body-confident young women. "My kind of loud mouthedness and my passionate spirit is something that exists in spite of me and so even if I wanted to shut up, it would be really hard to shut myself up," she said with a laugh. "It's just seizing the opportunity when the opportunity is there to say the thing that needs to be said."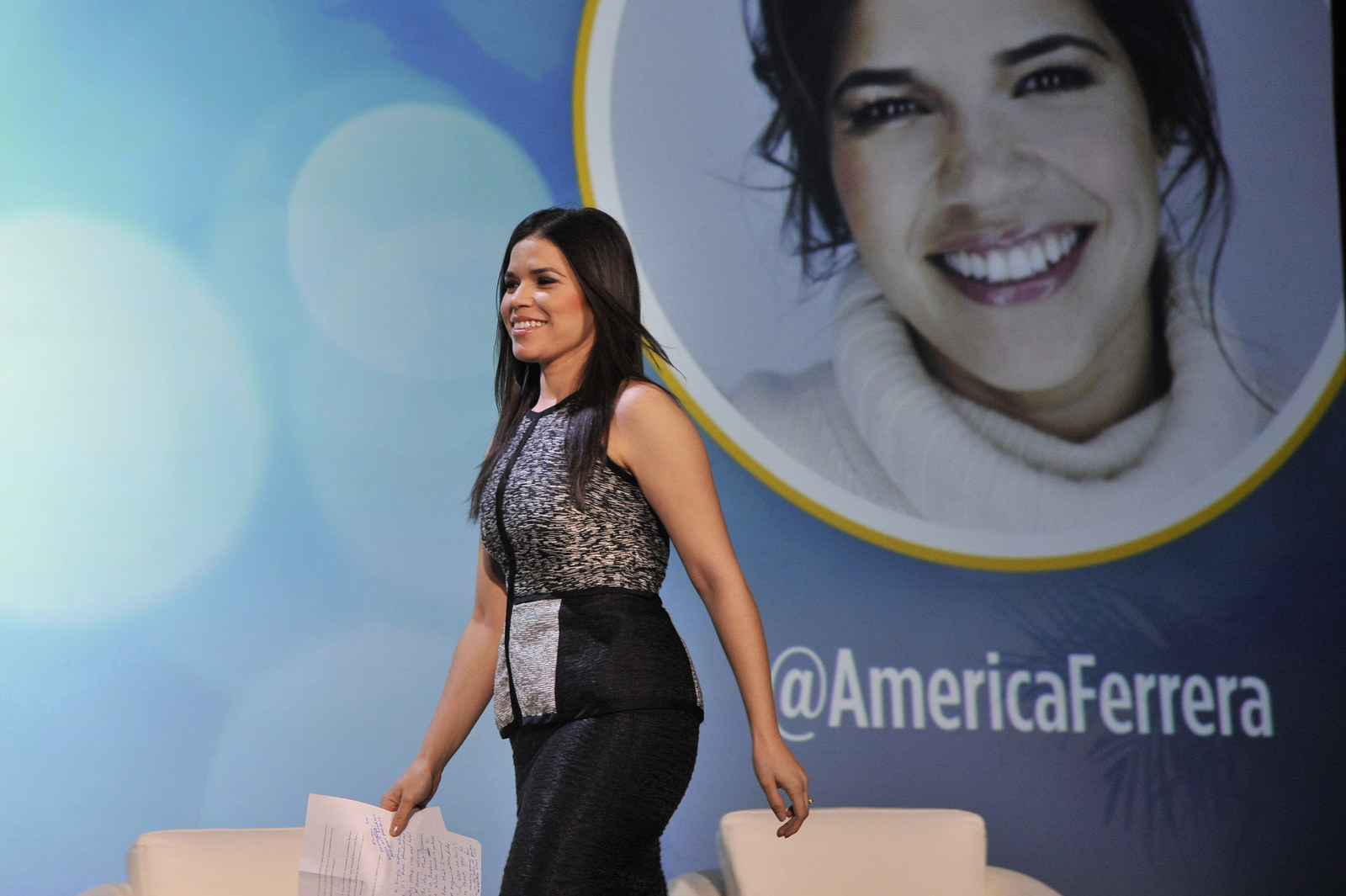 To that end, Ferrera has worked tirelessly to encourage Latinos to vote, long championed women's reproductive rights, and recently wrote a widely shared open letter to Donald Trump after he continually disparaged Latino immigrants in stump speeches on the presidential campaign trail. "A lot of the issues I do get involved in are deeply personal. I talk a lot about immigration because I'm the child of immigrants," she said of her parents who immigrated to the U.S. in the mid-'70s. "I'm not out there talking about something that doesn't affect me. Standing up for women and girls and the unique challenges they face and the challenges of being very low income and the challenges you meet when you come from poverty, these are all things I've had firsthand experience with. It's almost more scary and you feel like you have more to lose when it's so deeply personal because you want to be effective … and you want to make a difference because it matters that much."
That's one of the reasons why Superstore, created by The Office's Justin Spitzer, drew Ferrera back to primetime network television. On the surface, the series is a half-hour workplace comedy, but a deeper examination reveals something much more socially conscious. "This is a show about the working class. This is a show about corporate America. This is a show about the daily lives of so many people in this country," Ferrera said, arms wild with enthusiasm. "I grew up watching working-class comedies. I grew up on All in the Family and The Jeffersons and Roseanne. There was a camaraderie in being the working class in America — a real down-home, no BS, stripped-away sense that our lives could be commonplace and everyday, but still be full of humor and laughter and fun. I thought it was wonderful to see that again on television."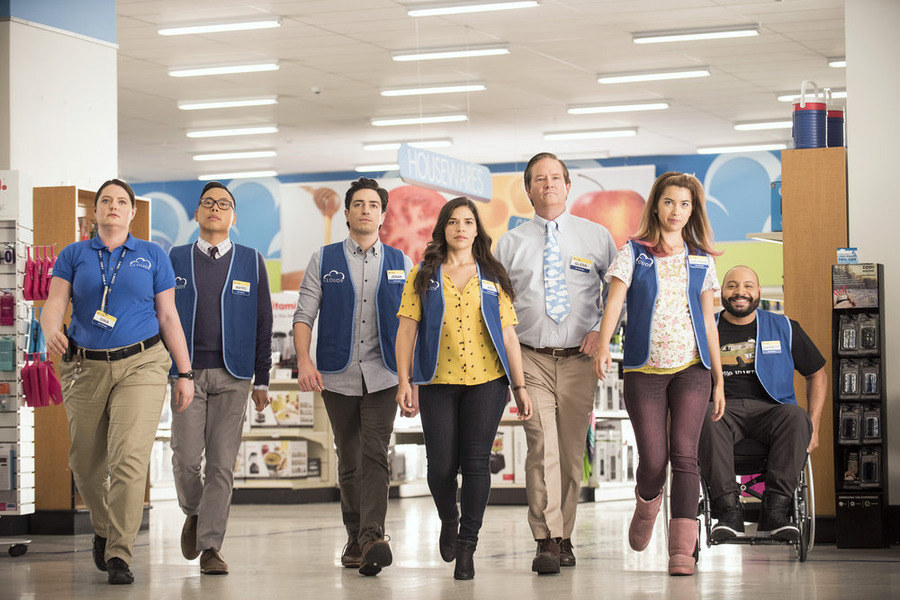 To properly bring that experience to life, it was essential that the Superstore's actors represent a cross-section of ethnicities. "Justin and the producers were looking to reflect the world and not just focus on what's going to make it on television," Ferrera said of her co-stars Colton Dunn, Nico Santos, Nichole Bloom, Ben Feldman, Lauren Ash, and Mark McKinney. "People talk about diversity and I get so sick of hearing that word and I get so sick of saying that word because all we mean when we say diversity is not white. And I don't say that with resentment; I say it because that's what we mean. But when we talk about casting diversely most people think about it as diversity for the sake of diversity because it's the right thing to do. And yeah, on some level it is — but the next level is that when you have people that represent different backgrounds, it only enriches what you can say and the stories you can tell."
Ferrera said she also impressed upon Spitzer the need for the writers room to include women and people of color and was "really earnestly looking for female directors." Of Superstore's first 11 episodes, three were directed by women, which is "not nearly enough," according to Ferrera, but far above the television average, which is currently one of the most hotly discussed issues in Hollywood.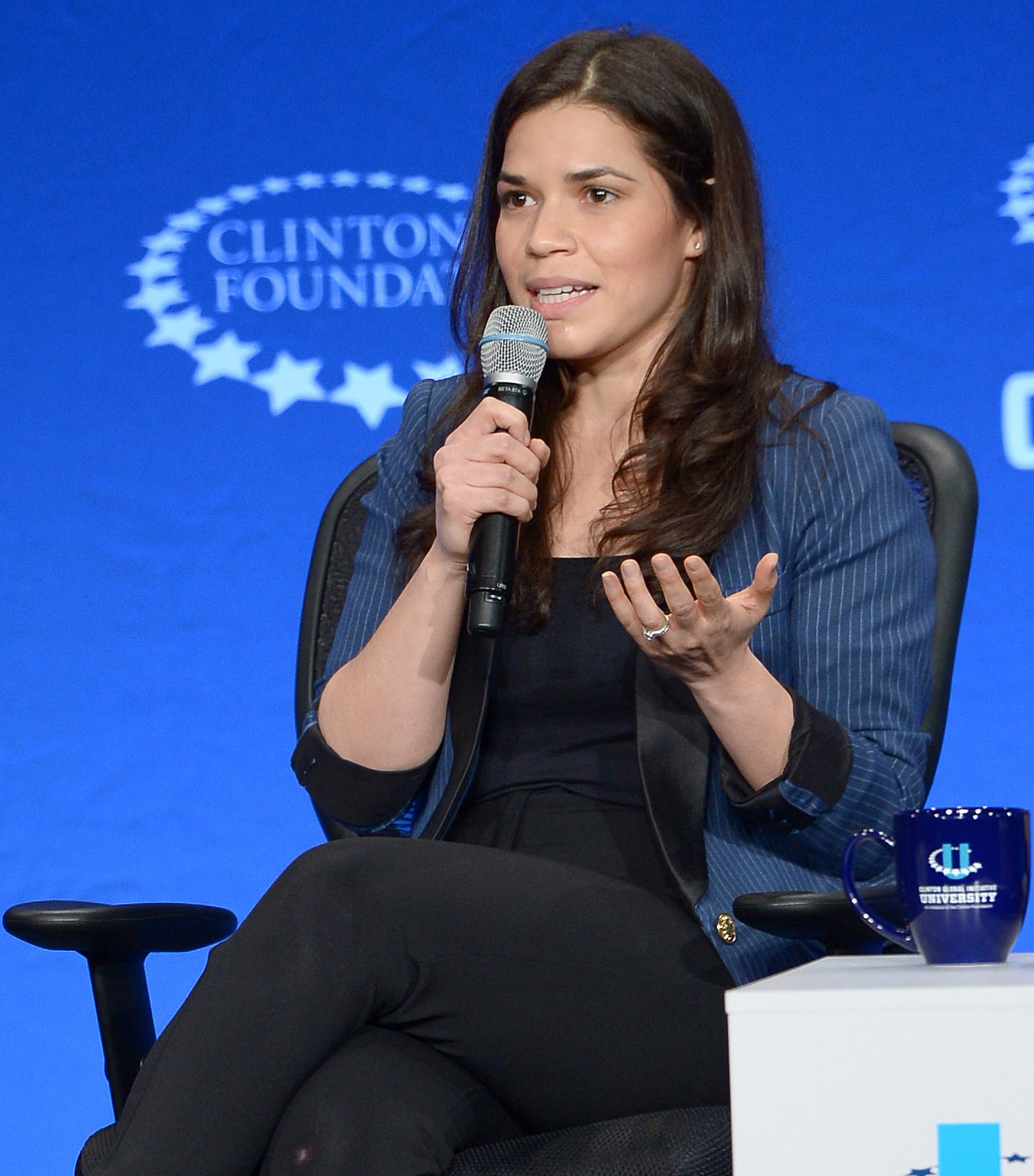 "Nobody is shocked to know that comedy is very male-dominated and it's hard to break through those commonly held views that women are not as effective in comedy as men are," she said. "But I am proud of what the show has done and, again, I think we still have further to go. Not for the sake of it but because that will only make our show better."
Ferrera is equally excited to see NBC embracing nonwhite experiences so wholeheartedly in 2016 as she — and Superstore — are joined by two more shows on the network that are fronted by Latinas: Jennifer Lopez's cop drama Shades of Blue and Eva Longoria's campy comedy Telenovela. The broad swath of experiences reflected on these shows and others means that the pressures of representation Ferrera faced last time around with Ugly Betty are less intense today. And that is the most significant sign, she said, that the needle is at long last moving in a positive direction.
"There's definitely been progress and I think what's wonderful about the progress is now we can go into deeper and deeper layers," Ferrera said. "It's not just, 'Oh, you're the one Latino family on television and so everything you do has to be representative of all the people who are looking to you to be the only representation.' Can you imagine if every white character had to worry about, 'What are you saying about white people?' It would be insane! The fact that there are more representations on television means there gets to be different versions of what it means to be Latino. … We aren't just painted with one brush and we aren't under the same umbrella anymore and that's the real victory."
NBC will preview the first two episodes of Superstore on Monday, Nov. 30, at 10 p.m. ET/9 CT before it premieres Jan. 4 at 8 p.m. ET/7 CT.