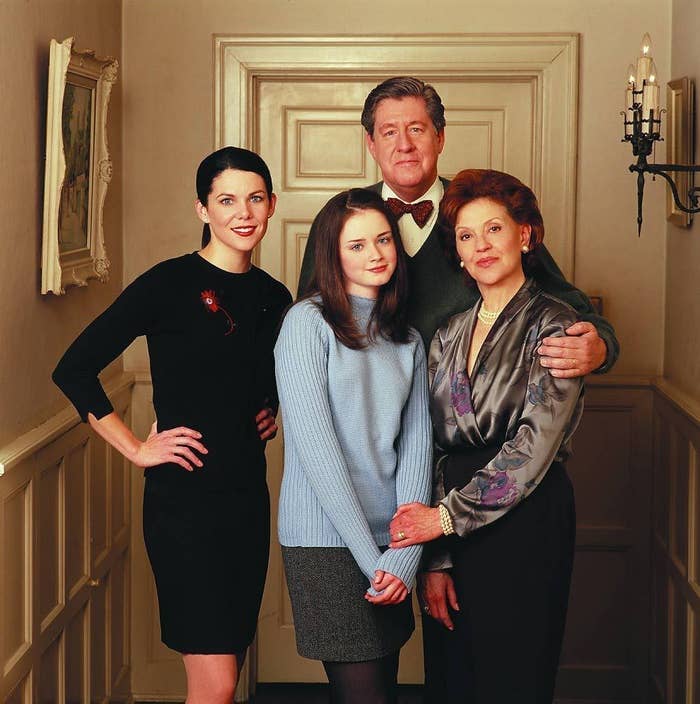 For years, Gilmore Girls has been an embarrassing blind spot in my pop culture life, like The Wire or Freaks and Geeks. So with all seven seasons of Amy Sherman-Palladino's series — revolving around history's most beloved mother and daughter — available to stream on Netflix beginning on Oct. 1, I decided to get a head start and binge-watch the whole first season on DVD.
Going in, I knew very little about Gilmore Girls — I was aware of Lorelai (Lauren Graham) and Rory (Alexis Bledel); that Lorelai shared a very long flirtmance with Luke (Scott Patterson), who owned a diner and might be balding because he wears a lot of baseball caps; Rory's myriad of men — most of whom went on to get their own WB shows — a pair of extremely posh grandparents; Melissa McCarthy playing a character named Sookie years before Charlaine Harris' Sookie Stackhouse Novels and True Blood Sookie; something about a hotel; something about weekly dinners; a lot of Sorkin-esque fast talking; and a town called Stars Hollow, where it was always autumn.
I also knew that people loved this show. Like, deeply, passionately, crazily. I knew there would be 'shipping and swooning and many opportunities for my own dysfunctional childhood to seem quaint by comparison.
So I stocked up on coffee (which was very apt in retrospect) and sat down for a 21-hour marathon of Gilmore Girls. Here's what I thought.
Episode 1: "Pilot"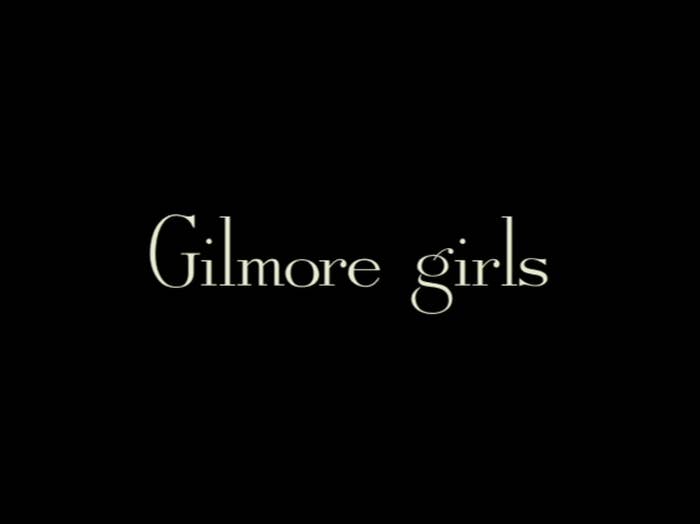 1. Oh, the "g" in Gilmore girls is lowercase.
2. Show opens with "There She Goes" playing. The first reminder (of many, I'm assuming) that this show is old.
3. A sign informs me that Stars Hollow was founded in 1779. That same year this song was released.
4. "I lost my Macy Gray CD." Yep. Old.
5. First laugh of the show comes courtesy of Rory asking that creeper, "Are you my new daddy?" Sold.
6. And now Rory is wearing the biggest sweater I've ever seen.
7. Oh wow, Jared Padalecki really grew into his face.
8. Did my town have teen hayrides?
9. Oh, so Melissa McCarthy was always incredible. It just took the world a long time to recognize that.
10. Eighteen minutes in and there are already a billion lines I want to quote forever and ever.
11. No one is — or ever has looked — younger than Jared Padalecki.
Best Line of the Episode
Lorelai: "I stopped being a child the minute the strip turned pink, OK? I had to figure out how to live. I found a good job."
Episode 2: "The Lorelais' First Day at Chilton"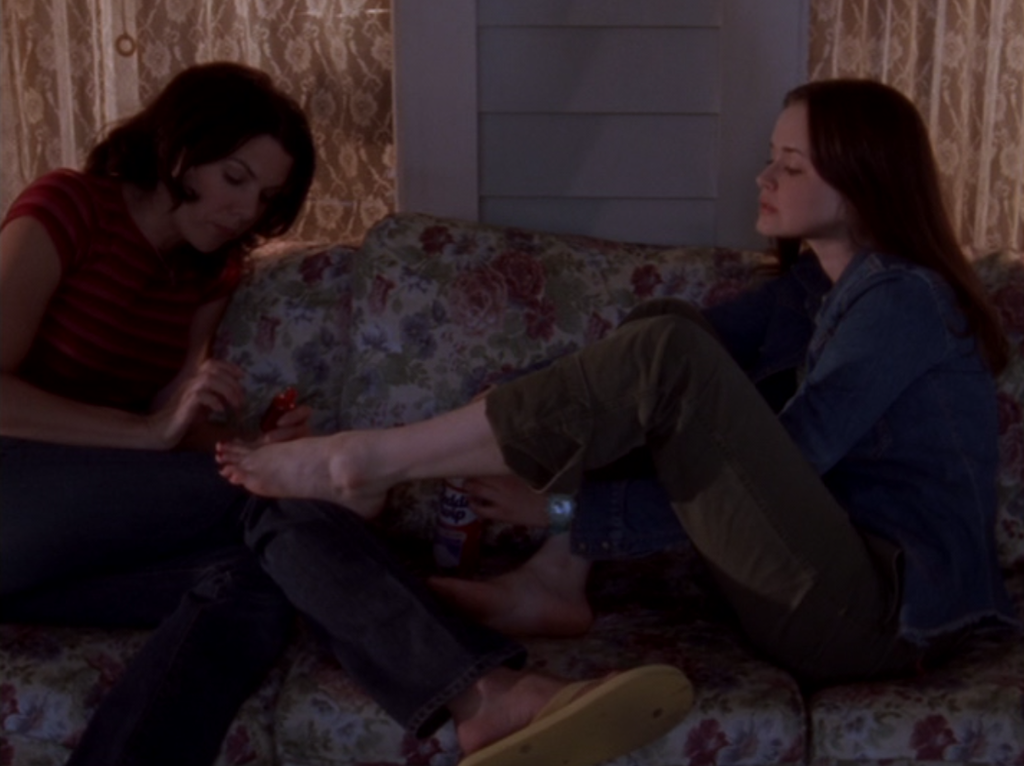 12. LIZA WEIL! I didn't know we were going to meet Paris this early. Oh, happy day.
13. Wait. Rory's name is Lorelai too. Hmm, never knew that.
14. Lauren Graham is a dream — A DREAM! — in this role.
15. Do Miss Patty's (Liz Torres) ballerinas grow up to be Bunheads? TBD.
16. WHY DOES LORELAI HAVE A CLOWN PILLOW?!?!?!
17. And then Chad Michael Murray walked in.
18. His name is Tristan?
19. TRISTAN?!?
20. I can't decide if I love or hate Michel (Yanic Truesdale).
21. Lorelai's hemlines give Heather Locklear circa Melrose Place a run for their money.
22. Really not liking Paris right now. She's a little too psychotic on the Tracy Flick scale, but I know that tide eventually turns.
23. Oh, ew. Chad Michael Murray is a real creepster.
24. This Lorelai-Luke coffee banter is too cute.
25. SALLY STRUTHERS IS ON THIS SHOW?
26. Babette would be her name.
Best Exchange of the Episode
Babette: "Is there a problem?"
Lorelai: "Oh, nothing Shakespeare couldn't turn into a really nice play."
Episode 3: "Kill Me Now"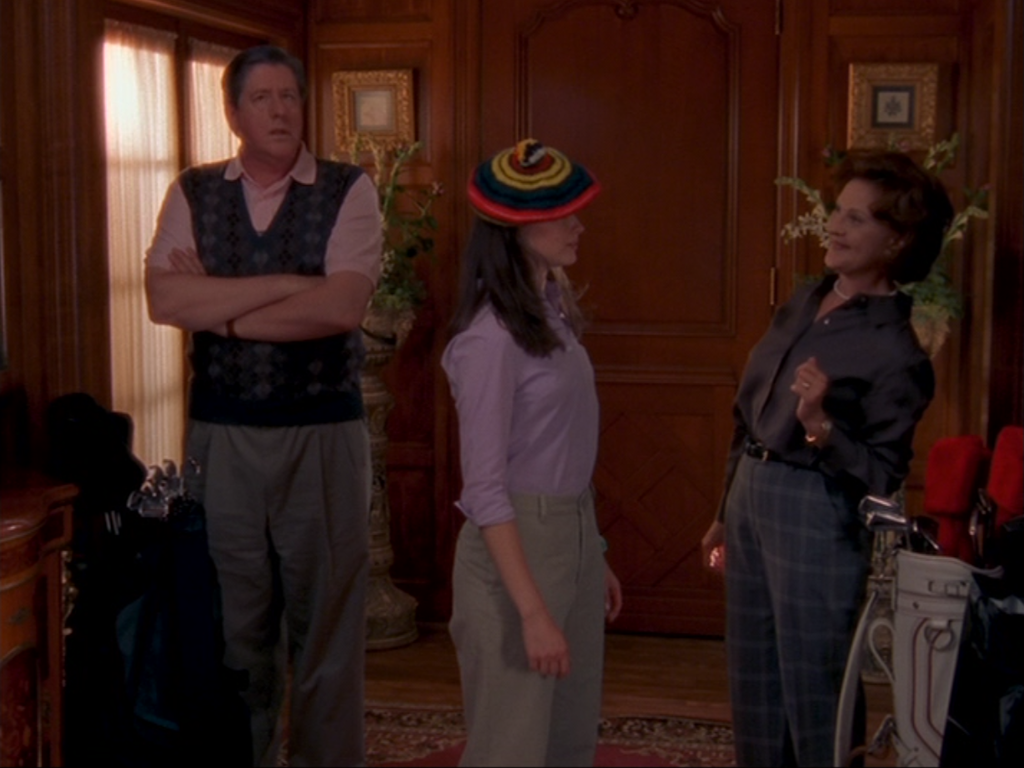 27. Was Lauren Graham ever nominated for a major award for her work on this show? [Googles] Oh good, a 2002 Golden Globe nom. That's kind of exactly what I was expecting.
28. I love that Rory is dressed like Katharine Hepburn to go golfing.
29. So Rory's just gonna wear that hat?
30. Pretty sure I'm attracted to this fruit vendor.
31. It might be the beard.
32. Or the fact he only exists to offer food.
33. "Odious" is a word we don't use enough to describe terrible people. I'm going to try and bring that back.
34. Wait, the DSL installation guy is now delivering swans?
35. Michel is scared of being attacked by swans. Which I can relate to, because one time a swan chased me, causing my shoe to fall off, and then it ate the orthotic out of my sneaker.
36. I never want Alex Borstein to stop lugging that harp around.
Best Exchange of the Episode:
Lorelai: Really?
Rory: Really.
Lorelai: Really?
Rory: Really.
Lorelai: Really?
Rory: OK, new word now.
Episode 4: "The Deer-Hunters"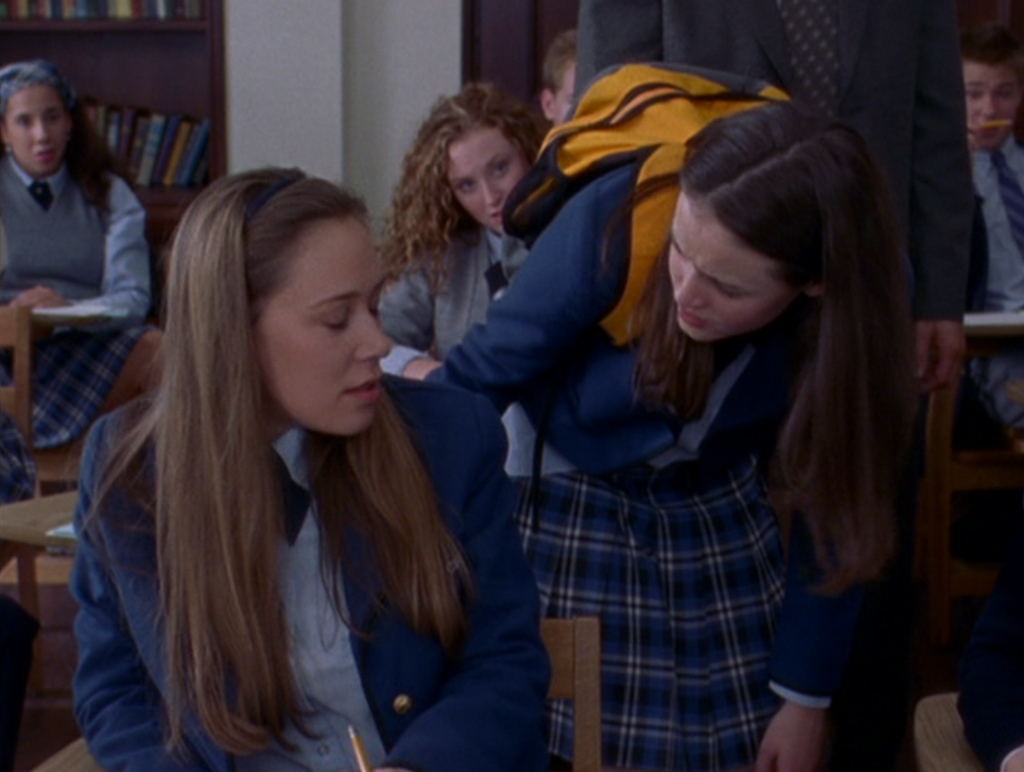 37. Rory and Lorelai are shopping for school supplies. I miss shopping for back-to-school supplies. For one day a year, Staples was my Utopia.
38. Has anyone figued out why Edward Herrmann is billed as " special appearance by" when he's basically in all the episodes?
39. I'm having high-school-not-good-enough flashbacks watching Rory flail at Chilton Academy.
40. I know I'm only four hours in, but I can't imagine Lauren's physical comedy ever gets old.
41. I wish they had made a webseries about Sookie flailing around the kitchen. Where were you on that one, Michigan J. Frog?!?
42. These Gilmore girls do not know how to use alarm clocks.
43. OMG, Rory's car got hit by a deer. That's kind of brilliant.
44. Finally. Rory's classroom breakdown is exactly the kind of moment I've been longing for in order to love her as much as I love Lorelai.
Best Line of the Episode
Max: "Lorelai, it was a pleasure encountering you. I hope it happens again."
Episode 5: "Cinnamon's Wake"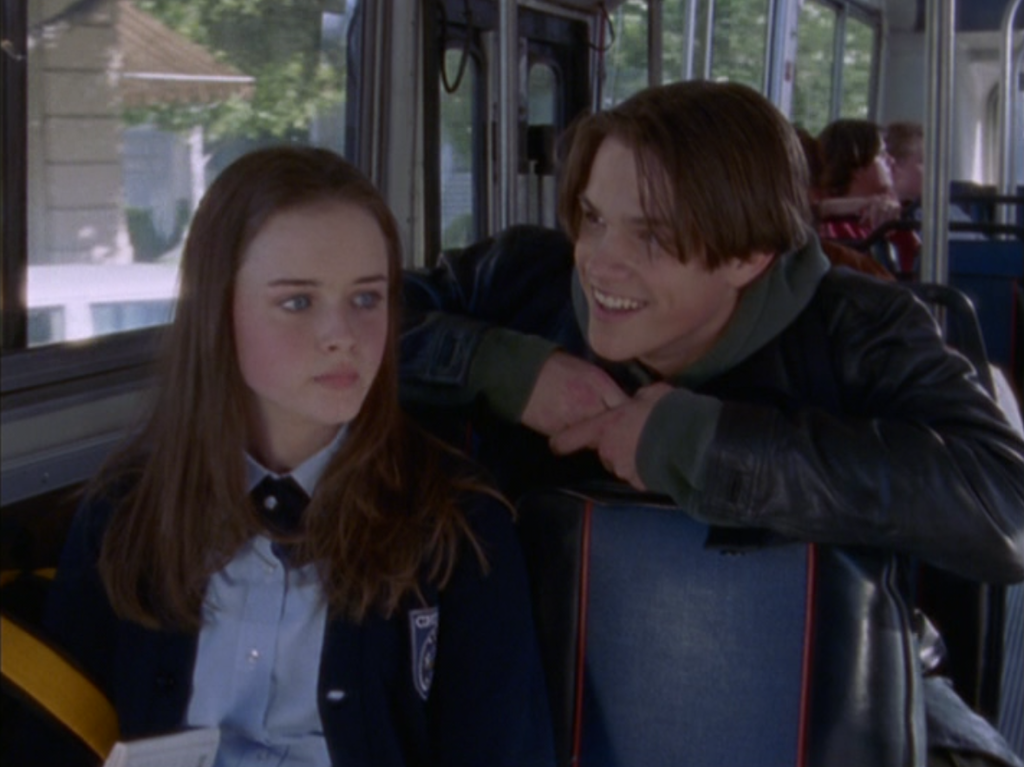 45. I've officially started singing the theme song at this point.
46. Jared Padalecki looks like Omri Katz in Hocus Pocus.
47. Lorelai's coffee addiction is my religious identification.
48. Wait, and now that weird guy works at Doose's market.
49. Things Lorelai claims to be sexually attracted to: coffee, pie, men. Stay tuned for more.
50. I appreciate how adorably forward Mr. Medina (Scott Cohen) is.
51. It's the kind of romantic aggressiveness that only works on television.
52. Sookie might be one of the most charming characters I've ever seen on television.
53. I'm sorry, is this kitty shivah? Are they sitting kitty shivah right now?
Best Line of the Episode
Emily: "Hold on, I'm looking up aneurism in our medical dictionary to see if I just had one."
Episode 6: "Rory's Birthday Parties"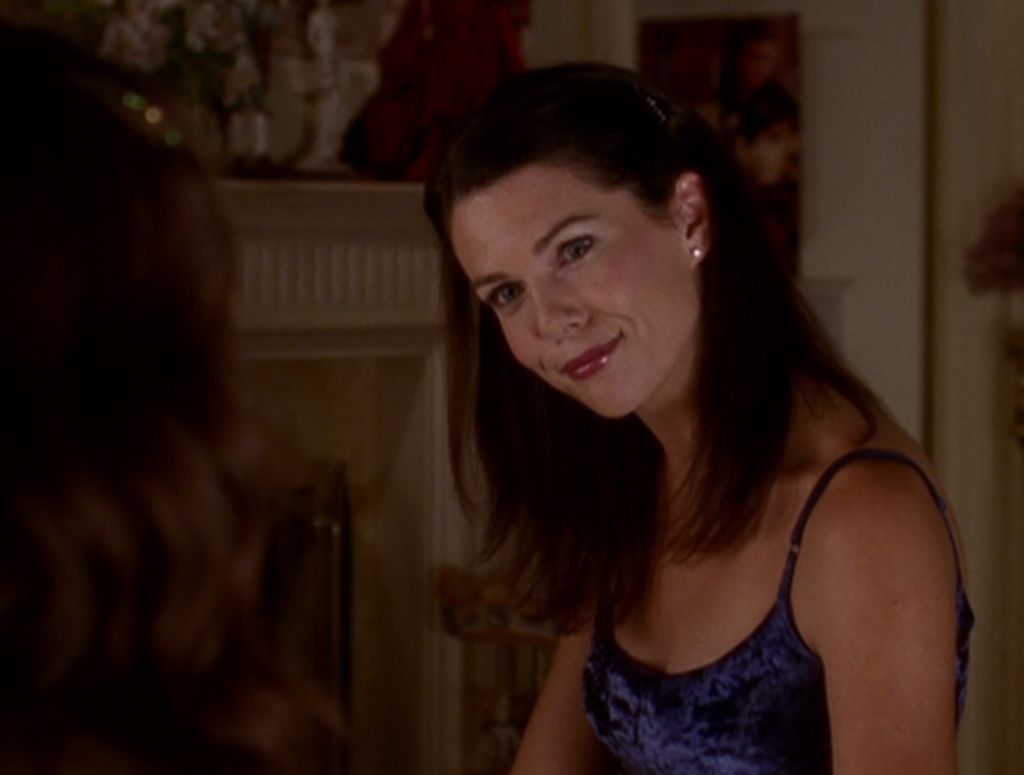 54. What if the whole show had a sepia tone filter like the opening credits?
55. Wonder if that was their way of saying, "It's always going to look like fall in Stars Hollow"?
56. Lorelai just referenced Britney and Justin's love.
57. I miss their love. #PinkyAndStinky4Eva.
58. Whatever happened to Nora Zehetner? She was so sprightly and charming in so many things and then, poof, gone.
59. A clown was arrested at Rory's 8th birthday party. Good start. Now round up the rest.
60. Aww, Luke is the cutest blowing up balloons and making a coffee cake for Rory's birthday. Be still my heart.
61. Ugh, Tristan is the worst. Oh! He's odious. See, toldja I was gonna bring it back.
62. Wow, ladies really loved crushed velvet spaghetti strap dresses and tulle in the early aughts.
63. Also, so much shimmery blue eyeshadow, Lorelai.
64. Emily's (Kelly Bishop) heart quietly breaking over all the milestones she missed is loudly crushing my soul.
65. Kelly Bishop could not be more perfect in this role.
Best Line of the Episode
Emily: "I'm too tired for your accusations, can we do this tomorrow? Here, I'll find you a pen. You can write down your insults so that you won't forget them."
Episode 7: "Kiss and Tell"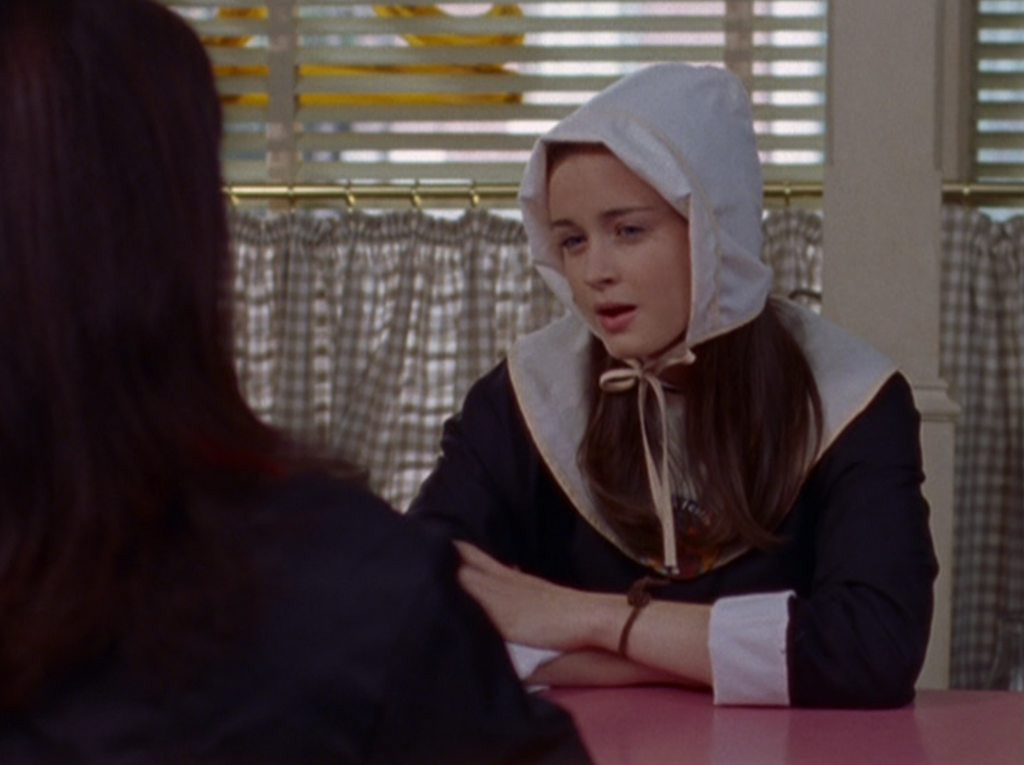 66. Jenji Kohan wrote this episode? She worked on this show? Well, that's an exciting development.
67. "Cranberries on Sail" — very punny Thanksgiving promotion, supermarket guy.
68. I appreciate that this tiny market in Connecticut sells matzoh. So inclusive.
69. Do they have a temple? Is it called "Jewish Stars Hollow?" Cuz it should be.
70. Whoa. That was a cute first kiss.
71. And I will never look at cornstarch again without thinking of how cute that kiss was.
72. How did Scott Patterson make it through seven years of playing Luke without landing an Eddie Bauer ad campaign?
73. Or, wait. Is Gilmore Girls an Eddie Bauer ad campaign?
74. Lorelai warning Dean to treat Rory right by basically saying she's the town favorite is cute and scary and charming and wonderful.
75. Even more so now that Dean is talking back.
Best Line of the Episode
Lorelai: "I'll tell him it's canceled on account of I just found out I'm my mother and I have to go into intensive therapy right now."
Episode 8: "Love & War & Snow"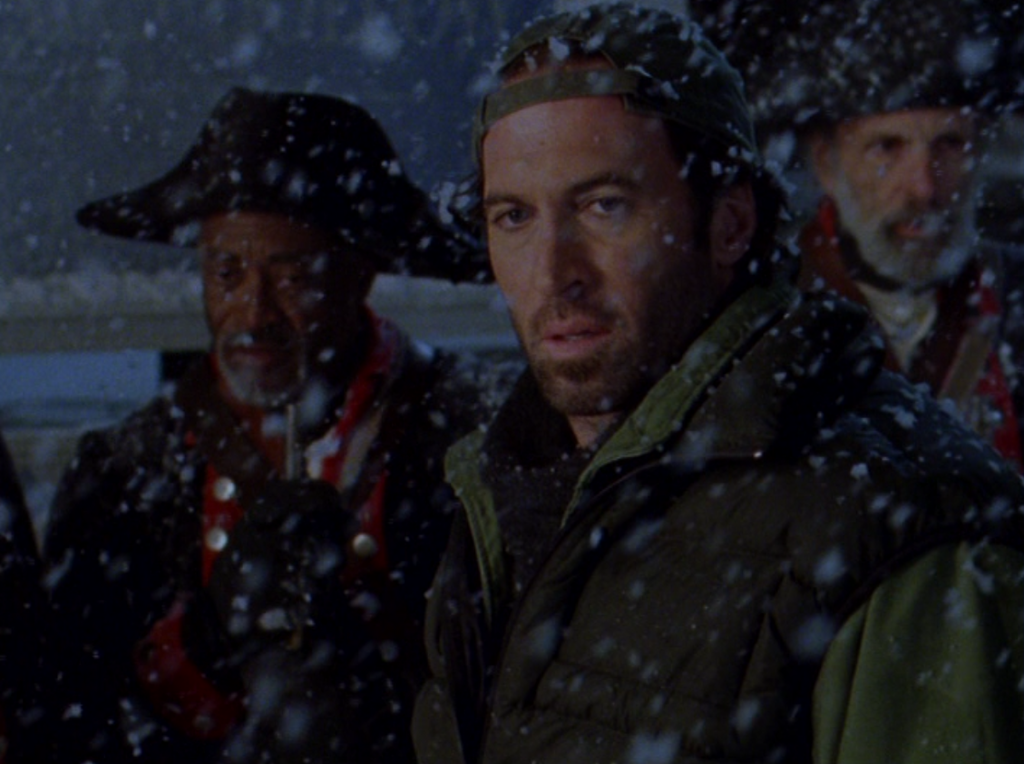 76. Town hall meetings are one of those wonderful things that only seem to exist on television.
77. A successful voicemail to someone you like is the hardest thing to achieve in the world. Kudos, Max Medina.
78. Still not sure I like Lane (Keiko Agena) yet, but I do agree that Rich Blumenfeld (Chase Penny) had most excellent hair.
79. "Carnival or Turkish Prison?" Good comparison, Emily.
80. Rory has a pager.
81. We all used to have pagers.
82. Like, that was a thing we all collectively agreed was cool and helpful. What fools we were.
83. Emily versus kitchen appliances is a delightful war I could watch for hours.
84. Hmm, Lorelai and Max are talking a lot during this movie.
85. I would have shushed them.
86. I would have shushed their cute moment because I'm a movie monster.
87. Not to be an old fart, but there are too many adults offering Rory coffee.
88. And we have our first overt hint of Luke and Lorelai affection! More please.
Best Line of the Episode
Lane: "You have everything now, and I have nothing except for 2,000 Korean Bibles and a potential F in jazz band."
Episode 9: "Rory's Dance"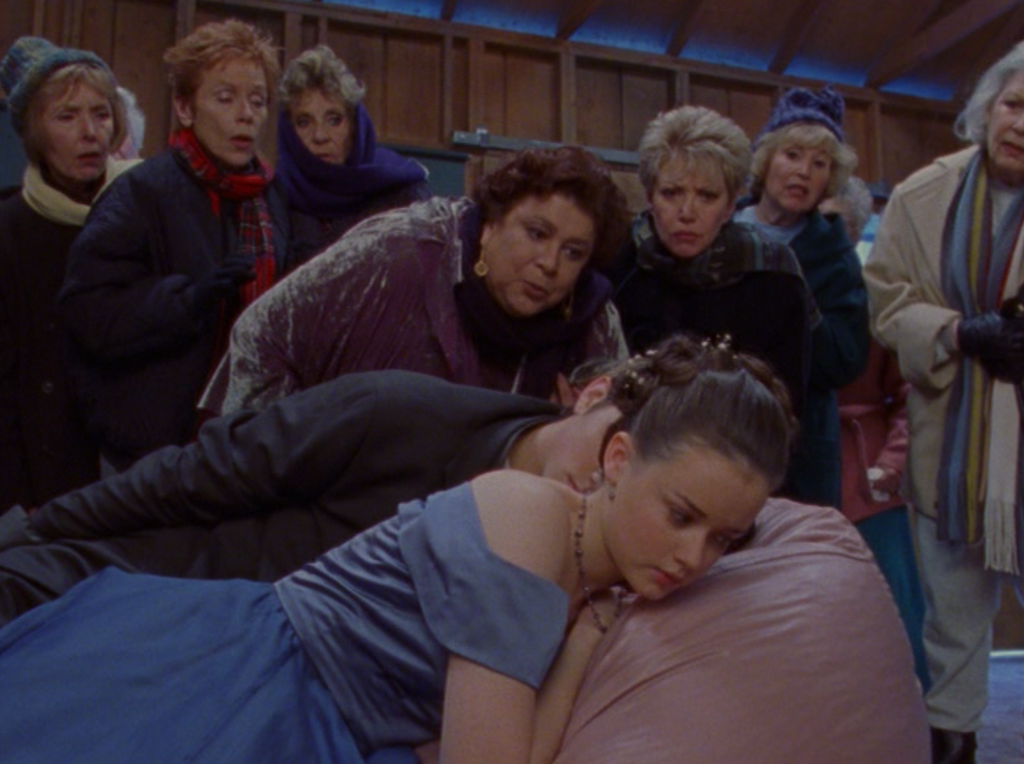 89. School dances are the worst.
90. I love that Lorelai always has Rory's back in front of Emily, but actually wants the same thing; she just has a more intelligent way of cajoling her daughter into doing things.
91. Wow, a V.I.P. reference. Remember when Pam Anderson used to do stuff?
92. Rory asking Dean to the dance is the cutest of all the cute kittens.
93. Hmmm, Sookie has a lot of pills.
94. Come to me, Sookie.
95. Sookie is mine.
96. Girls really used to put a lot of baby's breath in their hair.
97. Did The WB buy stock in The Sundays' "Wild Horses" or was it just really that popular for school dances?
98. "You did a lovely job — with Rory and the dress." That whole couch scene with Emily and Lorelai made my heart swoon.
99. No, you got turned on watching Dean and Tristan peacock for each other.
100. Rory brought a book to a dance. I don't even know where to begin.
101. Eek, they fell asleep. That's not going to be good.
102. Yep. It's bad. Real bad.
103. OK, so this fight is making me emotional, but, damn, it's so well written. Real and honest and so grounded. Man, Amy's writing is aces.
104. I wonder if you identify with a different character depending on what age you are when watching Gilmore Girls. Like, do teens think Lorelai overreacted and thirtysomethings see Rory as incredibly irresponsible? Also, who takes Emily's side? My bubbie?
Best Line of the Episode
Emily: "We do not go running out the door when a boy honks. This is not a drive-thru. She's not fried chicken."
Episode 10: "Forgiveness and Stuff"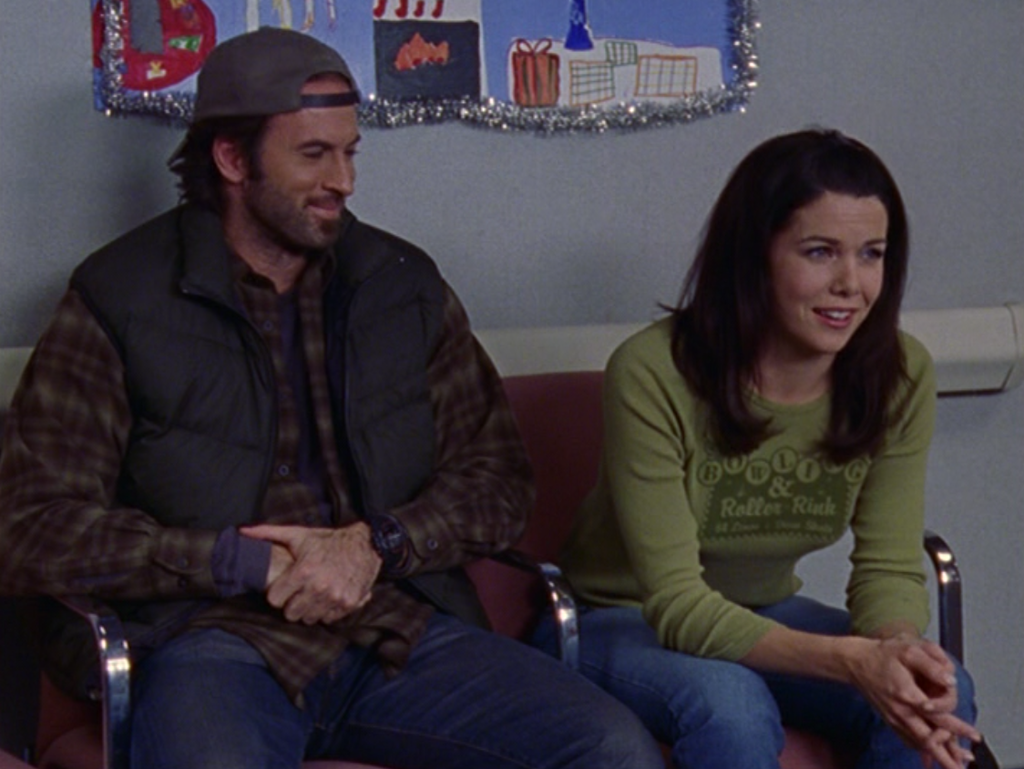 105. That random guy (Sean Gunn) who keeps showing up places got a name. It's Kirk.
106. Lorelai makes dresses and hems wise men cloaks — wonder if she ever takes this passion for design to the next level and opens a store or something?
107. OK, so Lane may not be my favorite, but Lane is a very forgiving friend. Two episodes ago, she was furious with Rory for being a bad friend, and Rory is already forgetting coffee dates again. But does she mind? No.
108. Lorelai pouring salad dressing into a bag of lettuce is her first real spirit animal moment.
109. SANTA BURGERS FOR EVERYONE!
110. That's the sweetest gesture in the history of man.
111. Oh, hi, Jane Lynch as a nurse.
112. Man, Jane was really on that grind for years.
113. Really though: What is Charo saying?
114. Luke being there like this for Lorelai (and Rory and Emily) basically made it clear that he is Lorelai's soulmate and no man shall ever be better for Lorelai than Luke.
115. Oh, it's weird seeing Luke without a hat even for a second.
116. But it's good to know he has all his hair.
117. Wonder if Scott Patterson was legitimately worried about losing his hair from all those years of hat wearing.
Best Line of the Episode
Lorelai: "I can live without the apple tarts."
Rory: "You've made up songs after eating five of them with lyrics that contradict that last statement. "
Episode 11: "Paris Is Burning"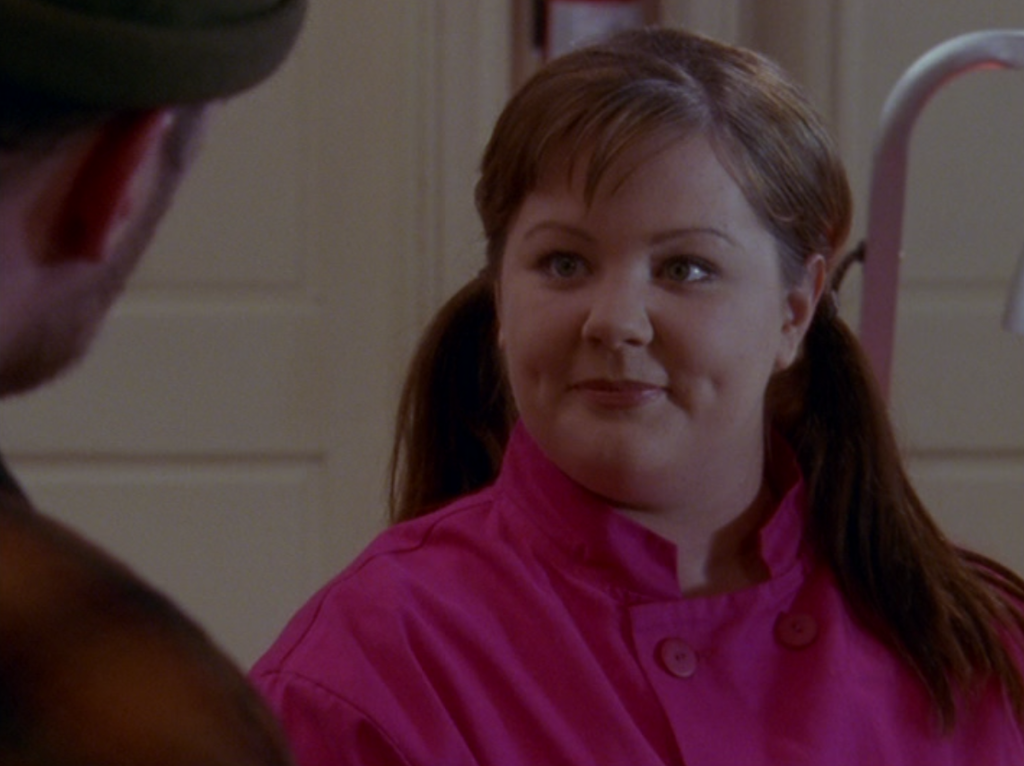 118. I'm going to start using, "As Michael Crichton would say" in casual conversation. So look out for that.
119. I have a really bad feeling about Lorelai dating Rory's teacher.
120. And I fear for the safety of all if Paris catches wind of this.
121. "Have you seen my orange suede hairclip thingy?" Yes, I have Lorelai and it's disgusting.
122. Even in 2001, this Hugh Grant/hooker reference feels dated.
123. Man, there are a LOT of clown references in this show. I don't care for that.
124. Don't kiss Max, Lorelai.
125. Don't kiss Max, Lorelai.
126. Oh god, she kissed Max.
127. Aaaand Paris saw.
128. So, this is how the apocalypse starts.
129. Oddly, after spreading that fact around school, I'm actually warming up to Paris. Finally!
130. Sookie asked Jackson (Jackson Douglas) out! Glory be.
131. Did they ever get a couple name?
132. Sookson?
133. Jackie?
134. It was probably Jackie.
Best Line of the Episode
Sookie: "It's hard with my hours. I'm always at the inn, or the market, or the hospital."
Episode 12: "Double Date"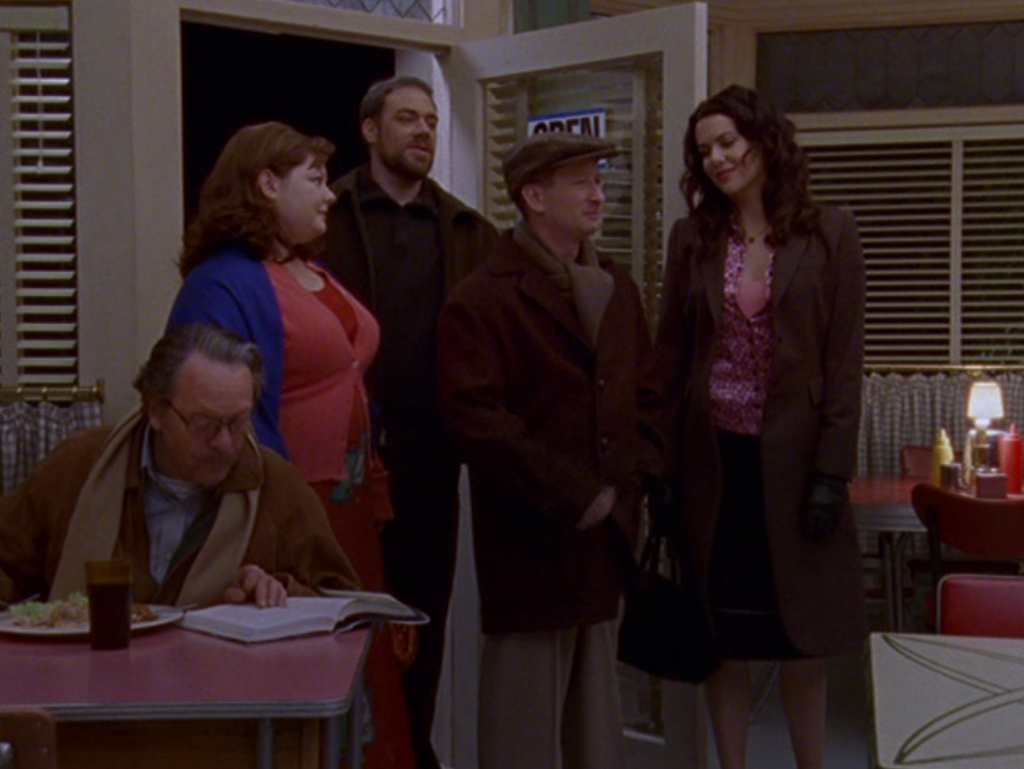 135. Controversial: Some Pop Tarts are better untoasted.
136. Lorelai and Rory's tandem morning routine is too cute. I just adore their relationship.
137. Surprised we've never seen Lorelai actually in business school. Seems like an area ripe for storylines.
138. Whoa, Sookie isn't wearing a Band-Aid. Thought that was going to be a series-long thing.
139. Why is Rune (Max Perlich) dressed like a character from Newsies?
140. And now he's decapitating swans.
141. What a winner Rune is.
142. So people just talk during movies in Stars Hollow. What a horrible place to live.
143. Luke was going to ask Lorelai out, Mrs. Kim (Emily Kuroda)! I will destroy you for impeding their love.
Best Exchange of the Episode
Sookie: "You will not regret this."
Lorelai: "Pick another phrase."
Sookie: "You will not have to pay."
Lorelai: "Much better."
Episode 13: "Concert Interruptus"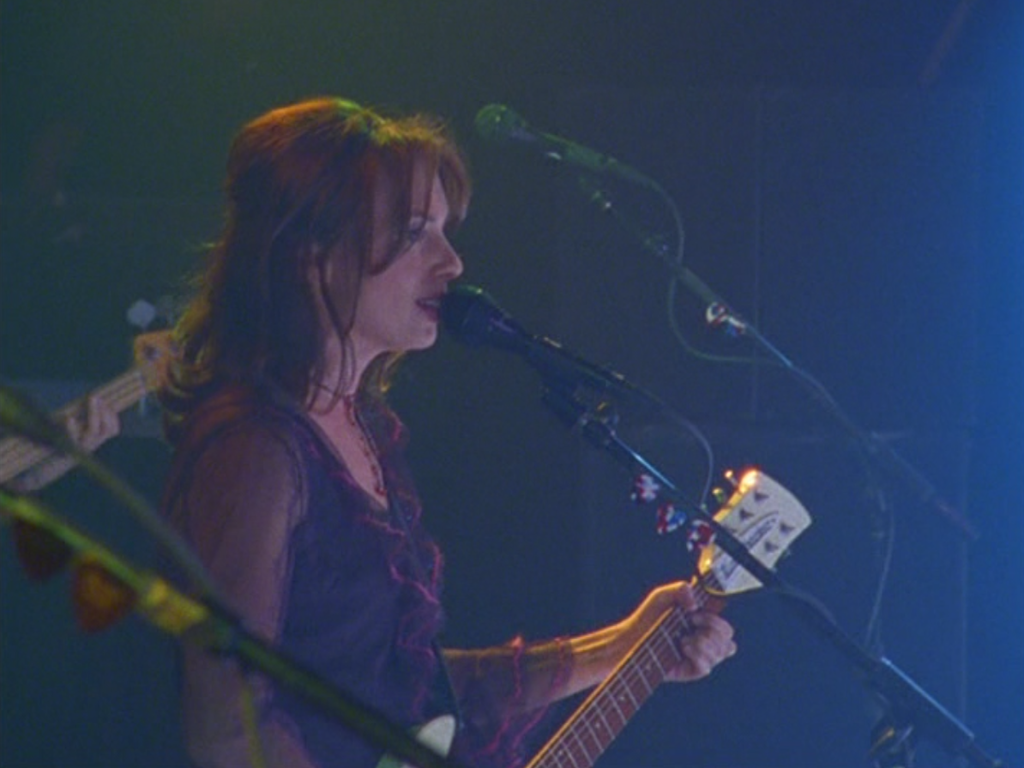 144. The Gilmore girls may have done more to keep bandana makers in business than Bruce Springsteen.
145. "Special Appearance by The Bangles." WHAT DOES THAT MEAN?!?
146. Whose sweatshirt is Lorelai wearing?
147. Are we going to learn about something painful in Luke's history and fall even more deeply in love with him?
148. It belongs to some whore named Rachel.
149. Rachel broke Luke's heart.
150. Poor Luke.
151. The rummage sale includes a The Club.
152. Do people still use The Club or have we given up on trying to prevent hooligans from boosting our cars?
153. People haven't been this miserable around Paris since the plague.
154. Oh sweet Jesus. Lorelai is 32.
155. I am 32.
156. The parent on this TV show is my age. I'm going to need a minute.
157. Lorelai giving away her Bangles concert tickets so Rory can lock in some new friends is proof positive I cannot be a parent.
158. Oh hai, baby Brandon Routh.
159. The Bangles are opening their concert with a song that was undoubtedly the lead single on an album no one ever bought before segueing into "Eternal Flame," which is why we're/they're really here.
Best Line of the Episode
Mrs. Kim: "What's wrong? You look flushed. You eat candy?"
Episode 14: "That Damn Donna Reed"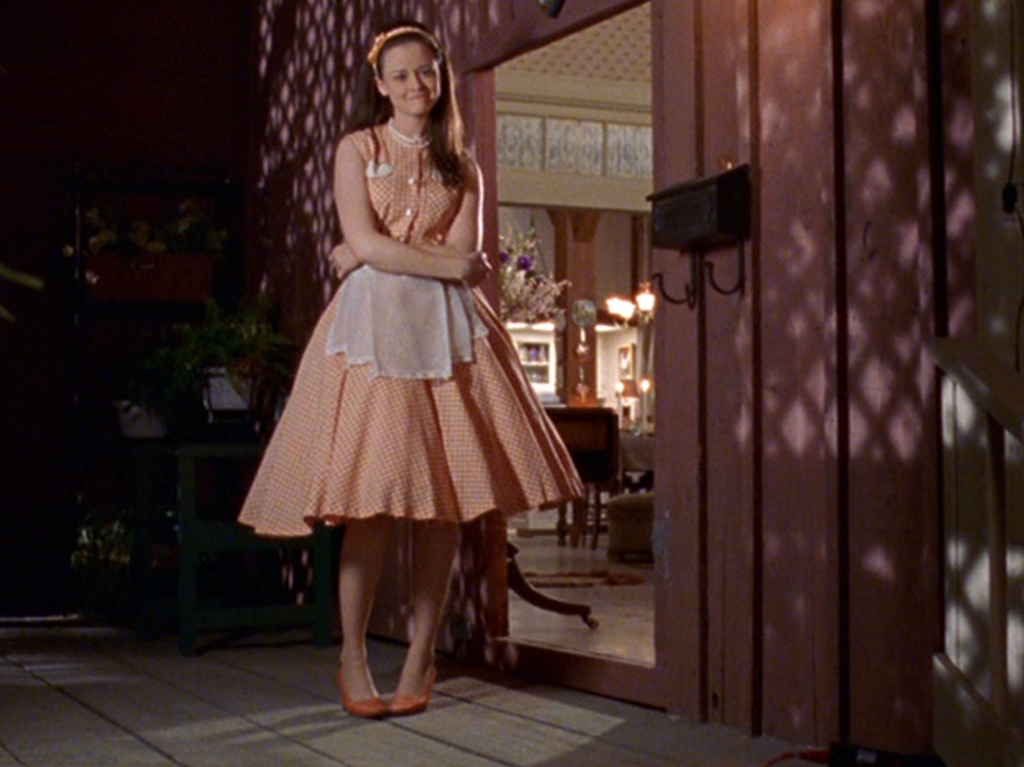 160. I want to watch every episode of The Donna Reed Show as long as Lorelai and Rory treat it like Mystery Science Theater 3000.
161. Lorelai telling her parents, "You don't have to fly first class" was met with the exact amount of abject horror I've come to expect from Richard (Edward Herrmann) and Emily.
162. Lorelai and Rory have only spent two nights apart in 16 years. Rory's therapist will spend weeks dissecting that at some point.
163. Lorelai and Luke's not-painting party is the best first not-date in the history of not-dates.
164. OMG, they're going to kiss!
165. OMG, they didn't kiss!
166. I don't see Rory's '50s housewife cosplay ending well.
167. I really wish Lorelai would stop telling people she painted Luke's diner. Despite promises, she didn't pick up a brush. Ever.
168. Yes, Emily — get this ball rolling: "Do you have feelings for this man?"
169. Who the hell is this guy walking through town square playing the banjo while wearing a mic?
170. Oh, Christopher (David Sutcliffe) on a motorcycle is a good thing.
171. "The Gilmore girls!" Ah! Christopher said it. He said the title of the show!
Best Line of the Episode
Lorelai: "Marcel Marceau chicken."
Episode 15: "Christopher Returns"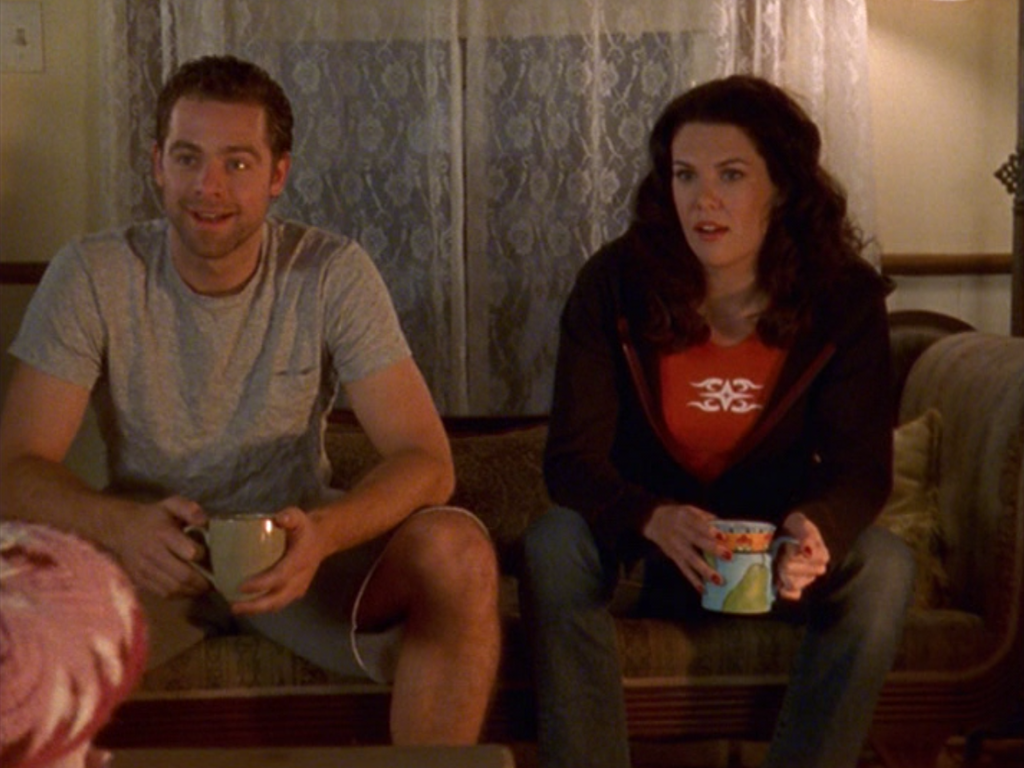 172. "I like to get my weekend homework done and out of the way by Saturday night so then I can do extra credit stuff on Sunday." —Rory being painfully on brand
173. I hate to say it, but Christopher is dreamy. This is going to derail Luke and Lorelai and I won't even be mad about it.
174. Lorelai warned Rory not to ride Dean's motorcycle. Dean said he didn't have one. Now he's got an '86 Suzuki. When did that happen?
175. "Folky, poppy, urban, scruffy" is how Jackson described Christopher — and what I've now written under "Seeking" on my Match.com profile.
176. I do not appreciate Christopher's lack of respect for Stars Hollow, its townsfolk, and Luke's cell phone rule. I feel like this is the show subtly telling us he's not "the one" for Lorelai.
177. Rory curtseying for Christopher's parents is such a Rory thing to do.
178. Just when you thought Emily and Richard Gilmore were controlling, enter Straub and Francine Hayden (Peter Michael Goetz and Cristine Rose).
179. Please kick Straub's ass, Richard!
180. The Offspring is Christopher's favorite band? That's a deal breaker, ladies.
181. I take it back: Lorelai painted the whole diner by herself. That's the grandest of gestures.
Best Line of the Episode
Lorelai: "In this parade of stupid and dumb, I am the one twirling the flaming baton."
Episode 16: "Star-Crossed Lovers and Other Strangers"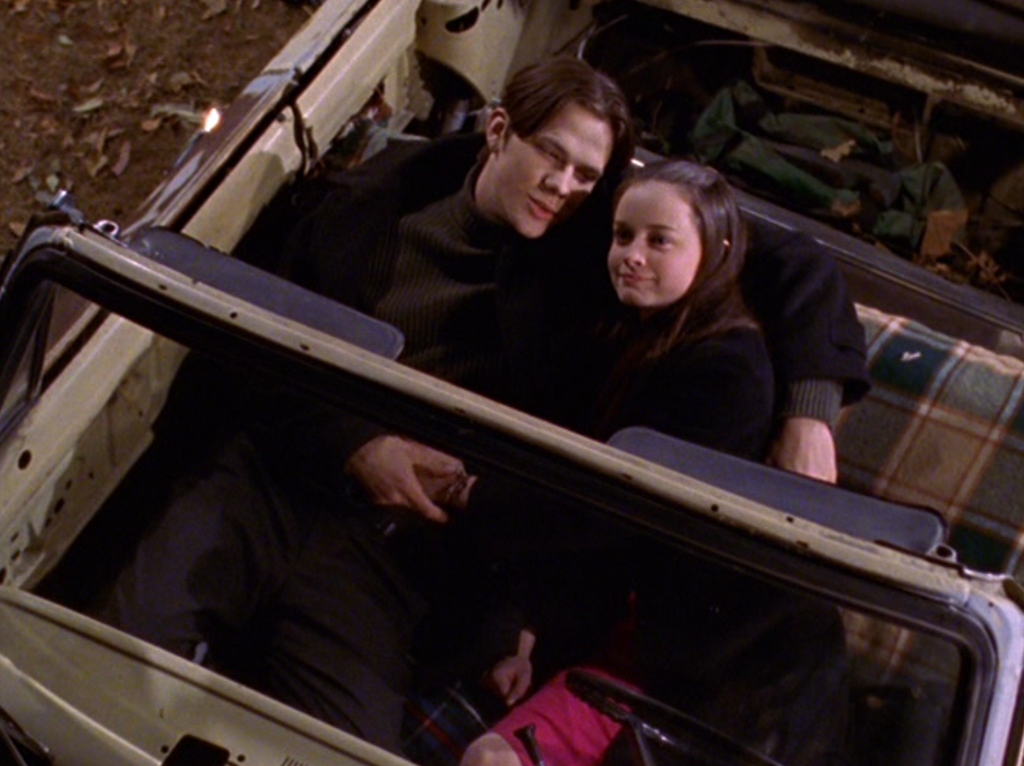 182. Miss Patty, can we not tell 5-year-olds about dancing in a cage for Tito Puente?
182. That wandering guitar player is back. So are we gonna see him a lot or something?
183. What if there was a bizarro episode where Lauren Graham played Emily the whole time? That would be magical.
184. Wait. Michel is straight?!? Giiiiiiirl.
185. Rachel. Is. Back.
186. Oh, hell to the no.
187. Also, she's OK. Don't know that I'd be making Elle MacPherson comparisons, Sookie.
188. Back-to-back episodes revolving around Lorelai and Luke's exes? Interesting.
189. While I'm always happy to watch Emily's machinations at work with this surprise blind date, I would really like to go back to Luke's storyline right now.
190. OK, distracted by Dean.
191. He's a really, really, really, sweet boyfriend.
192. Ugh, we're back to this blind date again?
193. Don't the writers realize that Luke's ex is here and I need to see what is happening immediately?
194. Hold. All. The. Phones. Dean is building Rory a car!
195. I am having a heart attack right now.
196. And then Rory ruined it.
197. Just say I love you back. It's not that hard.
198. This man is perfect.
199. And tall.
200. And is going to grow up to be so freaking studly.
201. OK, I judged too soon: Rachel is stunning.
202. Rachel wants to know Luke's deal with Lorelai, Lorelai wants to know Luke's deal with Rachel; how is Luke this oblivious?
Best Exchange of the Episode
Chase Bradford (Paul Cassell): "Lorelai, are you a member of the DAR?"
Lorelai: "I'm not. D-A-R-N."
Episode 17: "The Breakup, Part II"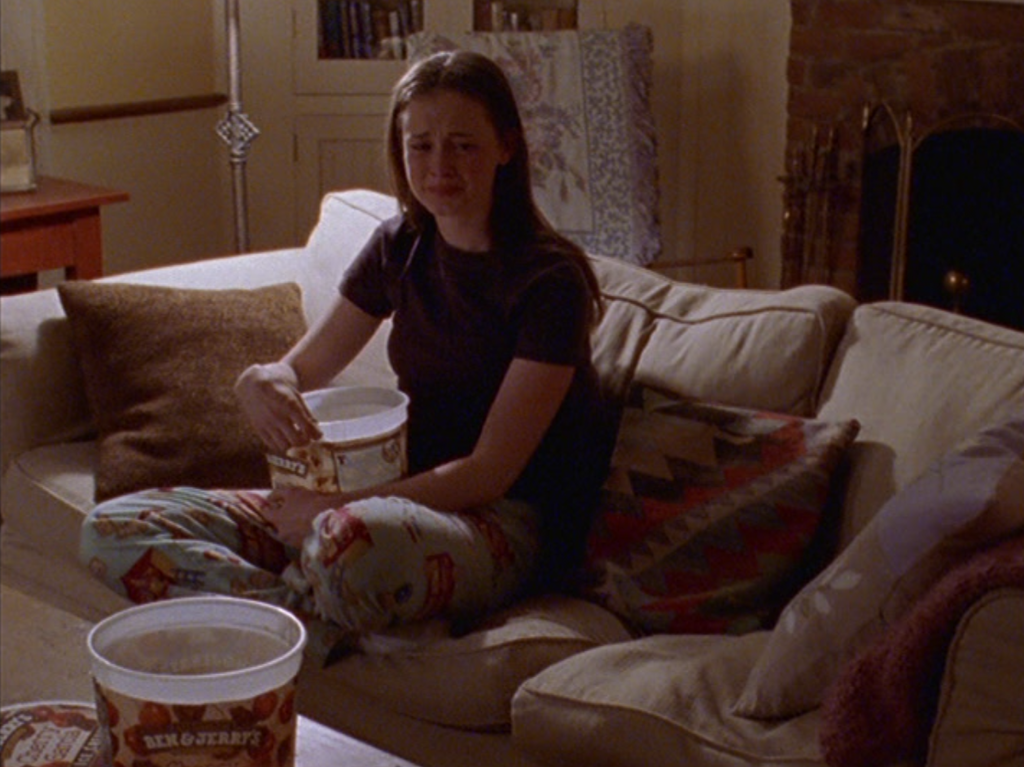 203. Oh, look, Rory is acting irrational. Must be [whatever day Gilmore girls aired on].
204. Why does Scott Patterson have last billing among the series regulars?
205. I'd put him before or after Melissa McCarthy.
206. Rachel is working at Luke's?
207. Luke's horrified and furious reaction to Rory getting dumped is reason 239,482,384,728 he's perfect.
208. Ugh, Kirk is just the worst.
209. Luke slap-fighting fighting with Dean is reason 239,482,384,729 he's perfect.
210. Rory is losing her mind: She's voluntarily going to a Chilton party.
211. What is it with '00s teen girls having a Craft-ian esthetic when in groups of fours?
212. I blame the omnipresence of Hot Topic at the time.
213. Sure, go ahead and read that book at a party, Rory.
214. You put down that book to kiss Tristan?
215. CAN WE NOT?!?!
216. "Last name is Kim, we're the only ones in Stars Hollow." Ah yes, that bastion of racial inclusion.
217. THAT IS THE BIGGEST TUB OF BEN AND JERRY'S THAT'S EVER BEEN SEEN IN REAL LIFE.
Best Line of the Episode
Babette: "I can tell her about all the horrible men I've known in my day, really truly awful men. I was pushed out of a moving car once."
Episode 18: "The Third Lorelai"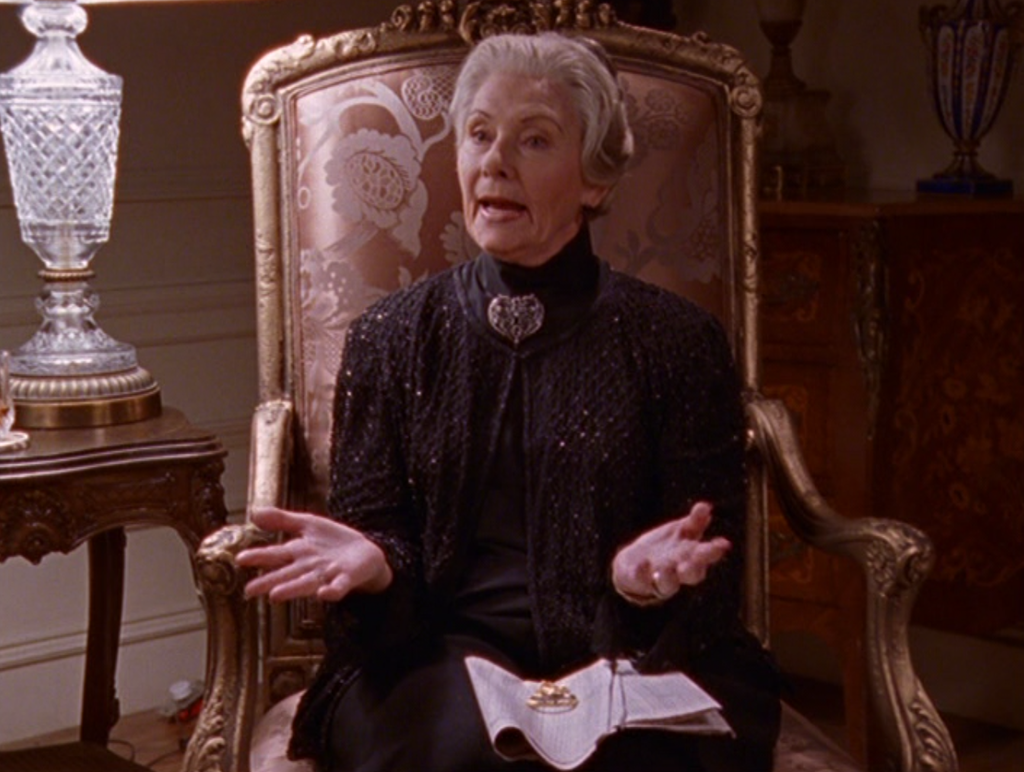 218. A controlling person completely unraveling at the arrival of an even more controlling person is a well-worn TV trope, but my Redenbacher's is popping in anticipation of watching Emily lose her shit when Richard's mother comes to town.
219. Stop the presses: Emily regifted?!? That is wildly out of character.
220. Marion Ross is everything as "Trix."
221. Trix was clearly on the Downton Abbey costume designer's Pinterest board when crafting the Dowager Countess' aesthetic.
222. I want to watch that dinner scene on a loop until the end of time.
223. Come on, another clown reference?!? What the hell?
224. Paris Gellar = Jewish. Monica and Ross Gellar = decidedly un-Jewish. Just saying.
225. It was very wise of the writers to make all of Emily's insanity, at its core, correct.
226. I feel like they don't say "I love you" very much on Gilmore Girls. Yes, it's always implied, but it seems a little weird given the framework of the show.
Best Line of the Episode
Paris: "I don't have a lot of experience in the dating department. I mean, you can't put it on your transcript. What's the point, right?"
Episode 19: "Emily in Wonderland"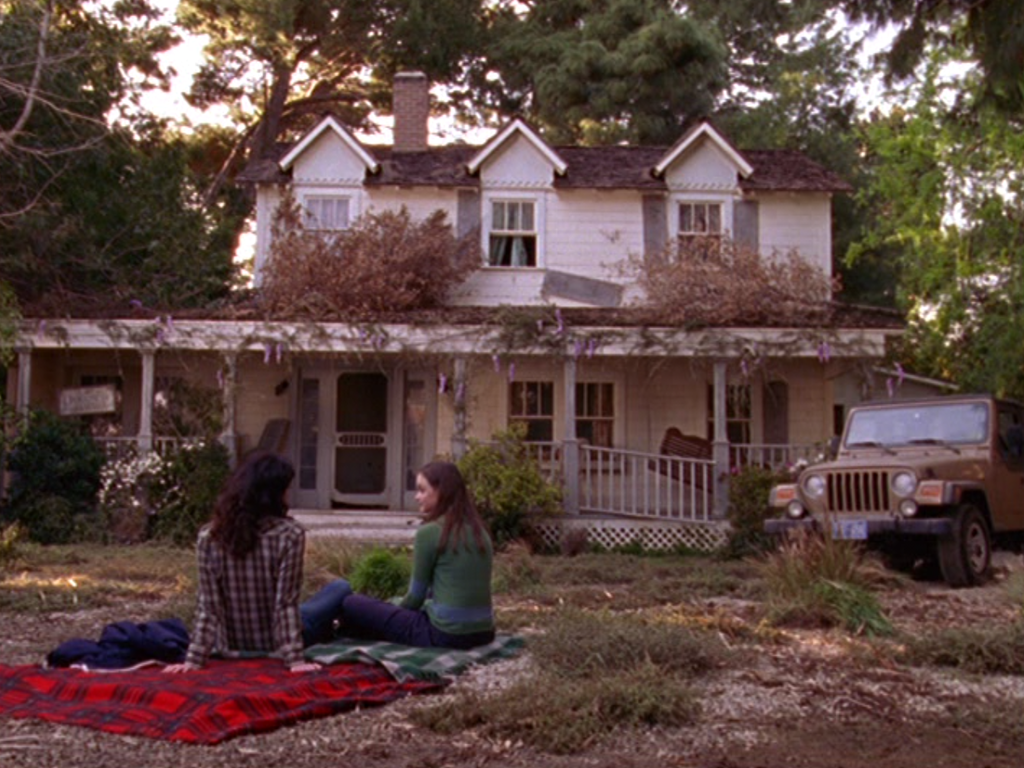 227. Look! An abandoned inn. Wonder if Lorelai will buy it.
228. NOOOOO, Rune is back!
229. And he's still dressed like an extra from Newsies.
230. Rory and Emily's day of fun!
231. Emily would like Lane's mother. They have the same hysterical need to be the loudest voice in the room.
232. And now Emily loves Michel?
233. It's like she's opening Miss Peregrine's Home for Peculiar Side Characters.
234. Rachel, do not ask Lorelai to push Luke toward dating you.
235. Rachel and Lorelai in Luke's apartment is simultaneously his biggest dream and his worst nightmare.
236. "The Backside Boys." Oh, Emily.
237. Rory is Team NSYNC versus Team Backstreet. Maybe we could get along.
238. Even when talking about another woman, Luke has the best chemistry with Lorelai.
239. Lorelai is talking during a movie. Again!
240. This is reprehensible behavior from someone I consider a soulmate.
Best Exchange of the Episode
Rachel: "I can't seem to find your pictures here. They must be in the bathroom."
Lorelai: "So do not want to know why."
Episode 20: "P.S. I Lo..."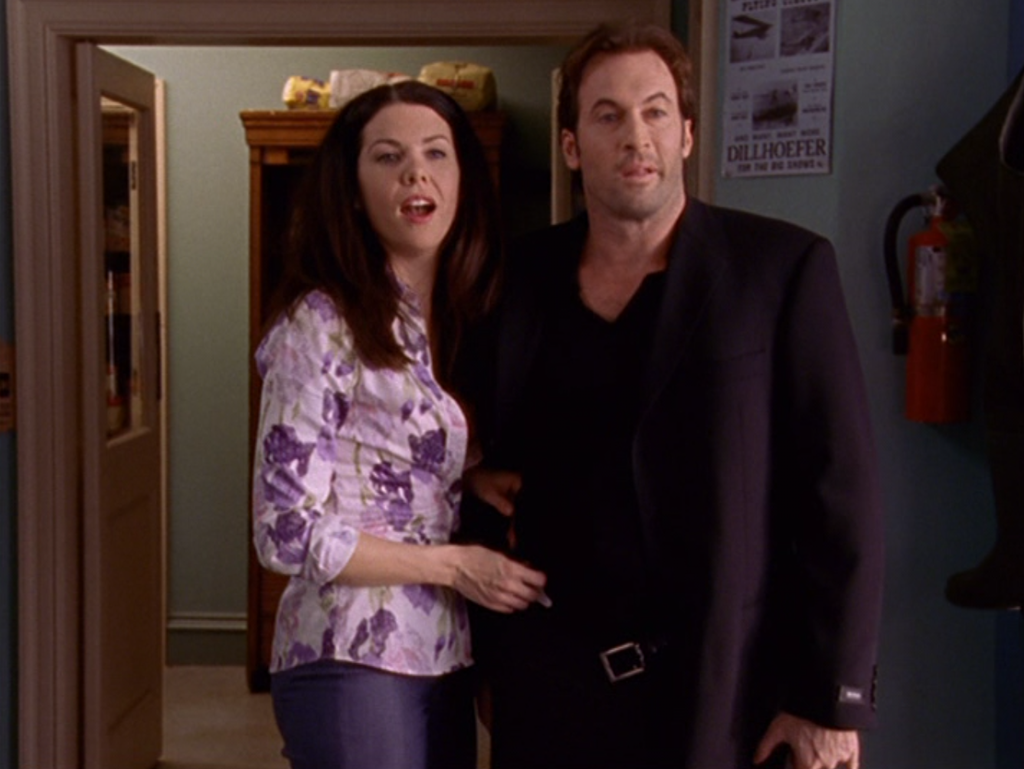 241. Rory and Lorelai have taken Fuck, Marry, Kill and renamed it 1, 2, 3.
242. Awww, Dean was Rory's "1."
243. There's nothing better than a Luke rant.
244. I was wrong: Back-to-back Luke rants (cats into malls) are the best.
245. Lorelai trying to dress Luke makes me think she was the original Stacy London.
246. Oh boy, Luke looks damn fine in this suit.
247. Gilmore Girls has the most eloquently written fight scenes.
248. So real and painful and powerful and cringeworthy because I've been there.
249. Emily and Richard don't have a peephole on their front door.
250. That seems awfully trusting for two such stuffy people.
251. I kind of love that Rory fled to her grandparents' house.
252. But, um, someone's gonna call Lorelai to let her know where Rory is, right?
253. Oh good, Emily called.
254. Emily. Is. Loving. This.
255. Finally! Lorelai knows that Rory ended things with Dean.
256. There had to be someone better (read: more relevant at the time) than Taylor Hanson for Rory to fictionally date, Lorelai. You know better.
Best Line of the Episode
Lorelai: "I love that you have my eyes and my coffee addiction and my taste in music and movies. But when it comes to love and relationships, I don't necessarily want you to be like me. I would hate to think I raised a kid who can't say I love you."
Episode 21: "Love, Daisies & Troubadours"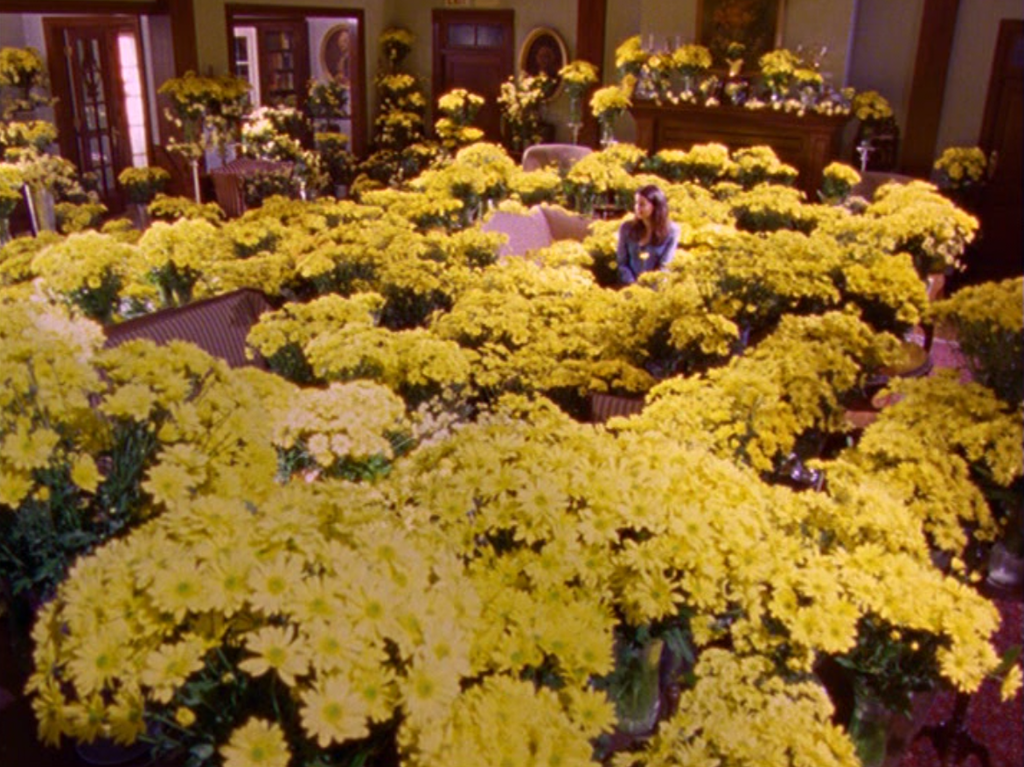 257. Luke and Lorelai are cuter at 6:30 in the morning than a box full of puppies in tiny tuxedos.
258. Have you ever stopped to wonder how much online shopping Lorelai does?
259. I feel like she must do a lot of online discount shopping since she pretty much never wears the same thing twice and her clothes are rather nice.
260. Perhaps her shopping debts will become story points when she tries to re-open the Dragonfly Inn. Have to stay tuned for that one.
261. Lane's obsession with music reminds me of the CaseLogic CD holder I used to lug around everywhere.
262. Whatever happened to Blur?
263. Someone explain this weird wandering guitarist to me.
264. Now there's another wandering guitarist.
265. Did I roofie myself?
266. Ah, so Dean does have a family.
267. I've been wondering why we never met any of them.
268. But, wait. How did Rory date Dean for three months without meeting his sister?
269. Wow. This random guitar player thing is actually culminating in a story.
270. That is such a Gilmore Girls thing to do.
271. Raaaaaachel. I could kill you for packing those bags.
272. And with her parting words, Rachel basically tells Luke to share his feelings with Lorelai.
273. For once, I agree with her.
274. OK, all is forgiven.
275. In the Max versus Luke showdown, I will bet on Luke every time.
276. Whoa, Max's solution to this fight is proposing to Lorelai?!?
277. Bye, Max!
278. Dean is at Rory's school!
279. Yes!
280. Finally: "Because I love you, you idiot!"
281. I'm a 13-year-old girl squealing right now.
282. Damn, 1,000 yellow daisies. Now that's a romantic-ass gesture.
283. Lorelai, don't tell Luke that Max proposed. On some level, you know better.
284. And now Lorelai is using a pager.
285. We really all just had pagers for a couple of years.
286. Oh no, Lorelai and Rory are running toward each other through the street.
287. Is it bad that I'm worried one of them will get hit by a car?
288. I know that's not what this show does, but it is a season finale...
289. Oh thank god, OK. Everyone's fine.
290. They're hugging.
291. And squealing.
292. And jumping up and down.
293. Sigh. That Gilmore girls freakout in the town square is the most perfectly perfect perfection way to cap off a legit amazing season of television.
Best Line of the Episode
Lorelai: "If her worst trait is she's a milk whore, you have it pretty good."
TL;DR: Gilmore Girls is beyond incredible — beautifully written, perfectly acted, and its coffee cups runneth over with charm. Dean is the best boyfriend in the history of TV boyfriends, Lorelai is the mother we all wish we had, Luke is so scruffy and amazing it hurts, Sookie's giggle could lead to world peace, and I can't wait to start watching Season 2. I tip my eye-catching hat to you, Amy Sherman-Palladino. You done good.
Gilmore Girls will be available to stream on Netflix on Oct. 1.