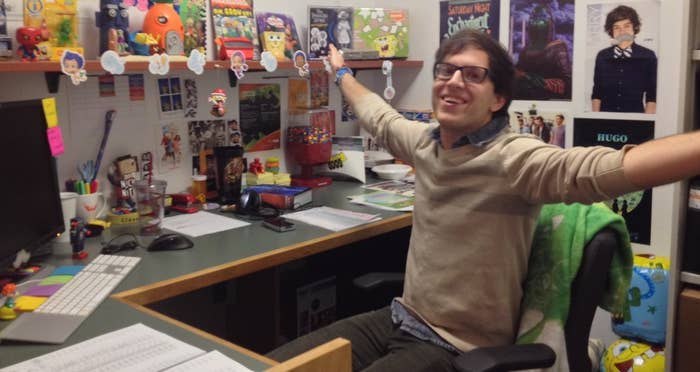 Last weekend, I had the pleasure to go back to my college and see some of my favorite people graduate. It was both an incredibly happy and weird day for me. While I was super proud to see some of my greatest friends cross that stage and receive their diplomas, I couldn't help but think, "wow. I'm old." You see, this graduation marked the one year anniversary of me leaving the comfort and camaraderie of college and being forced to become a "real person" (I'm still not sure what that means). This year has been the most exciting/terrifying/joyful/heart-wrenching/crazed/confusing/freeing/eye-opening/busy/bizarre time of my life. I wanted to share a few of the things I've learned in my short-lived adulthood:
1. Moving back home after college is both the smartest and worst thing ever
2. Your parents have as little an idea, if not less, as you do about how to get a job
in today's world
3. If you manage to get a full-time job in your field within 6 months of graduating,
you're better off than most people
4. If you're living at home AND have a full-time job, you're going to feel richer than
you've ever felt in your life
5. Treat yo self! This is the last time you'll ever not have to pay bills.
6. Don't treat yo self too much. You'll be on your own soon enough.
7. Not being on a college campus means friendship actually takes effort
8. Not having all your friends in the same dorm building can be lonely at first. You'll
figure it out.
9. You'll learn what friends are worth keeping around by how much effort you want to take to maintain their friendship
10. If you're still friends with that amazing friend from high school now, you'll probably stay friends forever
11. You will treasure your friends more than ever
12. Working full-time is exhausting
13. Taking "me time" is just as important as being social
14. Sometimes a night in cleaning out your DVR is as fun as after-work drinks
15. Feeling like an old person at 22 is totally normal
16. You realize that 30 doesn't sound that old and are actually looking forward to a
time when you have your shit together
17. Meeting new people in the real world is tough
18. When you do meet someone amazing and new it's the best thing ever
19. You'll have a bunch of friends recommend that you try online dating
20. If you do try online dating, you'll find it overwhelming
21. If the first date isn't good, it's probably not worth having a second one
22. Going on a series of dates with different people is also exhausting
23. It's really hard to be yourself on dates when you're still figuring out who the heck
that is
24. Dating someone in a different borough may just be more trouble than it's worth
25. If it's going well, don't over think it. That won't help anyone. Enjoy!
26. Getting super drunk means having to drag yourself home somehow
27. If you meet someone your age that seems like they have their life together,
they're just a very good actor
28. Stop comparing yourself to other people
28. The same person you're envious of also has qualities that suck
30. You're going to have more free time than you've ever had in your life. If you have a steady job, why not volunteer for a cause that you're passionate about?
31. You won't be working in your dream job straight out of college
32. Your passions might move from one thing to another
33. You're not stuck in one path. Switching career paths is totally common.
34. If you feel like you're going crazy, so does everyone in their 20's
35. Seeing a therapist doesn't mean you're crazy. It just means you're human.
36. One does not simply maintain a figure on a diet of pizza and mac & cheese
37. Mac & cheese is still the most delicious thing in the world
38. Be nice to be people. It's far less stressful than being mean.
39. If you can wear jeans and Converse to work, life is pretty sweet
40. Thinking about how much time you spend working vs. not working is terribly
depressing
41. You'll spend far more time around your coworkers than you will with any of your
friends
42. Your coworkers will know wayyyyyy too much about your personal life
43. Be selective with which coworkers you add on Facebook
44. Stop stalking your ex on Facebook. It's not helping anyone.
45. Not every moment needs to be tweeted about
46. Enjoy the company you're with. Put your phone down.
47. Don't be afraid to talk about the things your interested in. If the right person's
listening, it might open up a new opportunity.
48. Take risks. You're still young.
49. If you want to move across the country, do it now! It's going to be a much more
difficult feat when you're older.
50. Write, draw, build, design, MAKE THINGS!!!!
51. Everyone likes a generous person
52. Stop worrying about figuring it all out and just enjoy the ride
BONUS: Here's a picture of me at my amazing friend Jenn's graduation last weekend next a picture of her at mine last year: